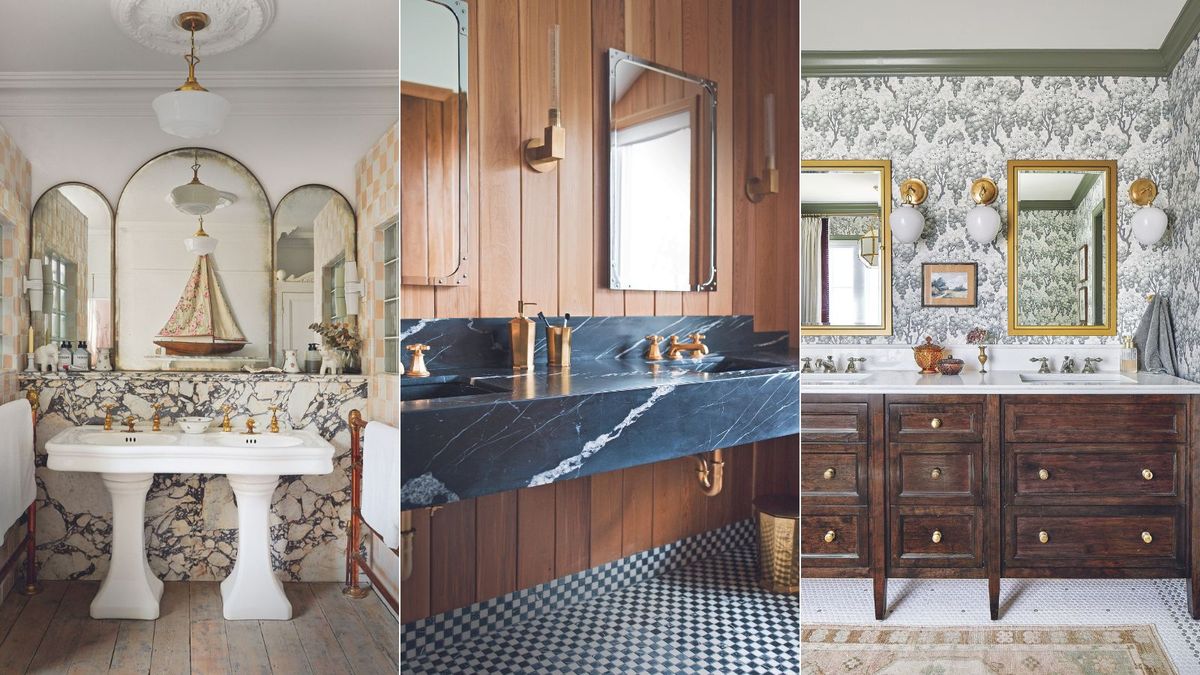 There's no doubt that double bathroom vanities give any space a luxe look, plus, of course, the benefit of more countertop and storage space. 
But how to ensure your bathroom vanity ideas fit both the style of your room and the space available perfectly?
We spoke to leading interior designers and bathroom experts for their advice on designing a bathroom vanity for two.
Double vanity bathroom ideas and advice
Whether you are designing a double vanity for a spacious primary bathroom or a snug ensuite, there's much to consider, from countertop materials to storage opportunities. Here, we cover the most important design elements.
1. Choose a double pedestal for a traditional feel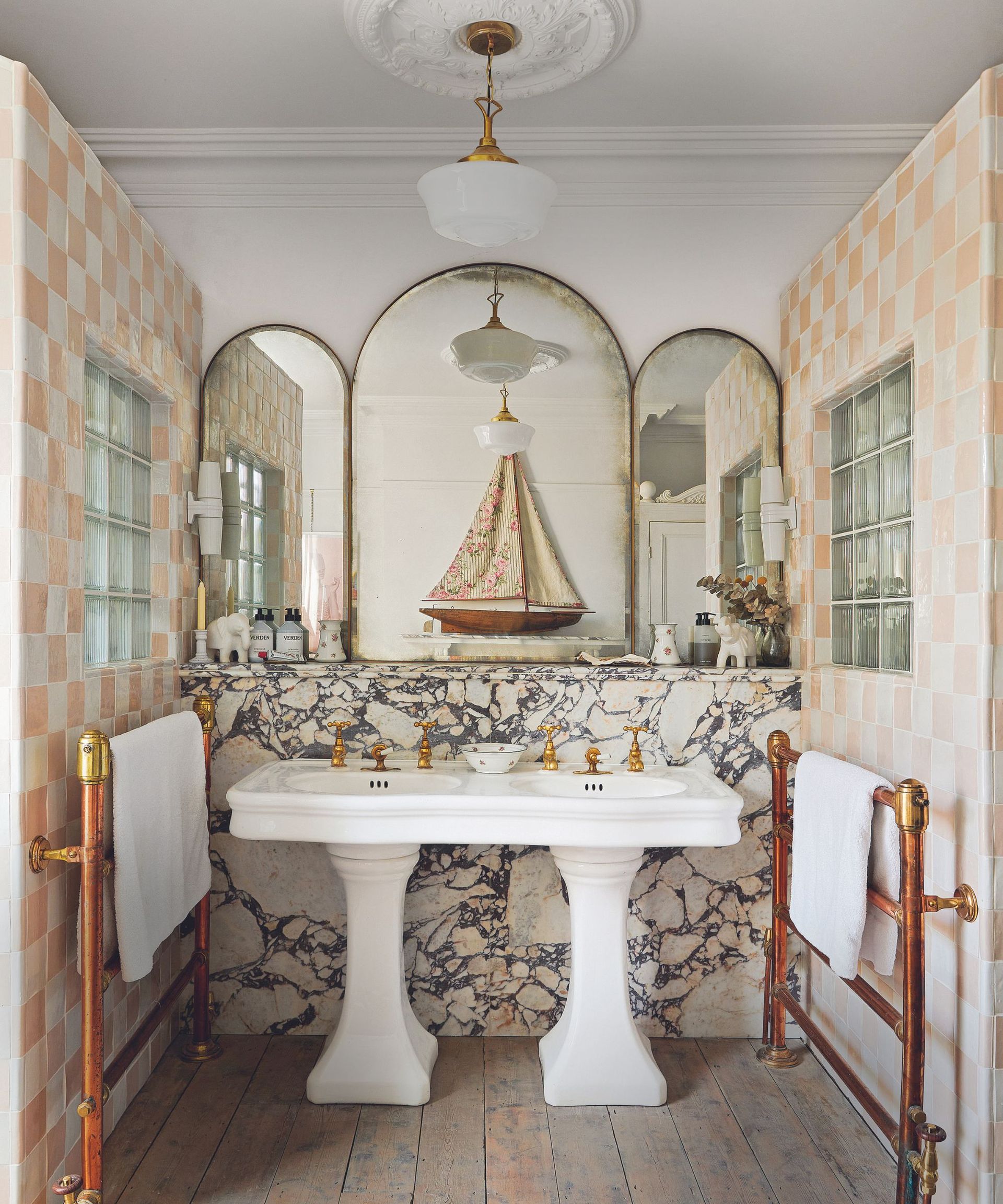 What you sacrifice in countertop and storage, you more than make up for in curvaceous style when you choose a double bathroom vanity on pedestals. 
'A freestanding pedestal-style basin is a very versatile choice and can suit traditional bathrooms as well as modern ones,' says Angus Buchanan (opens in new tab), creative director, Buchanan Studio.
'What we also love about them is that you can take them with you when you move house more easily than a built-in vanity with tiles around. So, if you fall in love with one, you can take it with you forever.' 
Our list of the best places to buy bathroom vanities is a good place to start your search for the perfect find.
2. Contrast bathroom vanity materials with hardware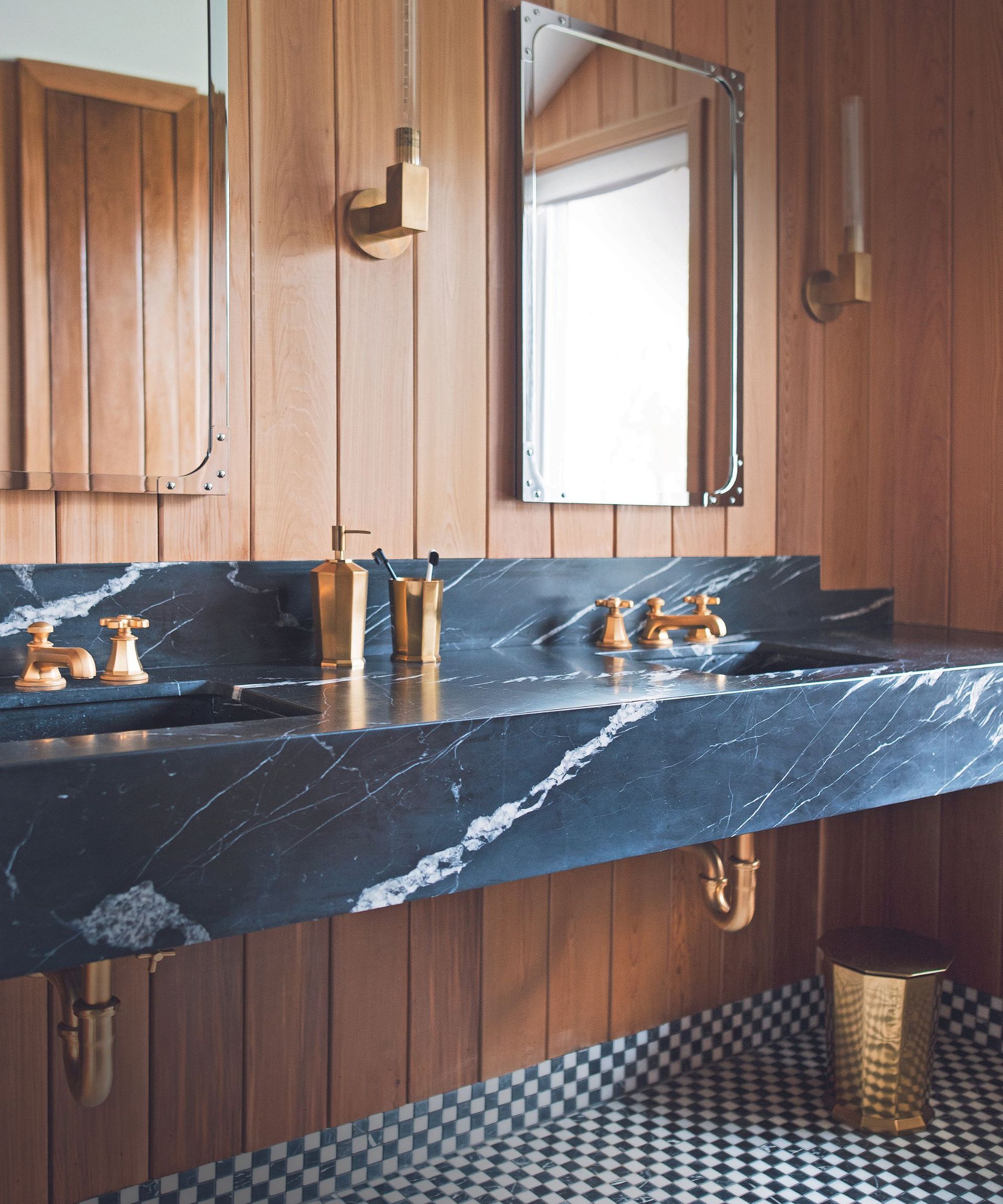 Bathroom countertop materials tend to steal the limelight, but let's not minimize the effect that well-chosen brassware can have. 
Design insiders often refer to brassware as the 'jewellery of the bathroom' in recognition of its ability to dress the space up, or down. 
Interior designer Nicole Cohen (opens in new tab) is well versed in the influence of brass. 
'Here, warm brass plays off the coziness of cedar walls, adding a feeling of luxury and preventing it from taking a rustic turn,' she says. 'Chrome or nickel would have been too bright and a little jarring.'
3. Choose a curved, wall-mounted double vanity for small spaces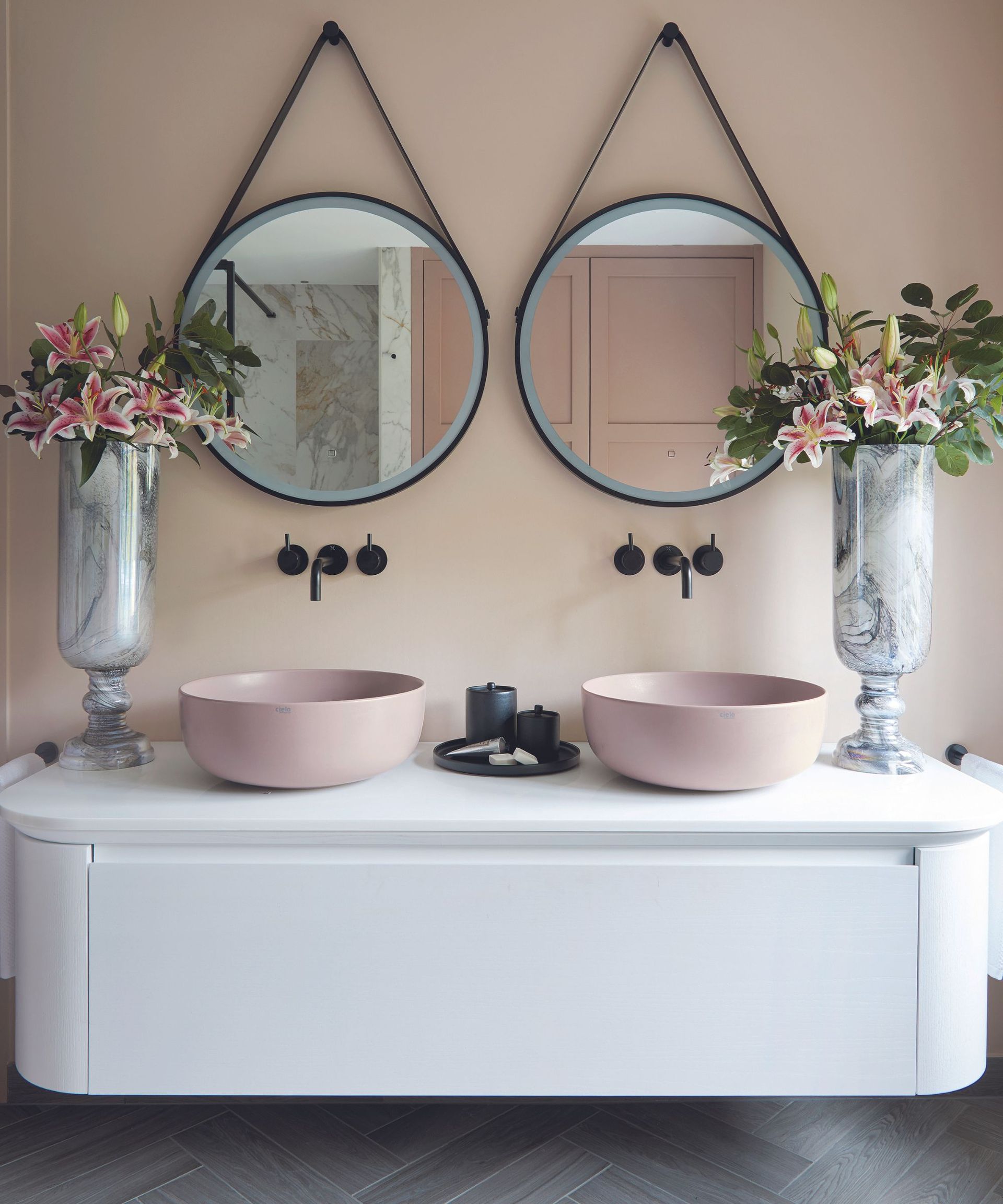 Whether you want to make a small bathroom look bigger or simply enhance space further in a large bathroom, think: wall-mounted double bathroom vanities. 
'To create a sense of space, while maximizing bathroom storage and counter space, opt for a wallmounted vanity unit,' recommends Yousef Mansuri, director of design, C.P. Hart (opens in new tab).
'Seeing the floor run right under the unit is an instant space-enhancer. Choose a curved design to avoid the "boxy" look of modular wall-hung units. Losing the corners can also be advantageous to the bathroom layout, allowing more room around a bath or WC.'
4. Design a bespoke double vanity for a principal bathroom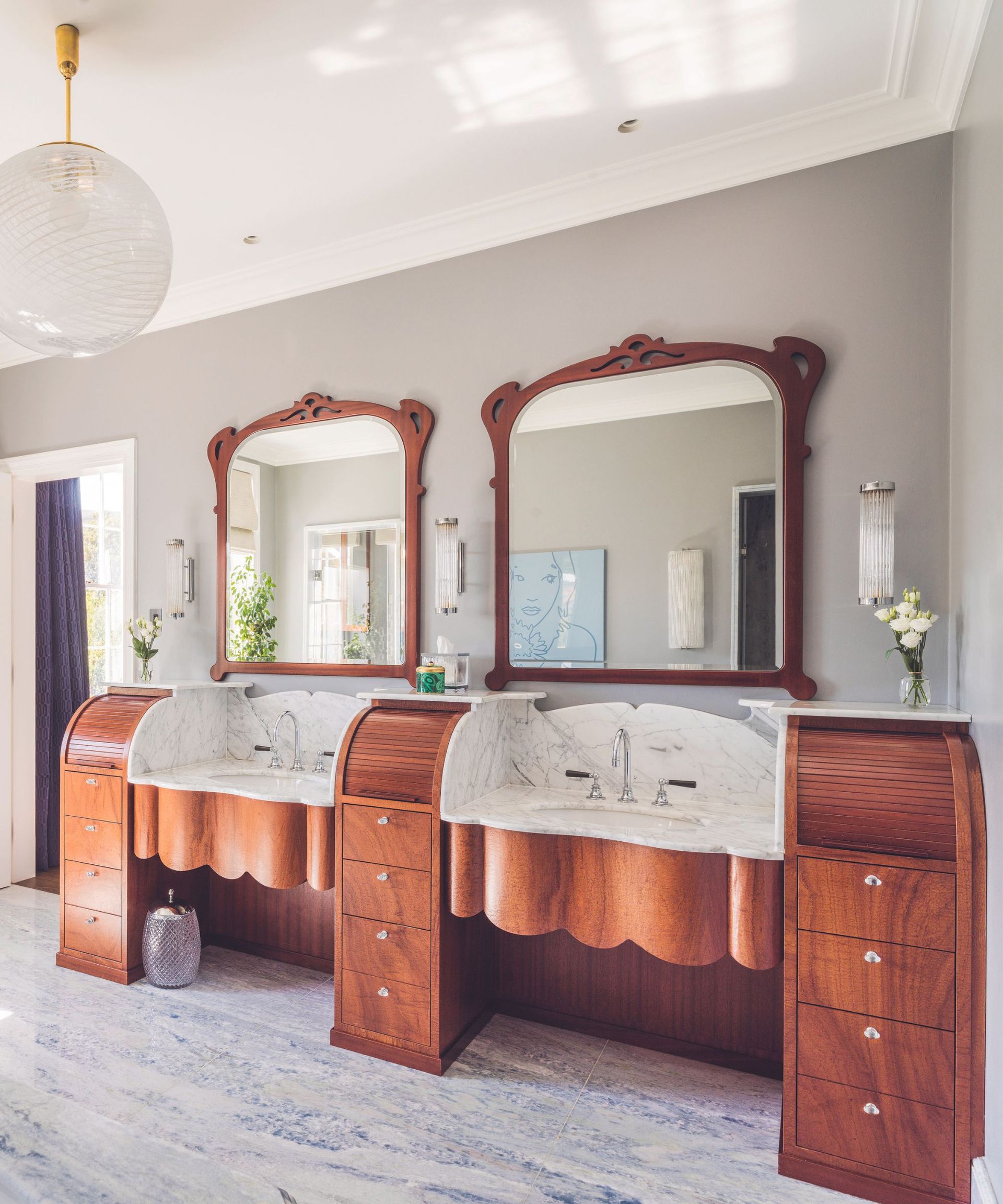 Looking for luxury bathroom ideas? Commissioning a custom-made double vanity is the smart way to achieve your dream piece, makes organizing a bathroom vanity or designing makeup vanity ideas entirely unique to you, and says interior designer Shalini Misra (opens in new tab), who based this unusual vanity design on vintage furniture from a French hair salon. 
'The joy of a bespoke vanity is that it can be made to your precise requirements, from dimensions to the amount and type of storage included, making it something that is really unique to you,' she adds.
5. Use a double vanity to introduce color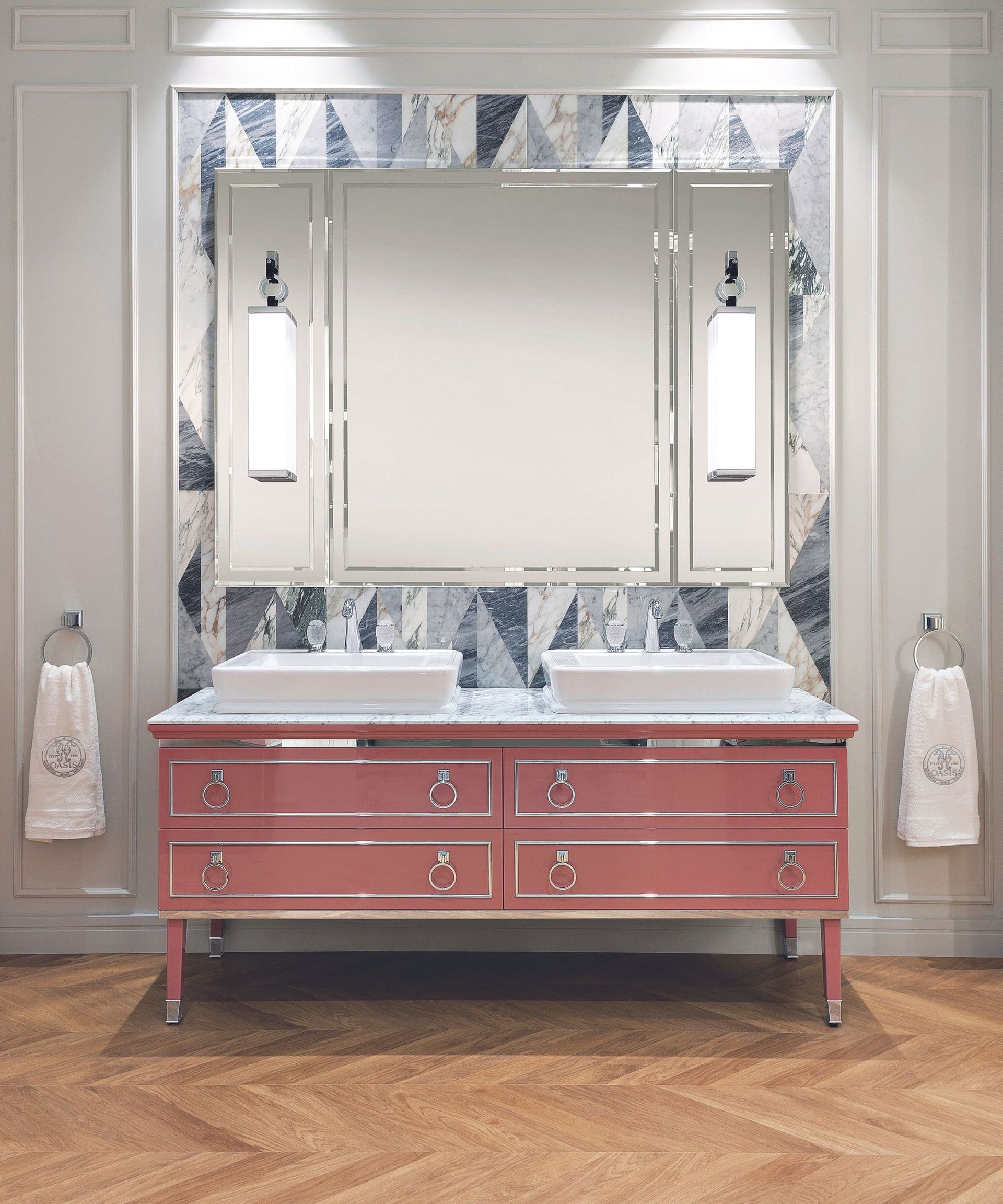 The outsized proportions of double vanities make them prime candidates for adding a big bathroom color boost. 
'Introducing colour via a statement double vanity focuses the eye onto the beauty and architecture of each individual piece,' says Louise Ashdown, head of design, West One Bathrooms (opens in new tab). 
'Use your choice of color to express your personality or change the feel of the space. This on-trend Marsala shade lends a modern twist to the classical vanity design.'
It's a very repeatable idea for powder room vanities, too.
6. Create a charming look with vintage vanity furniture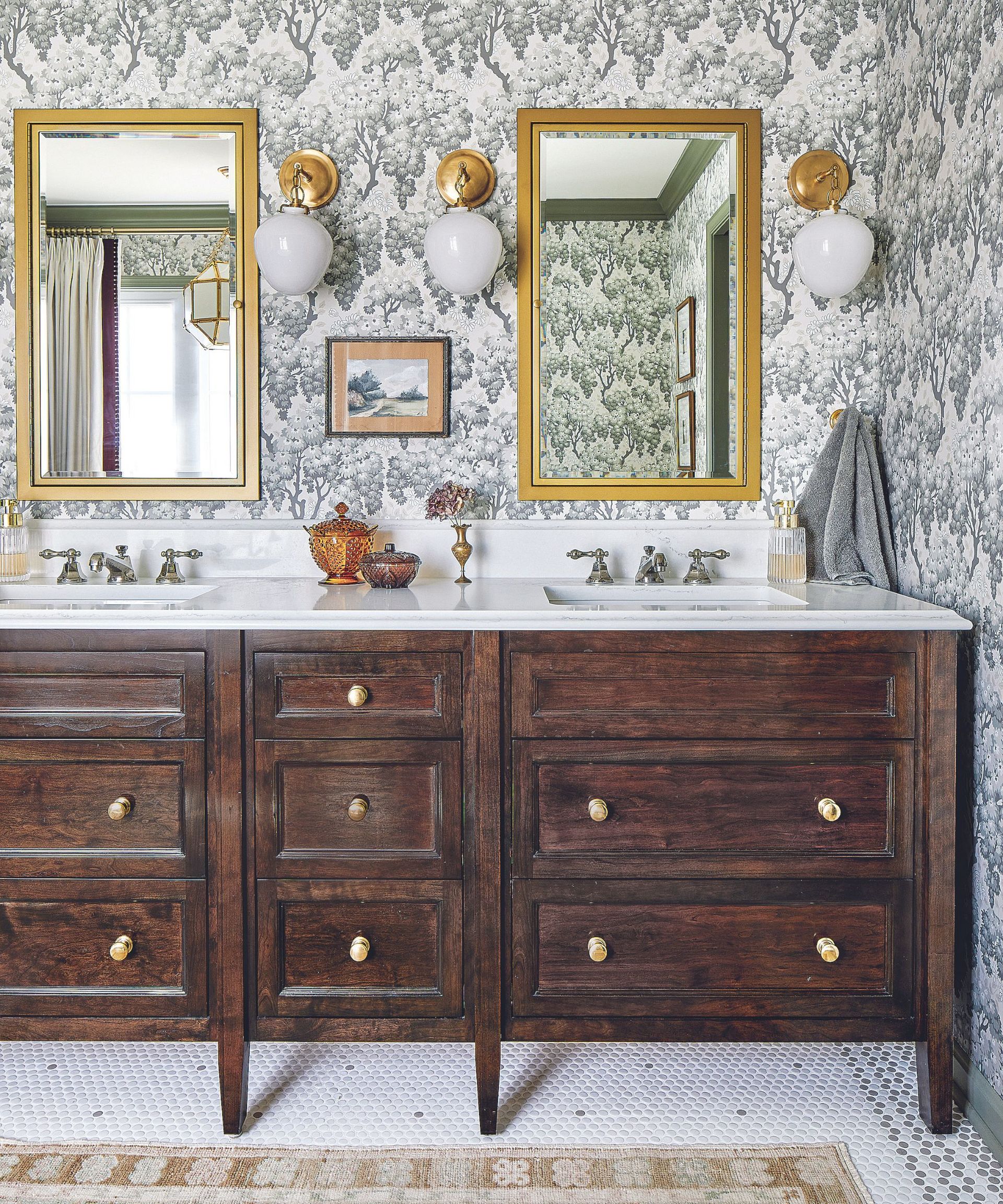 Dial down the practical side of daily ablutions by styling your double vanity on vintage furniture more typically found in living rooms or bedrooms. This is exactly the story behind this ensuite bathroom, where the owners requested a relaxed, comforting ambience. 
'It's designed to look like an antique piece of furniture, with espresso stained maple lending richness and warmth,' says Tanya Smith-Shiflett, owner, Unique Kitchens & Baths (opens in new tab). 
It's a wonderful partner for bathroom wallpaper ideas and antique style bathroom vanity lighting ideas, too.
7. Mix materials in a double vanity for interest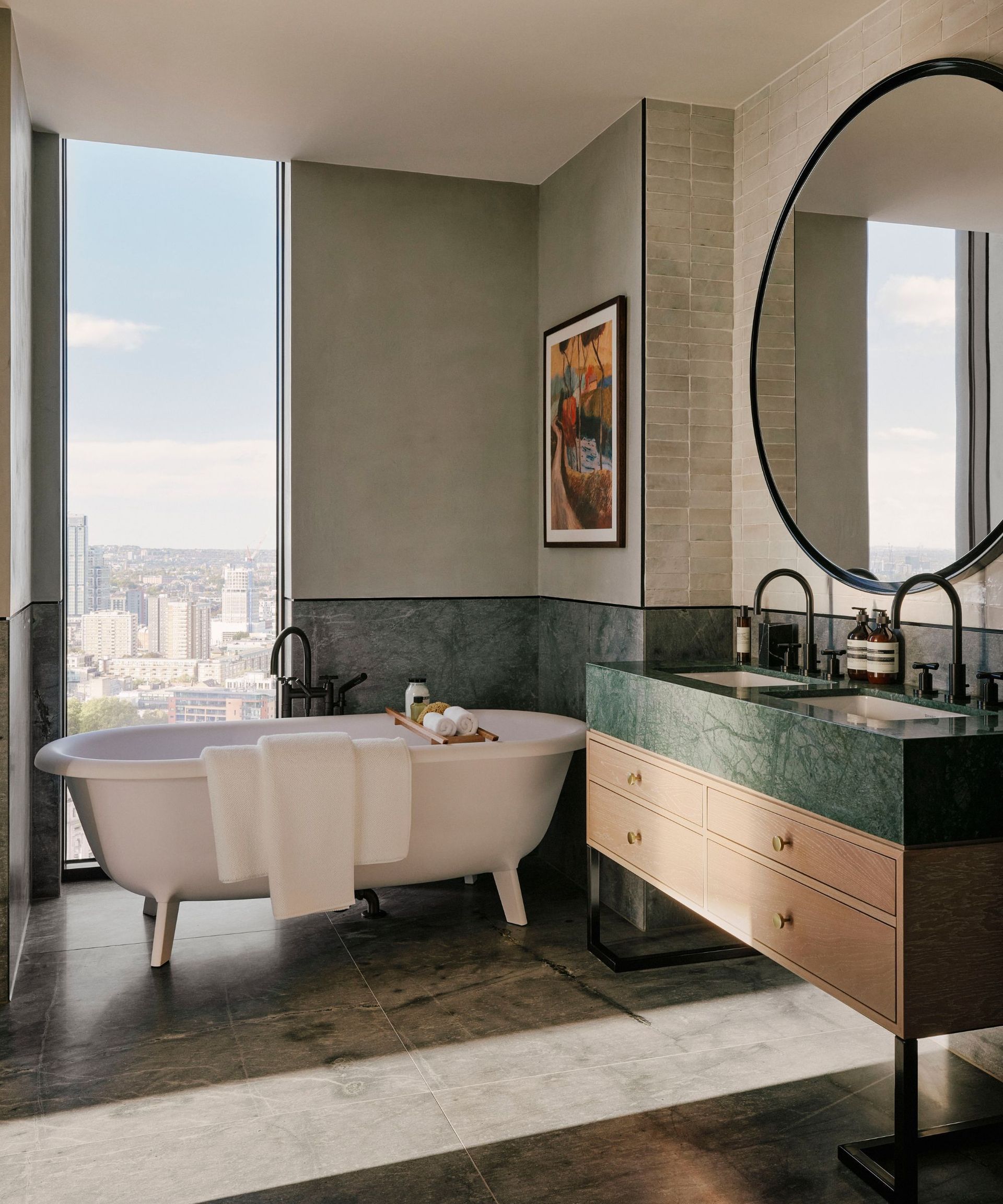 This contemporary bathroom by Studio Ashby (opens in new tab) demonstrates how combining contrasting materials can soften a practical apartment bathroom. But though the double vanity is the star of the show, it's the double vanity bathroom mirror idea that captures our attention:
'The huge circular mirror is in perfect contrast to the straight lines of the vanity below it,' comments Jennifer Ebert, Homes & Gardens' Digital Editor, 'and because the framing is matched to the hardware in the faucets, it feels perfectly paired.'
8. Build storage into a family double bathroom vanity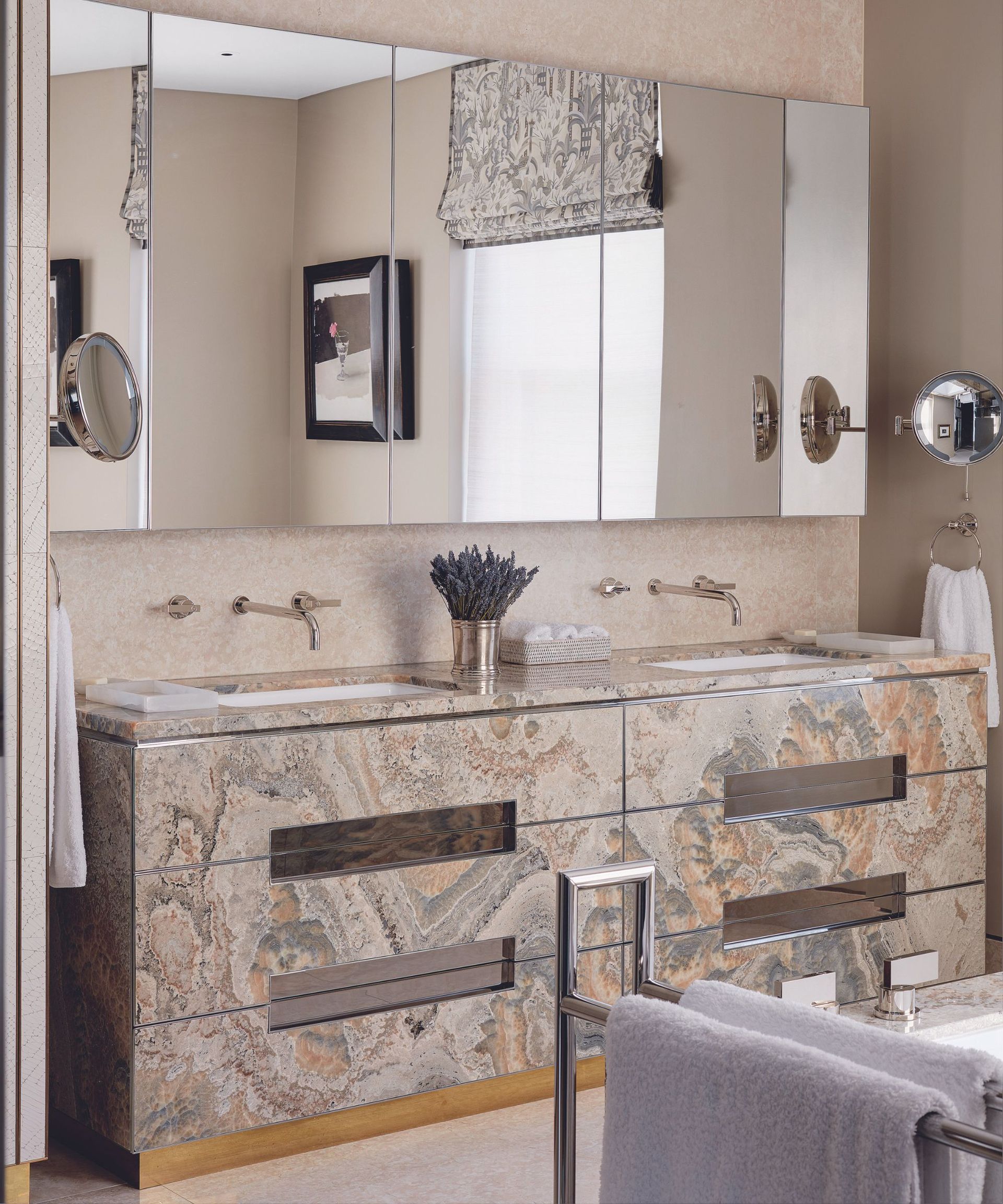 A double vanity is a wonderful opportunity to incorporate plenty of storage, above and below. And while gray bathroom vanity ideas are enduringly popular for family spaces, you can soften their visually heavy presence by cladding a double vanity in solid stone with gray tones; it's a masterful move that's beautifully achieved in the space above. 
'Here, the onyx veining was matched on the horizontal and vertical planes to give the impression that it's made of a solid block of stone inlaid with chrome,' explains Mike Fisher (opens in new tab), founder and creative director, Studio Indigo. 
'Stone is heavy, so requires a specialist joinery company to execute. Framing the onyx panels in chrome also helps protect the vulnerable edges.'
9. Choose the right countertop and backsplash materials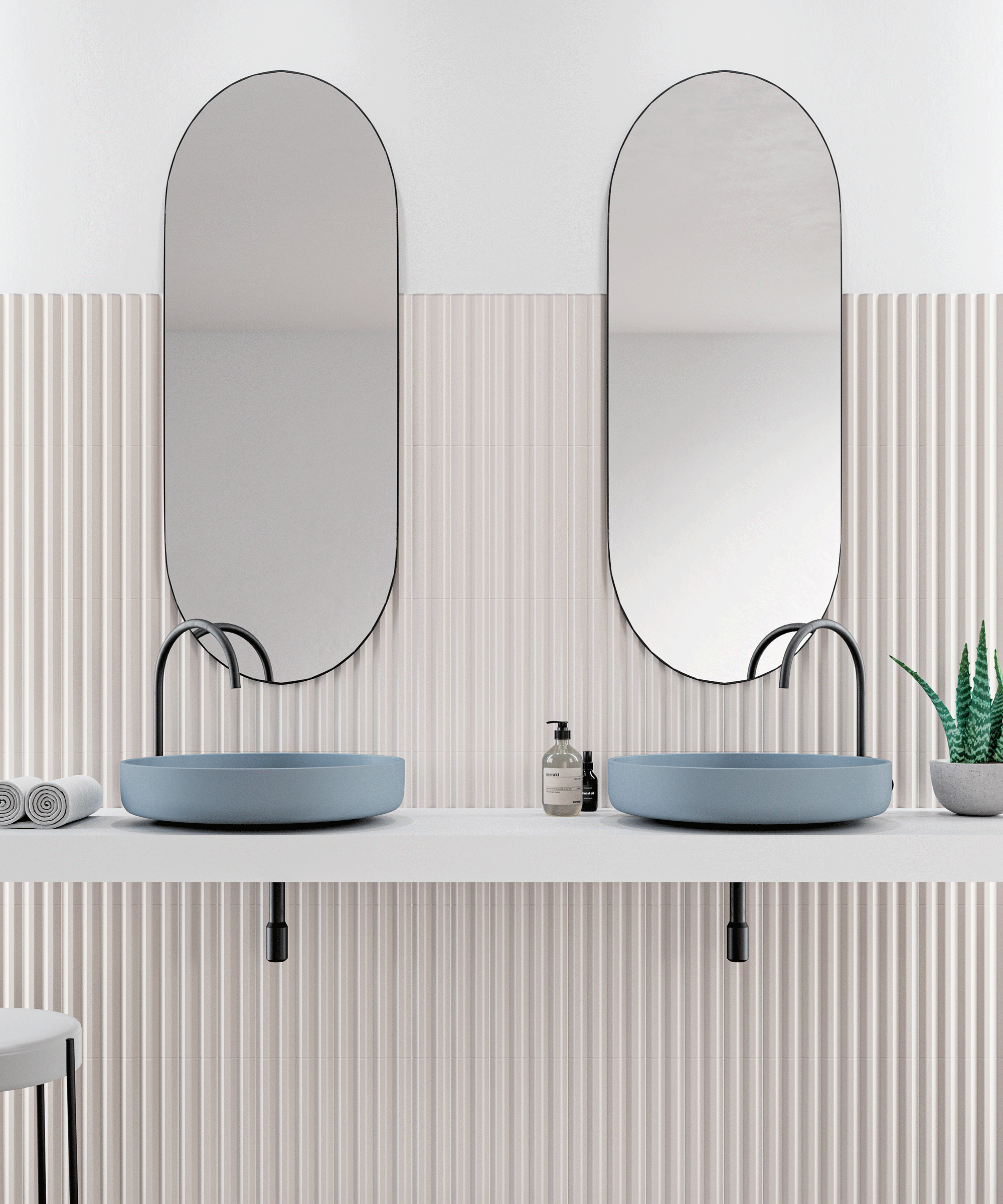 Continuing countertop materials up the wall or running the bathroom vanity backplash above and below the countertop is a refined way to protect surfaces from splashes. Go for a taller splashback if you are wallpapering or want to celebrate a striking stone or finish. 
'This is a good opportunity to exaggerate the proportions of a room, either with texture, as above, or pattern. Horizontal lines will make a bathroom vanity, and the rest of the room, look wider; vertical lines like these will make the room feel taller and grander,' advises Lucy Searle, Editor in Chief, Homes & Gardens.
10. Put single bathroom vanities side by side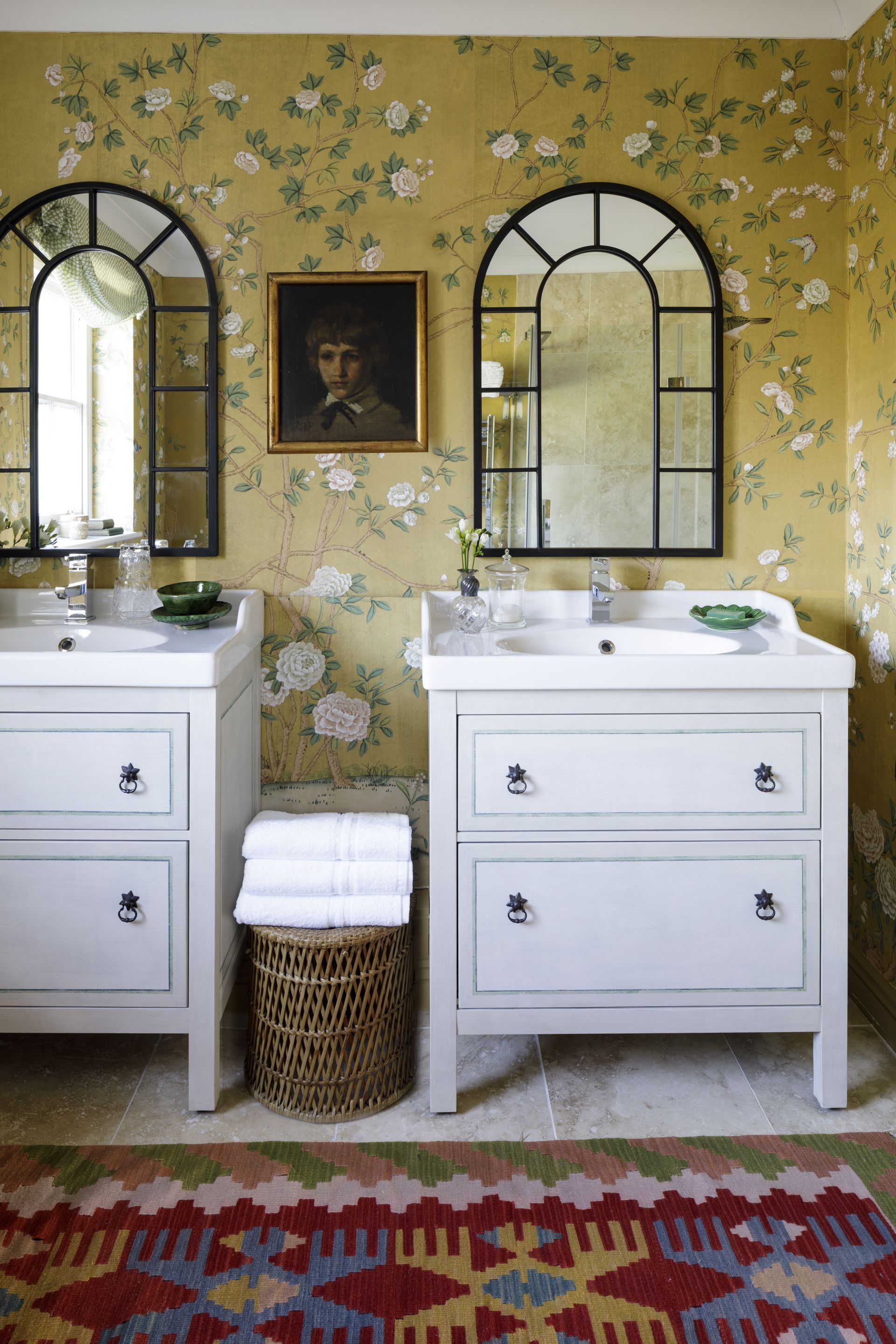 If you have the floor space, two single bathroom vanities sat side-by-side can give you a boutique hotel bathroom style. This space, designed by VSP Interiors (opens in new tab) is a wonderful approach for a country bathroom and should be top of the list if you are looking for luxury farmhouse bathroom ideas.
'The arch-topped mirrors, floral wallpaper and patterned bathroom rug all soften the chunky nature of these bathroom vanities,' says Jo Bailey, stylist and Deputy Editor (Print) of Homes & Gardens.
FAQs
How big does a bathroom need to be for a double vanity?
A double bathroom vanity will average at around 72in wide, and this should allow for two people to stand side by side at the same time. So the minimum width or length of a bathroom that includes one would be around 6ft. However, if this is the case, ensure that it is designed to enhance the space: a wall-hung unit with storage and a large mirror above will be the most appropriate design. 
---
Double vanity bathrooms are generally saved for primary or family bathrooms; in a primary bathroom, you can afford to invest in shapely units and not, necessarily, focus on storage, but in a family bathroom, roomy storage beneath the countertop and behind drawer or door fronts will be a must. In all cases, design in your bathroom lighting and bathroom mirror ideas at the same time as your double bathroom vanity: the success of your space depends on all three working together.