10 hues for walls and cabinets |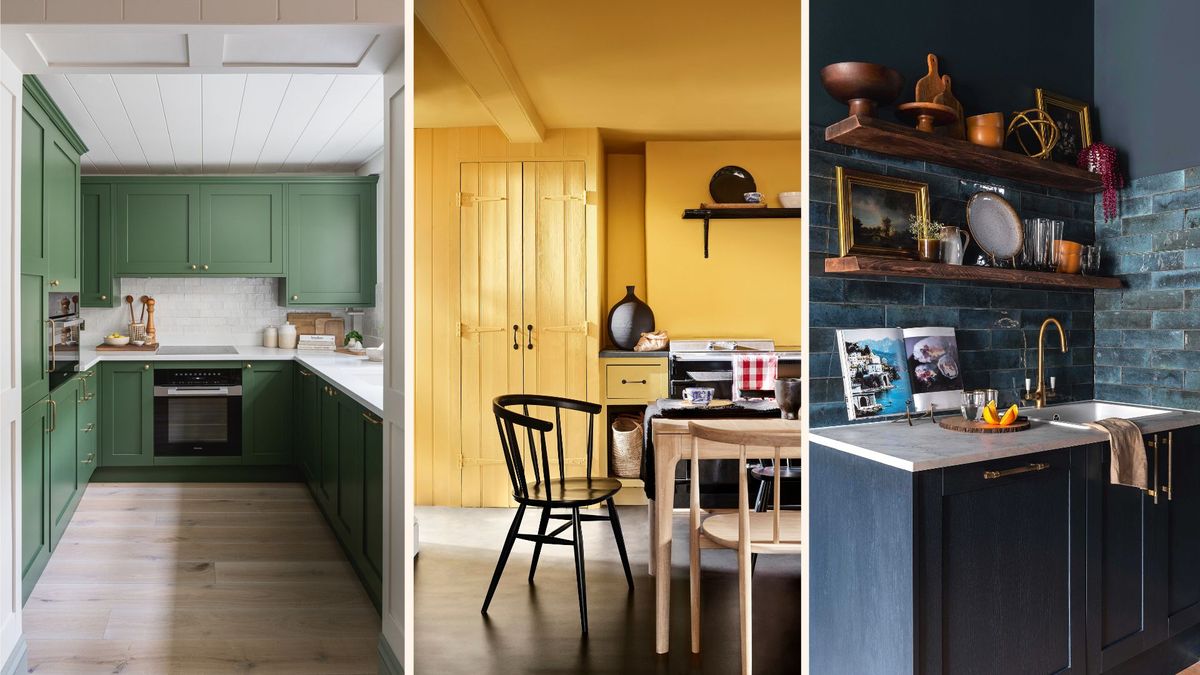 Planning a renovation or a refresh of a bijou kitchen? Selecting the best small kitchen color ideas will be a key part of the design process. With so many choices available, these insider tips from designers and color experts will make it easier for you to find the right paint shades for your walls and cabinets.
Perusing the latest interior paint color trends is one of the fun parts of a redesign. From pale pastels and uplifting brights to rich tones and new neutrals, a fresh color will invigorate your kitchen.
Yet when choosing paint color ideas for a kitchen, especially one that's compact rather than colossal, there are some important considerations to take into account.
"Colour choice is dependent on the overall feel that you are looking to achieve," says Ruth Mottershead, creative director, of Little Greene (opens in new tab). "Even in a small kitchen, you can have a dramatic effect on the space with color. Firstly, do you want your kitchen to feel bold and confident, or calm and co-ordinated?"
10 expert small kitchen color ideas to inspire 
"The starting point when choosing paint colors for any room is to recognize the aspect of the room," says Simon Temprell, interior design manager at Neptune (opens in new tab). "South-facing rooms are blessed with bright daylight throughout the day and your color choices are huge."
"North-facing rooms need an injection of warmth so make sure that your neutral colors have a warm undertone, or they will look decidedly sad and chilly. If your room faces east or west, you must consider the time of day you will use it most and tailor your color choices that way."
Bear in mind also that the color of your cabinetry is a bigger commitment than the color of your walls, so it's well worth choosing shades with longevity, such as those found in nature. 
Splashing some emulsion on the walls a few years down the line is far easier and more affordable than changing cabinet color, which may require removing doors, drawers, and handles, not to mention plinths and panels.
1. Sage Green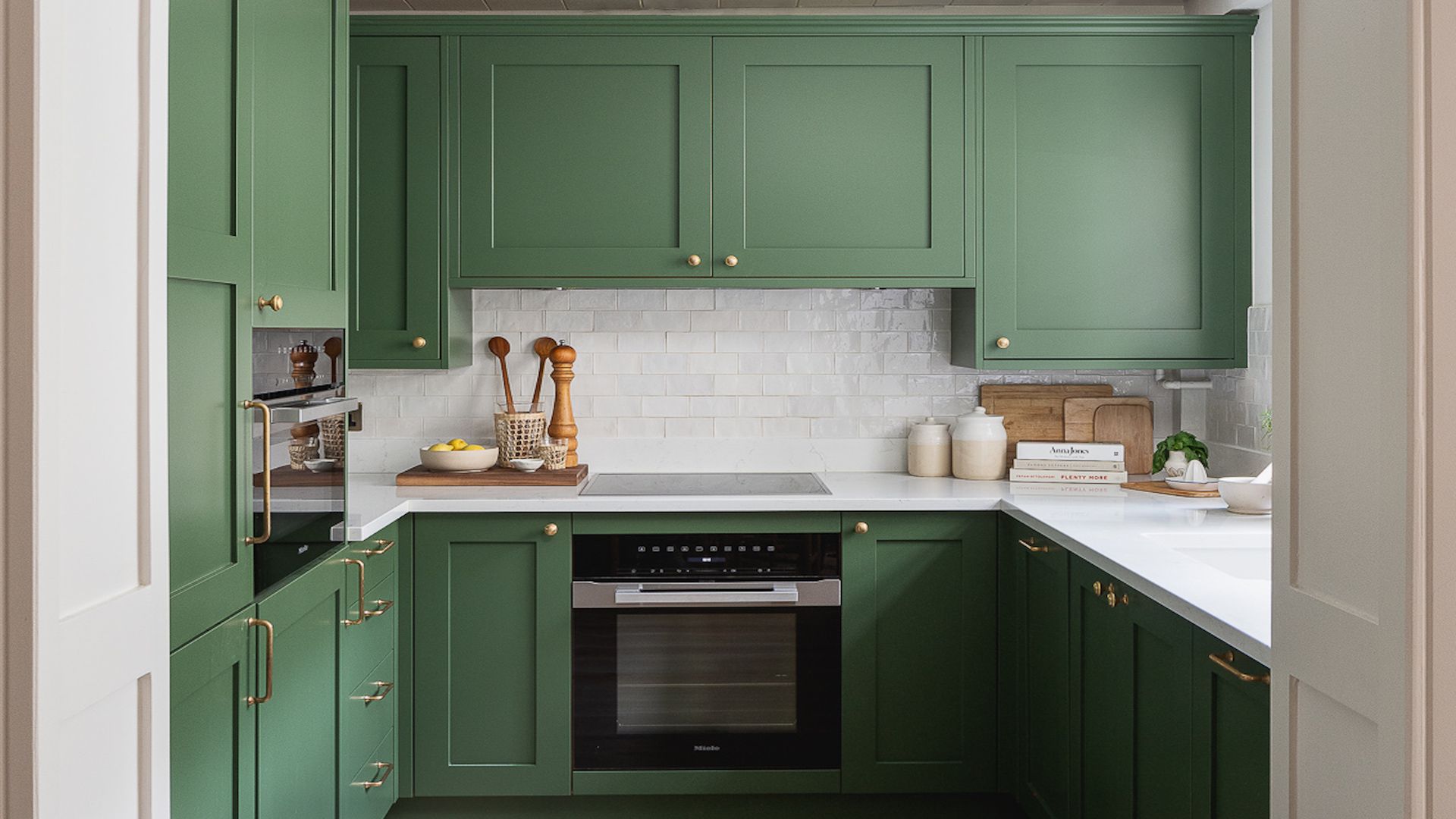 If you're easily swayed by the latest looks (and who isn't?), make sure to select a color trend you love and can live with. 
One shade that could fall into this category is sage green. It's a huge color trend for kitchens, yet inspired by nature, it's beautiful and calming too.
"Sage green is a great color option for a smaller kitchen because it has depth without being overbearing," says Rebecca Nokes, Head of Design at John Lewis of Hungerford (opens in new tab). "It's also a fairly warm shade so it can make a small kitchen feel cozy and inviting."
"When using a bolder color in a small kitchen, it's essential to keep the other elements fresh and clean to create a sense of light and space. For example, if you want bold color on your cabinetry, opt for simple flooring and white tiling, worktops, or kitchen splashback ideas."
2. Mellow yellow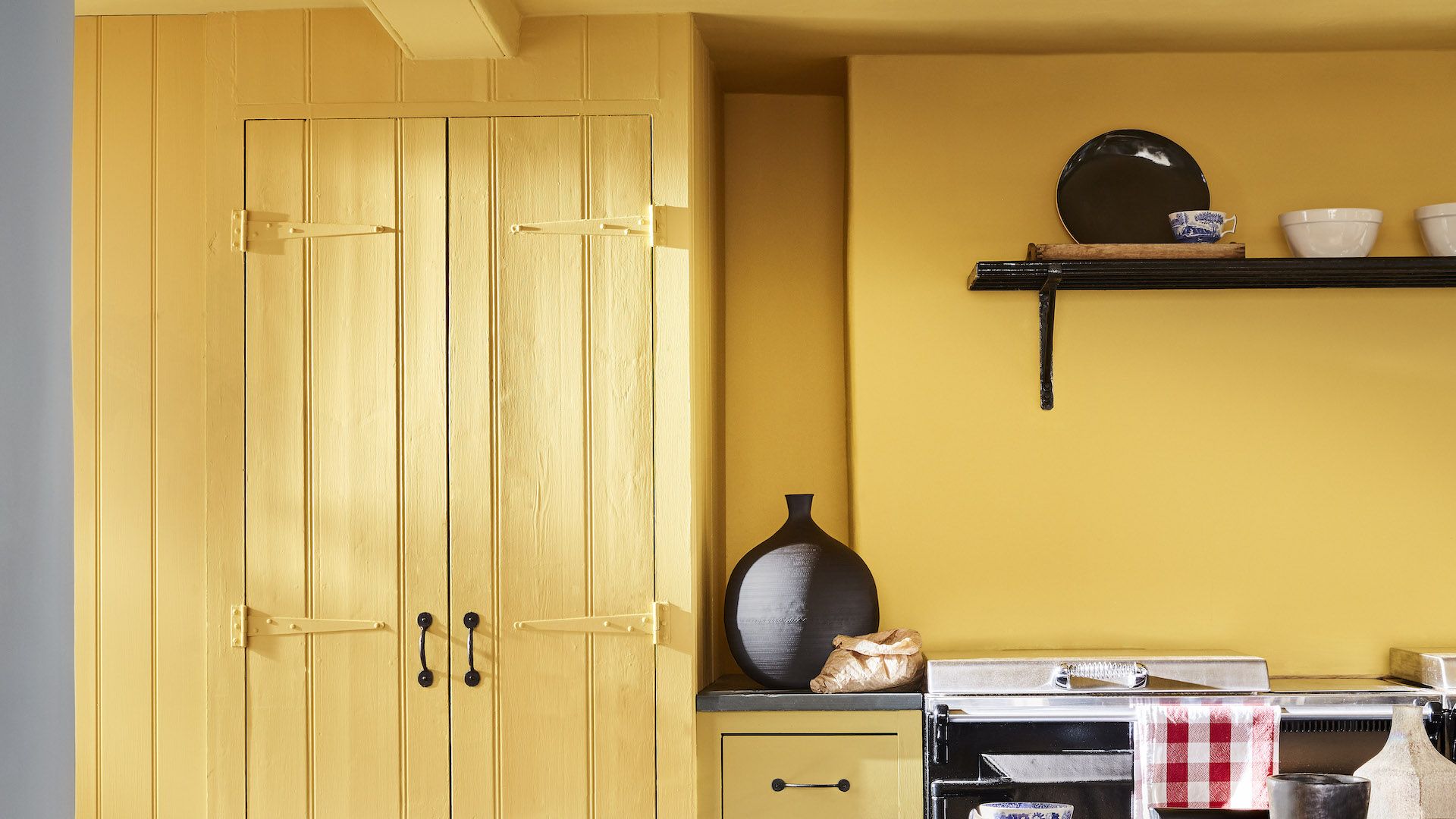 Reminiscent of sunny days, yellow is an invigorating hue that will enliven a small kitchen. Yet as bright and cheery as yellow is, it can be divisive, so choose the shade wisely, especially if you're doing up your kitchen with a view to selling your home. 
Certain shades of yellow, such as lemon and neon, are cited among the paint colors that devalue homes, so err towards softer, more enticing tones, such as the one shown here. Of course, if you're staying put, go for a shade you love.
"Kitchens are often a hive of activity making them the perfect place to use a joyful yellow such as 'Giallo'," says Ruth. "Creating a feeling of warmth and coziness, 'Giallo' delivers a burst of sunshine, but it also has a softness of color which will fill a room with light."
"Small kitchens are also wonderful for embracing the 'Color Drenching' trend, adds Ruth. "Don't feel limited by painting just your kitchen walls, incorporate the cabinets, woodwork, skirting, and ceiling to deliver an uplifting, enveloping space. Keep your color palette refined, pairing this golden hue with raw wood finishes and touches of contrasting black for a contemporary and fresh feel."
3. Plaster pink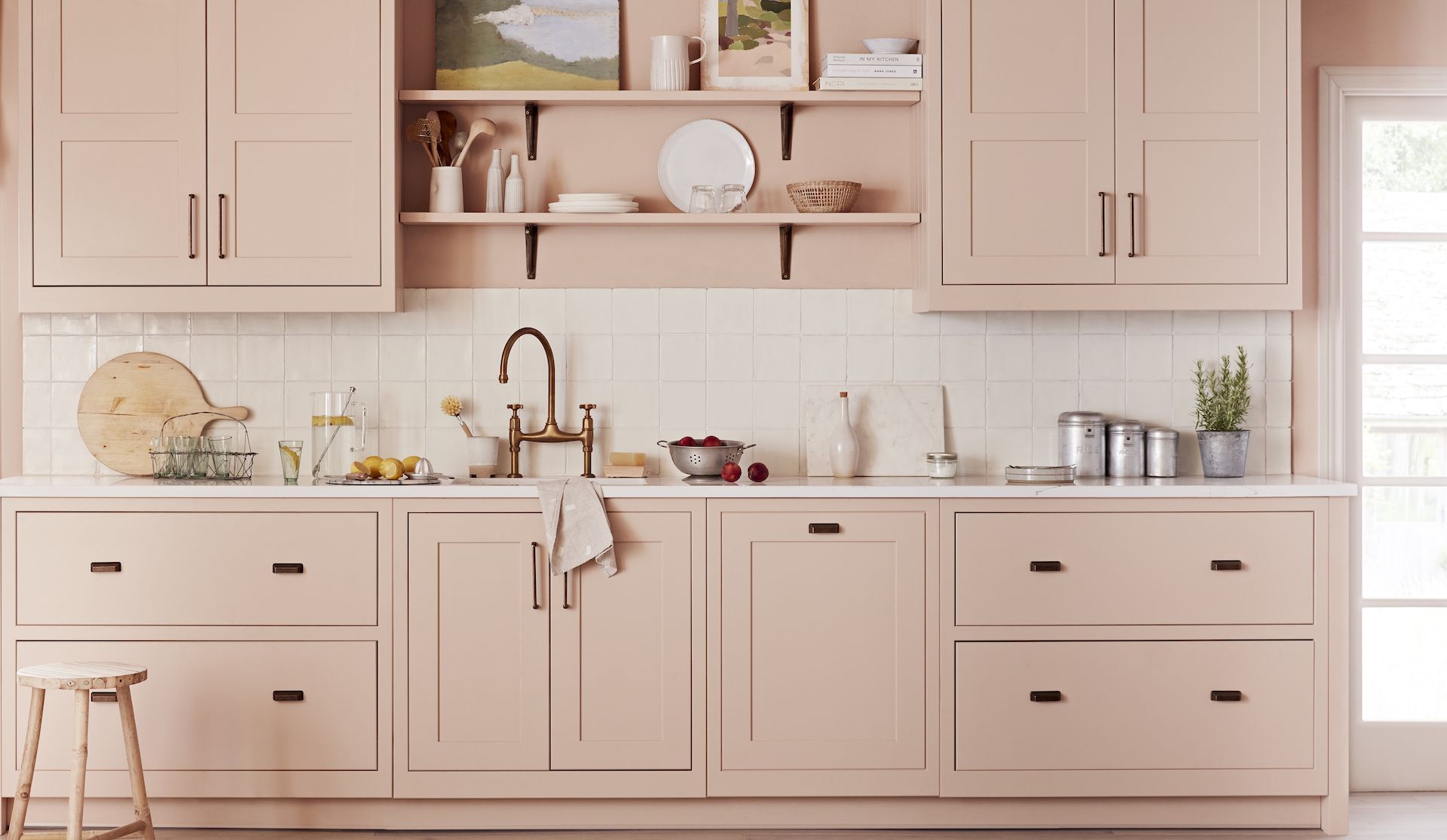 Pale plaster or putty pinks are soothing shades that work equally well in both traditional and contemporary kitchens. Shaker-style cabinetry offers a timeless design that looks stylish when painted in these best pink paint colors and shades. Contrasting handles and worktops can make the cabinetry feel more contemporary and unique. 
"Don't be afraid to use color in a small kitchen, rather than just opting for white," says Ben Burbidge, managing director, of Kitchen Makers (opens in new tab). "A pale pastel pink will make the space feel warmer whilst still allowing the light to bounce. Plaster pink can also evoke a sense of calmness and serenity to the kitchen – offering Mediterranean vibes."
4. Bold black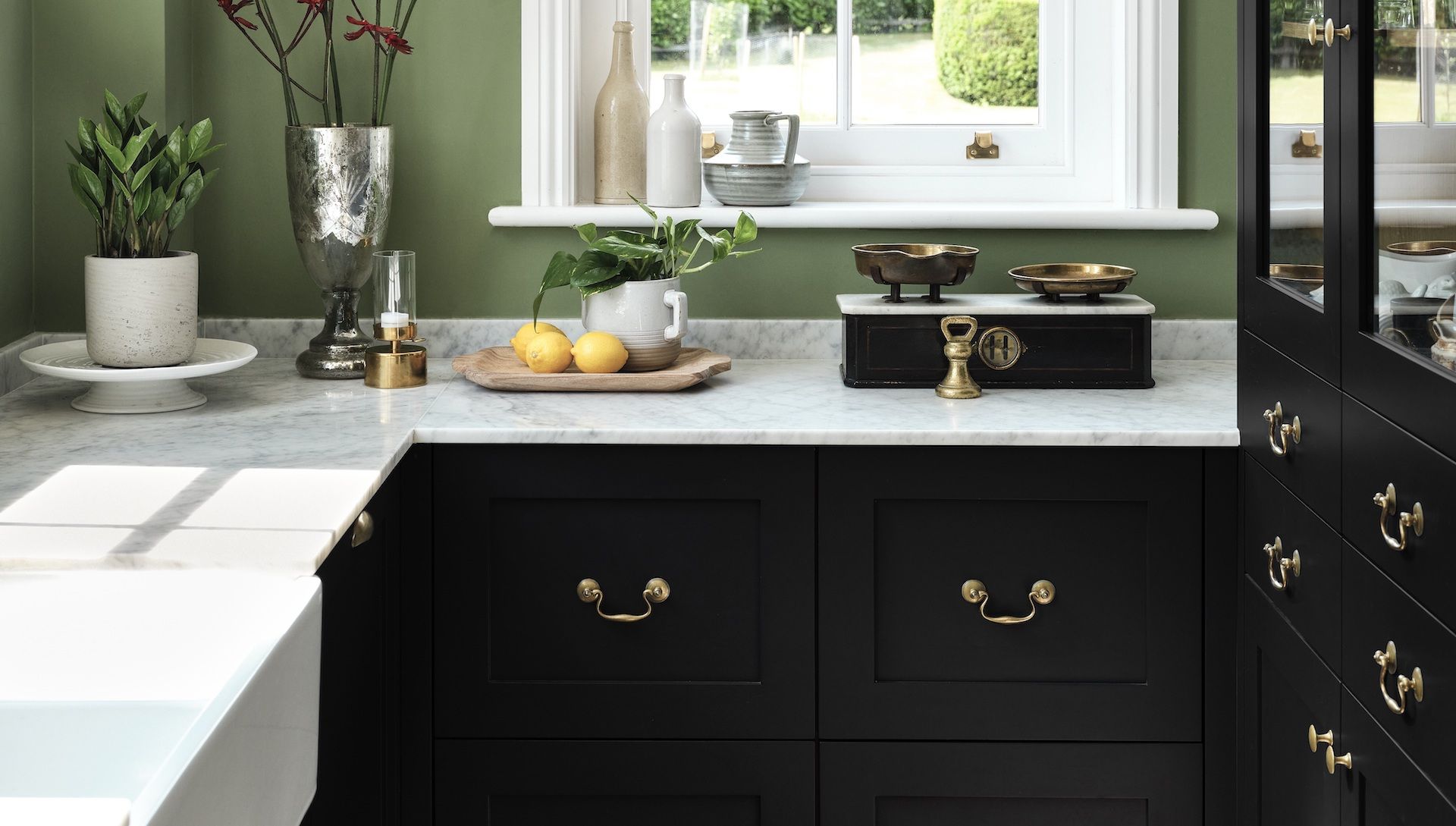 Black is a bold choice but it can look beautifully dramatic in a bijou space, especially when mixed with paler tones and warm materials. 
"If you've chosen black for your the cabinetry, I suggest keeping this to the lower units as darker shades on wall units can make a small kitchen feel a little claustrophobic," says color expert Anna Hill at paint brand, Fenwick & Tilbrook (opens in new tab).
"Choose a soft shade of black such as 'Scribblings' which is a charcoal with warmer undertones to avoid a stark, hard black finish.Using rich timbers and brushed brass materials can soften black units, bring some depth and a mix of textures, ensuring the final look isn't too flat and cool."
5. Pale grey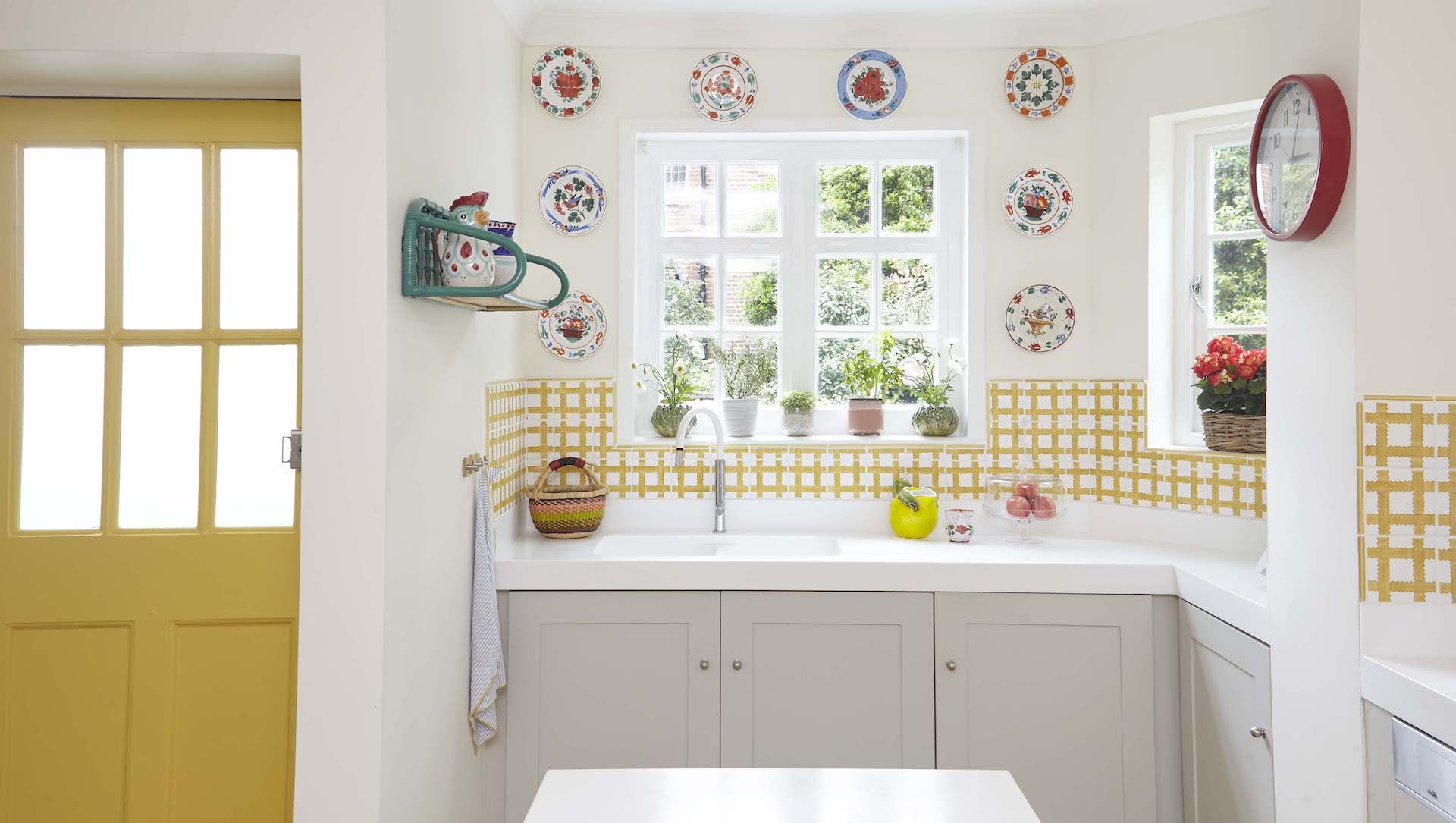 Pale grey is a perennial favorite in interior design and remains a good choice for small kitchens due to its versatility. When decorating with grey it's easily coordinated with other neutrals such as white or bolder hues. 
"The most popular colors for small kitchens remain the quiet neutrals such as pale grey, cream, and white,' says Simon Temprell at Neptune (opens in new tab). "My go-to neutral that works in rooms of any aspect is Silver Birch from Neptune. It's a pale grey with a brown undertone that keeps things warm, and it sits beautifully against other colors.
"A small modern, slab-front or Shaker-style kitchen can take almost any color, depending on your own sense of style. You can use some brighter, zingier colors in a modern kitchen, even if space is limited."
6. Navy blue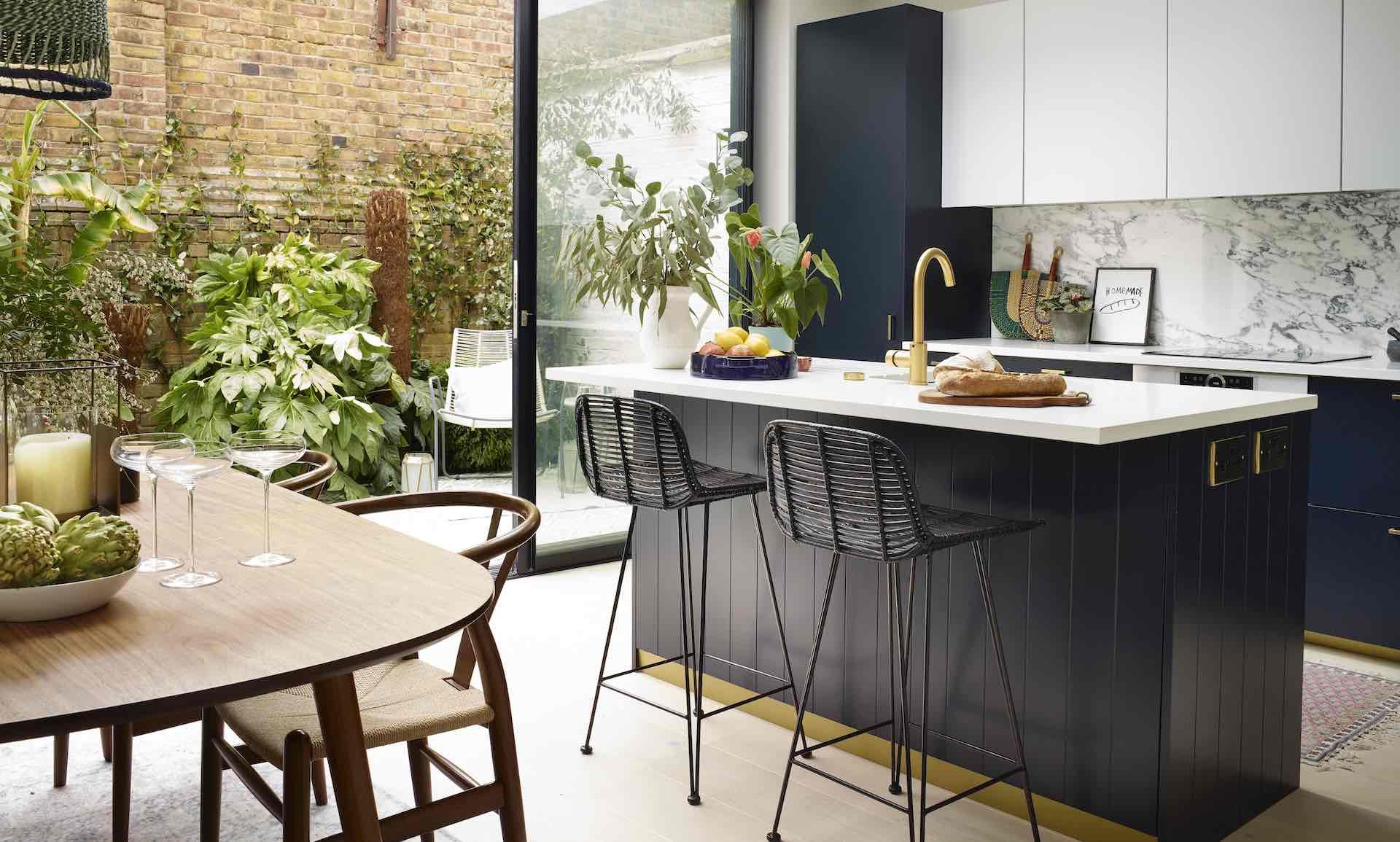 Navy blue kitchens are a popular interior design trend and it's a tone that perfectly offsets brass and other warm metals. This is great news when choosing taps and hardware, as this pairing oozes smart sophistication – an ideal way to make a kitchen look expensive on a budget.
In smaller kitchens, navy mixed with white is a winning combo, especially when blue base units are combined with white wall units and worktops. This prevents the space from feeling oppressive and allows the wall units to 'disappear'. 
If your kitchen is small but part of a larger open-plan space, navy is a great color to zone with, as it will complement timber furniture, such as a dining table and chairs. 
7. Forest green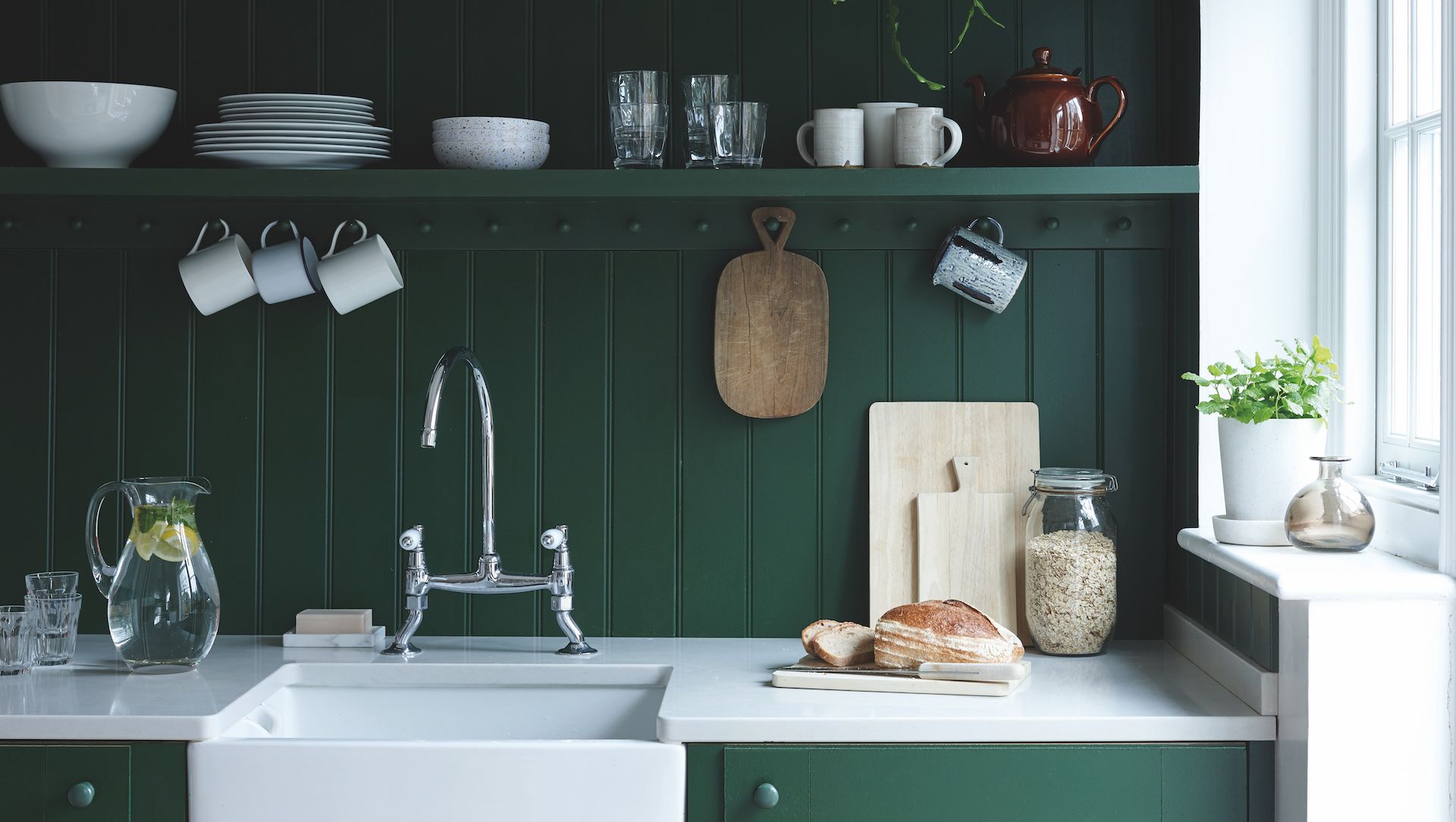 "Choosing a color for your kitchen should be joyful. There are no hard-and-fast rules, but without doubt, the most important thing is to choose a color that you really love and feel comfortable with," says Joa Studholme, color consultant at Farrow & Ball (opens in new tab). 
"This choice of color should however be influenced by the particular conditions of the space: when you use it, the light conditions, and its architectural detail. Without a doubt, dark greens promote a feeling of health and vigor and reflect the balanced feeling of nature."
"The rich pigments in colors like Duck Green respond extraordinarily to light and magically appear much greener when not contrasted with bright whites. However, to prevent a small pace from feeling oppressive, a lighter neutral floor and worktop will help to bounce any available light around the space."
8. Shades of white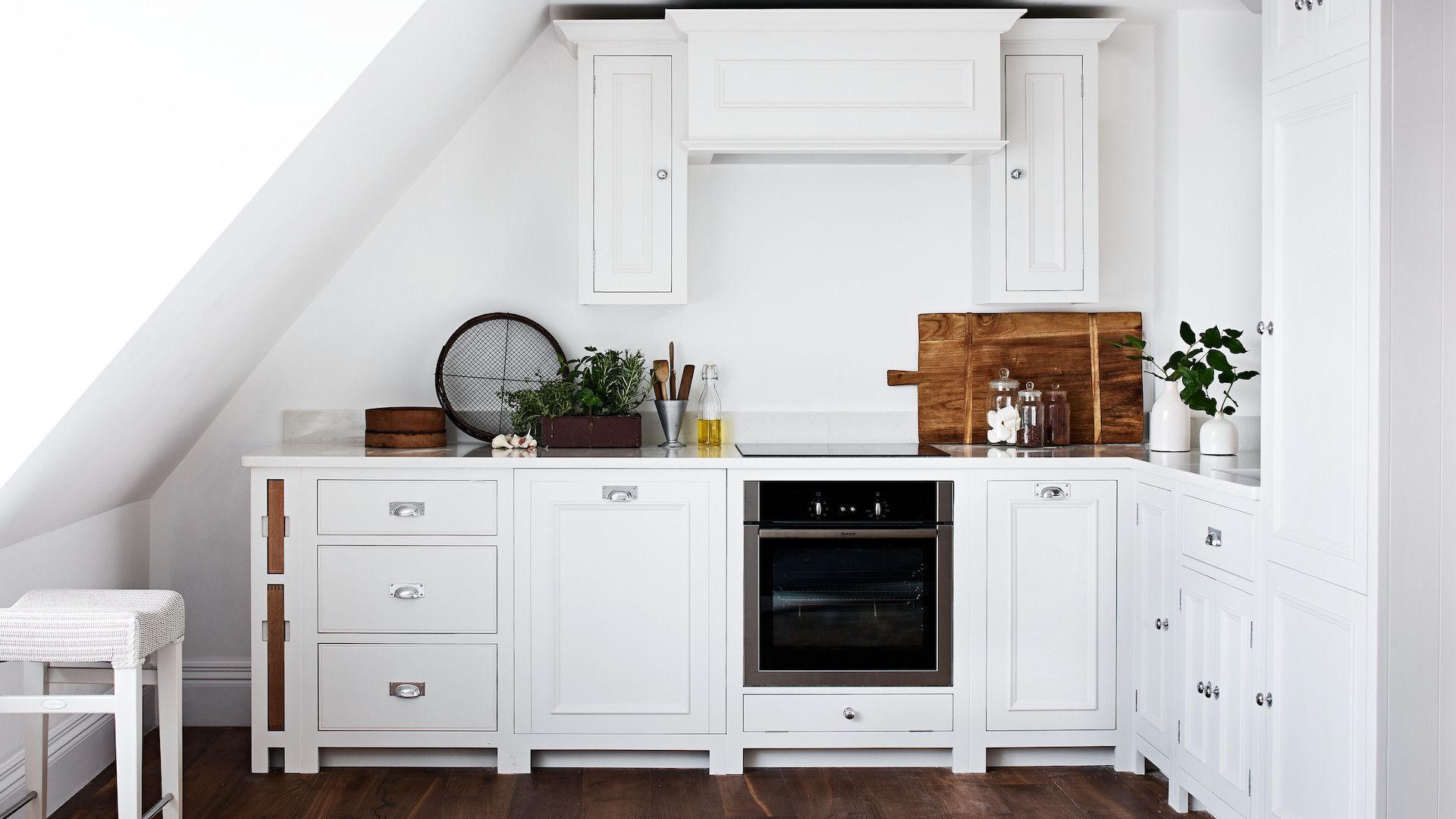 White is a safe bet for a small kitchen but it needn't be boring. With white walls and cabinetry, it's easy to add personality with tiles or a backsplash. Alternatively, embrace the simplicity of an all-white space by complementing it with rich timber flooring and wood accents. This will bring calm to what is often the busiest room in the home.
"Small spaces, especially kitchens, can feel heavy and crowded due to cabinetry, appliances, and a mix of materials and textures," says Simon. "The trick is to use a light, neutral palette but to incorporate some subtle details that prevent the scheme from becoming boring. 
"Conceal as many built-in appliances as possible. Create a focal point, for example, the hob and backsplash, where you can play with color or texture without disrupting the simplicity of the kitchen. Using a mirror as a backsplash can bring reflection and the illusion of space to your work surfaces."
When choosing the best white paint colors for your kitchen, always consider its aspect. "Shades of white can range enormously, from a bright, brilliant white to warmer shades with hints of yellow or orange," says Dominic Myland, CEO of paint brand, Mylands (opens in new tab). 
"If you're in the northern hemisphere, south-facing rooms with plenty of light can take cooler whites with their undertones of blue or green, like Greenwich Time No. 8, but we recommend warmer whites for darker, north-facing rooms. 
"We always recommend trying a color directly on the wall first before painting so you can see how it reacts to the light in the space before making a decision. The difference between shades of white may be subtle but can really impact the feel of the room."
9. Aquamarine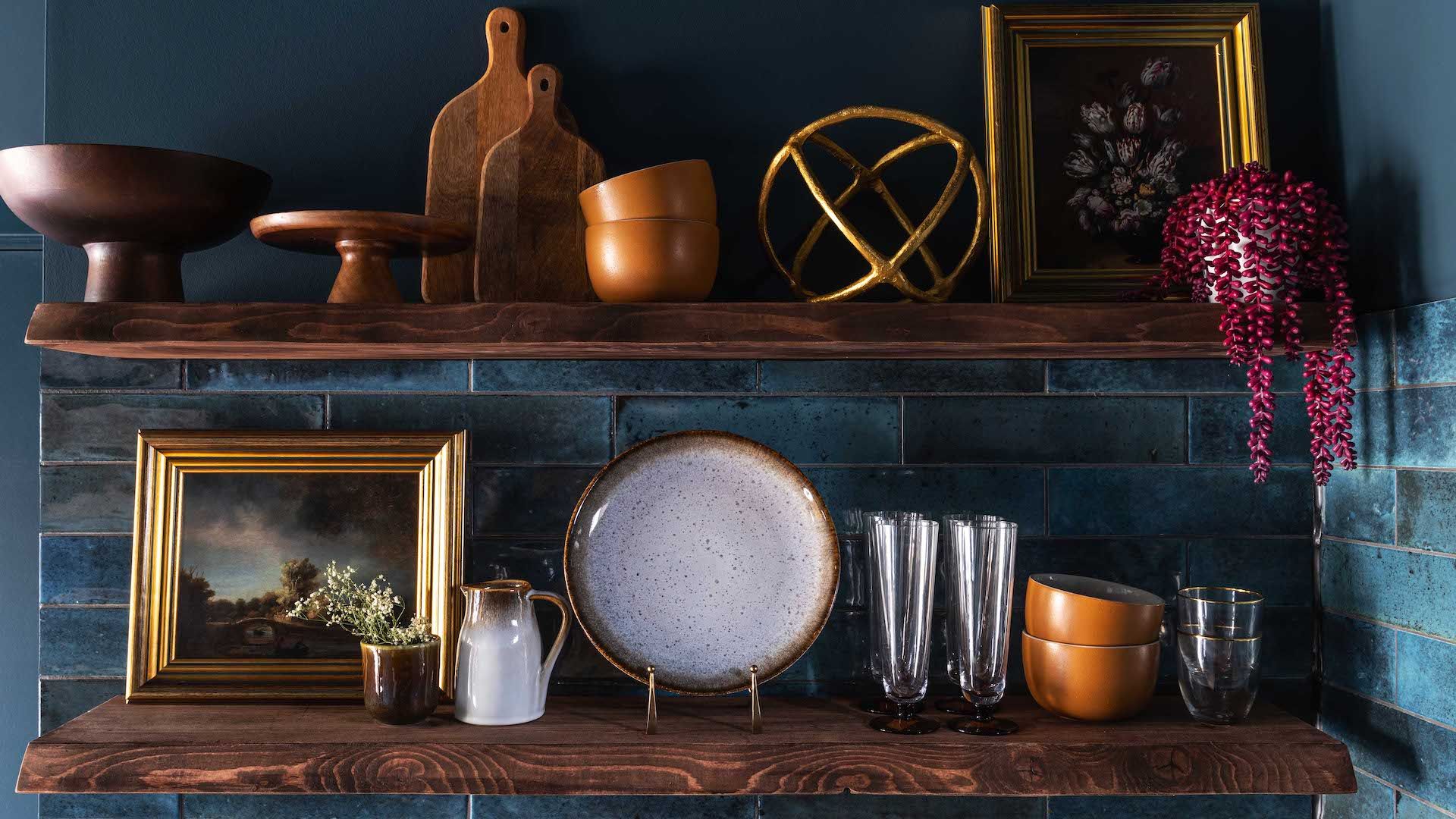 If your small kitchen is blessed with lots of natural light, a deep tone such as aquamarine across walls and cabinetry can look extremely stylish and sophisticated. 
"A bright room will allow you to play with darker colors across more surfaces," says interior designer, Enass Mahmoud, founder of Studio Enass (opens in new tab). "Aquamarine is a color that I believe complements many other materials and colors.
"For instance, open shelves in walnut instantly add some texture to the kitchen, or brass taps and handles can make your kitchen feel luxurious without breaking the bank. These tones of brown and brass work beautifully with a strong base color such as deep blue."
10. Dark grey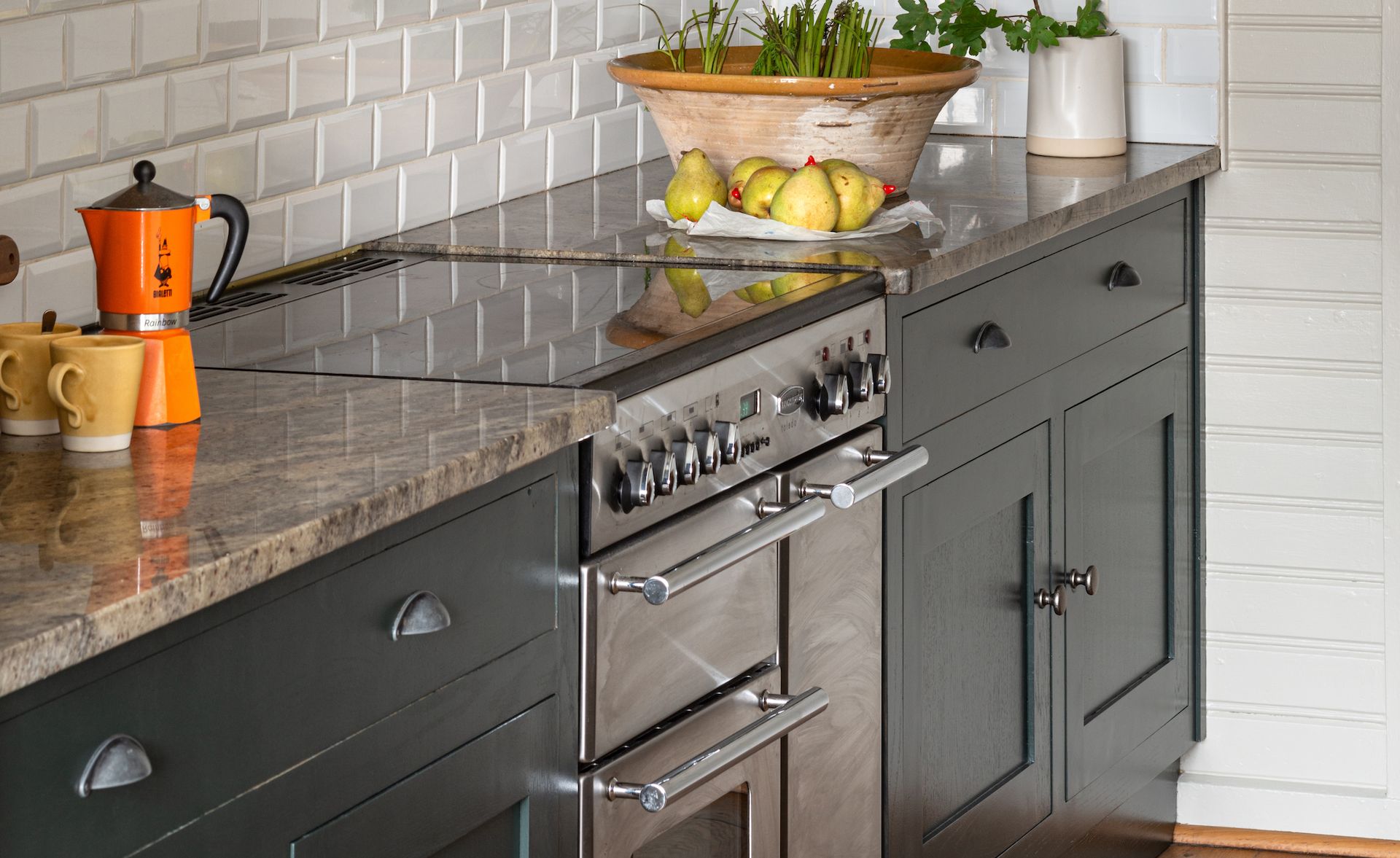 Charcoal and slate tones are an elegant choice in interiors, especially kitchens as they are complemented by the chrome and steel finishes on many appliances. Just because your kitchen is small doesn't mean you have to rule dark grey shades out. 
"Dark colors always create the coziest interiors because they pull the walls and ceiling towards us, wrapping us in rich, comforting color," says Simon. 
"Choosing dark colors for small kitchens may seem counter-intuitive but dark cabinetry is very popular and needs to be balanced with lighter shades on the walls and ceiling to prevent it from becoming too cave-like."  
What color is best for a small kitchen?
"Light colors generally reflect light so can help a small kitchen feel brighter and more spacious," says color expert, says Anna Hill at Fenwick & Tilbrook. "Consider soft yellows, blues, or pale greens if you want an alternative to white".  
What colors make a small kitchen look bigger?
"White is the standard choice but off-whites, pale greys and puttys can make a small kitchen look bigger too," says Rebecca Noakes, Head of Design at John Lewis of Hungerford (opens in new tab). 
"You could use slightly darker shades as well, as long as you keep everything else, such as worktops, splashbacks, flooring etc simple and light. I really believe colour should be used in small kitchens as it makes the space feel special."
"If you are dealing with a small space, it is best to use as few colours as possible to prevent breaking it up into chunks,' says Joa Studholme, color consultant at Farrow & Ball (opens in new tab). "One colour used on all surfaces can be very effective; different finishes on different areas stops it looking flat. 
"Matt Modern Emulsion should be used on walls contrasted with the higher sheen Modern Eggshell on woodwork – and for a really stylish old school look use Full Gloss on an island or even the ceiling."
Should a small kitchen have light or dark cabinets?
It's down to personal choice and the aspect of the room. If your small kitchen has plenty of natural light, or you prefer cocooning spaces, opt for dark cabinets. Many people choose dark base cabinets with lighter wall cabinets or open shelving for a more spacious feel. However, if you want the paint to make a room feel bigger and brighter than it is, light cabinets are a better option. 
"For many, the kitchen is a room that you spend a fair amount of time in, so it's best your chosen shade is not overwhelmingly dark. Especially if the lighting isn't brilliant (a common kitchen design mistake) as you could struggle with practicalities, such as being able to see what you're doing," says Anna.