10 kitchen island color ideas designers use to elevate spaces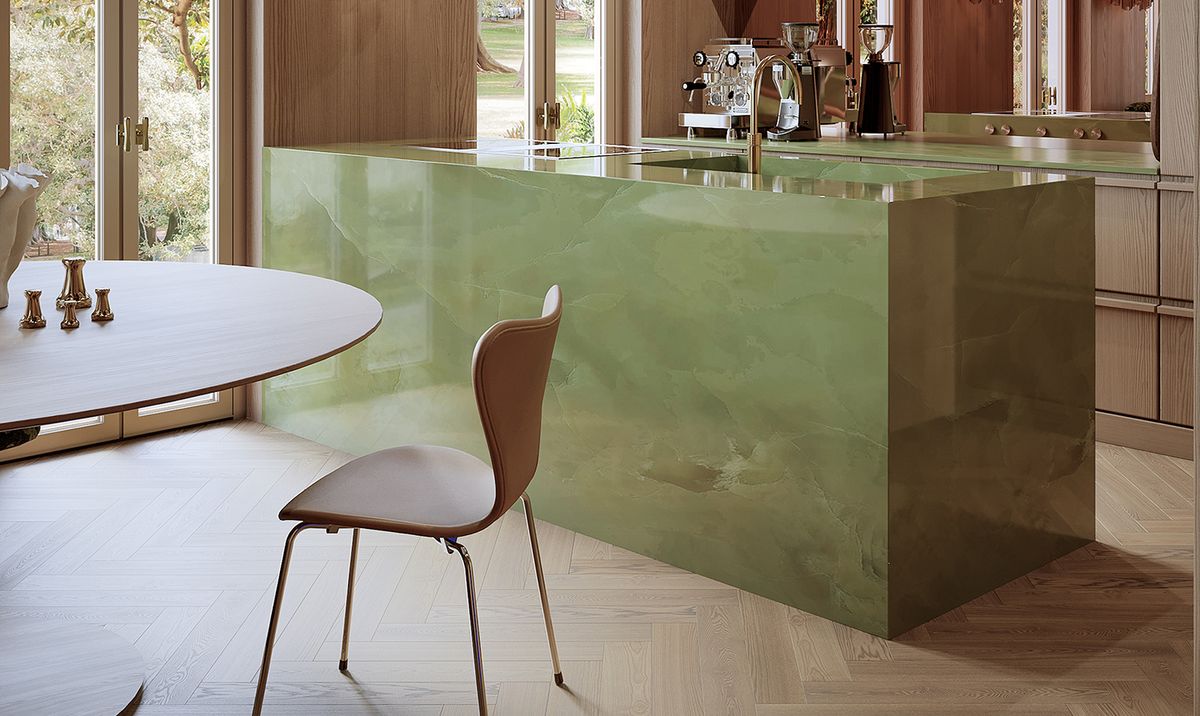 Sat at the heart of your kitchen, the island is the star of this space. And so it makes sense that kitchen island color ideas are as vital as every other big design choice you make for this room. The right shade can help you create an inviting feature that brings your family and friends closer each time they gather around it. 
From smaller structures to larger kitchen islands, color can define the mood of your space. While brighter shades can be uplifting and energizing, darker hues add elegance and edge to your kitchen. When designing your island, ask yourself what role you want it to play in this room. Is it a sea of calm for you and your family or a vibrant stage for entertaining guests? Whatever you choose, the color of your island will be a key ingredient in making it a success. 
10 kitchen island color ideas
We believe in experimenting with color when it comes to your kitchen island, and to get you started, we've put together our favorite looks. We've also included some great advice from interior designers on how to pick the perfect kitchen island color as well as pitfalls to avoid and things to look out for.
1. A hint of amber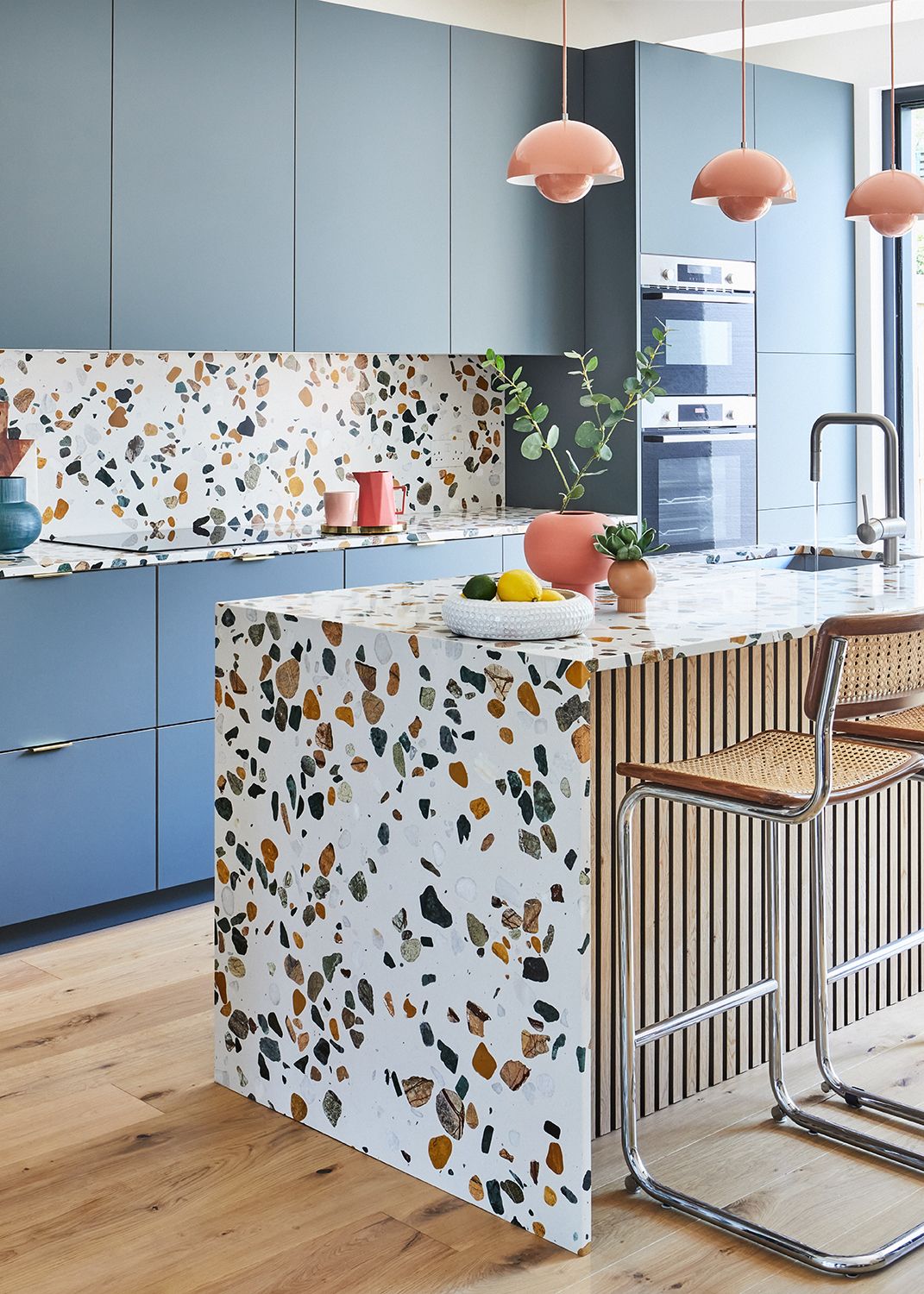 Lighten up your island with the playfulness of amber. By using terrazzo, a popular composite material that combines various stones, you can create a distinctive look that still feels balanced. In this unique kitchen island imagined by interior designer Nicki Bamford-Bowes of & then they went wild. Hues of pink, green, and amber work in unison to produce a vibrant statement. 
Nicki explains how the terrazzo reflected her client's identity. "We were really keen that the vibe reflected her love of bold colors and strong shapes," she says. "Although we investigated several countertop finishes we felt that the terrazzo really embodied the color and pattern we were looking for."
The palette of colors found in the TE114 terrazzo from stone specialists Diespeker created a perfect foundation for the rest of the kitchen design. "The TE114 has wonderful big green stones in it which worked perfectly with the cabinets plus some lovely amber tones which worked well with the wood paneling in the rest of the modern kitchen design," Nicki says.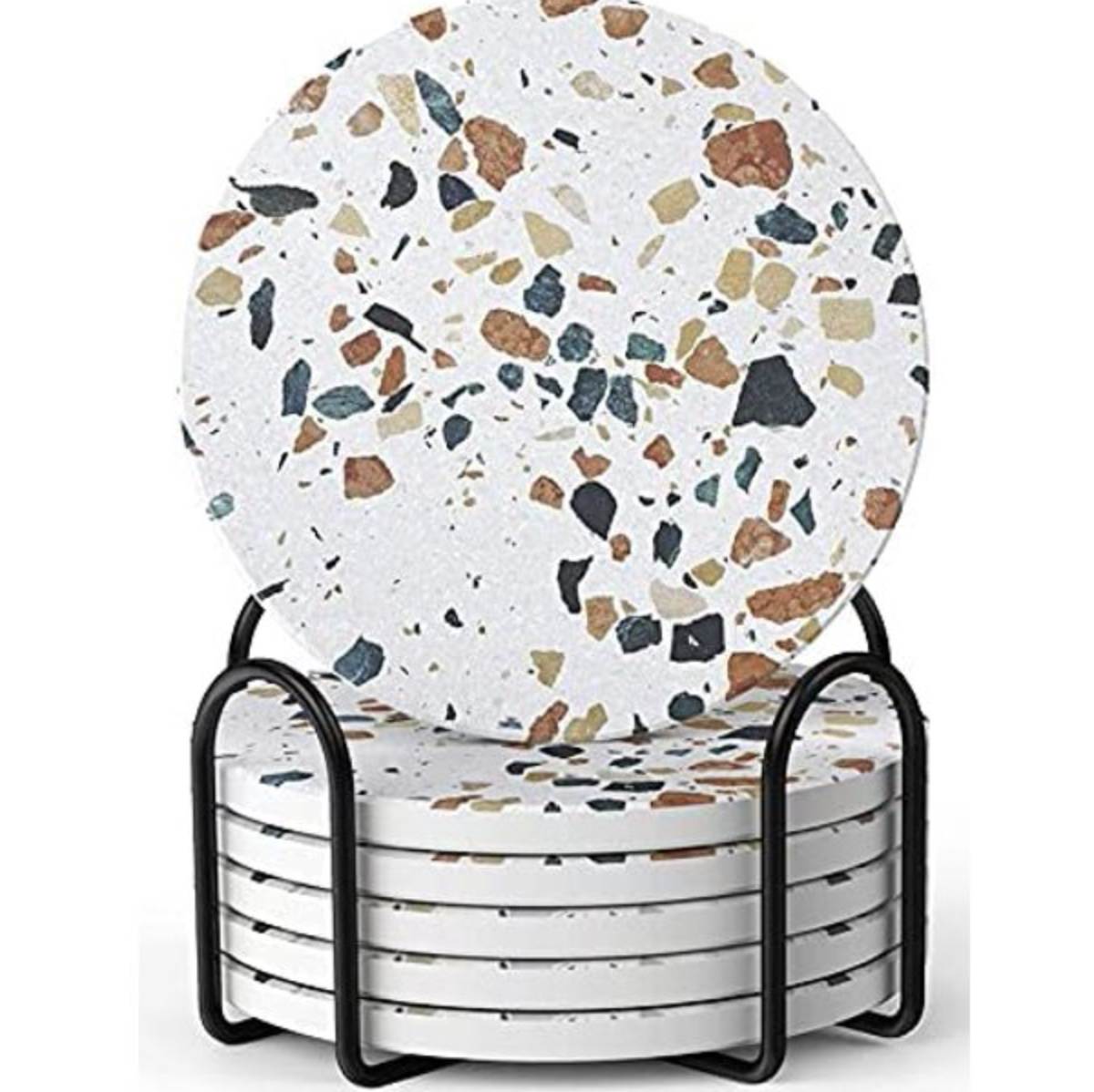 $10.99
(opens in new tab)
GET THE LOOK – Terrazzo coasters
2. Deep red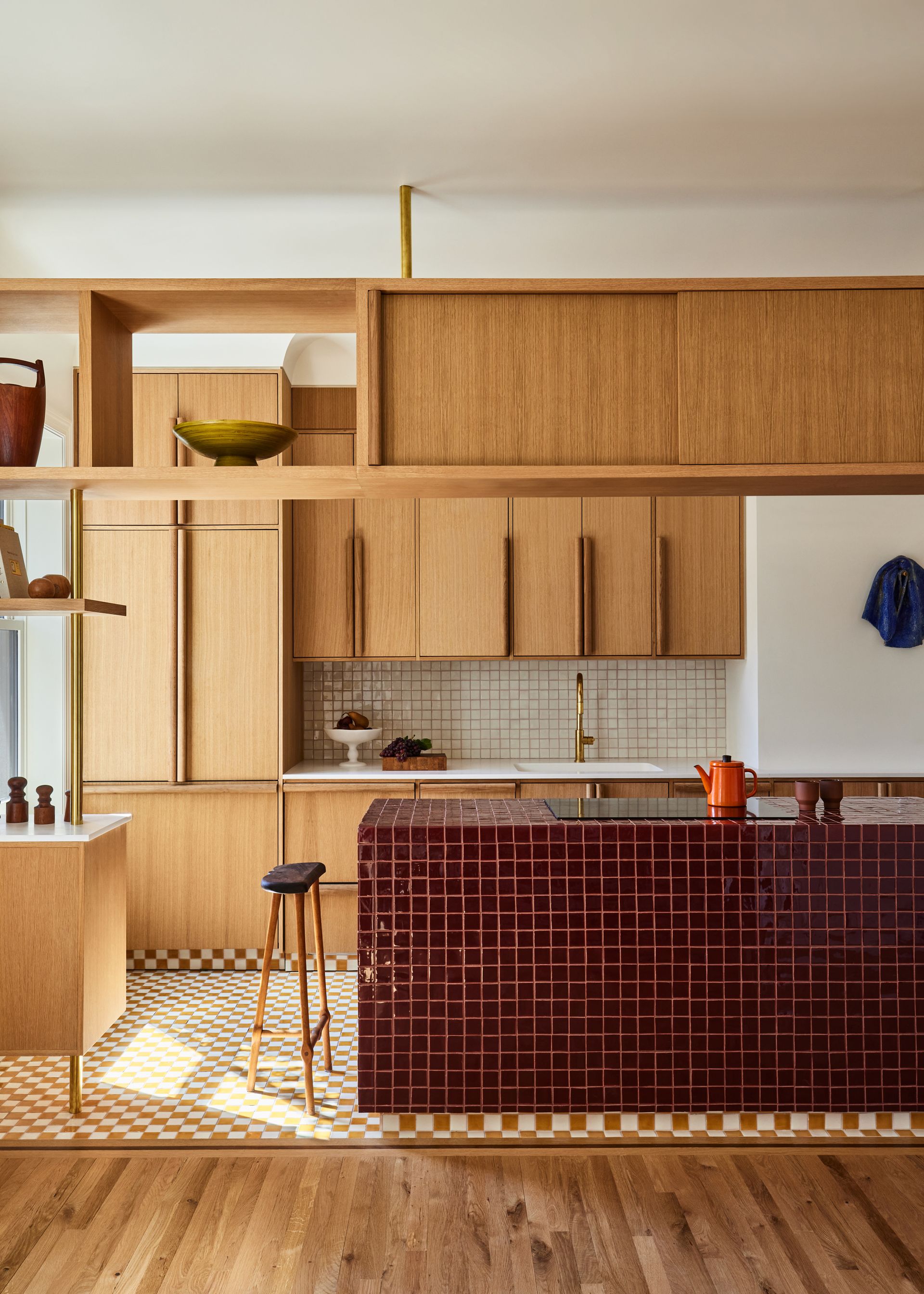 Colorful islands can also be elegant and fit into a minimalist kitchen scheme, as proven by this serene East Village Apartment created by GRT Architects. The neutral nature of the stained wooden cabinets is complemented by the depth and drama of the crimson tiles.
Tal Schori, Founding Partner at GRT Architects shares that the color palette was focused on what "feels intuitive, and process-based, rather than aiming for a certain look or period style." This authentic approach to design works well in creating a kitchen and island that doesn't erode with trends but continues to excite you. 
For this large kitchen island, he shares that the architecture of the building influenced the use of contrasting and colorful mosaics. Tal says that the apartment is "located in a building that features beautiful mosaic work in the lobby and the upper corridors. With this in mind, we wanted to use fun and unexpected mosaics laid out with contrasting colors, patterns, and borders in the kitchen." 
This example also illustrates the importance of choosing an island color that works well with the lighting of the kitchen. Tal shares "colors were also chosen based on the wood stain and how the kitchen receives natural light. For example, we combined small-scale hand-laid mosaic tile on the floor in a mustard checkerboard tile and off-white to work in conjunction with the surrounding floors. Additionally, for the cabinets and non-island counters, we chose colors in order to create a smooth transition from one room to the next." 
3. Bold green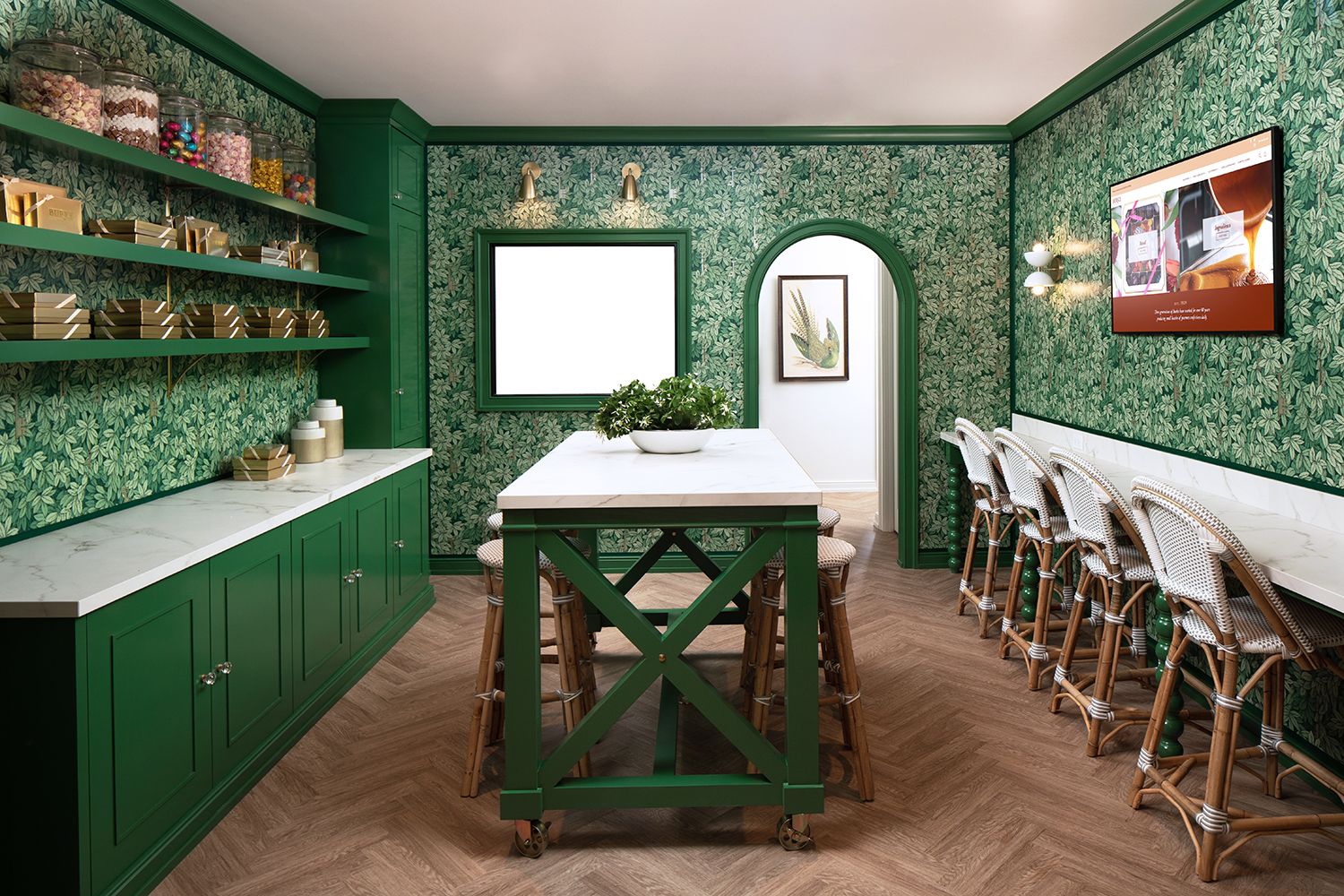 Verdant and vibrant, the biophilic effects of green continue to be a point of fascination for interior design and color experts. This refreshing color is praised for its ability to promote creativity and makes us feel closer to nature, proving it to be the ideal choice for your kitchen island. Interior designer, Amy Carman recognized the benefits of green when creating this brilliant kitchen for Burke Candy Store in Milwaukee, Wisconsin.
Amy's advice for finding your kitchen island color is rooted in identity revealing: "We avoided the more obvious choices for a candy store – pastels or primary colors – and gave Burke a signature color that represents them and is foundational to their brand identity."
Referencing her client's love of English gardens in the coordinating elements, Amy says: "We used a beautiful Cole & Son wallpaper in the store's social space (where the island is located) to play up the green garden feel."
The white stone tabletop and rattan bar stools work with the green to emphasize the vibrance and energy of the island as a whole. This combination of clean neutrals and bold hues is also a great way to introduce brighter shades into your kitchen color scheme without creating an overwhelming statement.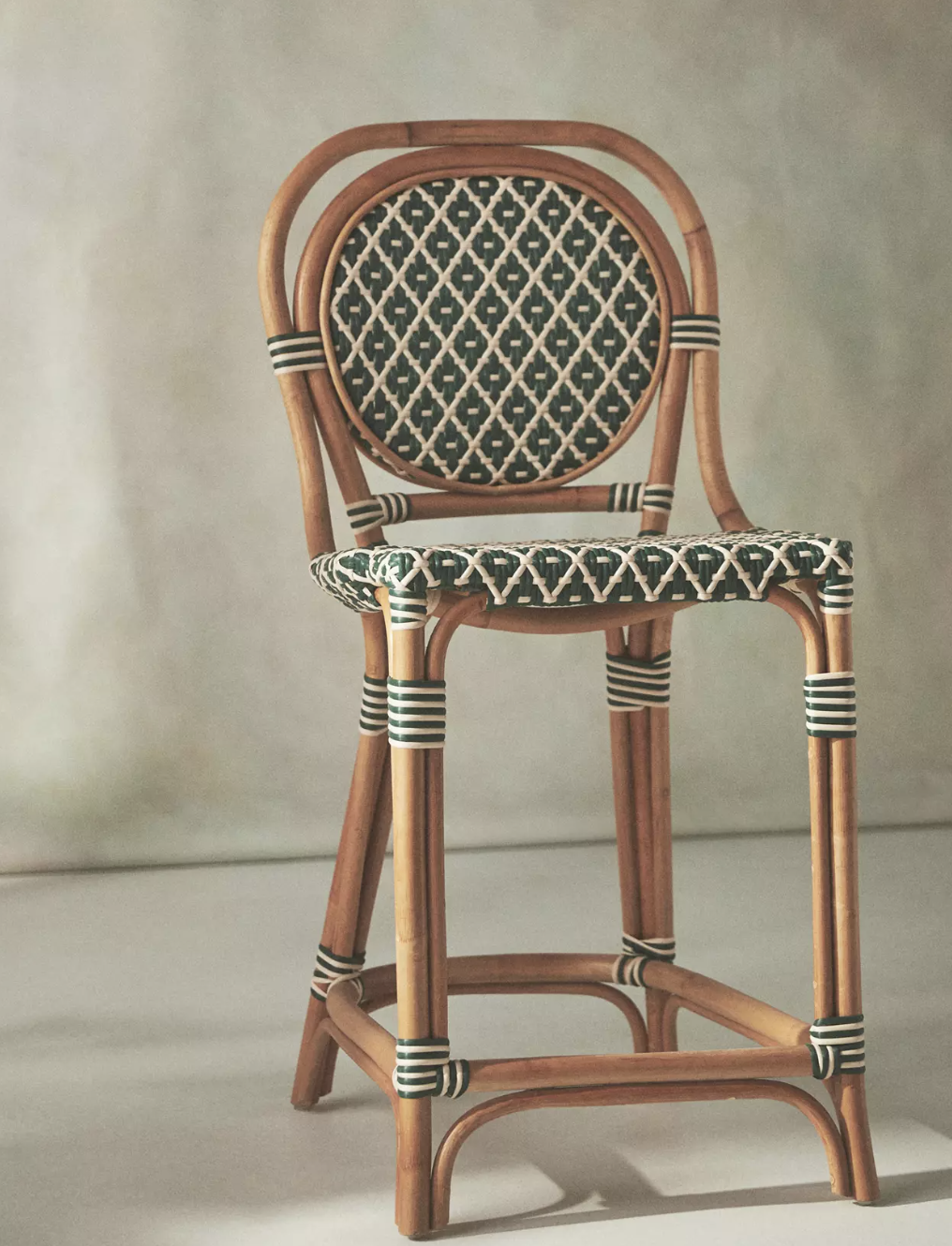 $298
(opens in new tab)
GET THE LOOK – rattan counter stool
4. Silver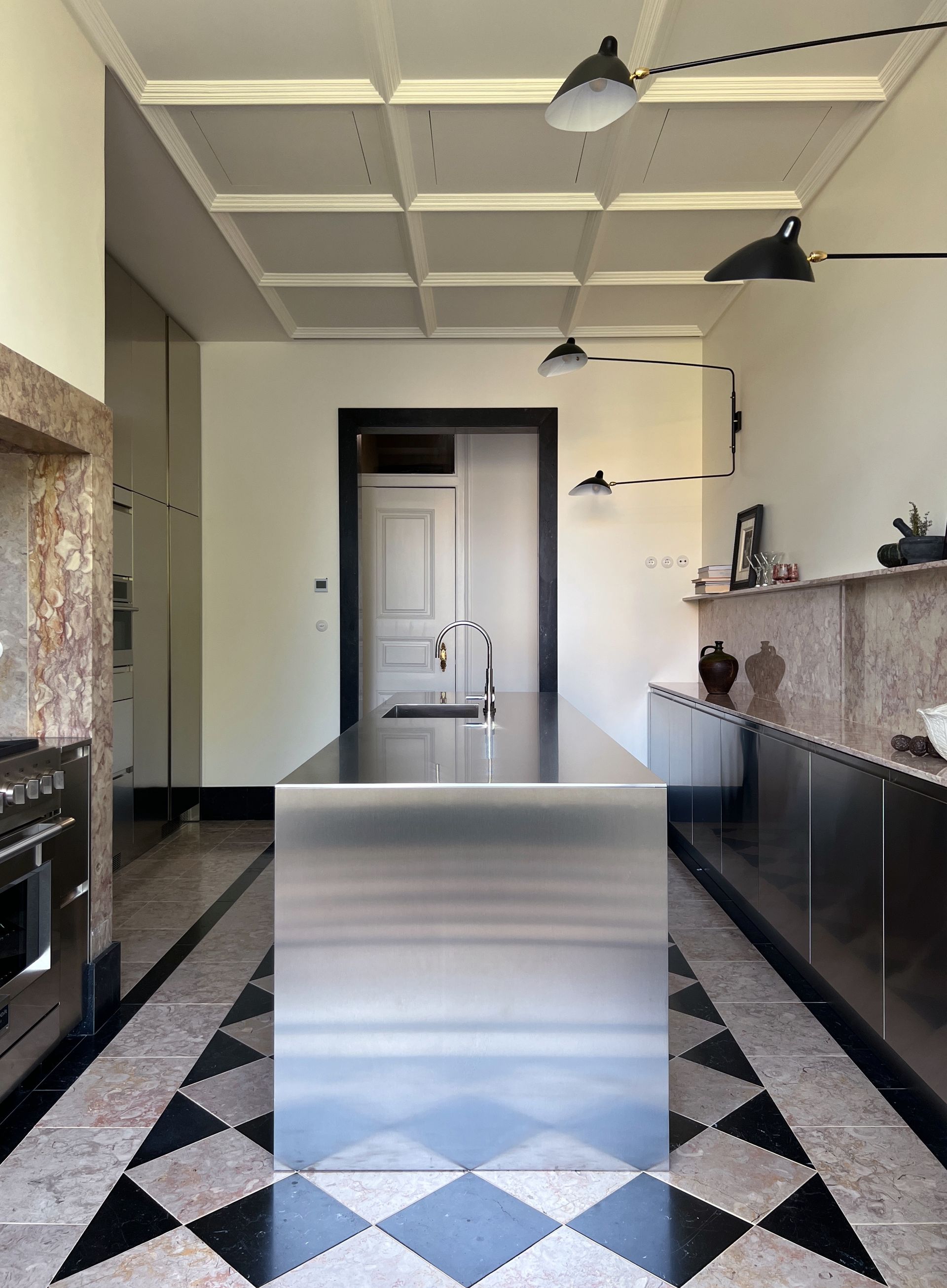 Metallic and mesmerizing, this silver island is the ideal color for adding a contemporary statement to your kitchen. Created by interiors enthusiast Sally Rizzon for her Lisbon home, this sleek and reflective island showcases the benefits of going bold.
Sally reveals that the color choice of your island is directly impacted by your material. In her case, this was stainless steel. "Since it is steel, the color options are limited. It's more about choosing how we want the light to reflect on the surface and playing with the possible finishes of this material. The finishes strongly influence the aesthetic impact of the steel surface as well as the behavior of the material with respect to the space. We have chosen a medium satin finish in order to satisfy both aesthetic and functional needs," she says.
While silver might seem like an overwhelming color choice in theory, Sally's kitchen shows us how it can become a minimal dream that works well in reality. And it a good trick for how to make your kitchen island look more expensive – that gleam! The secret behind this success lies in the contrast of the island with the surrounding elements. "What we're trying to execute throughout the house is this real interest in contrast. Raw or sophisticated, new and old, light or dark, bold or delicate, feminine or masculine,"  Sally says. We encourage you to learn from this by choosing a kitchen island color that speaks to your design sensibilities, which can then either work in contrast or complement the rest of the kitchen. 
5. Powder blue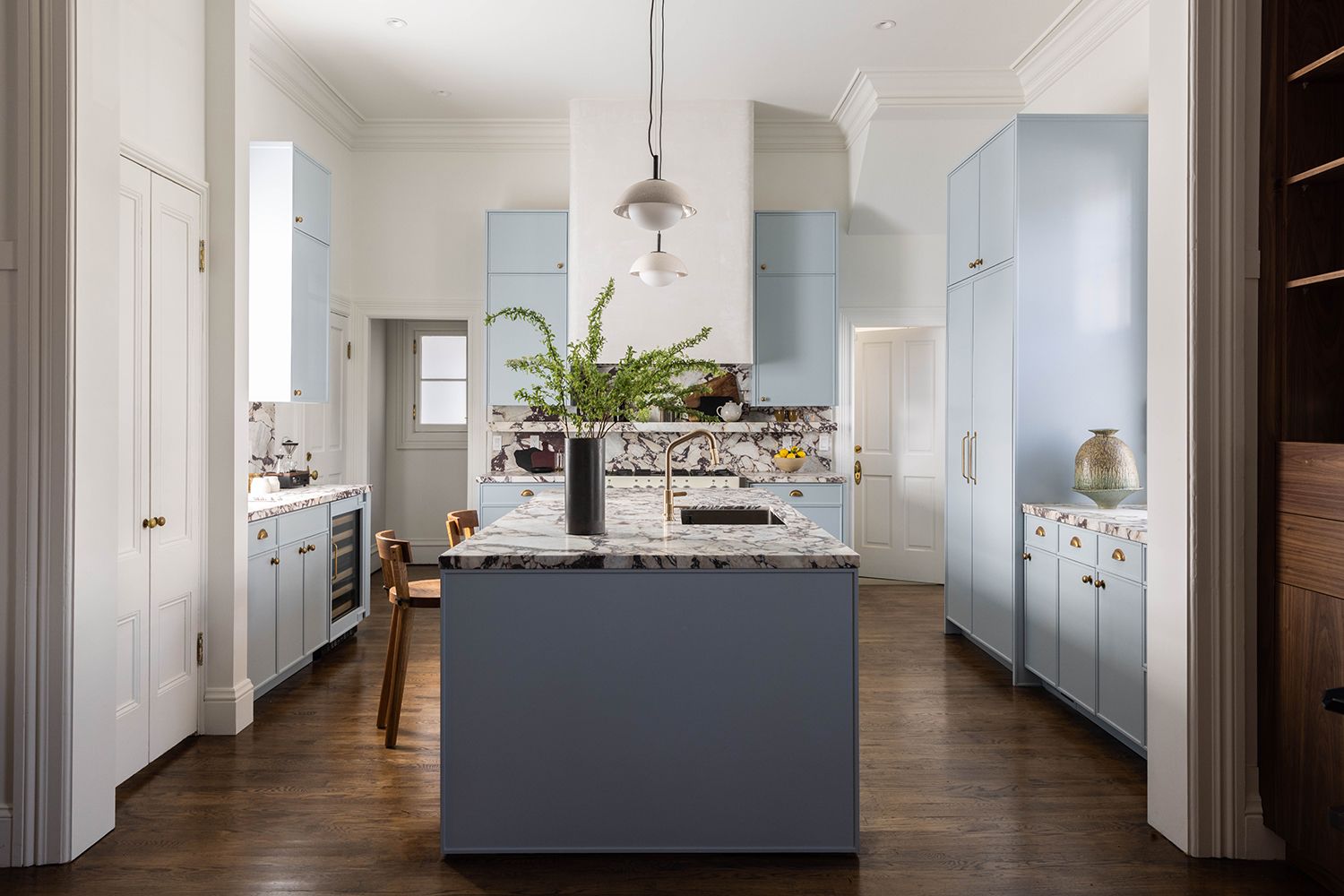 Pastel kitchens are softly perfect, and this dream-like kitchen from Michael Hilal may have everyone rushing to buy a tin of blue paint very soon. It's a great reminder that softer shades can still make a striking kitchen and shouldn't be shied away from when choosing your island color. 
Michael revealed that the powder-blue kitchen was created in his search to find "a color combination that felt fresh and somewhat new. I hadn't seen a lot of any blue-gray kitchens (the color is Farrow & Ball All Parma Gray). The other component to this is that all of the windows in this kitchen area are north and south facing so it doesn't get a ton of sun and I really wanted to do something that made the space feel refreshed. I never in a million years would call myself a baby blue person, but here I am. I really adore the color we used."
Center-stage the cool blue island helps the kitchen feel clean and crisp but also refreshing, just as Michael had imagined. His approach to finding the right partners for this calming island was found in celebrating contrast. He says "I'm really into contrasting warm and cool elements right now but with muddier tones. As an example, I took the blue really as a blend of gray and the stone has this really great brown and maroon veining. Additionally, we paired the cabinetry with brass sink fixtures and Devol Kitchens's aged brass hardware. I wanted this feeling of authenticity and patina to sit on top of such a standout blue. Really, we used the other colors and fixtures to highlight the blue."
It's essential to find your ideal island color and kitchen combination by taking risks and celebrating authenticity. A sentiment echoed by Michael who says "Take bold chances if you want. Design the house for you, not who may live there next." 
6. Black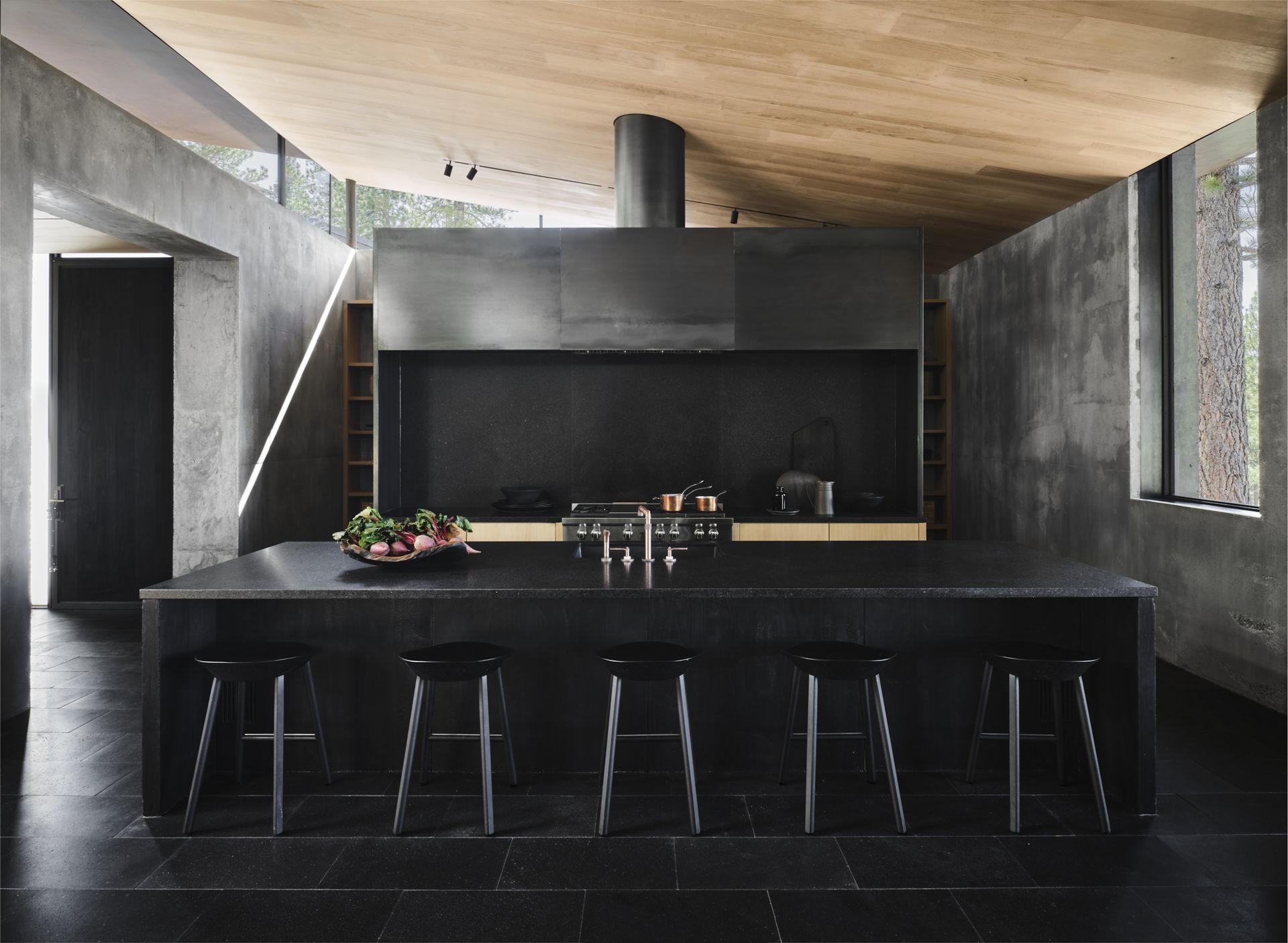 Black is more than just a wardrobe staple, it's also a guaranteed dose of drama for your kitchen island. We've seen it used impressively as a small kitchen paint color, but it works in large spaecs too, as illustrated by this impressive and architectural kitchen by Nicole Hollis. The building itself stands tall in the woods of Truckee, California and its cement and steel exterior provided the starting point for the kitchen design. Nicole and her team have bridged the exterior and interior throughout the house and created an island that feels inviting rather than overwhelming. 
"The charred wood front door is the gateway to the kitchen, which is filled with similar materials and tones," Nicole says. The charcoal hue of the central island works beautifully against the natural light that fills this space and simultaneously proves that black doesn't have to be boring. 
"Made of wire brushed charred wood and Cambrian black granite anchors the space, housing jet black oak stools for casual dining. The blackened steel hood and Cambrian black granite backsplash are statement-making as they tower over the kitchen and mirror the same strong angles of the surrounding architecture," Nicole adds. Take a similar approach to your island by creating a monochromatic palette that plays with textures and materials but keeps a thread of color consistent throughout. 
7. White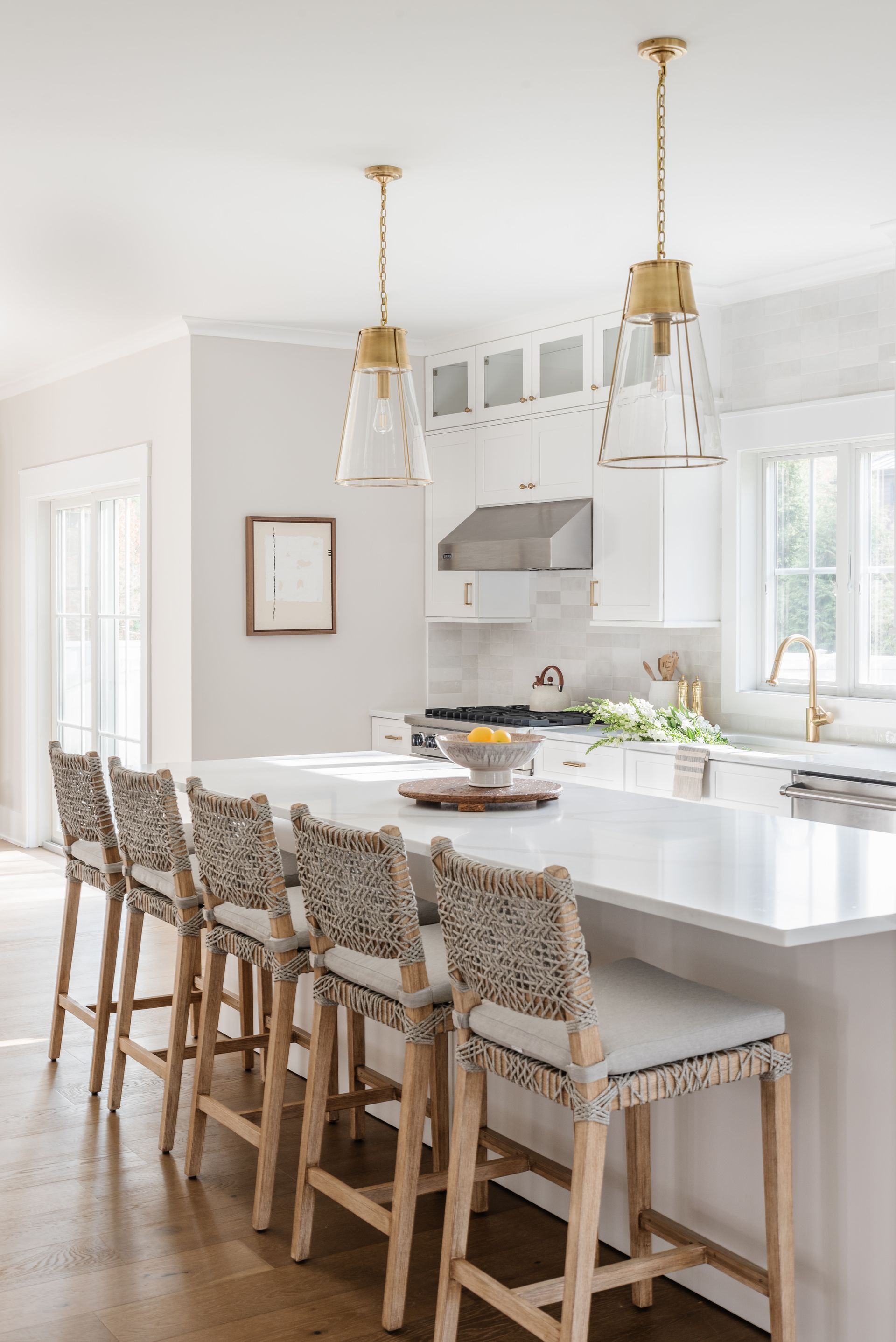 A white kitchen and island don't have to be absent of character and charm as proven by Allison Handler's elegant scheme. 
"I would make sure to keep the rest of the kitchen interesting by adding in elements such as fun hardware, interesting decorative lights, glass cabinet detail, and a fun backsplash to make the kitchen look more "designed" and out of the box," Allison says.
The key is to use your island color as your canvas and paint the kitchen with colorful details. The white will not only reflect light within the room, but it will help balance the more expressive tones and textures you pair it with. 
8. Jade green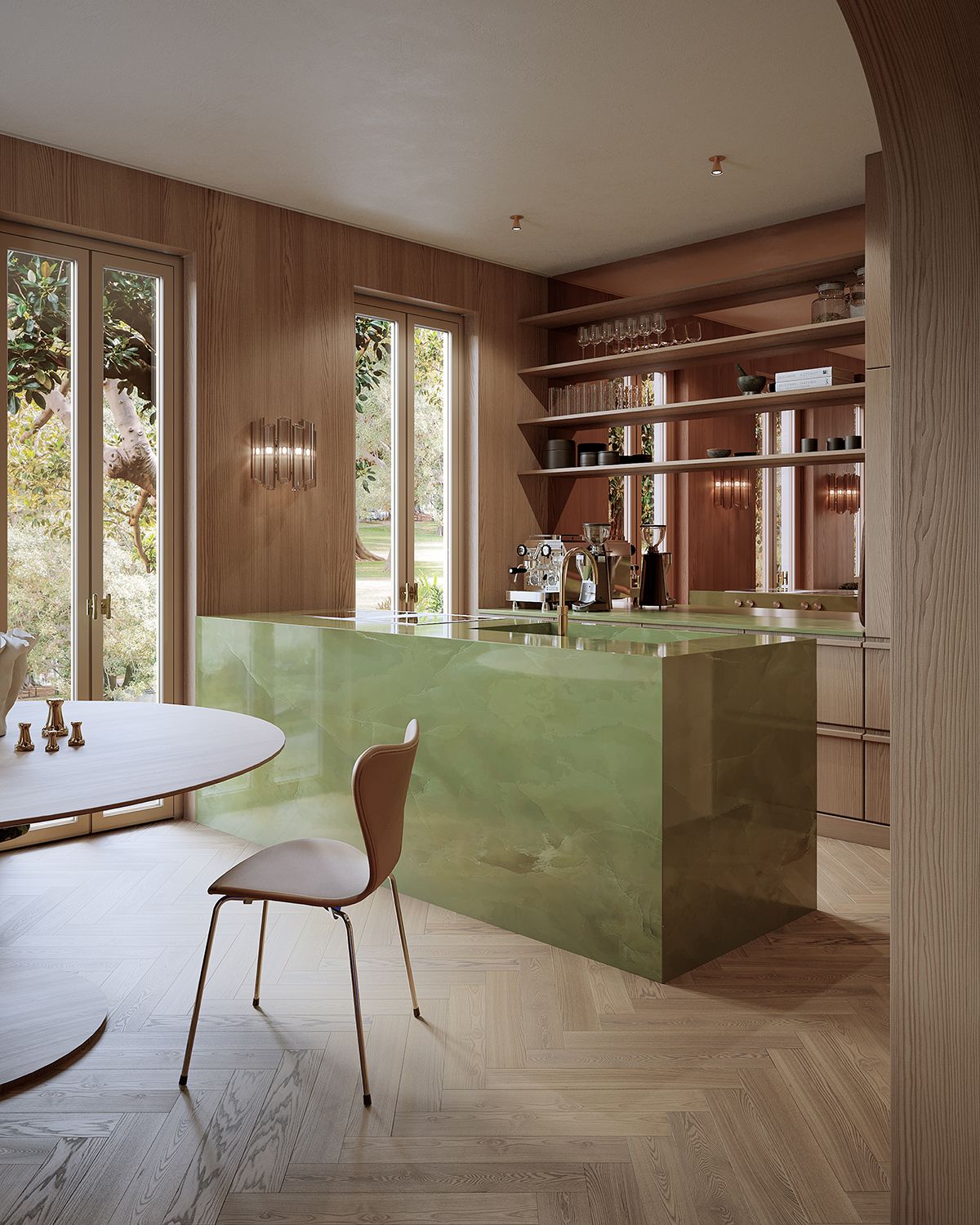 German interior designer Constanze Ladner's unique jade green island is a love letter to the peaceful color and showcases both serenity and softness. Selected for her Haus TH project, the pale green stone presents a fluid movement of color that feels decidedly feminine in this otherwise neutral space, featuring wooden shelving and a mirrored backsplash. 
"When I see a room, I intuitively feel a color, which in these cases was a strong green tone for project Haus TH," Constanze says. The lesson here is to create a color palette that focuses on what you naturally gravitate toward first. 
Constanze also explains the next step once you've understood what colors you are naturally drawn to, saying: "With this gut feeling I go to the stonemason and look in advance in a stone database to be inspired by stone structures." A great way to utilize this approach is to understand what appeals to you and then work with local craftsmen to discover colors and combinations that you may not have expected to find. 
9. Orange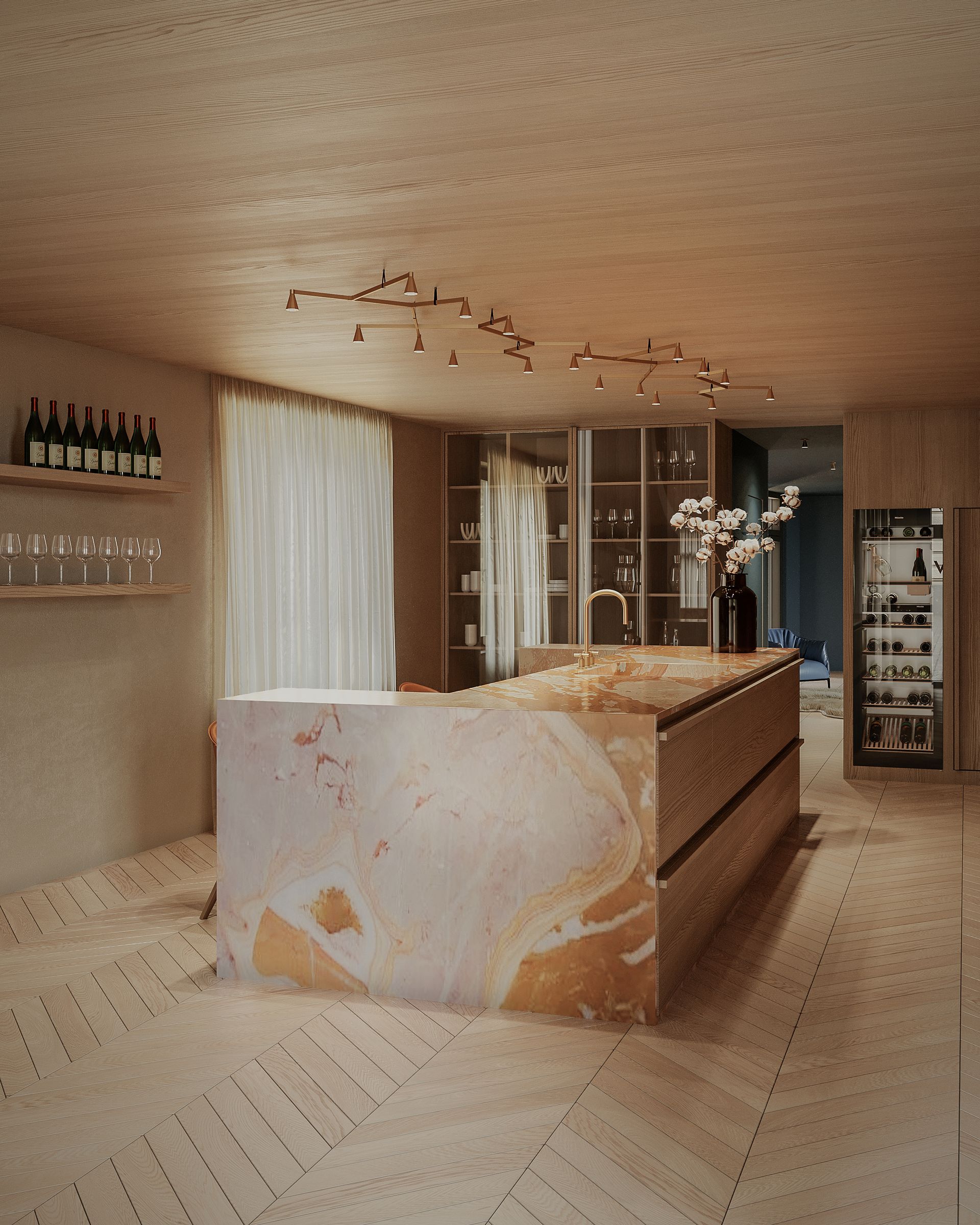 Gently spiced and heavily structured, this orange island from Constanze Ladner serves as great inspiration if you're seeking a warmer feel for your kitchen. Shades of burnt orange and rose pink come together in the island's natural stone and create a striking focal point for the space.
If you're also looking to create a colorful statement for a marble kitchen, Ladner advises deciding "in advance whether you prefer a robust quartz composite or a rather soft natural stone. Once this decision has been made, the feeling and intuition will decide which stone you feel comfortable with. It is best to visit a stonemason to get a feel for the structures and colors."
On your search for your dream island color, Constanze Ladner also advocates looking to nature. "I often pick up colors from the external environment," she says. As this project shows us, a kitchen can be both contemporary and colorful using natural materials. 
10. Dark green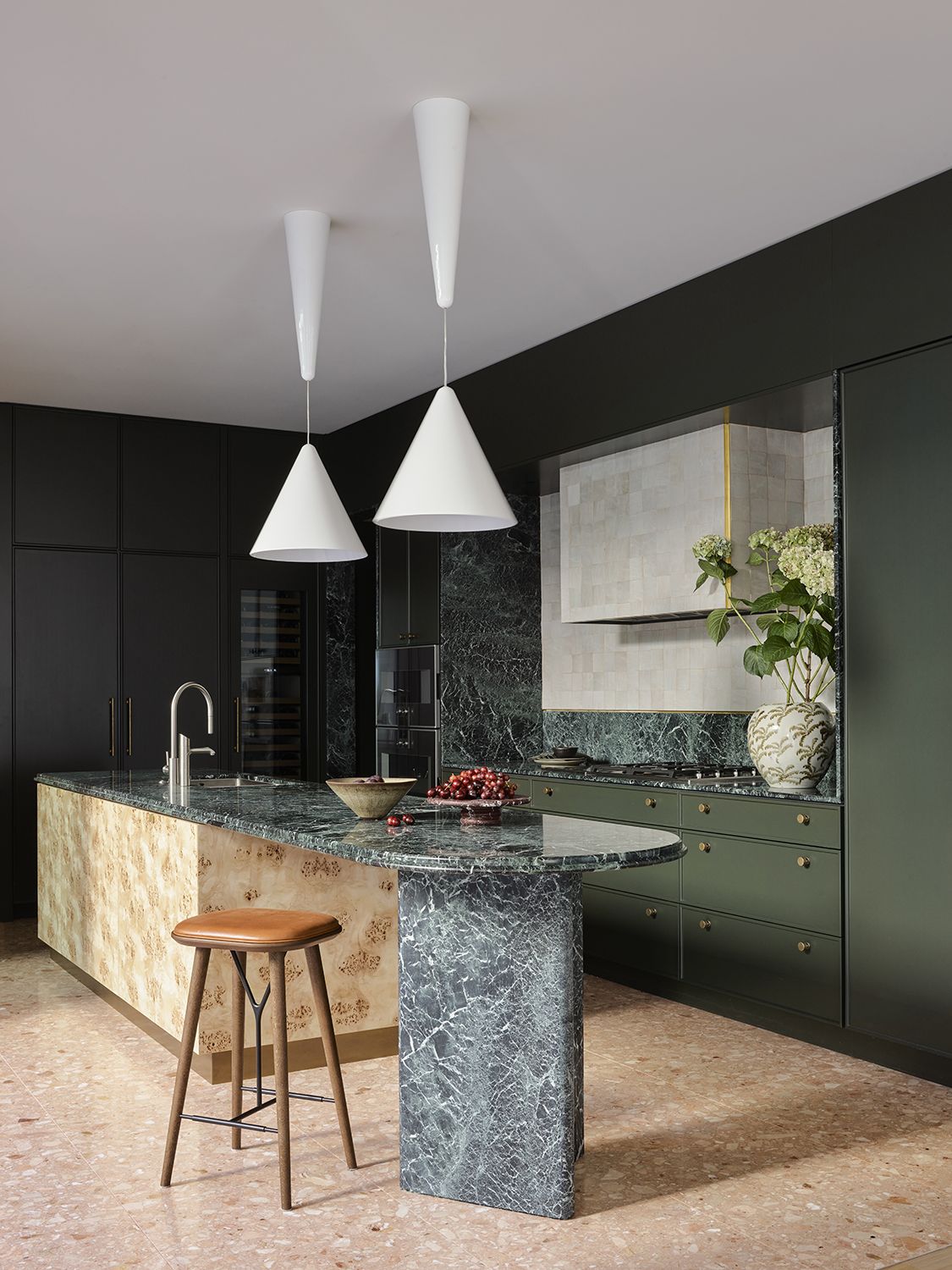 Dark green is a perfect contrast to softer wood colors and finishes. Sydney-based studio Arent&Pyke offers a lesson on how to do this best with their Salsa Verde kitchen. 
Founders Juliette Arent and Sarah-Jane Pyke share the secrets of this enigmatic island. "At its heart, the sumptuously layered palette of Guatemala Verde stone, maple burl, and soft terracotta terrazzo floors in the kitchen, is anchored by two white Achille Castiglioni Diabolo pendants providing a crisp, refreshing accent."
You can achieve a similar visual balance by pairing color-rich stones or surfaces with minimal accents. Juliette and Sarah-Jane further explain that the "textural form in each material challenges the rectilinear configuration of the kitchen, this being that the veining in the marble, the knotting in the burl timber, and the aggregates of the terrazzo, offset the uniformity of design."
On your journey to create an island that feels rich in character but still connected, it's important to understand how to coordinate the island with the surrounding architecture and elements. The Australian designers share how they achieved this in the Salsa Verde kitchen by saying "The footprint of the kitchen was long and narrow, so format and balance were a key direction, although it was the breezy full-height doors and airy reflection that sought inspiration from rich foliage, and warm forgiving tones."