11 colors that go with dark wood flooring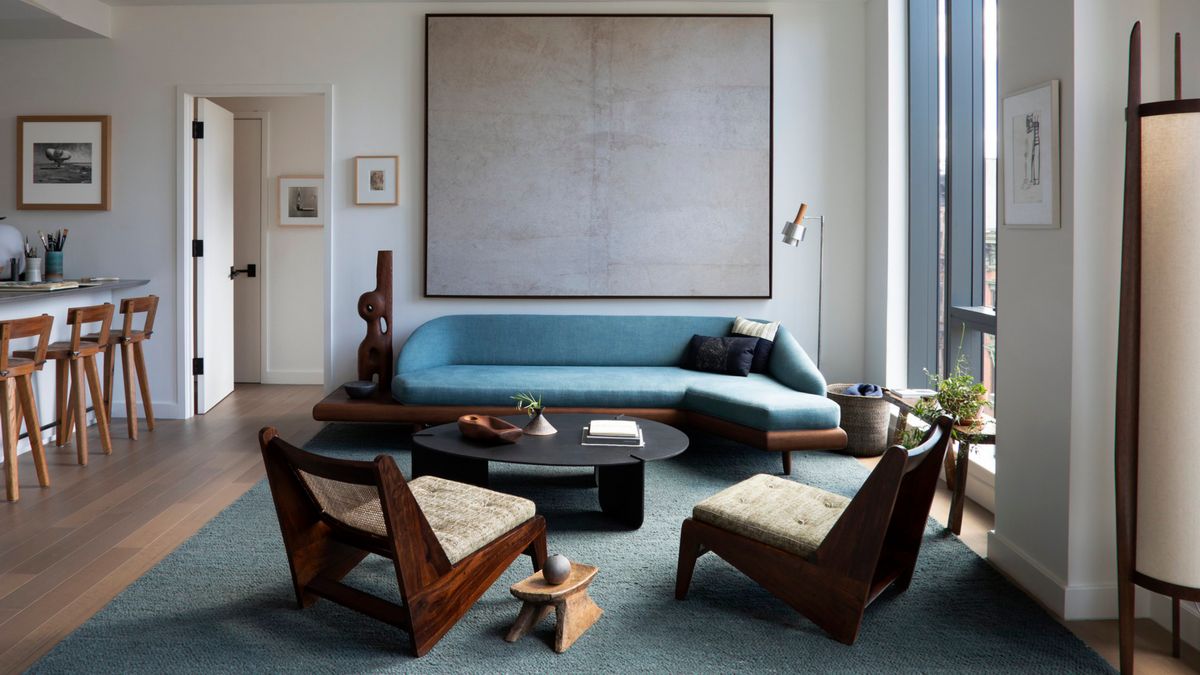 Looking for colors that go with dark wood flooring? Darker floorboards can add real depth and sophistication to a room, and can be the foundation for a rich and interesting scheme – but that all depends on the color scheme you create around them. 
Choosing colors that go with wood can be trickier than it looks – but we're here to help you navigate the decision with the help of the experts.
Of course, not every dark wood flooring is the same – which is why we've included some general tips on identifying the right shade for your floor, whether it's made from cooler- or warmer-toned woods. And we've also rounded up our favorite designs from interior designers to help inspire you; from cobalt blue to coral, there are plenty of ideas to draw from here.
How to choose colors that go with dark wood flooring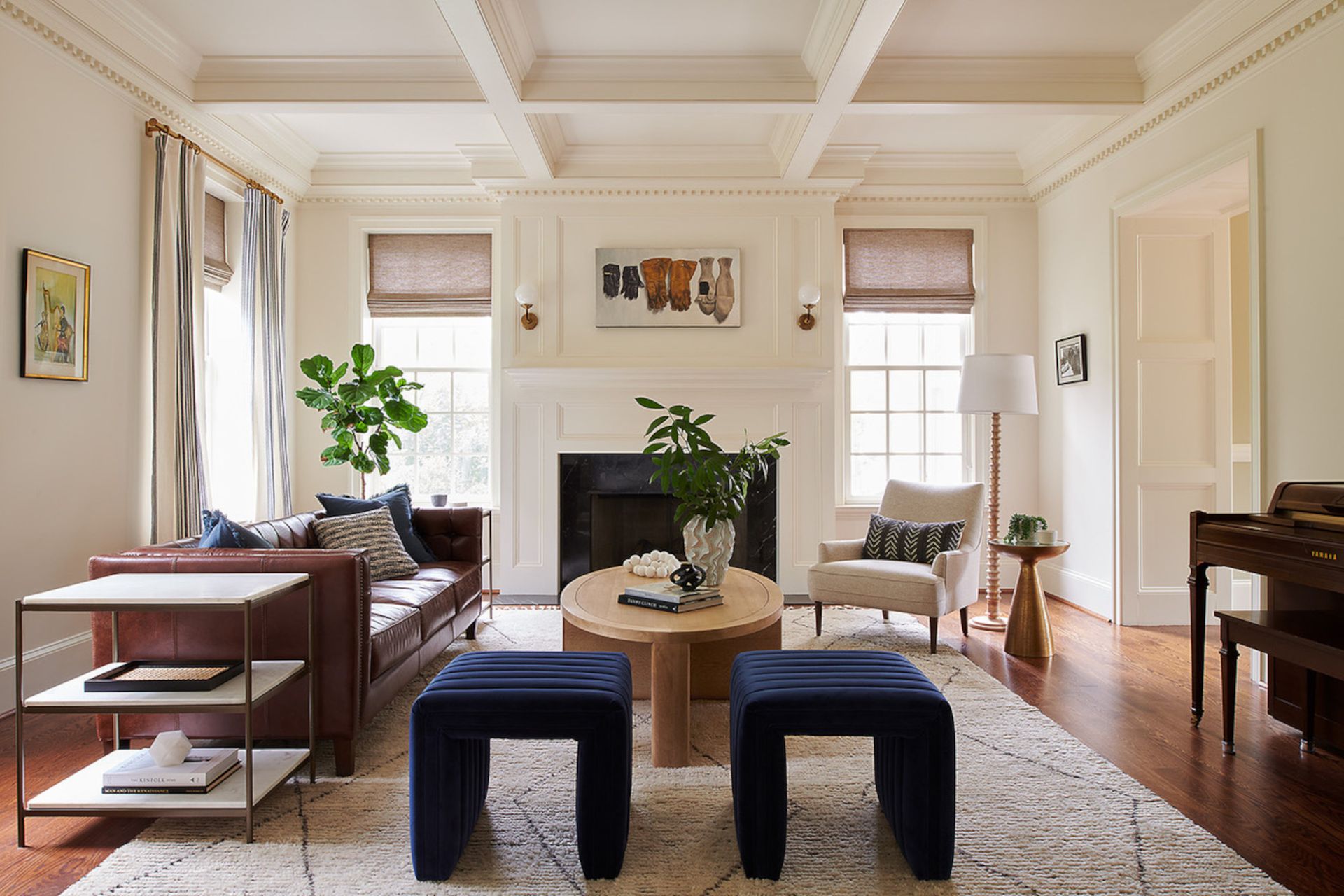 Choosing a color to go with your dark wood flooring depends on two things. First, the mood you're setting for the space. 'For example, a crisp, bold feel can be achieved by pairing dark flooring with a lighter paint tone such as white or off-white,' says Alexis Pew (opens in new tab), of Philadelphia-based design firm Kaminski + Pew. 'The contrast draws attention to the flooring and makes furniture pieces pop. For a moodier, softer feel, we recommend a deeper color or neutral shade in a similar value to the flooring, with trim painted to match, which helps everything blend together for a more soothing environment.'
Second, you'll need to pay attention to the exact tone of wood you're using: red-toned woods will naturally work better with different colors than cooler grey- or blue-toned woods. Overall, though, you don't need to overthink your color pairing too much. 'You have liberty as long as other elements in the design account for each,' says Salt Lake City, Utah-based designer Susannah Holmberg (opens in new tab). 'That way a bold pairing won't feel random or jarring, but part of a larger scheme. We don't tend to follow color rules, but think that colors have nearly the same versatility that neutrals do. You just need to ensure that they speak the language of the larger whole.'
What are the best colors that go with dark wood flooring?
Without further ado, these are the colors designers suggested pairing with dark wood flooring – whether through walls, furniture or accessories.
1. White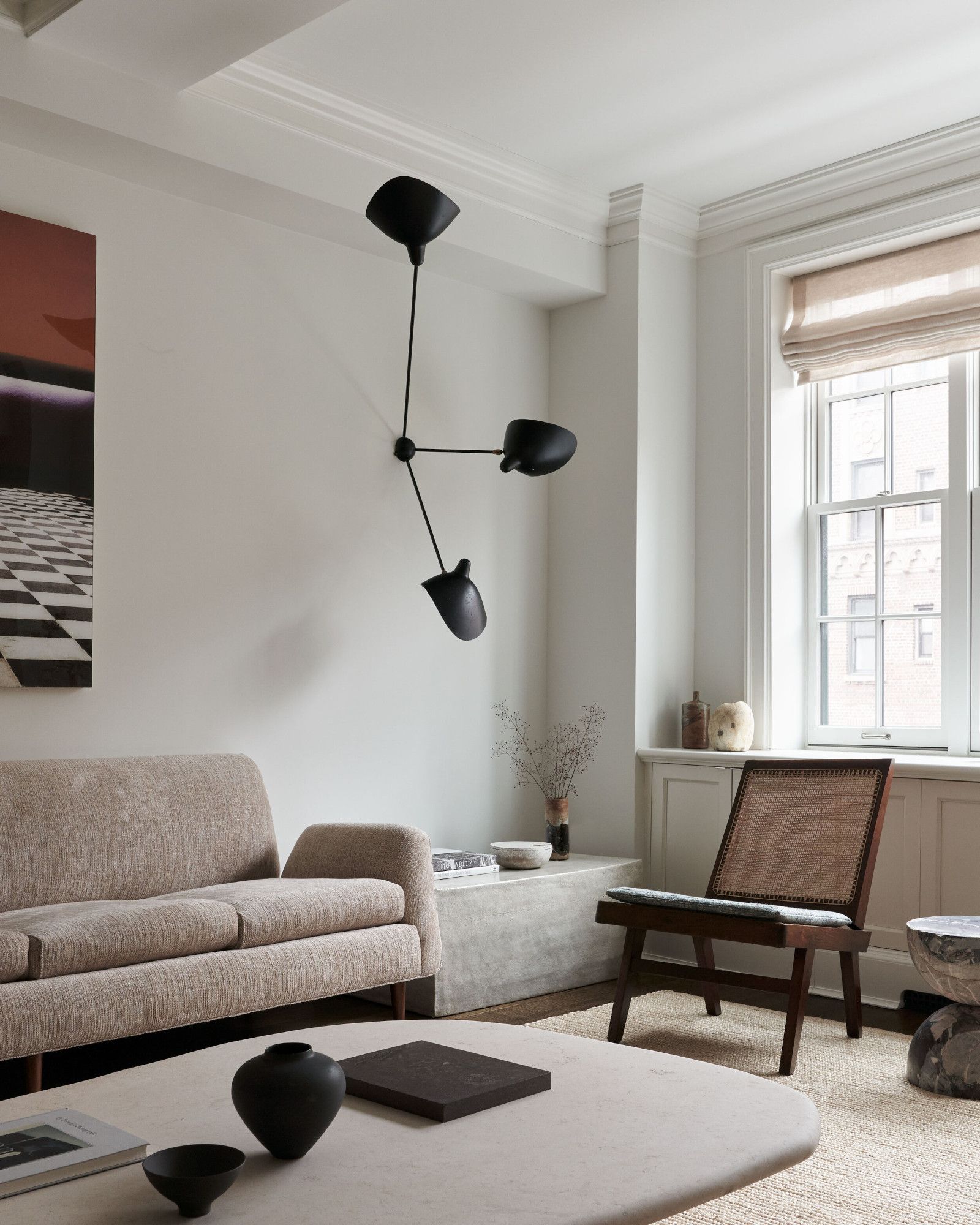 A classic combination, white or light neutrals with dark wood flooring can look clean, minimalist and bold – as shown by the above white living room, created by New York and Miami-based designer Sandra Weingort (opens in new tab). 'Light neutrals really pop against dark floors – it's a fun, dramatic pairing,' says Susannah Holmberg.
It's important, however, to pay attention to the tone of your flooring when you choose a shade of white. 'If a floor is dark but cool, with blue undertones, you want to make sure that the white is also cool, with bluer undertones – or warm tones that compliment the cooler flooring,' adds Susannah.
'Though contrast with dark wood floors can be appealing, watch out for whites that are too stark,' adds Bethany Adams (opens in new tab), an interior designer in Louisville, Kentucky. 'Benjamin Moore's Simply White (opens in new tab) and White Dove (opens in new tab) are better choices with dark floors, for example: they seem like totally neutral whites in a space but actually have beautiful undertones that keep the walls from feeling like a hospital operating room.'
2. Dark blues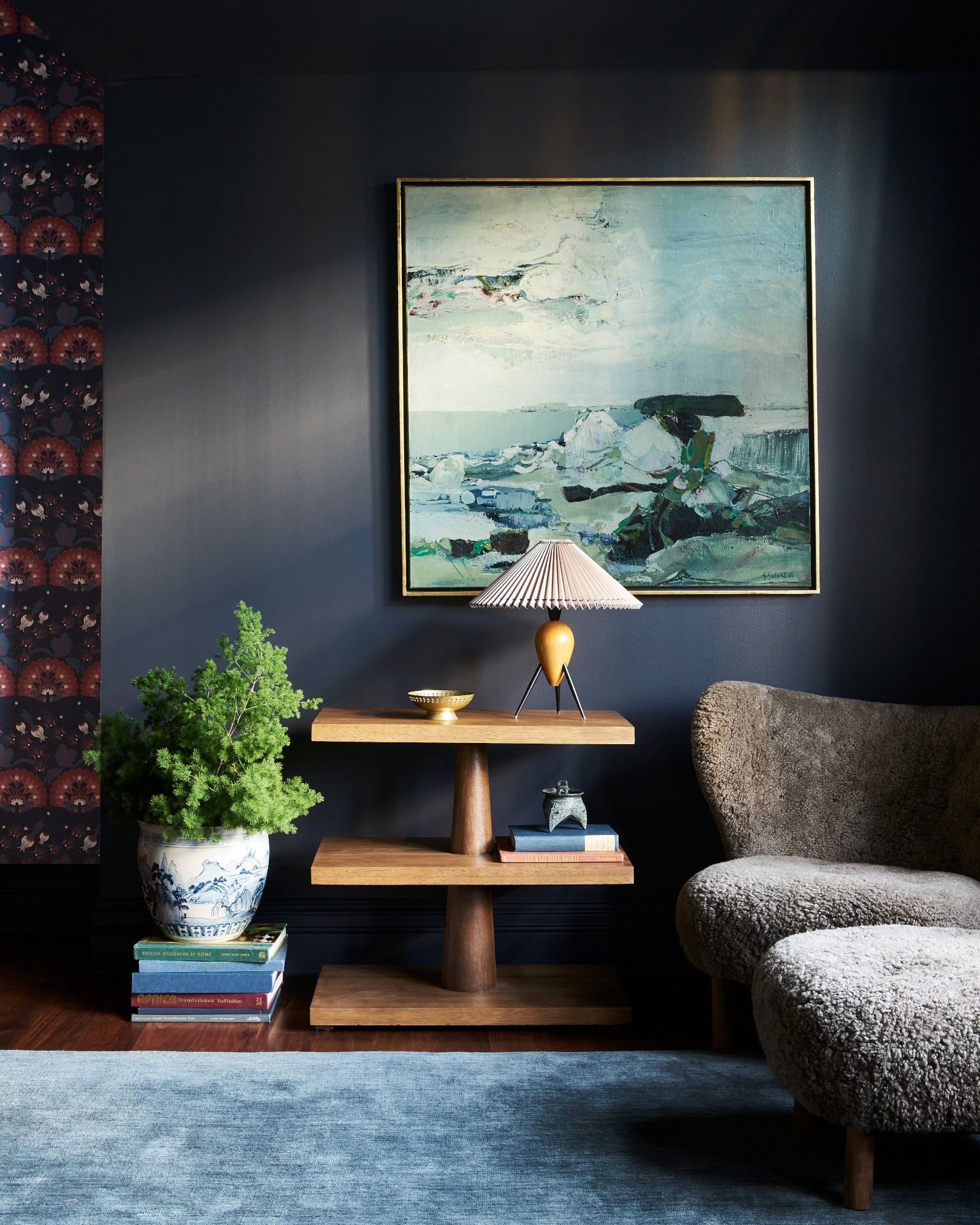 For a moody, cocooning scheme, look no further than deep blues. After all, brown is one of the top colors that go with blue – so from navy to cobalt, these are pairings that work. 'Navy is a neutral you cannot go wrong with in my opinion,' says Rozit Arditi (opens in new tab), a New York-based interior designer and founder of Arditi Designs.
'This was a design where the color palette as a whole was taken into account, and no decision was made in isolation,' says Susannah Holmberg, who designed the above scheme for a client in Buena Park. 'Pairing a warm floor with a blue rug makes sense because the ZAK+FOX (opens in new tab) wallpaper has similar tones; we have a light blue ceiling with a rust colored couch, and entry wallpaper that hits those notes. Those are two color tones that are paired throughout the project.'
3. Light blues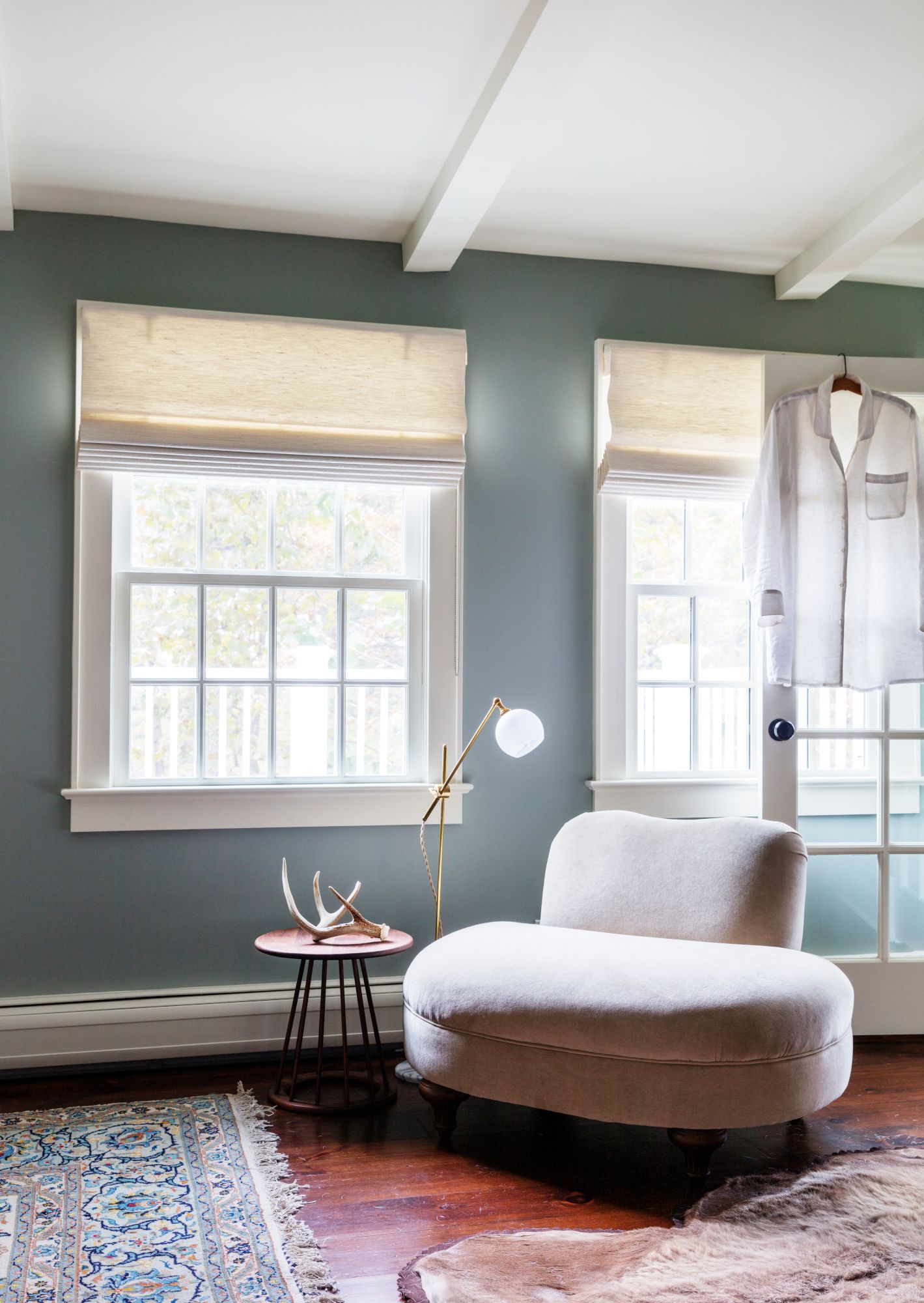 Lighter blues can strike a similar but softer effect to white when paired with dark wood flooring – offering more of a contrast than darker blue, but also drawing on the undertones that make blue so complementary to deeper woods. In this scheme by architecture and interior design studio Hendricks Churchill (opens in new tab), warm, red-toned flooring (red is a great color to pair with light blue) is tempered by a cooler blue-gray wall color – and a warm white accent chair softens the scheme further.
4. Pink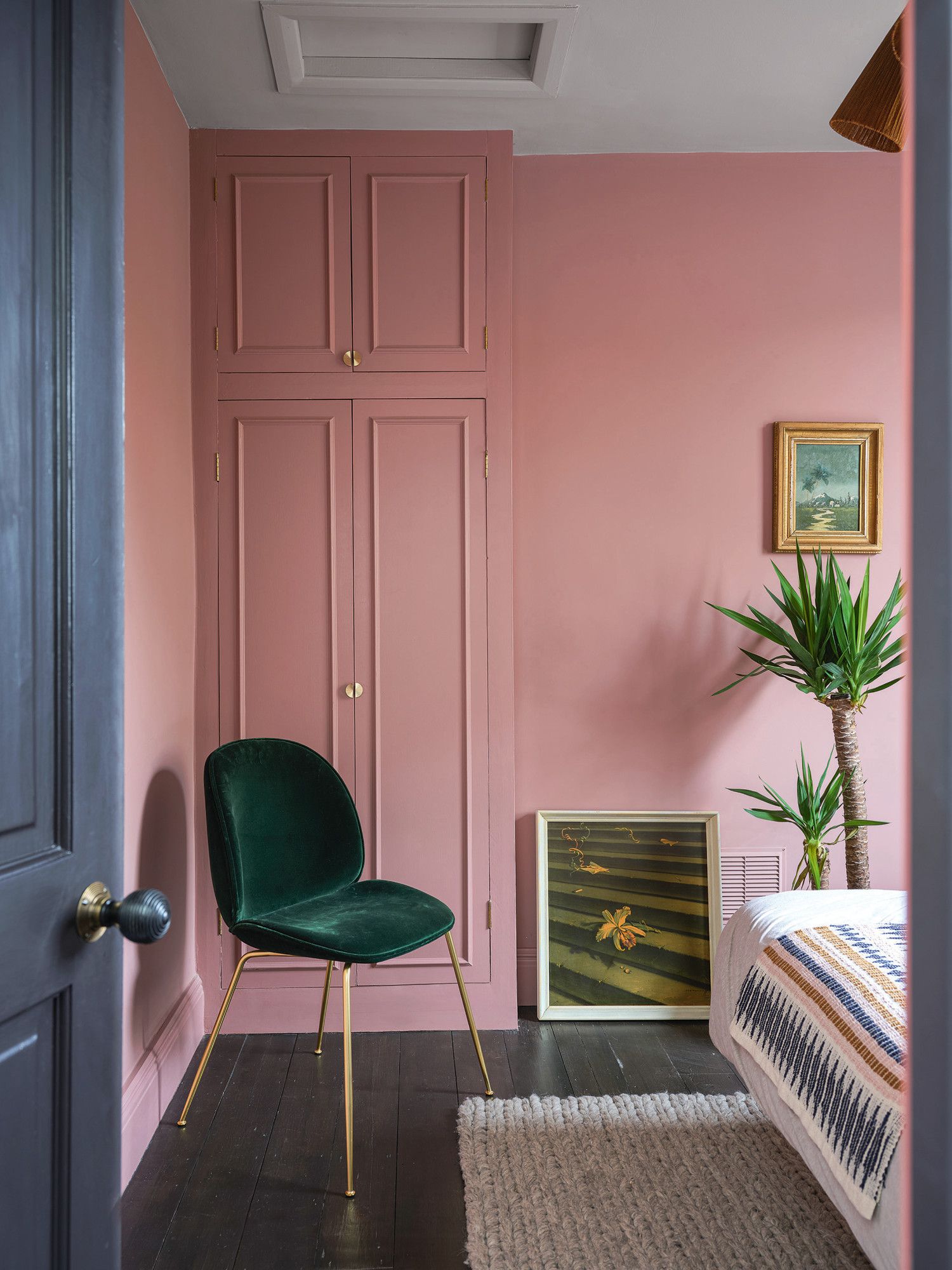 Spaces with classic architectural detail like paneling or beading might benefit from a color pairing that draws on a more traditional feel – which is where pink comes in.  'We love a soft muted blush pink or mauve to create a warm, intimate environment with dark flooring,' says Alexis Pew.
The deep pink in the bedroom above is warm, vibrant and fun – but you can get a similar feel with something a little more subtle if you don't want to stray too far from neutrals. 'If you'd rather have a warm, cozy feeling in your home, opt for a soft beige with a hint of pink for something that's a little out of the ordinary,' says Bethany Adams. 'Savory Cream (opens in new tab) by Benjamin Moore brings gorgeous soft light to a space, without the saccharine look of other pinks.' And don't forget to add in an accent color that goes with pink, like the emerald green chair above, to complete the scheme.
5. Purple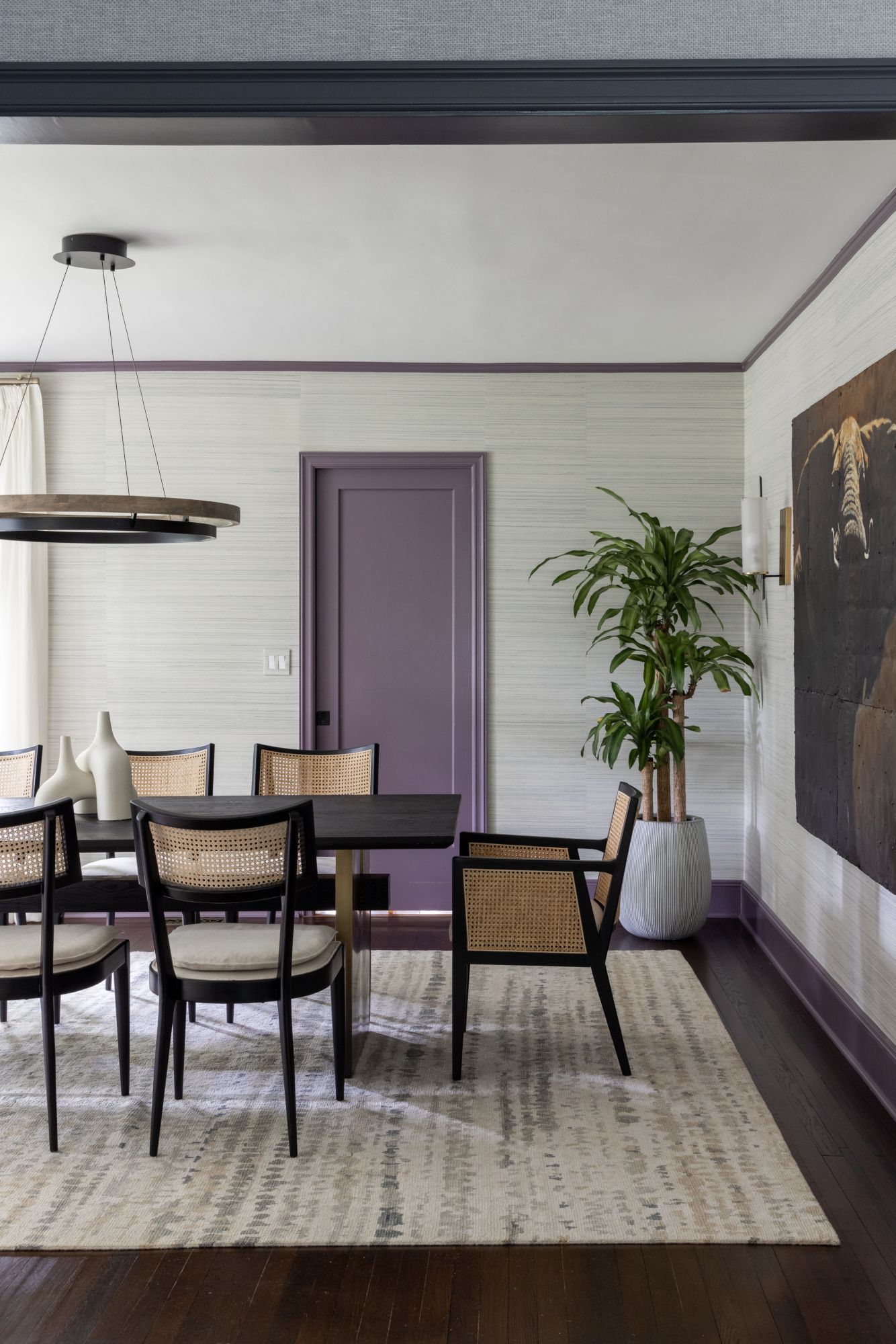 It's sometimes tricky to think of colors that go with purple, but this surprisingly versatile shade can strike an easy balance between the warmth of a wood floor and cooler tones elsewhere in a room. Used across walls, it can make a space feel cocooning – but for a cool, contemporary use of the color, apply it to skirting, doors and other woodwork to create a colorful buffer between floor and walls. 
'When we stained the wood floors dark, we wanted to bring lightness into the space with the wallpaper and the paint,' says Rozit Arditi, who designed the dining space above. 'The purple in the trim picks up the warmth of the dark brown tones of the wood floor but ties it nicely with the color variation in the blue grey grasscloth wallpaper.'
6. Green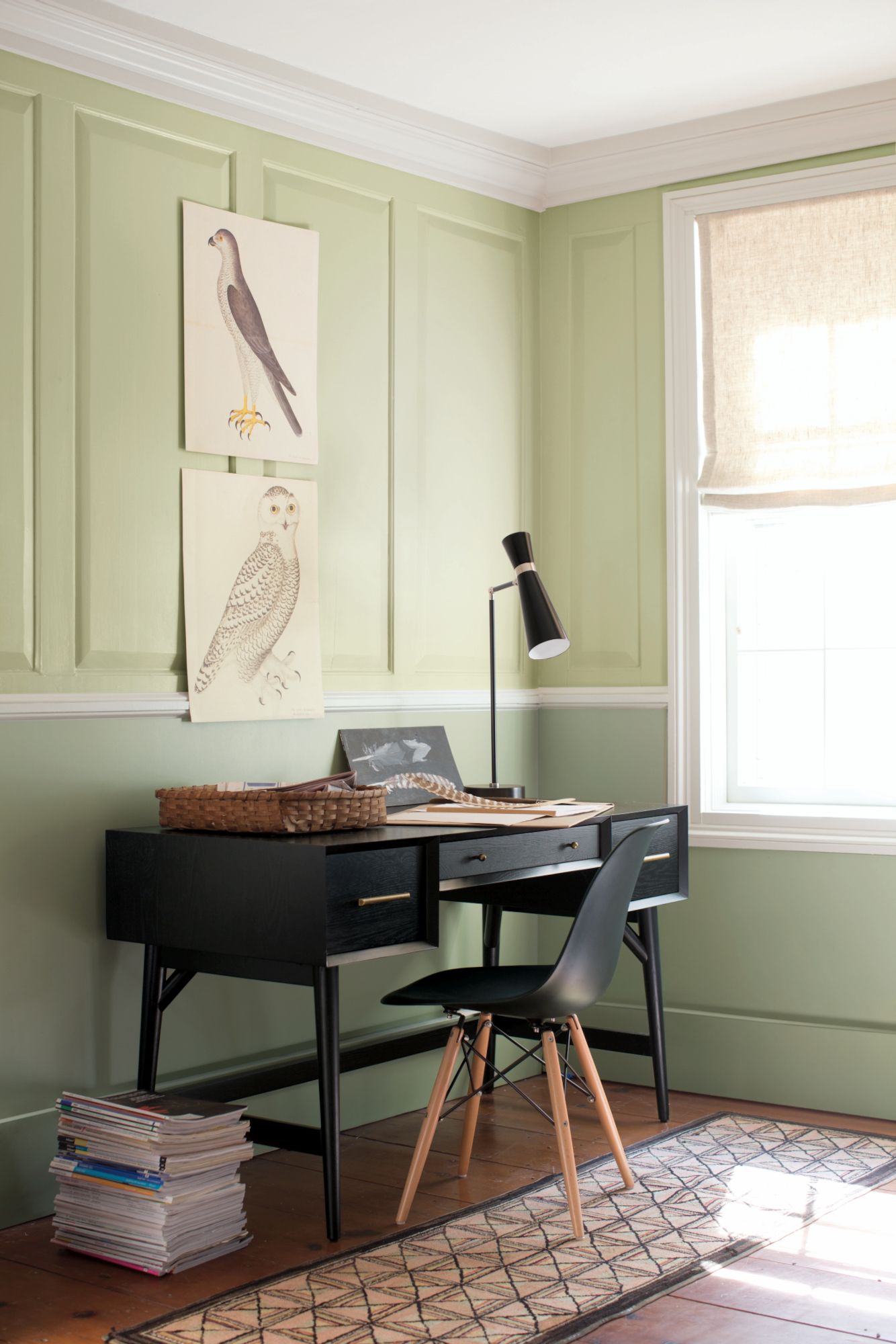 Green is a natural pairing with most wood tones, thanks to both elements' association with, well, nature – and as the above scheme from Little Greene shows, it can create light, airy and comfortable spaces when used in a lighter shade. 
'I like to balance dark wood floor tones with lighter, cool walls for a look that's fresh and sophisticated,' says Bethany Adams. 'Watch out for red undertones and if they're present balance them out with a hint of green on the walls. Titanium (opens in new tab) by Benjamin Moore is one of my go-to colors that has just a touch of green, but depending on the light, can read as a neutral grey.'
Don't discount deeper greens, however, which have beneficial properties of their own when paired with darker flooring. 'I like forest or hunter greens with dark wood flooring to create a warm, cozy space,' says Cindy Eyl (opens in new tab), founder of Arlington, Virginia-based interior design practice Jefferson Street Studio.
7. Coral and other brights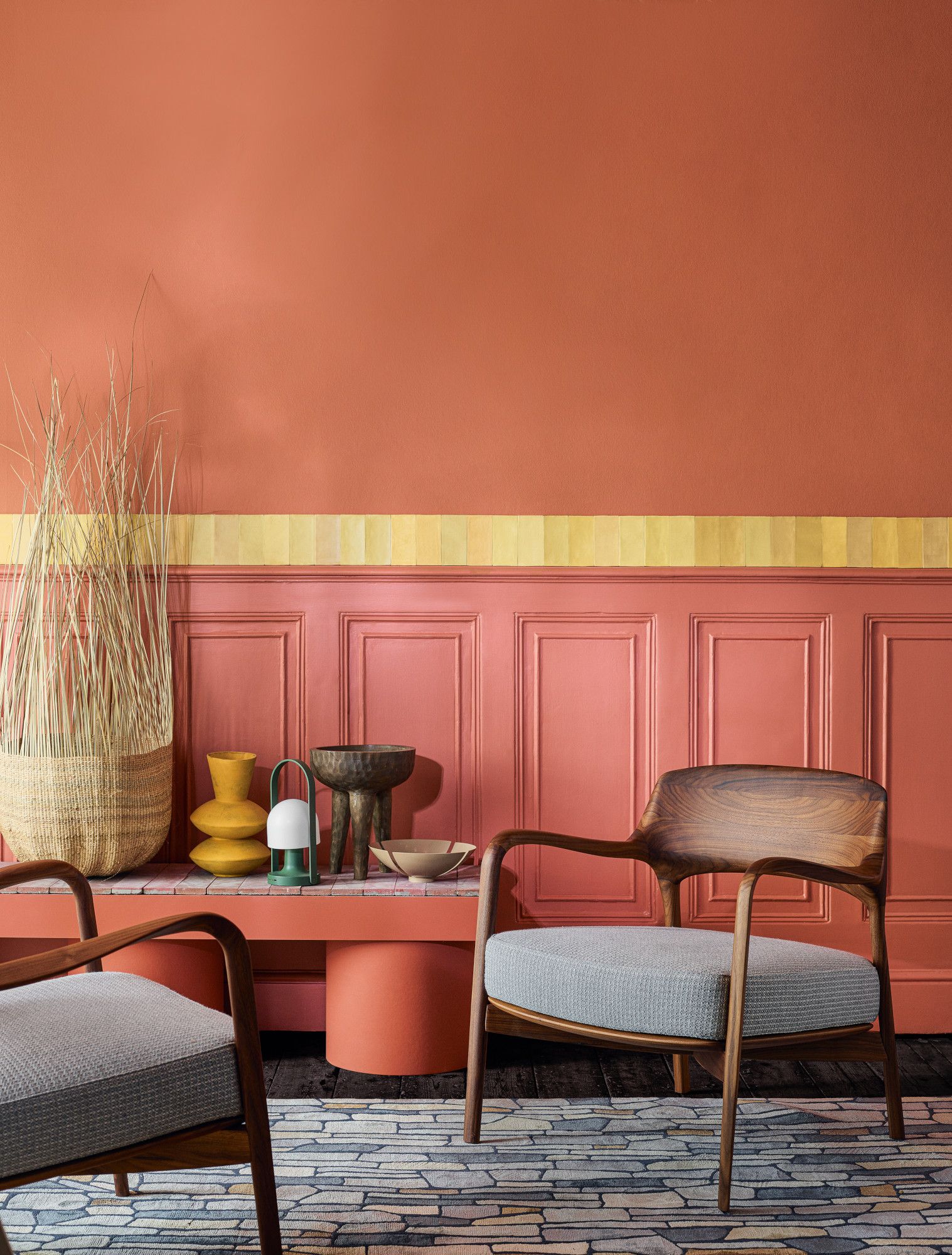 This one's a bit of a wild card – but a pop of color in the form of brighter oranges, blues or pinks can work surprisingly well with dark wood flooring, thanks to the juxtaposition they create. Of course, it means your flooring takes more of a supporting role in the scheme – but these color pairings can make for a space that has plenty of depth and interest.
'I love the contrast of dark floors with bright preppy colors like fuchsia, coral and cobalt,' says Ashley Macuga (opens in new tab), the New Orleans-based principal interior designer at Collected Interiors. 'There is something striking about the deep saturation of colors playing off one another – the floor acting as a canvas for the other colors to shine a little brighter.'
8. Grey and greige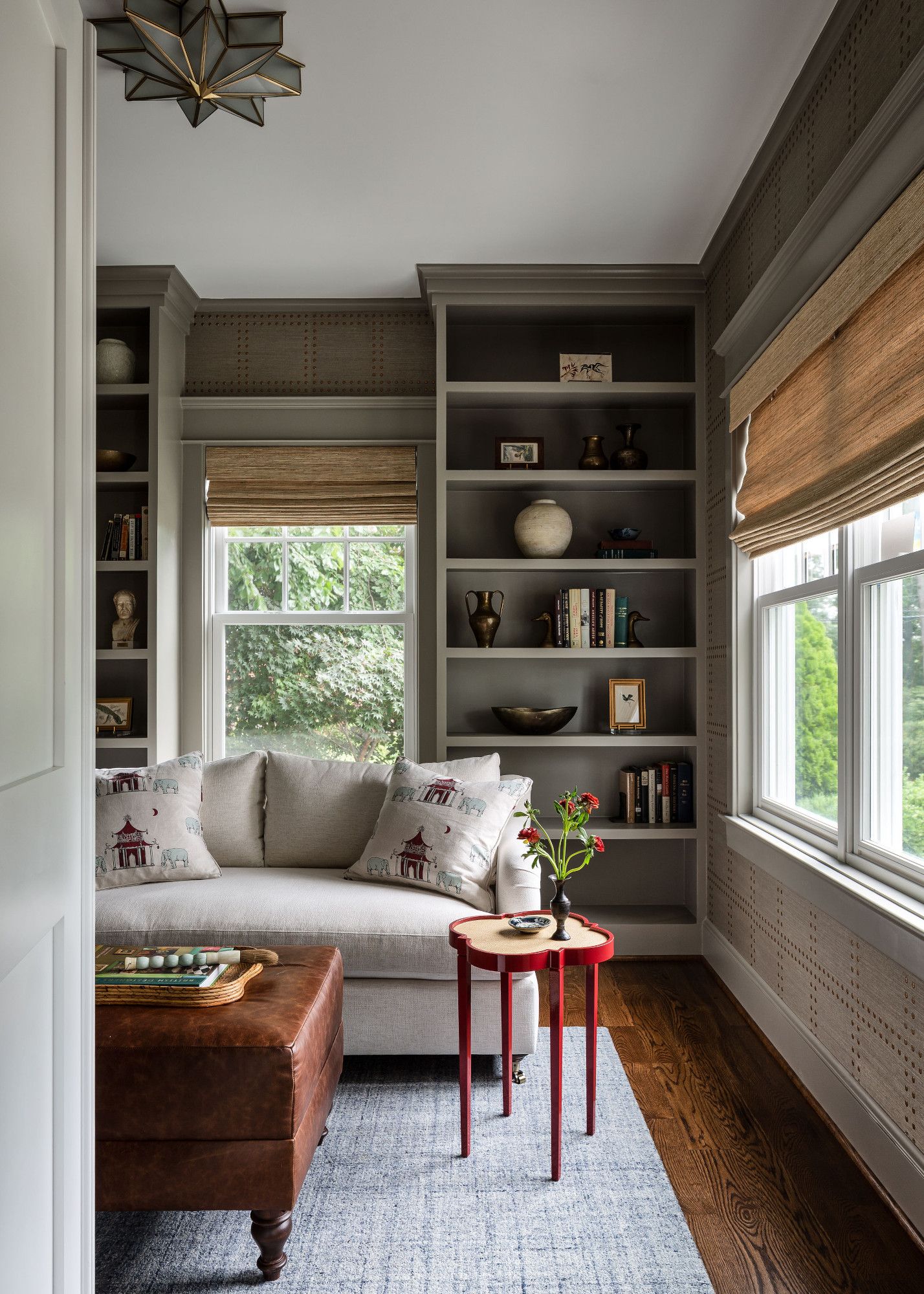 One step up from neutrals like white and beige, grey and greige tones evoke something of a moodier feel, but without the commitment to boldness that darker shades bring. 'Grey tones with dark floors creates an earthy moodiness that we love,' says Susannah Holmberg. Used together, this pairing is also a great backdrop to introduce a different color that goes with grey as an accent.
In this library by Jefferson Street Designs, the space was designed to be cozy and warm, but still with the whimsy and color present in the rest of the home. 'Using dark floors, especially with warm undertones, automatically helps create that cozy feel,' says Cindy Eyl. 'The whimsy came from the Katie Ridder (opens in new tab) fabric, which included light blue and rich red tones. We chose a warm textured wallpaper to match the warmth of the dark wood floors, and selected the paint color last making sure it blended with the wallpaper and complemented the wood floors.'
9. Burgundy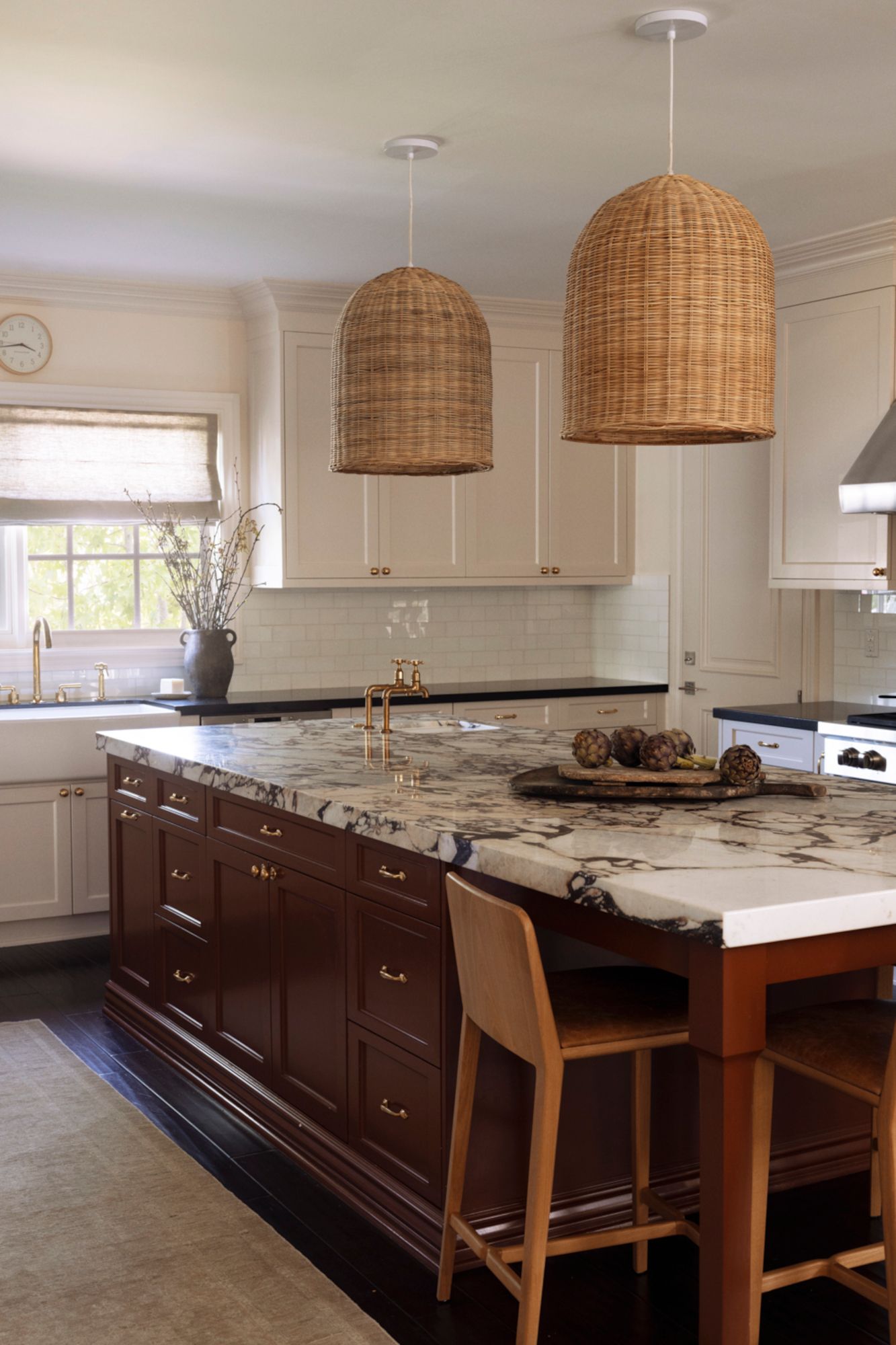 Instead of disguising or contrasting dark wood flooring with deep red undertones, celebrate the depth of color by pairing with a similar deep red shade of paint. This is a look that works particularly well in kitchens, like the space above by Malibu, California-based designer Sarah Solis (opens in new tab), because the richness of the pairing can be balanced out by other elements.
In this space, for example, the kitchen island is painted in a deep burgundy that gives it the impression of merging into the floor – but soft white wall units, and a veined marble countertop, help to balance the space with lighter tones, while a beige rug and rattan pendant lights ground the scheme.
10. Yellow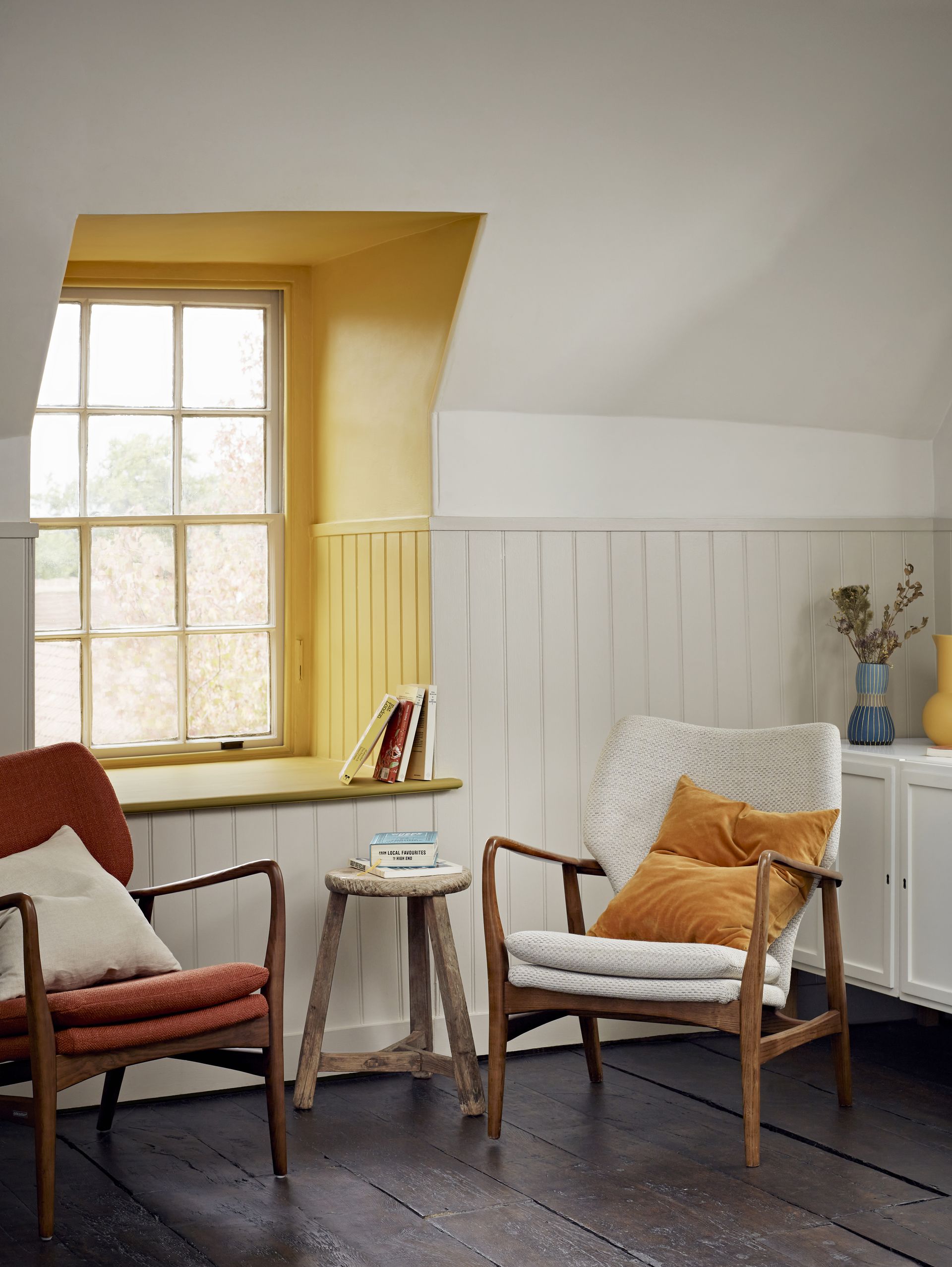 Fun and vibrant, yellow is a great pairing with dark wood flooring – whether you opt for something bright and light, like the window nook above, or a richer tone of mustard or ochre. Flooring with darker brown or grey undertones in particular are great colors that go with yellow.
Lighter yellows are great for smaller surfaces, furniture or accessories, but it's the richer tones that the experts turn to when it comes to painting entire walls. 'Ochre is surprisingly versatile, and is an unexpected pop against dark tones,' says Susannah Holmberg. Likewise, Rozit Arditi prefers to opt for something moodier: 'I love decorating with jewel tones and mustard for warm cozy spaces,' she says.
11. Black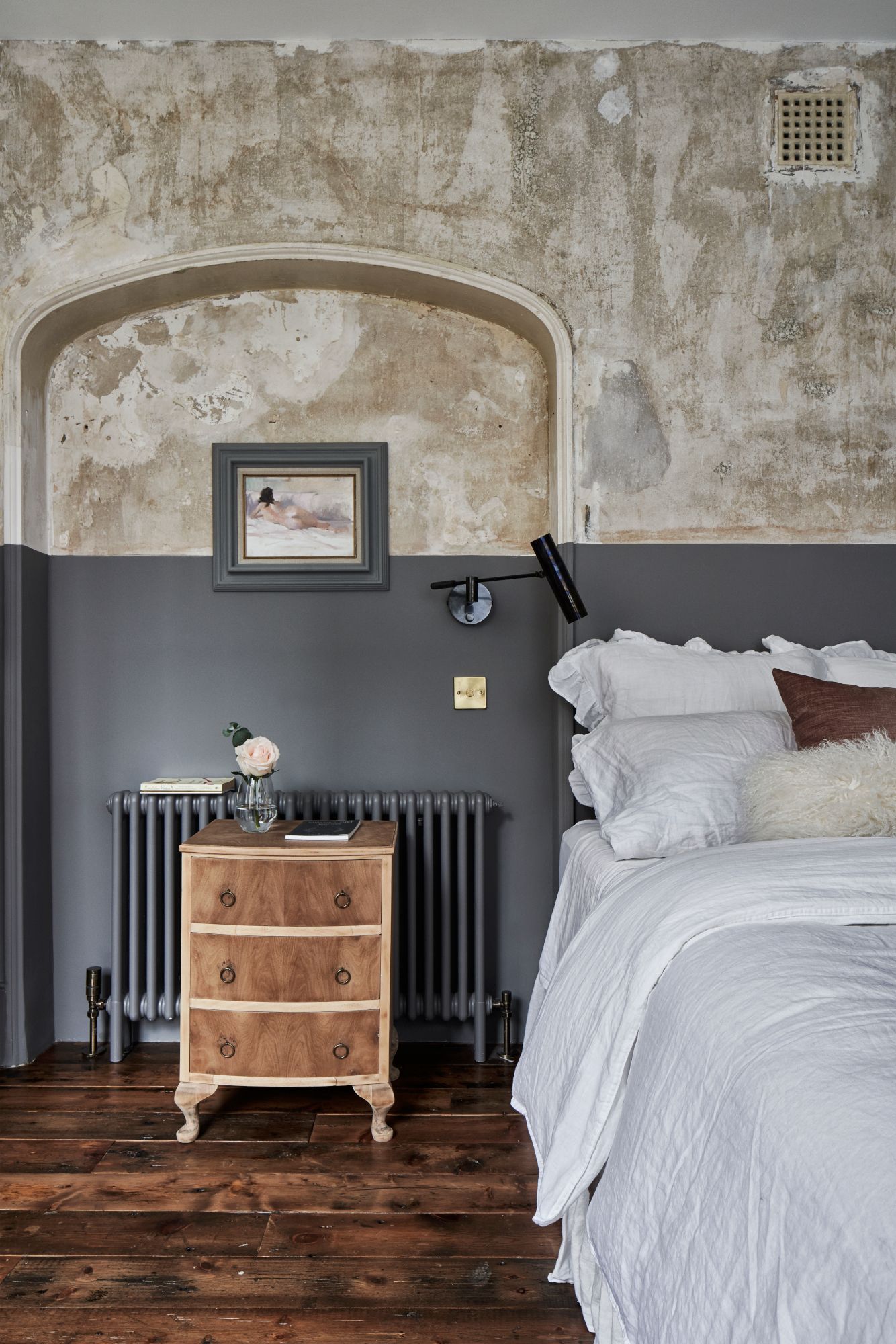 Anyone who wants to use black walls in their space should look to dark wood flooring as a natural pairing for the shade. 'Black goes with everything, but I actually tend to prefer black with dark woods,' says Susannah Holmberg. 'Light woods and black can read a little cheap, if not done right.'
Use black with dark wood flooring for a cozy, cocooning scheme that's best suited to bedrooms or living rooms. It's also a great option if you're looking to mix different woods in your scheme, acting as a neutral backdrop that won't interfere with the undertones of furniture and accessories. And likewise, it's a great way to introduce an accent color that goes with black, adding another layer to a scheme.