11 ways to create a calming sanctuary |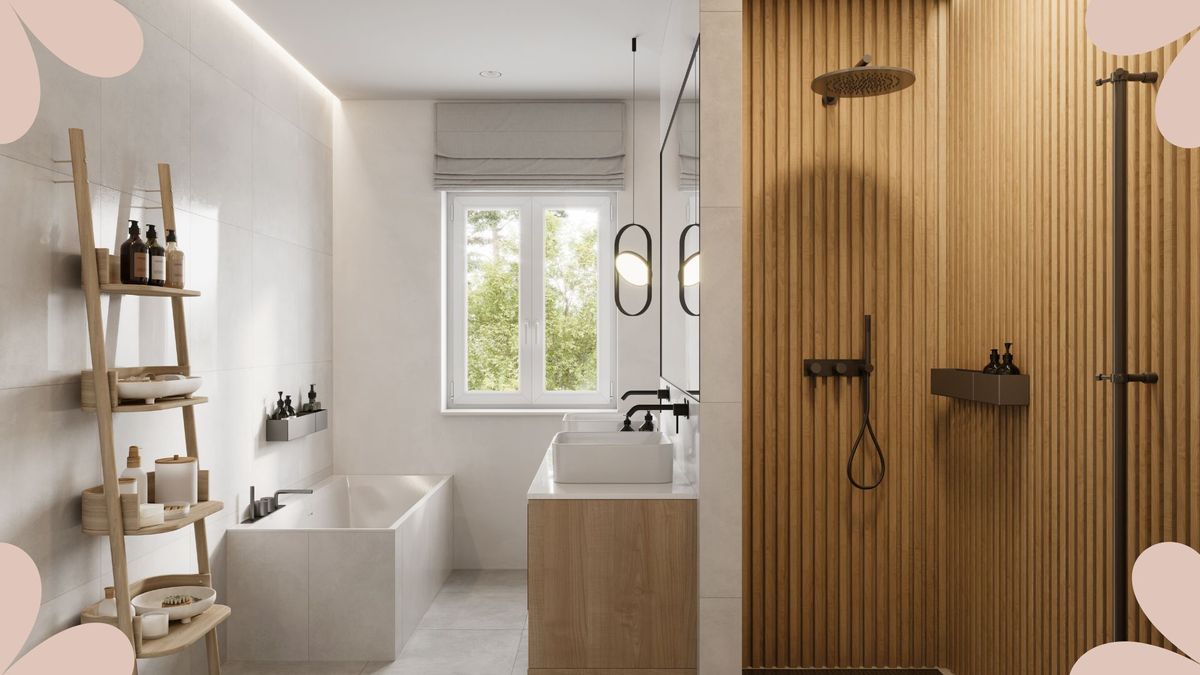 Calm and serene, a Japandi bathroom is somewhat of a sanctuary. Combining eastern style with western design, this is a modern bathroom that provides a functional, yet zen-like, environment for all your daily needs.
Japandi style combines the coziness of the Scandinavian trend hygge with the Japanese concept of wabi-sabi, the idea that slow living, contentment, and simplicity are key to a well-lived life.
Just like with Japandi bedrooms, when it comes to Japandi bathroom ideas, it's all about creating a sanctuary, a calm place to bathe and relax and take a moment to yourself.  
It also makes the perfect interior trend for bathrooms, as simple lines and functionality come together – essential elements for this room. We speak to bathroom designers and interior experts to explore the best ways to achieve a restorative Japandi bathroom with ease. 
Japandi bathroom ideas: 11 ways to get the look
The Japandi trend fuses calm, neutral palettes with texture, simplistic lines, and natural materials, all of which come together to create a cozy environment that feels restful.
"Keep lighting low, color palette neutral, design simple and woods and stones in a natural finish and you are halfway there to creating your own Japandi bathroom oasis," says Tracey Hague, director of online furniture store Where Saints Go (opens in new tab).
1. Choose muted, calming shades for the wall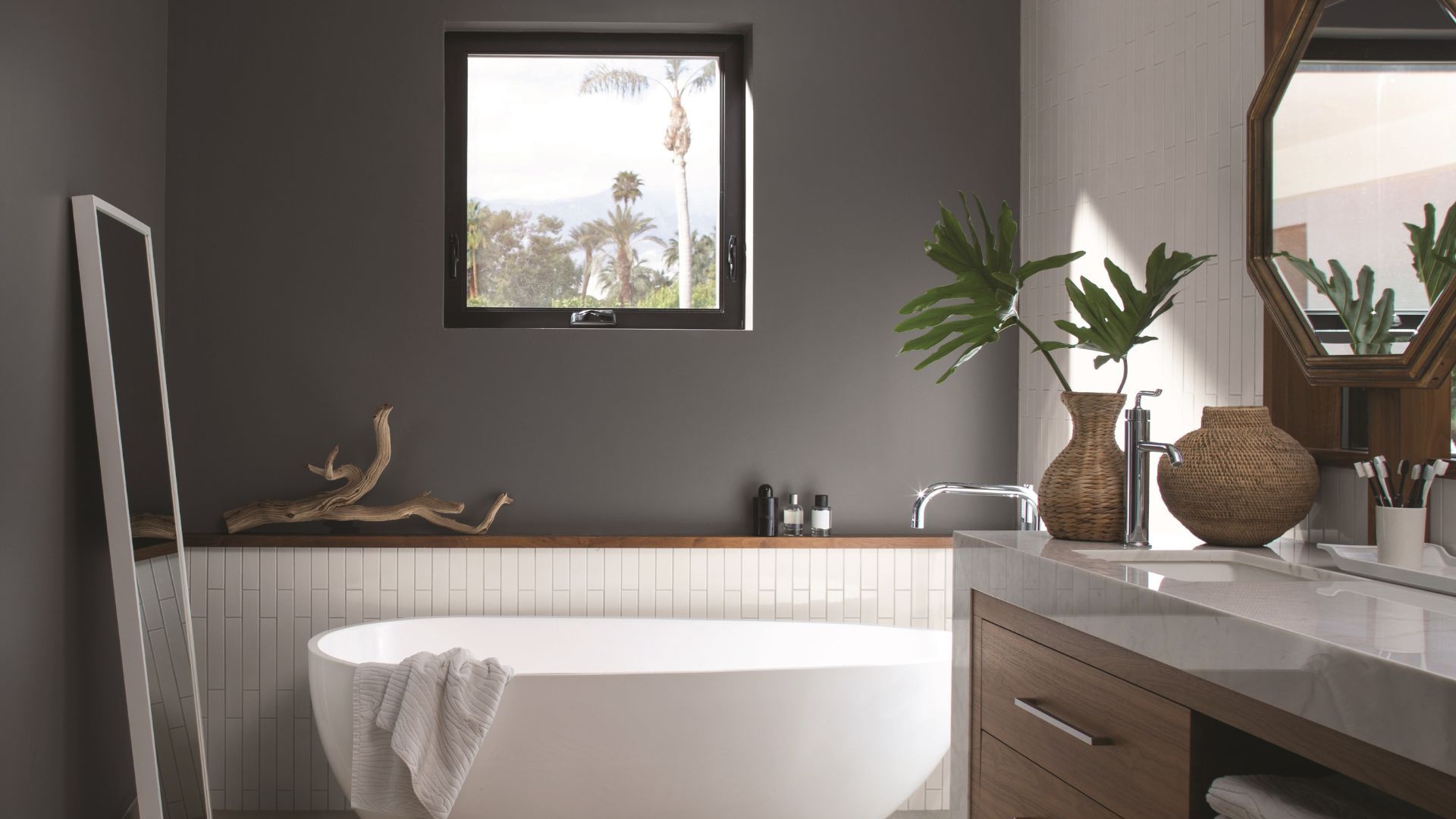 The Japandi color palette is perfect for a bathroom as the colors are neutral, muted, and very calming. Be inspired by natural earthy hues, as well as more obvious neutral shades such as beige and taupe. Plants are an important aspect of this look, so splashes of calming sage green also work well and make for a comforting bathroom.
Aaron Markwell, COAT Paint's (opens in new tab) Color Curator, says the right paint shades can help create a coordinated look. "Keeping to the same tones that you would pick for tiles and flooring in your wall color is a great way to create a cohesive Japandi scheme," he explains.
"Hay-like beiges such as our Moving Day (opens in new tab) shade, beige pastel-like greens, and soft, bright taupes are all fantastic for this. Pick out the woodwork in deeper brown colors for a reference to some of the darker woods that are used in traditional Japanese design, will help your walls and tiling feel slightly brighter too."
The key to getting the right neutral look is by layering the shades, so you have contrast without going too dark, which would not be very Japandi! "Keep it neutral, layering similar shades onto one another to provide depth without ever actually going too dark," advises Sophie Smith of Zhoosh Paints (opens in new tab).
"Use natural light colors with warm, earthy undertones such as beige, green, and grey. Keep the palette subtle, as this look is all about neutral minimalism and clean comfort."
2. Create a focal point with your bath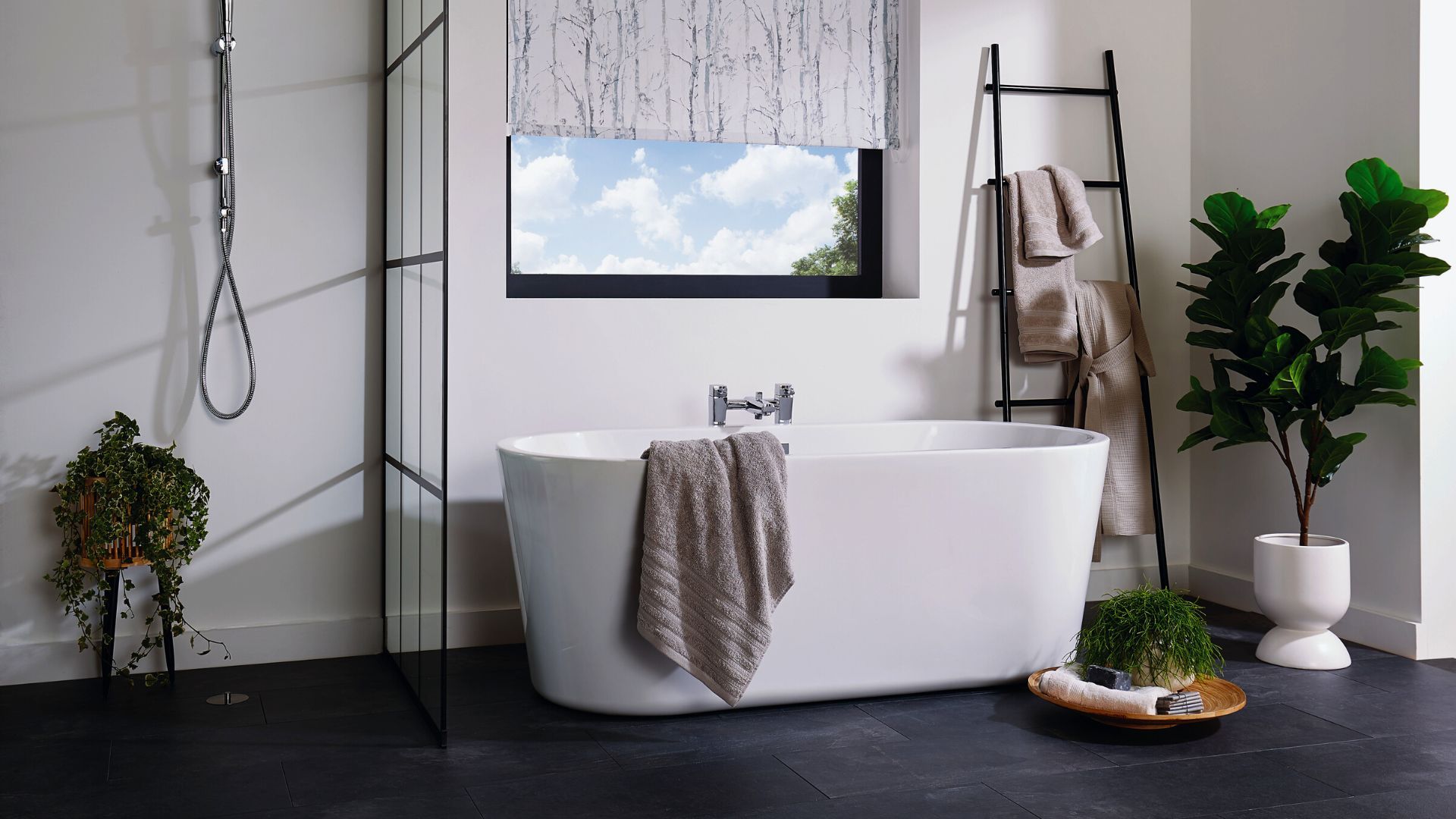 Bathing culture is huge in Japan, dating back to the 6th century. The custom was believed to not only wash the body but also cleanse the spirit and improve one's health. With this in mind, the bath being a focal point of any Japandi bathroom is key.
Whether it's free-standing or set next to the wall, the bath should be the first thing you see when you enter the room. If your bathroom is smaller, the same goes for the shower. Make a statement with it by choosing black grid shower panels or a textured shower curtain.
3. Add warmth with textiles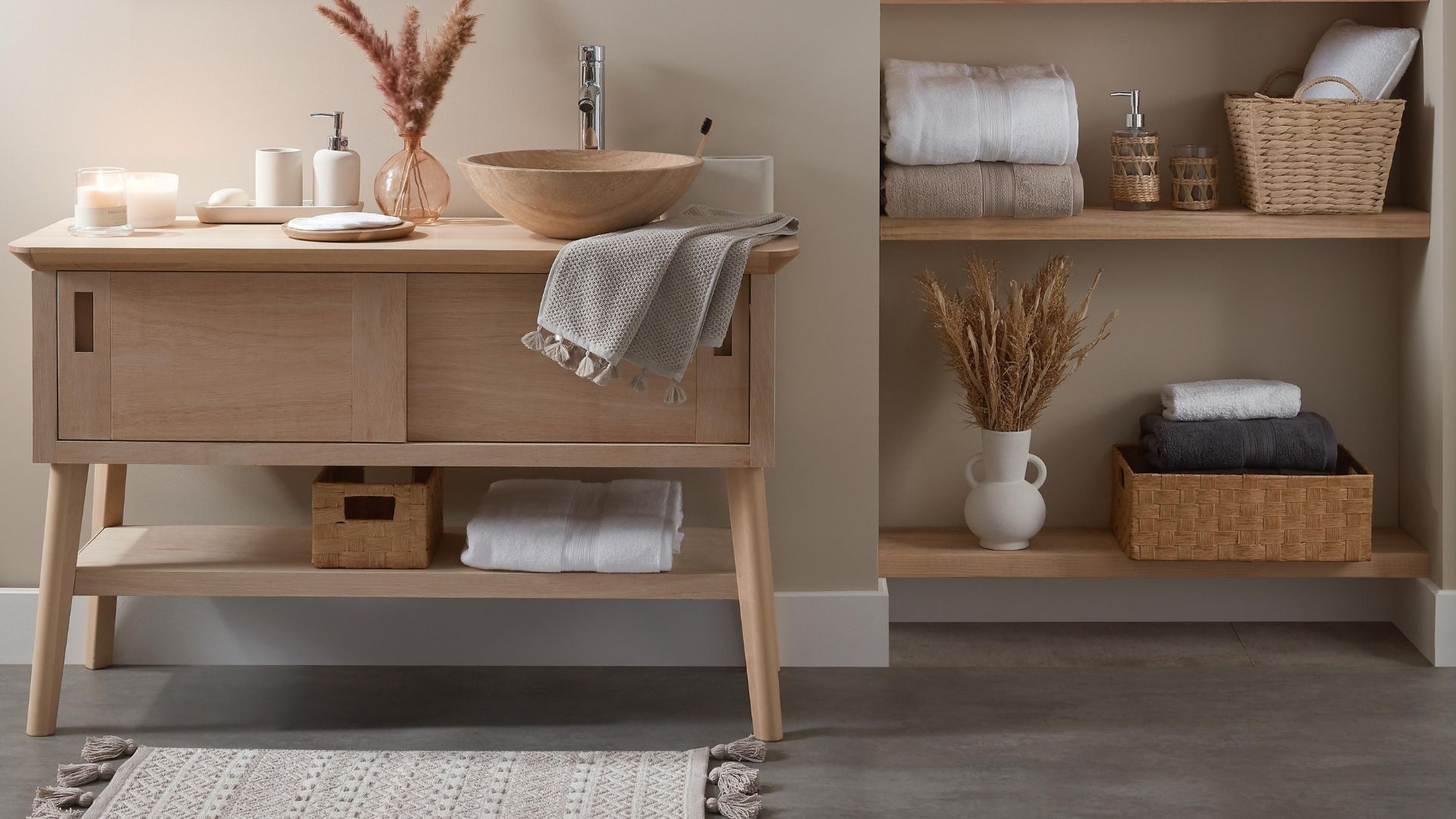 The Scandi side of Japandi is very much about being cozy, and one of the easiest ways to make a home feel cozy is to layer various textiles. In a bedroom or lounge, this can easily be done with the addition of throws and cushions, however, there are still ways to add a touch of warmth in bathrooms.
"Use different kinds of natural materials and textures in your bathroom – you can think about, for example, linen towels, a wooden bench, or a deep pile bathmat," advises Laila. "Also, play with different shapes. Like, for example, an organic-shaped mirror."
Choose the fluffiest, softest towels in muted shades to help ramp up the cozy factor. And don't forget bathmats either. While you could go for a wooden one to ramp up the natural accessories, a great alternative is a tufted one made of organic cotton.
4. Keep design minimal and sleek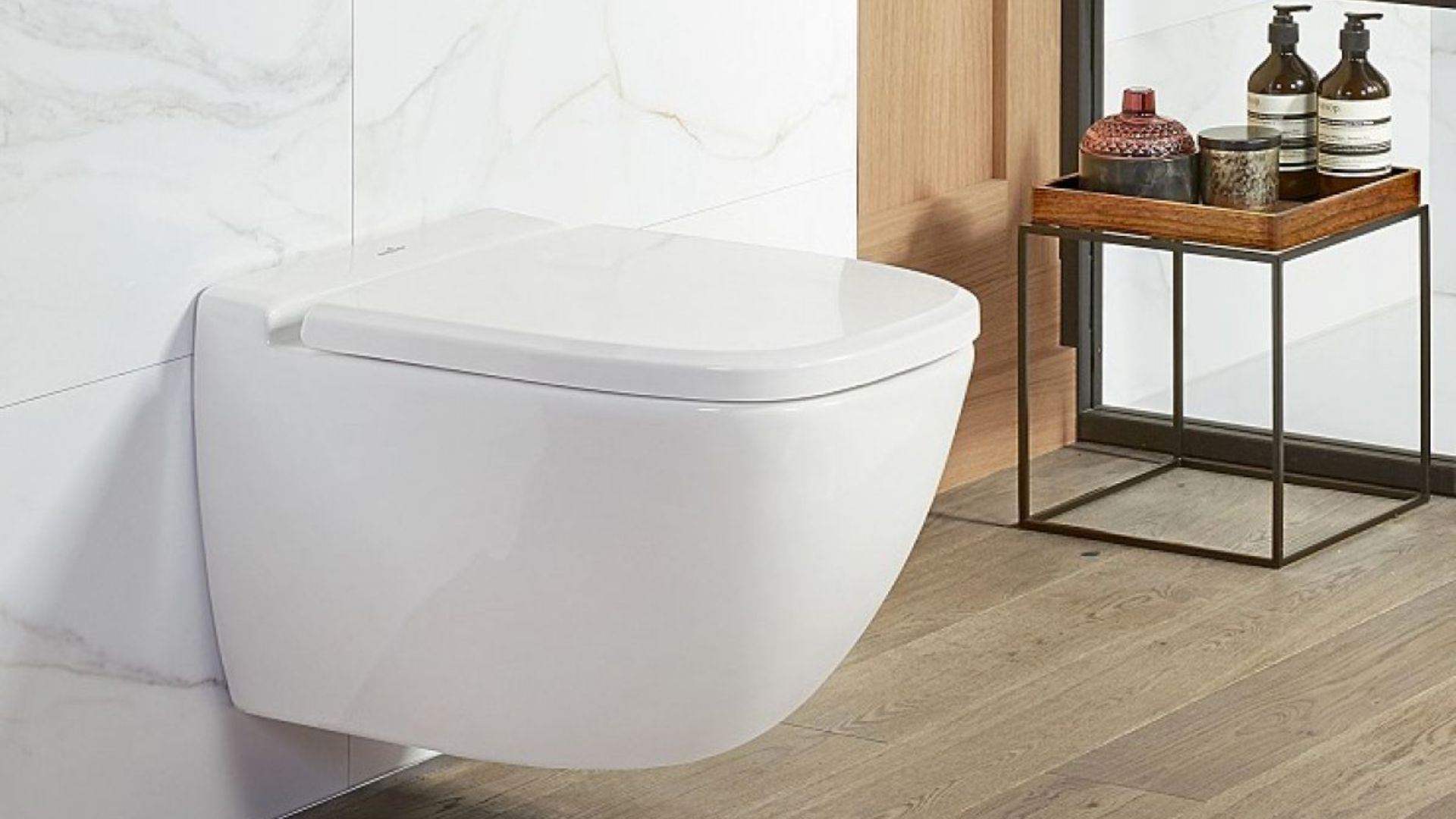 Pared-back bathroom suites create a feeling of tranquillity and calm, creating a spa-like feel. Do away with unnecessary handles. Choose a wall-mounted toilet to avoid a bathroom design mistake of the wrong fixtures and fittings. Keep sinks and baths sleek and simple in shape and design.
As with styling Japandi living rooms, keep accessories to a minimum. Too many bits and bobs can make the bathroom feel cluttered and chaotic, which is the opposite of the calm oasis you're trying to create.
"Accessorise simply to achieve a natural uncluttered appearance, and make sure you keep lotions and potions well hidden in beautiful cabinets," suggests Tracey. 
5. Opt for functionality first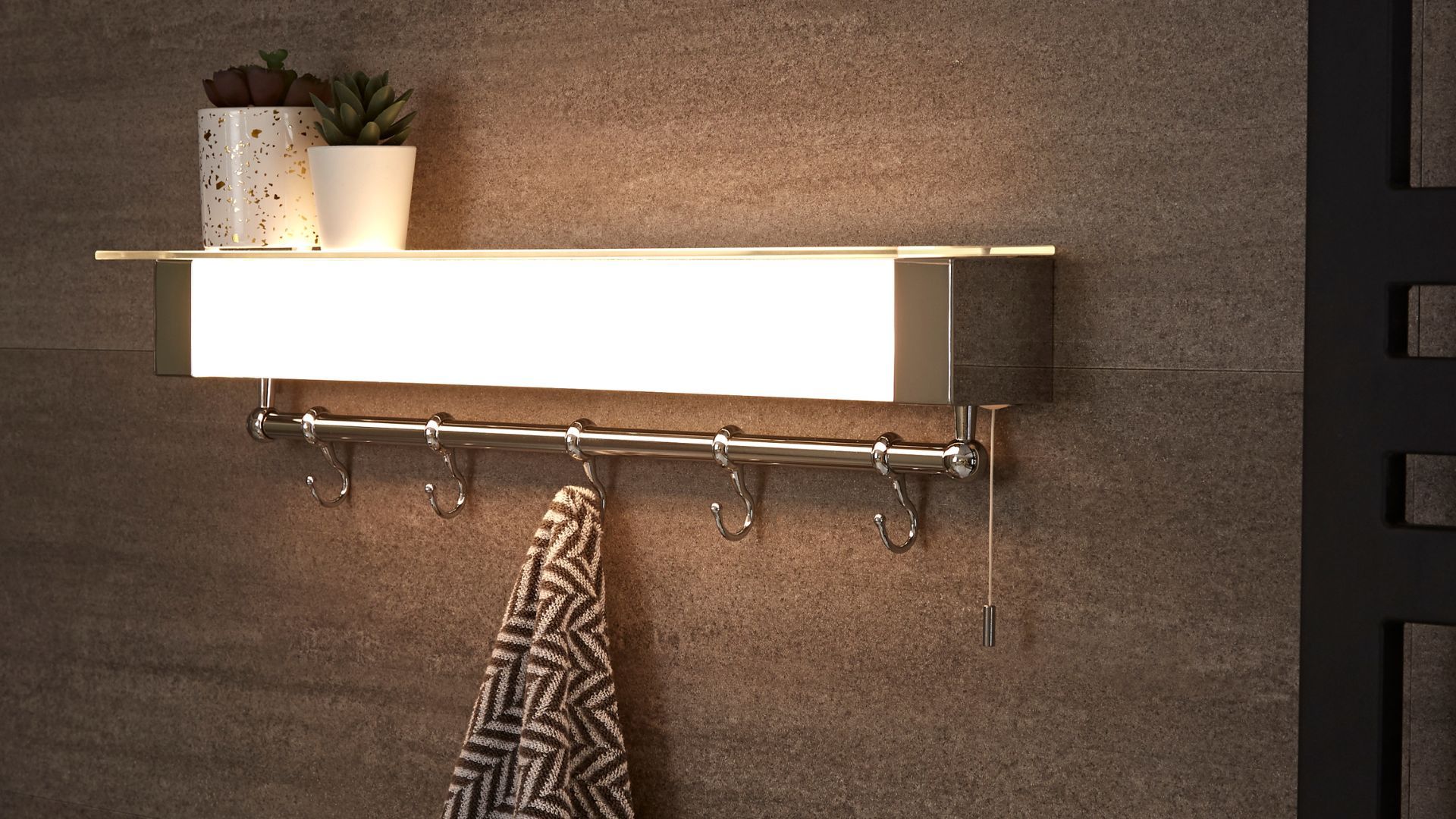 The minimal style is why functionality is so important. Storage is a major must-have for any Japandi bathroom. Bottles, jars, and tubes need to be kept behind closed doors to keep everything feeling zen-like.
Laila Rietbergen, the author of the interior design book Japandi Living (opens in new tab) and content creator at Japandi Interior (opens in new tab), says before your start installing storage, think about how much stuff you have and how much space you'll need. A step-by-step decluttering afternoon might be in order as a result.
"You can then for example make a closet under your sink or a separate closet," she says. "If you have a small bathroom, I would advise choosing a color closet that blends into the wall behind it for that extra sleek look."
The core of Japandi also states that everything needs to have a purpose. This is where functionality meets style. Choose a light that doubles up as a place to hang your towels or a mirror with a cupboard behind it. If it looks good and it's practical, you're onto a winner.
6. Play with texture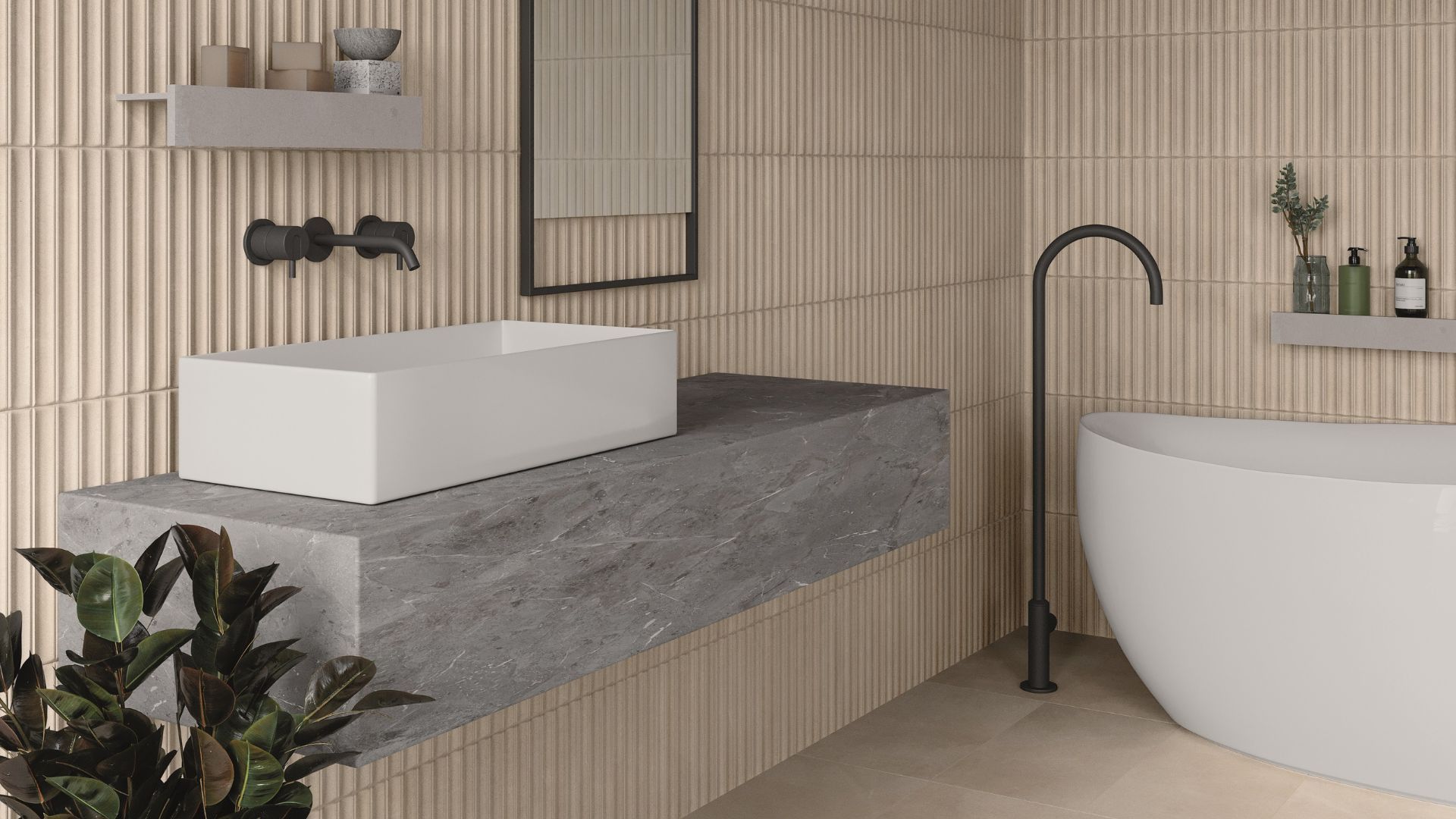 Textures are all important when it comes to Japandi bathroom ideas. The easiest way to inject this is via tiles. "Like the trend itself, the design call for tiles that are simple and beautiful, calming yet invigorating," says Abbas Youssefi, director of the independent tile retailer, Porcelain Superstore (opens in new tab).
"Choose a tile with an architectural edge, which adds a statement design element that's simple and pared-back, yet pleasing to the eye. The gentle color movement between tiles like these add an element of wabi-sabi to the room, offering beauty in imperfection."
Katie Seidler, interior designer and content creator at @hello_haus (opens in new tab), agrees that floor and wall tiles are a super easy way to inject this much-needed texture, however, she says a lime wash can also work well.
"Natural stone finishes, neutral terrazzo or simple pale tiles will instantly add texture, however, if you don't want to tile walls, a lime wash paint can add movement to the walls and a quick way to add texture in," she advises. 
Alternatively, you can play around with wood, which not only adds to the Scandi feel, but also brings the outdoors inside, and help add interest to the neutral colorway used in the room. One way to do this is with the use of cladding says Tracey.
"Think light wood cladding and wooden furniture units mixed with stone or granite tops," she suggests. "If money is tight this look can be achieved cheaply with a little personal DIY skill. Numerous videos are available online instructing how to clad a wall effectively. Just ensure that you choose a nice light wood to create the correct look."
7. Create a sanctuary with low level lights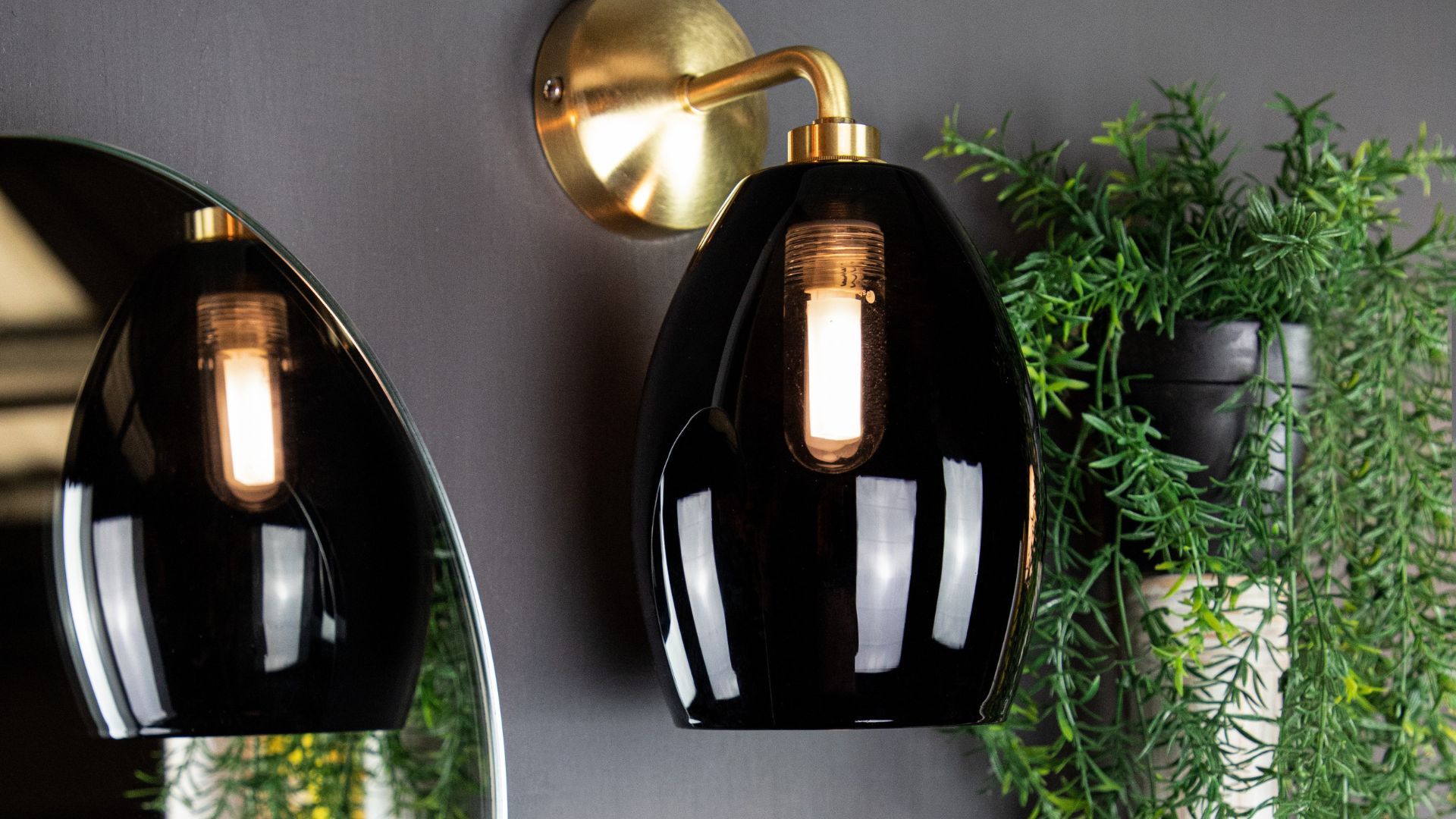 This is no ordinary bathroom. This is one to encourage self-care and a place of calm, and the easiest way to create a sanctuary like this is with low-level lights – the best flameless candles and best-scented candles are a fabulous way to add ambient light while you bathe
Laila advises choosing something other than the usual spotlights and using dimmable lights if possible. That way, once the kids have been bathed, you can dim the lights and pretend you're in that much-needed spa!
You can also affect the lighting mood by choosing lights with unusual glass coverings, or textured lampshades made out of natural elements such as wicker. Wall lights are also a nice touch as these create a softer, more chilled-out light.
As form and function are so important in a Japandi bathroom, lighting can also play into this. "We need our bathroom lighting to do its job and be practical but you can choose back-lit mirrors that have a warm or cool light option," suggests Katie.
"These mirrors are perfect for flexibility, when it's time to have a relaxing bath you can switch the lighting from bright to want and create a more relaxing space. Candles are also a great option to add to the ambiance in here so be sure to add these into a Japandi scheme."
8. Pick natural accessories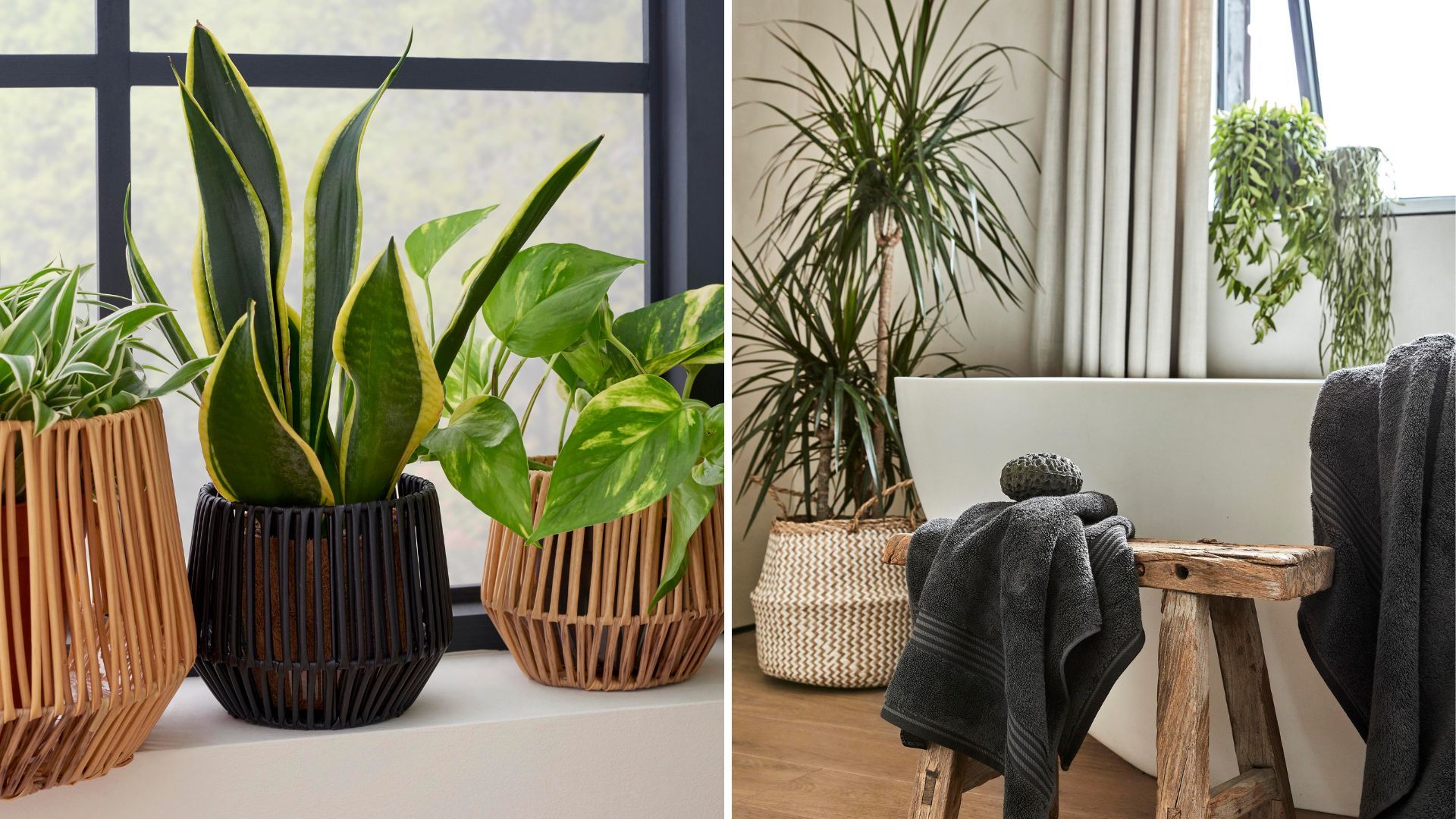 At the core of the Japandi style is the idea of bringing the outdoors inside. Plants not only help do this but also provide a contrast to the neutral shades.
"Accent colors should not be provided by the paint, instead, use plants and natural materials such as stone and wood to provide a darker contrast and texture," advises Sophie. "These nods to the living world will complement your simple backdrop and help create a meditative space in which you can truly relax and unwind."
You may not be used to having plants in your bathroom but they're a great addition as by releasing oxygen and absorbing carbon dioxide, they freshen up the air and eliminate any toxins – a great way to improve the air quality of your home. Scientific studies have also shown house plants help to relieve stress! 
As bathrooms can often have mixed temperatures, it's best to choose a hearty plant such as a bird's nest fern or aloe vera. If your bathroom doesn't have much natural light, choose a spider plant or pothos that can survive in dim light.
If you're not green-fingered and don't fancy artificial plants, you can still get the feeling of Japandi into your bathroom by using natural accessories such as a rattan laundry basket, a bamboo toothbrush holder, or a wooden storage caddy.
9. Add black accents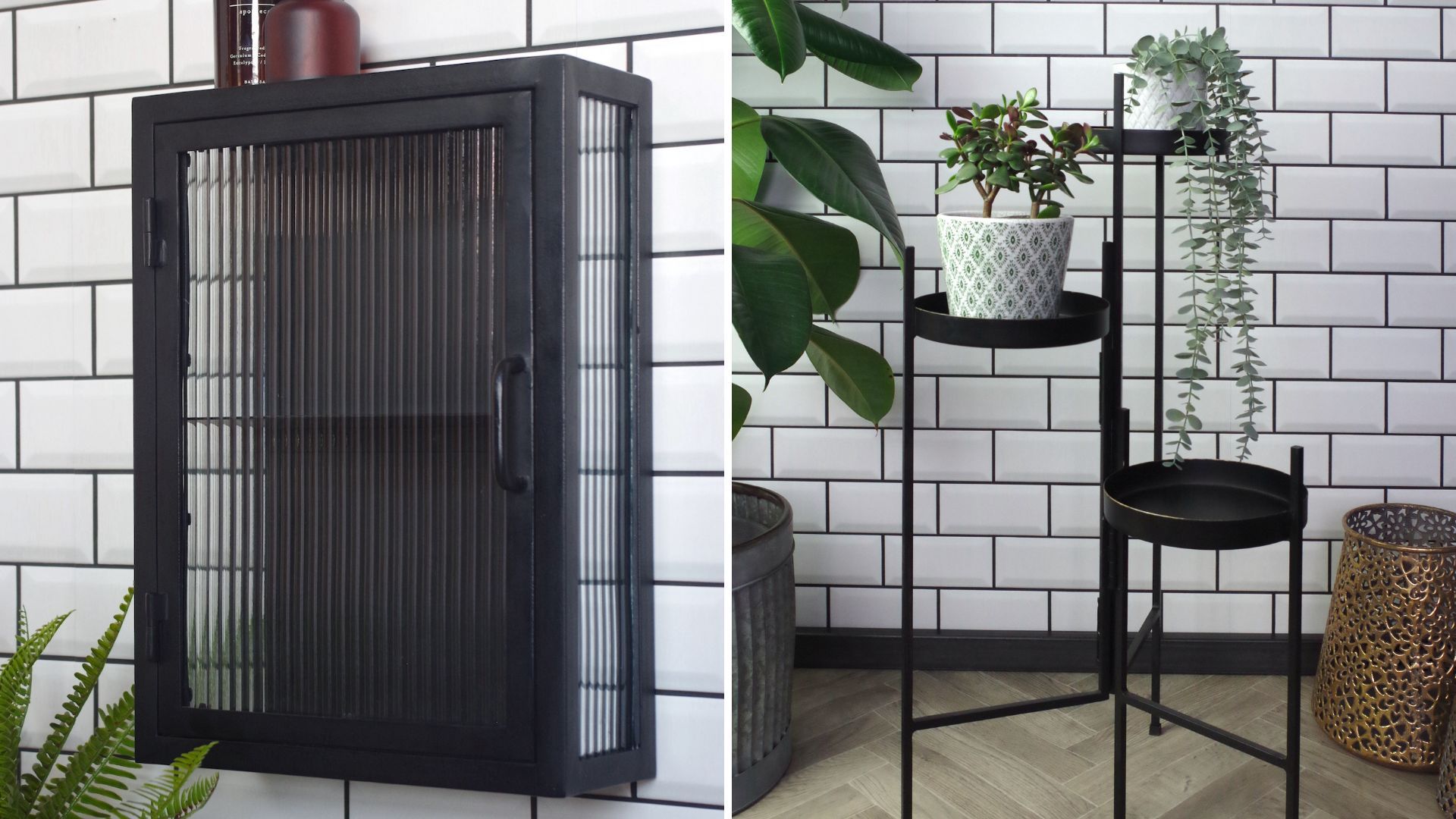 Accents of matt black are not only very Japanese in feel but bring together layers of neutral shades. Balancing the muted colors with elements of black throughout the bathroom, whether that be taps or textiles, such as bath mats and towels helps create a calming atmosphere. It also brings depth to the look, which could otherwise, feel a tad washed out and flat with only neutral shades with no real definition.
10. Think natural when it comes flooring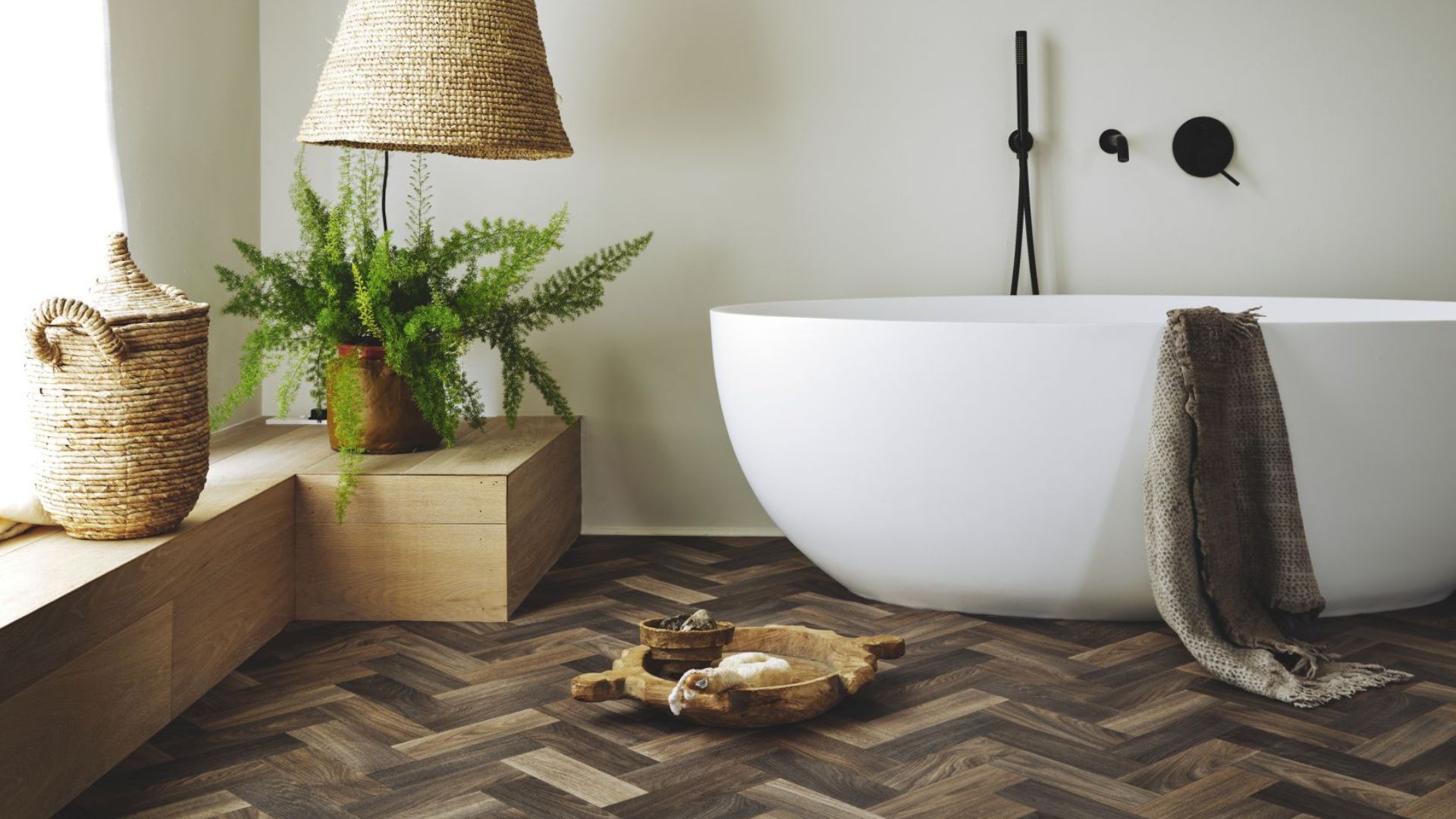 While tiles work with this trend, especially if they're in muted earth shades or have some texture on them, the real hero of a Japandi bathroom is a wooden floor. The best way to achieve this in a bathroom is with vinyl flooring.
"Tile effect vinyl flooring is a perfect solution for creating this look in the bathroom, both aesthetically and practically," says Punam Chada, a buyer for Carpetright Carpet.
"Offering a realistic finish, vinyl comes in a variety of styles, plus it's affordable, easy to maintain, and highly durable. Vinyl products boast water and slip-resistant qualities, making them a great solution for a showroom or bathroom."
If you want the real thing, choose hardwood, which can withstand moisture and humidity better than softwood. It will require more maintenance than tiles or laminate though, as you'll have to regularly reapply the lacquer that seals the wood to ensure no moisture gets in. And ensure you know how to clean hardwood flooring properly to avoid damaging the surface.
11. Seek to be sustainable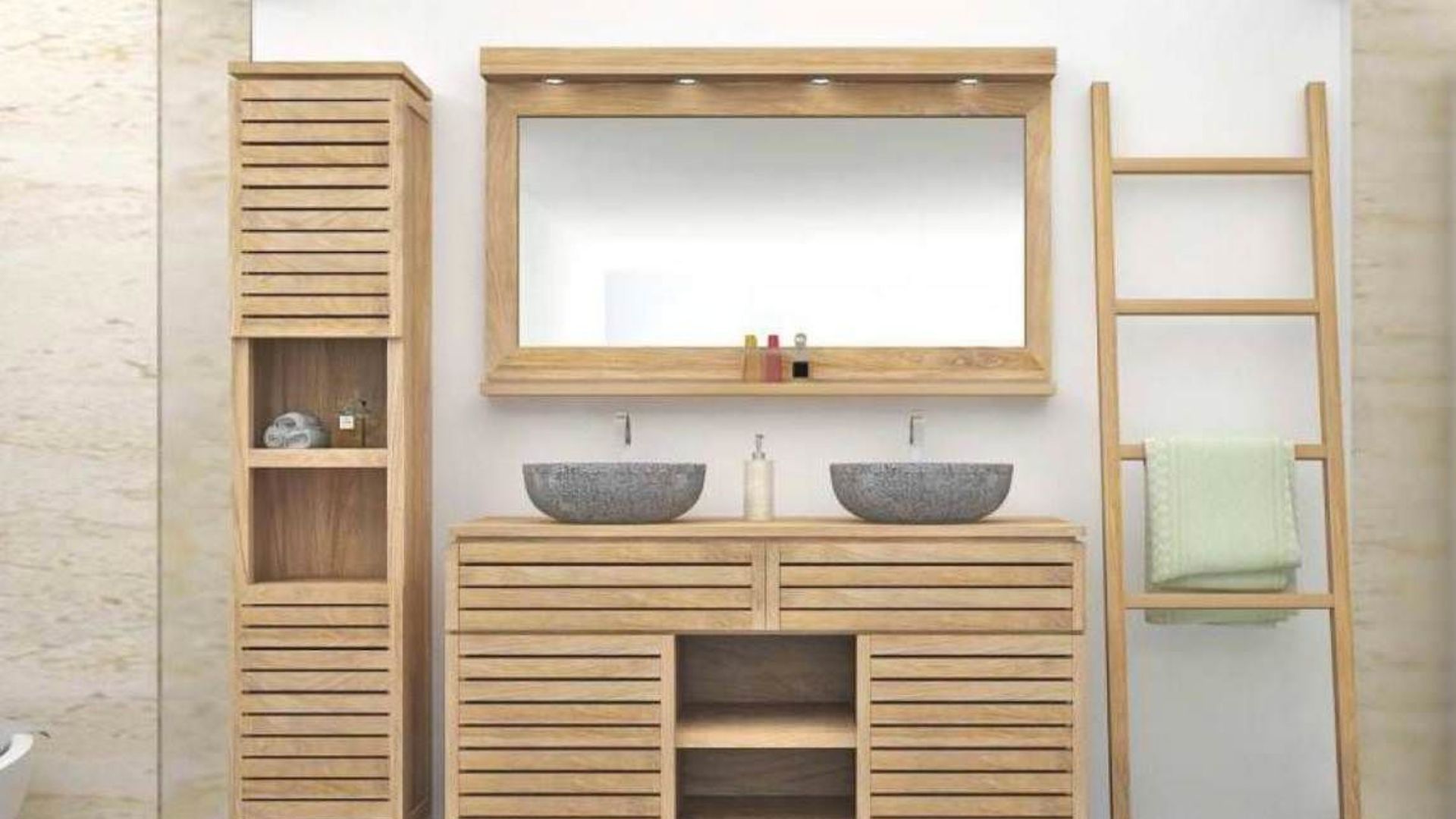 Sustainability is key to this trend. This is not about buying throwaway items that will be replaced a couple of years down the line, so it encourages more sustainable living choices for your home. Japandi is all about high-quality craftsmanship pieces that are timeless in style. If you can also use sustainable materials, such as copper, bamboo, and natural stone, even better.
"For an instant Japandi look that doesn't cost the earth, accessorize your bathroom with bamboo," suggests Sofia Charalambous, sales and marketing Director at Origins Living (opens in new tab).
She continues: "This sustainable fast-growing reed is the perfect material to introduce into your bathing haven, inducing a calming and soothing feel. From bamboo framed mirrors and small storage containers to waffle towels, create a spa-style retreat, that is synonymous with Japanese and Scandinavian aesthetics."
Also, think about reducing your water waste by choosing low-flow or water-saving shower heads that give the feeling of high pressure, without using as much water. Other ideas to conserve water include checking your taps and toilet for leaks and also turning off the tap while brushing your teeth.
What is Japandi bathroom style?
While at the heart of this trend is an east meets west vibe, it's very much open to personal interpretation, so what exactly is Japandi bathroom style?
For Katie, it's all about creating a warm, comforting environment, that's connected very much to nature. "A Japandi style bathroom is a warm, textured filled space with interesting finishes in neutral tones," she says.  
"Think lime-washed walls with natural wood fixtures and accessories. Walls and ceilings feel connected in the same color with no harsh lines or edges to separate them.  Nature is key for this trend too so a few long stems in an organic-shaped vase or plants would feature in a Japandi bathroom."
As Japandi promotes a zen-like feeling, Sophie believes it's a natural match for spaces like bathrooms, with color playing a vital role.
"The Japandi aesthetic brings together Japanese minimalism and Scandinavian cozy – and the aim is to encourage calm serene living," she says. "Bathrooms are all about relaxing anyway, so the colors you choose for your Japandi bathroom are very important, along with your accessories."
A Japandi bathroom is more than just a design ethos though. Tracy believes it's also very much tied to wellness and self-care. "When I think of Japandi bathroom style I think of de-stressing and relaxing after a hard day at the office – or escaping from the family!" she says. 
"It's about creating a simple, uncluttered but stylish environment, surrounded by natural elements, bringing nature inside. It's just like a DIY spa – I'm relaxed already just thinking about it!!"