12 Best Hardwood Floor Cleaners 2023
Hardwood floors are a beautiful addition to any home, but keeping them clean can be a challenge.
Finding the right hardwood floor cleaner can be the difference maker that gives your home the shine you've been looking for.
With hardwood floors being so popular with homeowners, many different companies have their own cleaners that they claim stand above the rest.
We've done some digging to find some of the best hardwood floor cleaners on the market today.
As always price and availability of these products may vary based on the time and location of purchase.
1. Method Squirt + Mop Wood Floor Cleaner
Method Squirt + Mop Wood Floor Cleaner for $5.79 from Target – buy here
This no-wax, no-rinse wood floor cleaner turns a chore into an almond-scented delight that will leave your floors sparkling.
The ergonomic nozzle spray is designed to cover your floors in fewer sweeps and help avoid puddling, allowing you to just squirt, mop, and bask in the glow of a gleaming clean.
2. Aunt Fannie's Hardwood Floor Cleaner
Aunt Fannie's Hardwood Floor Cleaner for $9.99 from Thrive Market – buy here
Aunt Fannie's concentrated, no-rinse cleaner is both people- and pet-friendly to leave your floors looking great without worrying about harmful chemicals.
This cleaner is made with plant-based ingredients that work hard to make your surfaces shine and your home smell great.
3. Wood + Floors Large Cleaning Concentrate
Wood + Floors Large Cleaning Concentrate from Supernatural for $60 – buy here
This hardwood floor cleaner from Supernatural is free from toxic chemicals that can be soaked up by your bare feet so you can clean your floors naturally.
The brand's website recommends pouring 2 tbs of the concentrate into your beautifully crafted Supernatural reusable glass bottle for Wood + Floors, then adding distilled or filtered water up to the fill line.
4. Mrs. Mayer's Lemon Verbena Multi-Surface Concentrate
Lemon Verbena Multi-Surface Concentrate for $9.99 from Mrs. Meyers – buy here
This hardworking multi-surface cleaner is made with essential oils and other cruelty-free ingredients while still being tough on dirt and grime.
Plus the cleaner will leave your home with a refreshingly mild citrus scent that will make you think your kitchen or living room is a beautiful garden.
5. Grove Co. Floor Cleaner Concentrate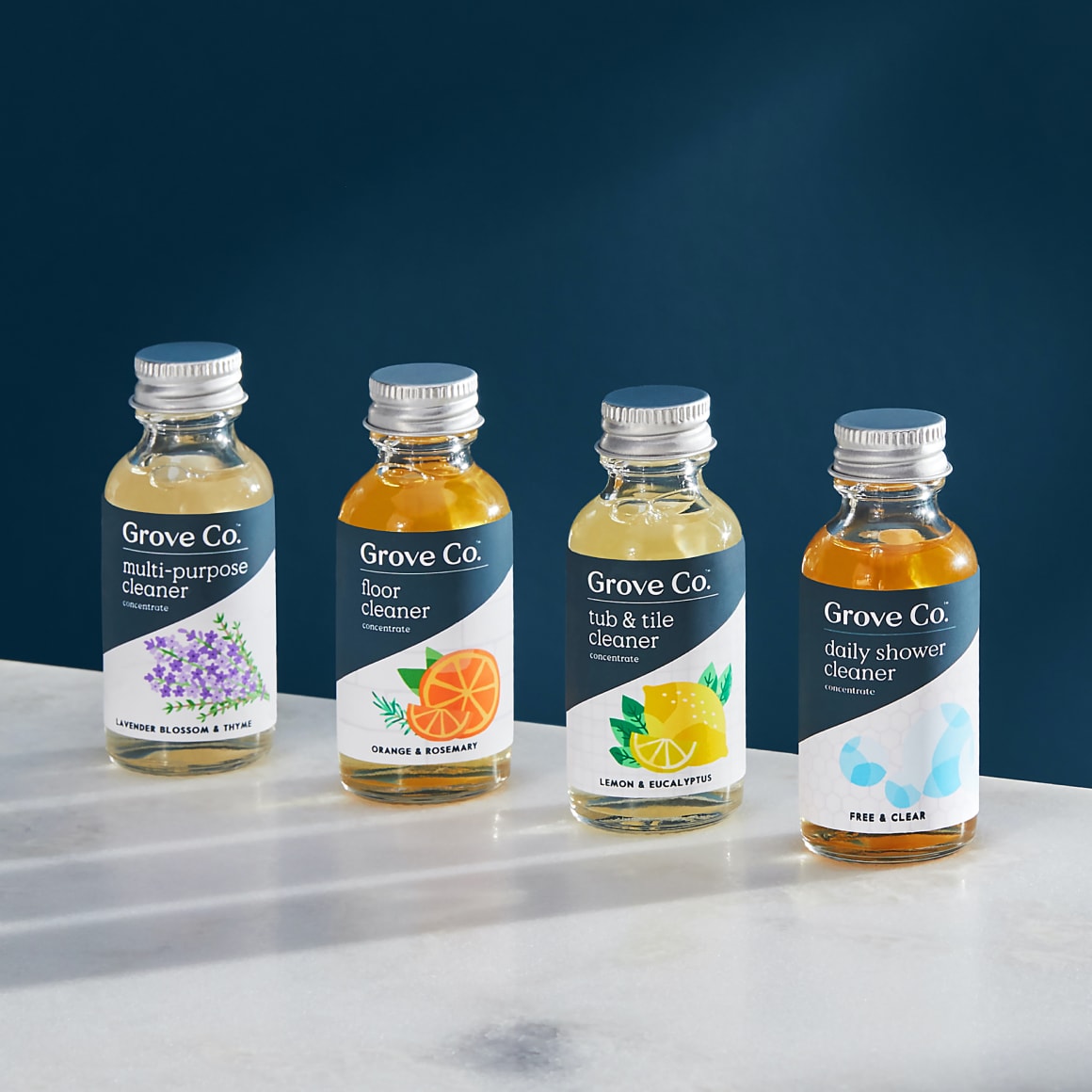 Floor Cleaner Concentrate for $7.99 from Grove Collaborative – buy here
Available in four different scent combinations including orange and rosemary, lemon and eucalyptus, lavender blossom and thyme, and free and clear, this concentrate will help your floors and home be as fresh as you want.
All it takes is one ounce of cleaner concentrate added to a 16oz spray bottle of water, and you're on your way to sparkling hardwood floors.
6. Sal Suds Biodegradable Cleaner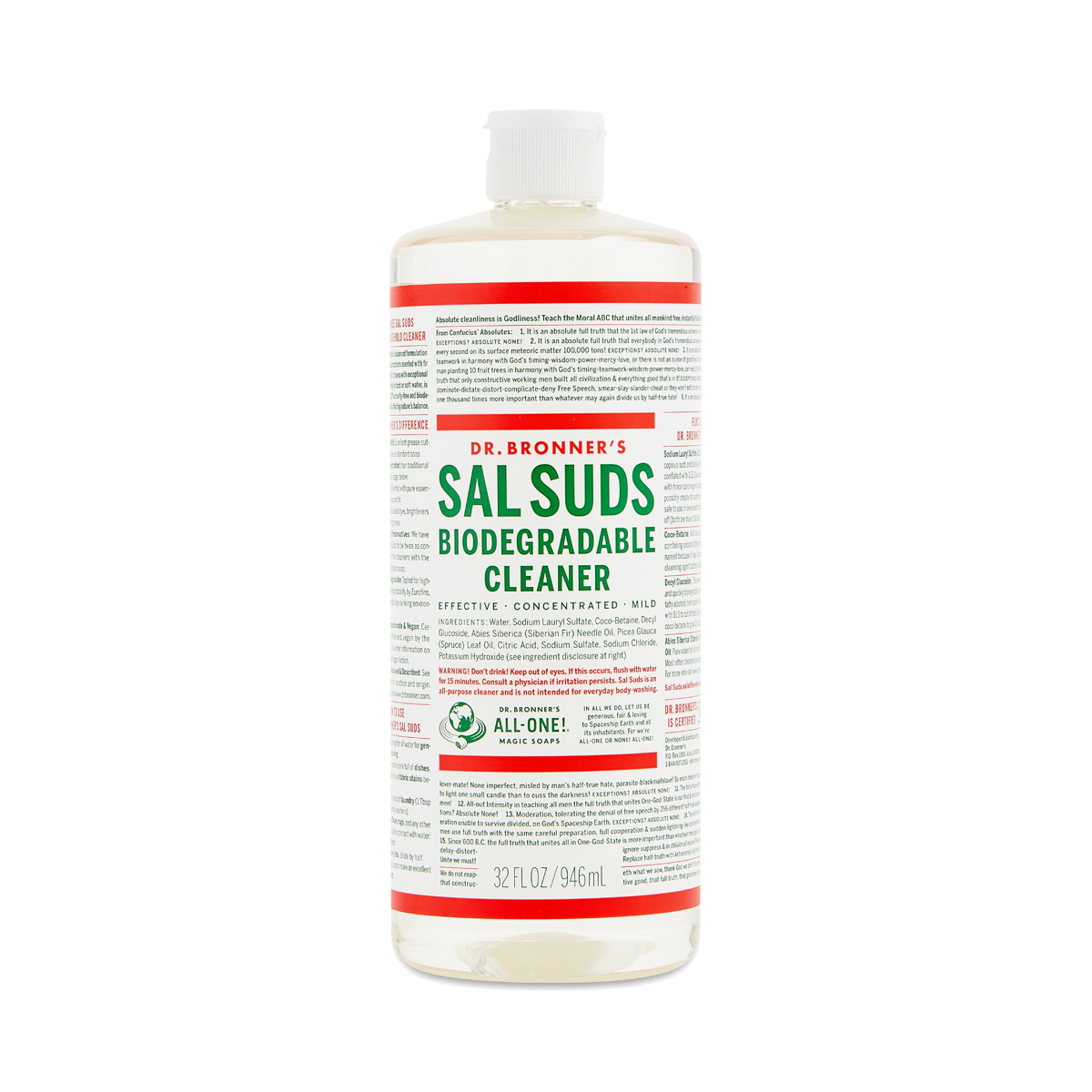 Sal Suds Biodegradable Cleaner for $13.99 from Thrive Market – buy here
This concentrated, hard-surface, all-purpose cleaner is made with plant-based surfactants plus natural fir needle and spruce essential oils, keeping it free of synthetic dyes, fragrances and preservatives.
Because of this, the cleaner is just as effective on dishes or laundry as it is on your hardwood floors.
7. Bona Mop Refill
Bona Mop Refill from Target for $24.49 – buy here
Bona Hardwood Floor Cleaner is ready-to-use and made specifically for mopping wood floors and cleaning wood surfaces.
The rinse and streak-free formula removes dust, dirt, and grime to leave your hardwood floors clean and beautiful.
8. Parker & Bailey Wood Floor Cleaner Spray
Parker & Bailey Wood Floor Cleaner Spray for $5.99 from At Home – buy here
Parker & Bailey hardwood floor cleaner is a safe, easy-to-use formula that gently works as a grease, dirt, dust, and build-up remover.
This spray bottle cleaner can even help to rejuvenate floors to their original beauty and natural look.
9. Bruce Hardwood and Laminate Floor Cleaner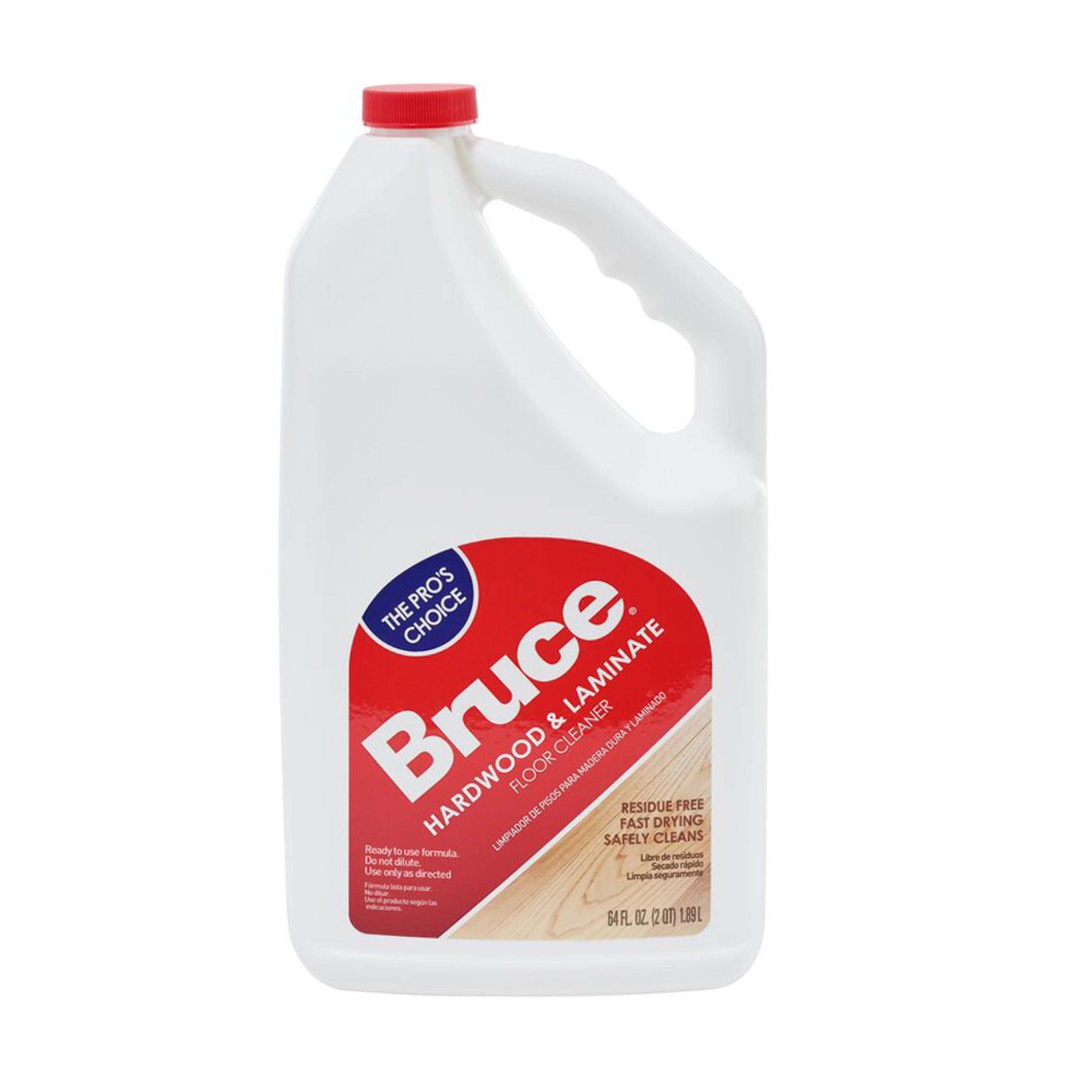 Bruce Hardwood and Laminate Floor Cleaner for $14.47 from Home Depot – buy here
Bruce Hardwood and Laminate Floor Cleaner is intended specifically for use on hardwood and laminate floors, providing a residue-free and fast drying clean.
The superior craftsmanship and state-of-the-art finishes from this cleaner assure you will spend your time enjoying your new floor, not caring for it.
10. Libman Hardwood Everyday Cleaner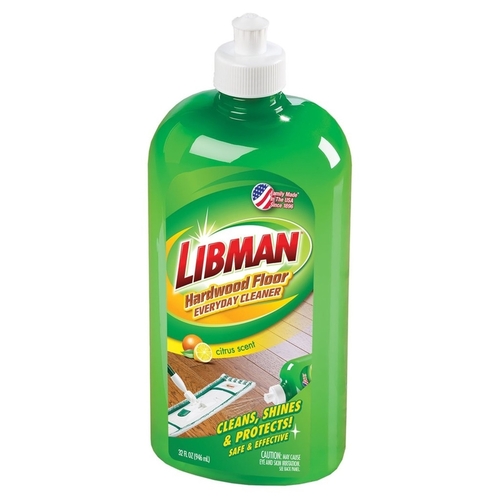 Libman for $10.54 from DK Hardware – buy here
The Libman Hardwood Floor Everyday Cleaner nourishes your hardwood floors, revealing their beauty while also hiding minor scratches.
On top of that the cleaner does not leave a waxy film or dulling residue on your floors but instead leaves them with a luxurious finish and shine.
11. Koala Eco Floor Cleaner
Floor Cleaner from Koala Eco for $13.90 – buy here
This mandarin and peppermint-scented floor cleaner combines some of nature's most aromatic ingredients to create a powerful non-toxic formula to keep your floors clean and your family safe.
The solution is also biodegradable and eco-friendly plant-based, effortlessly cutting through grime without the use of harsh chemicals, and is safe for use on wood.
12. Branch Basics The Concentrate
The Concentrate from Branch Basics for $55 – buy here
This formula is made of plant and mineral-based ingredients without any harmful chemicals, making it gentle enough for use on skin and strong enough to take care of dirt and grime.
One bottle of concentrate is enough to make enough bottles of cleaning solution to last you years.
Is Mrs. Meyers safe for hardwood floors?
Yes, the brand says Mrs. Meyers is safe for hardwood floors provided those floors have already been sealed.
For the safest practice make sure the product is also properly diluted as per the instructions on the bottle.
How do professionals clean hardwood?
Professionals clean hardwood floors by sweeping, dusting, and dry mopping before adding any cleaning solution.
From there, they will use their solution of choice to thoroughly scrub any remaining dirt, grime, or marks from the floor with a wet mop or other scrubbing apparatus.
How to use Bona hardwood floor cleaner
Start by dry mopping, sweeping, or vacuuming to remove loose grit or dirt from your floor. 
Next, mist the product in small quantities on the surface and use the mop to spread it.
From there simply mop lengthwise.
Once you're done leave the floor to dry for around ten minutes after the application.
What is the best cleaner for hardwood floors?
One of the best cleaners available for hardwood floors is the Koala Eco natural floor cleaner.
This product is made with natural ingredients that are safe for the environment and your wood floors since they come from the environment too.
Plus the bottle is even made from 100% recycled material, further showing the company's dedication to the planet and all that it gives us.
Where to buy hardwood floor cleaner
With so many hardwood floor cleaners on the market today it can be hard to know where to get yours.
Here are some of our favorite retailers selling hardwood floor cleaners to help you start your search:
How much do hardwood floor cleaners cost?
Most hardwood floor cleaners fall somewhere in the $12-$20 range, however, some more expensive brands have charged closer to $50 for their products.
The price can also vary based on whether or not you're buying a concentrate or a solution, and the size of the bottle you're buying.