20 White And Gold Kitchen Design Ideas To Up The Luxury In Your Home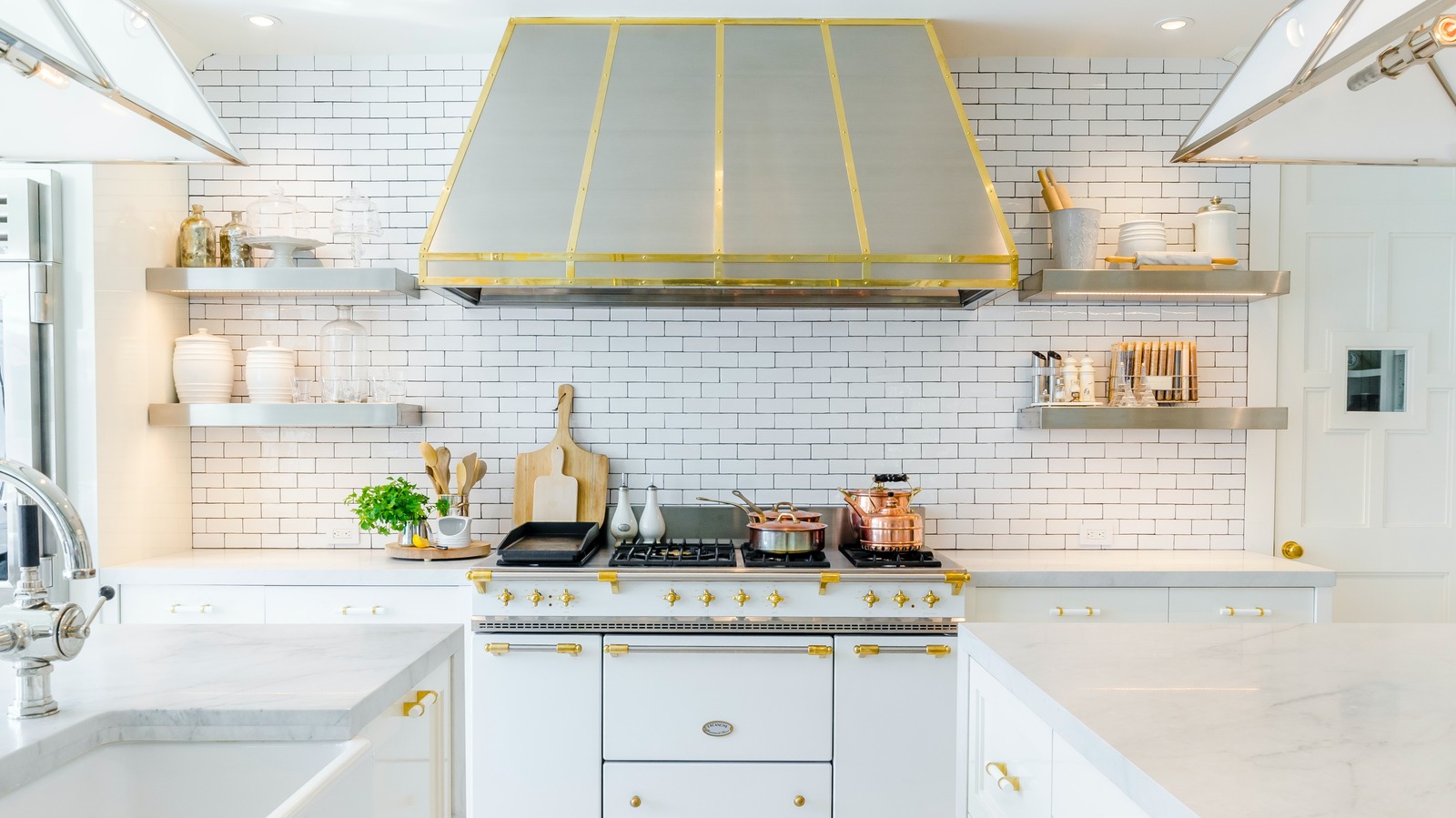 There are a lot of factors that go into designing your kitchen that you don't have to consider for other rooms in your home. While rooms like your bedroom, office, or living room are incredibly variable in terms of possibilities, your kitchen has a lot more restrictions. Whether you're remodeling an existing kitchen or designing one from scratch, you have to factor in your appliances, counters, cabinets, islands, etc.
That doesn't mean you have to have a boring kitchen, though. Luxurious materials like marble or high-end stone are a lot easier to include in your kitchen than any other room in your house since they're as functional as they are decorative. In terms of color palettes, there are few duos more luxe than white and gold. As Brands Furniture points out, gold helps accentuate architectural and design features when paired against a white backdrop. The pairing of gold and white is also unequivocally elegant and glamorous, and perfect for designing a bright and opulent kitchen.
1. Baroque flair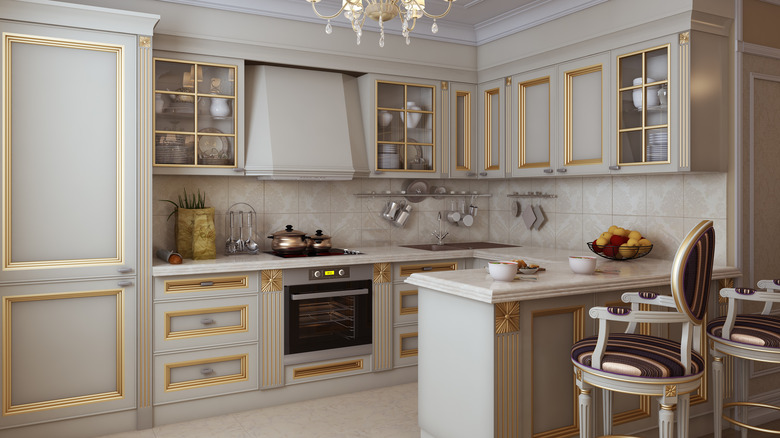 Sk-studio/Getty Images
Gold and white have a very classic, luxurious feel when paired together. Baroque design heavily utilizes shiny gold accents to create that sense of opulence. Pair with a slightly gray-toned white throughout the kitchen for the full effect.
2. Bold blue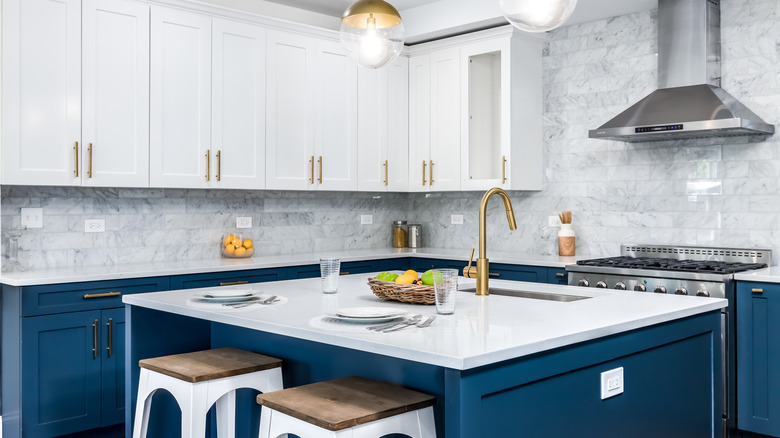 Hendrickson Photography/Shutterstock
If just gold and white are too bland for your tastes, add in a pop of rich blue, which can create a luxurious nautical look and feel in your kitchen.
3. Gold light fixtures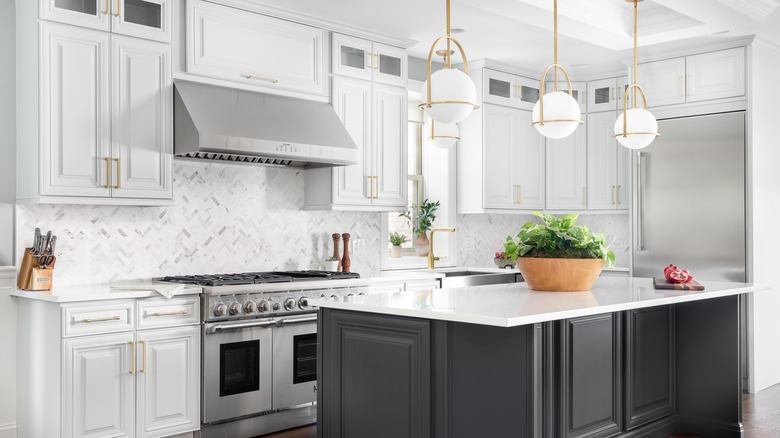 Hendrickson Photography/Shutterstock
Gold is a very eye-catching color, especially against white. Use it sparingly in your white kitchen for a refined, chic touch of glamour. Choose statement pendants with gold hardware for above your kitchen island, for example.
4. Vintage teal accents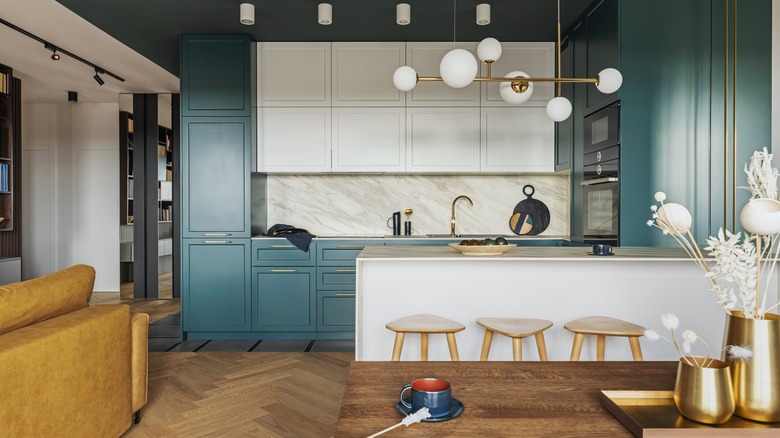 Followtheflow/Shutterstock
Gold and white can have a slightly vintage look when paired together. Enhance that retro flair with a 70s-inspired teal accent color on some of your cabinets. 
5. Gray, white, and gold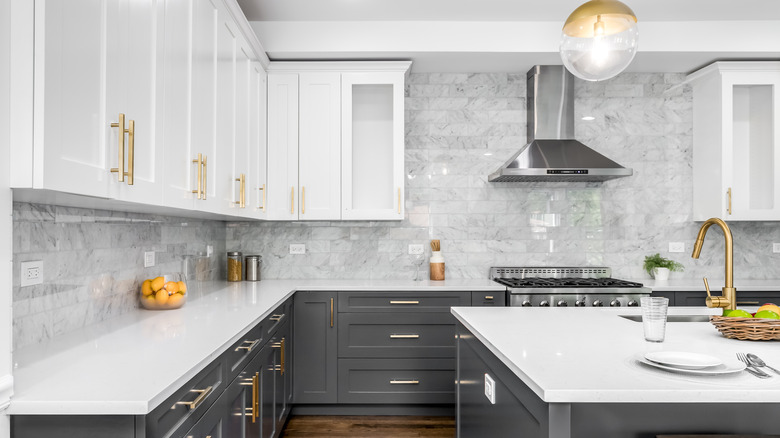 Hendrickson Photography/Shutterstock
If white and gold on their own are a little too bright or one-dimensional, add a deep gray shade to help balance your kitchen out, making it feel more grounded. 
6. Gold and marble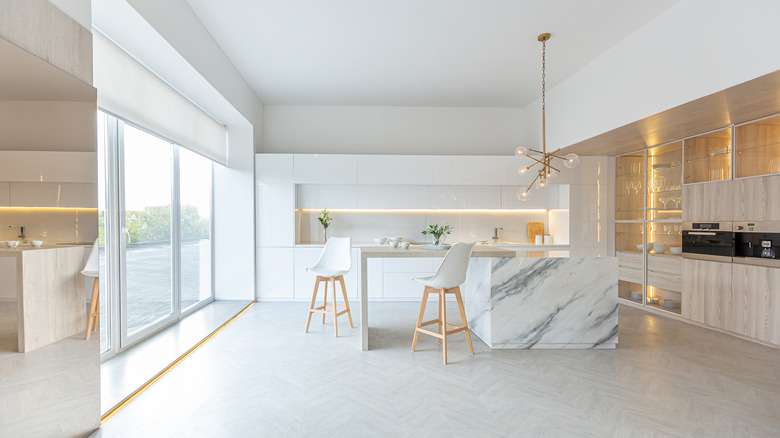 Pinkystock/Shutterstock
Instead of plain white cabinets or countertops, add some luxurious marble to your kitchen. Pair with gold hardware and light fixtures for an even more lavish look.
7. Gold hardware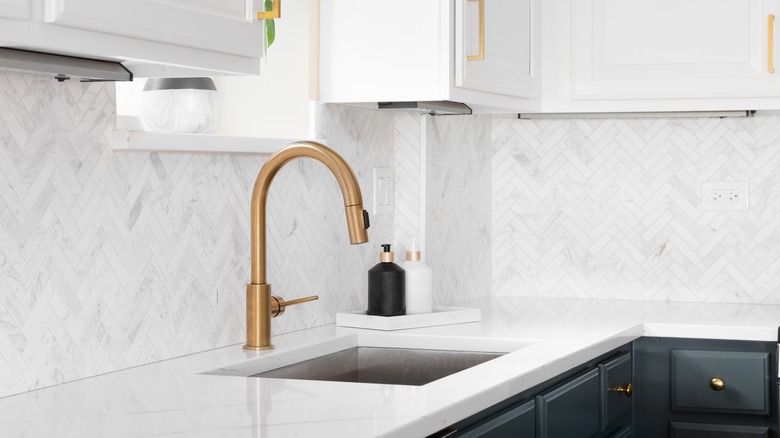 Hendrickson Photography/Shutterstock
A simple way to make your white kitchen feel instantly more luxe is by swapping out all your hardware with gold. This includes drawer and cabinet handles, as well as your sink faucet. Consider swapping out soap dispensers, dishware, and pots and pans for gold alternatives, too.
8. Provence style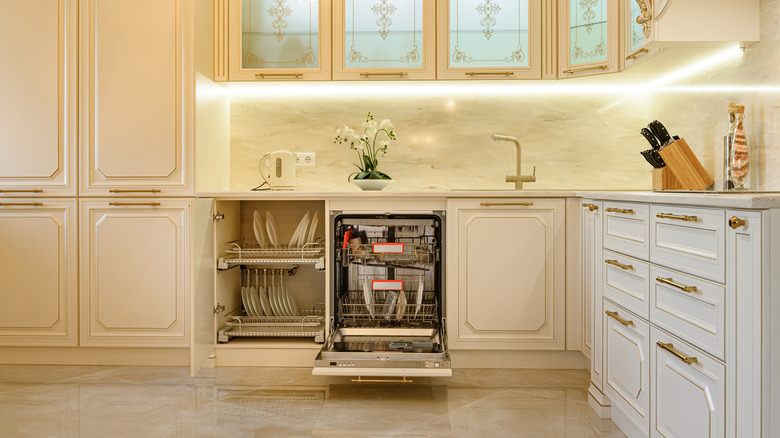 Serghei Starus/Shutterstock
Baroque isn't the only French design style that utilizes white and gold. Provincial design is a little cozier and more country style than the splendor of Baroque, but it can still utilize the glamorous combination of creamy white cabinets and classy gold hardware. 
9. Wood accents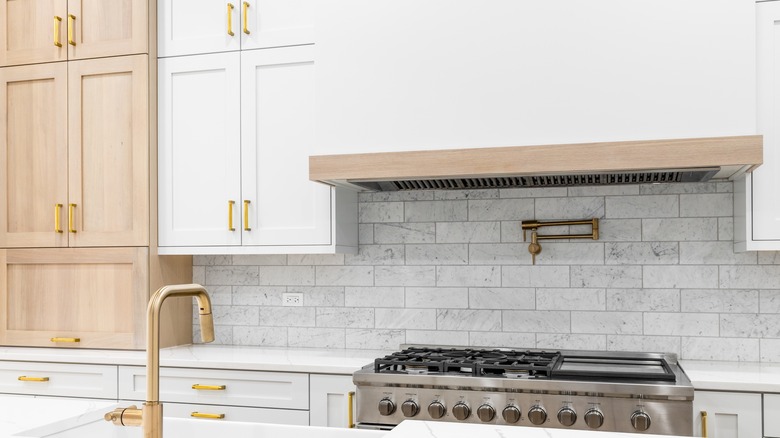 Hendrickson Photography/Shutterstock
If you want to ground and balance out your white and gold kitchen without the addition of colors, use wood as your accent shade. A light shade of oak has a similar tone as gold and doesn't sacrifice any of the brightness provided by your white base.
10. White gold hardware
When you think of gold hardware, especially in your kitchen, you likely imagine a warm, yellow-toned gold. If you want the opulence of gold without the warmth, though, consider opting for white gold hardware, which has the slight cool tones of silver and the depth of gold.
11. Soft sage green accent wall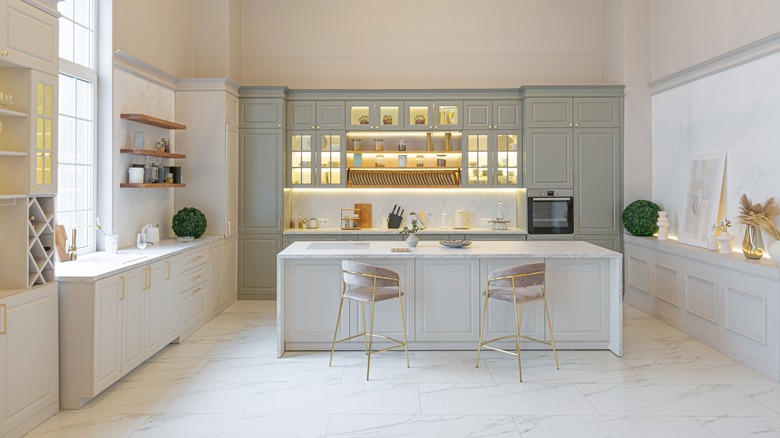 Pinkystock/Shutterstock
Make your white and gold kitchen feel a little cozier and more welcoming with a soft sage green accent wall. If you don't have a spare wall, paint a wall of cabinets instead.
12. Gold fridge handles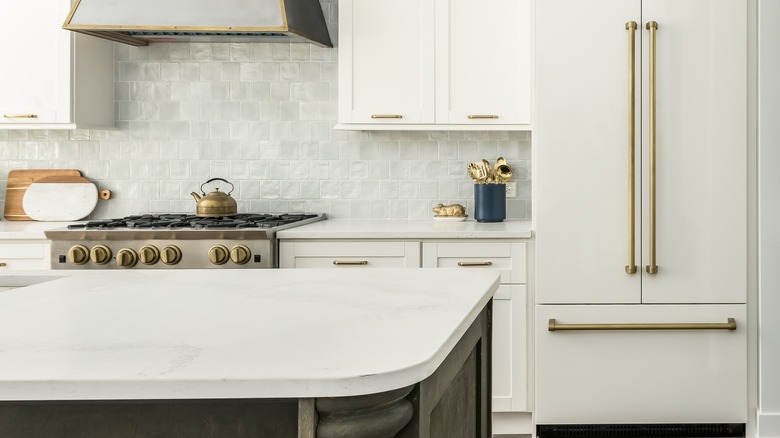 Fio Creative/Shutterstock
Kitchen hardware usually refers to handles or faucets, but it can also include your larger appliances. Make your white fridge feel all the more luxurious with gold handles.
13. Futuristic white and gold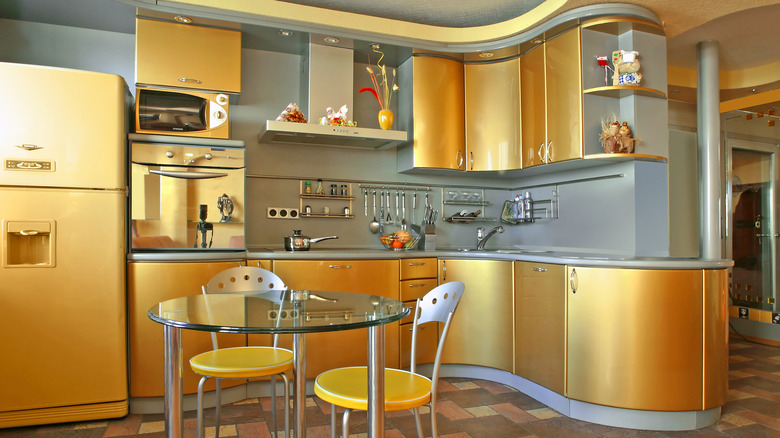 Karkas/Shutterstock
Less is more with gold unless you want to make your kitchen feel like a futuristic haven. Opt for gold appliances, gold foiled cabinets, and darker white countertops and backsplashes.
14. Country style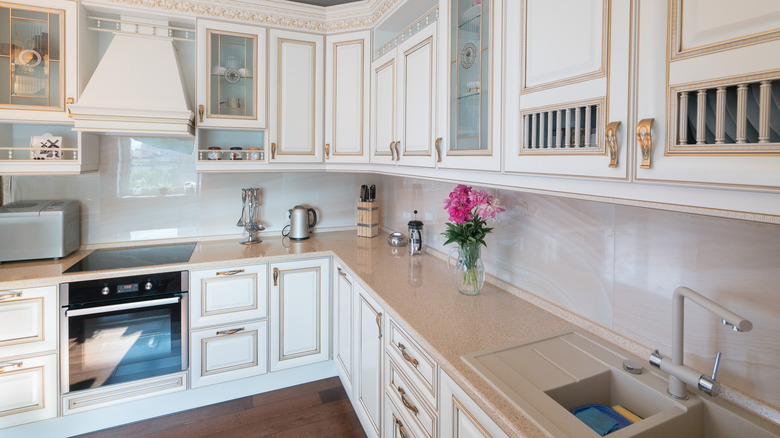 1968/Shutterstock
Add embellishments of gold to a country-style kitchen to give it a slight upgrade, making it feel like a luxury cottage retreat. 
15. Chandelier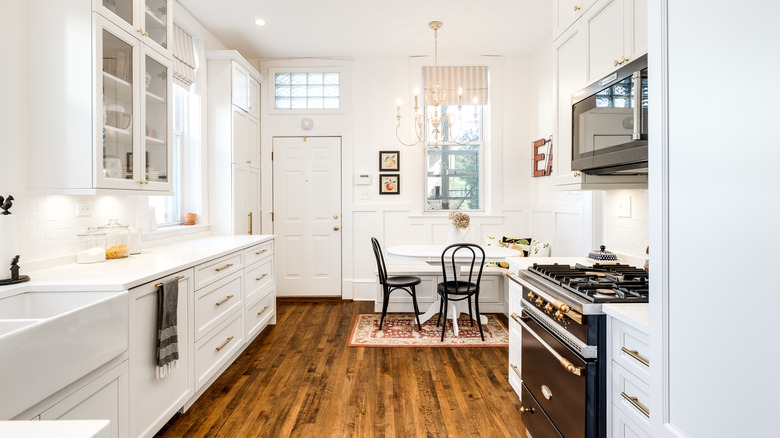 Hendrickson Photography/Shutterstock
Another chic way to achieve a refined white and gold kitchen look is to install a gold chandelier. This works even better if you have a breakfast nook in your kitchen, helping spotlight it while highlighting other gold accents in the actual kitchen area.
16. Oven knobs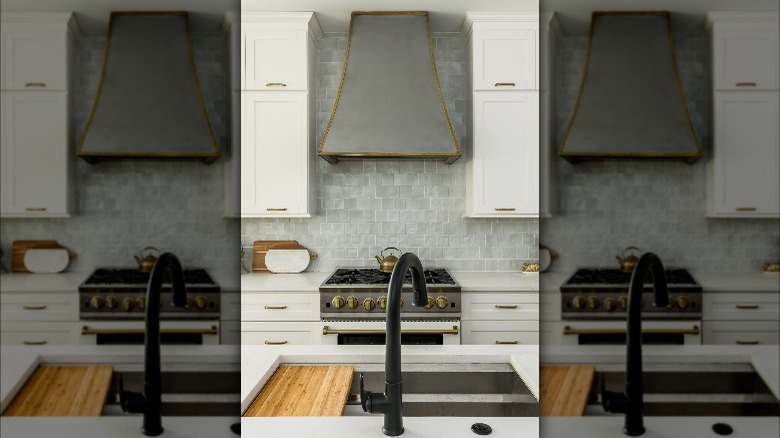 Fio Creative/Shutterstock
Another place you can add gold flair to your kitchen is through your oven's hardware. Swap out the knobs and handle for gold alternatives. Consider even installing a range hood with gold trimming for an even more luxe feel.
17. Gold sink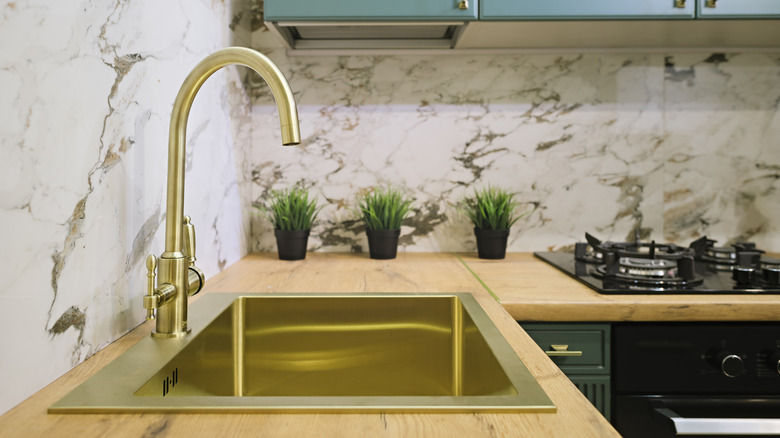 KelaVi/Shutterstock
If a gold sink faucet just isn't enough for you, go all out with an entirely gold sink. Consider choosing a gold-colored metal instead of actual gold, though. Not only will it be cheaper, but it'll be much easier to clean and maintain.
18. Gold pendant lights
Instead of kitchen pendant lights with gold hardware but a plain white shade, look for a pendant made entirely of gold. Pair with a luxurious white marble waterfall island for a lavishly palatial look.
19. Gold sconces
Another way to add gold to your white kitchen through lighting is to install gold-hinged wall sconces. Pair with gold handles and hardware, letting the statement sconces accentuate the hardware color further. Add a few black accents throughout the room for some contrast.
20. Vintage touches
Lean heavily into the vintage aspects of gold and white in your kitchen. Look for vintage or vintage-inspired appliances, like a retro stepside oven, gas burners, and wide vent hood, all trimmed in luxurious gold over a white base. Pair with subway tiles and marble countertops for some modern contrast.