34 budget kitchen ideas to refresh the hub of your home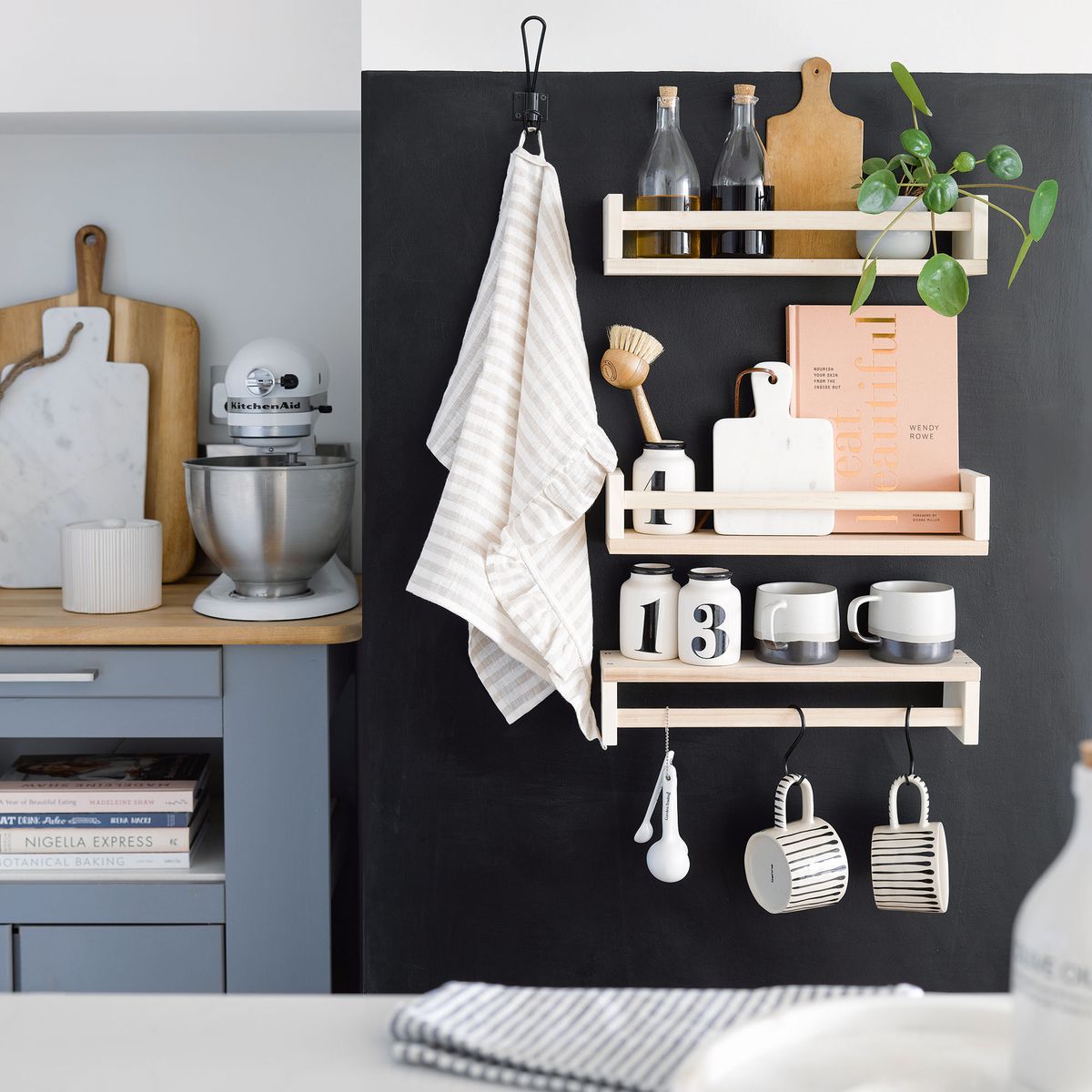 A new kitchen can be a costly and overwhelming project to take on, but there is a huge range of ways that budget kitchen ideas can transform your space, without it becoming a full redo. 
There's plenty you can do with a little imagination, low-cost materials and a range of clever kitchen ideas to choose from. Paint is a simple way to upcycle an existing kitchen unit, while stick-on-tiles can fake an on-trend tiled floor. 
Melissa Klink, Creative Director at Harvey Jones (opens in new tab) says, 'The easiest way to elevate your kitchen without a large expense is with a fresh lick of paint. The addition of a new colour can transform a kitchen offering an immediate uplift. Soft features such as cushions and throws can also instantly regenerate life into your kitchen space, and keep costs super low.' 
Budget kitchen ideas
Compared to other rooms in the house kitchen makeovers can often quickly rack up in price if you don't keep an eye on the bottom line. However there are plenty of smart budget kitchen ideas that can give you a dreamy kitchen update without spending £1000s on a new kitchen.
'Updating your home interior doesn't need to break the bank,' says Aisha Cluitt, Content Marketing Manager, Hobbycraft (opens in new tab). 'There are lots of ways in which you can get creative with DIY renovation using clever hacks and upcycling!'
Whether you want some simple ideas for a quick update or you just need some inspiration around what you can achieve in your space for under £100, we've included it all in this jam-packed budget kitchen ideas guide, with plenty of design experts sharing their knowledge too. 
All it takes is a little time, effort and creativity to pep up the heart of your home.
1. Look for quirky accessories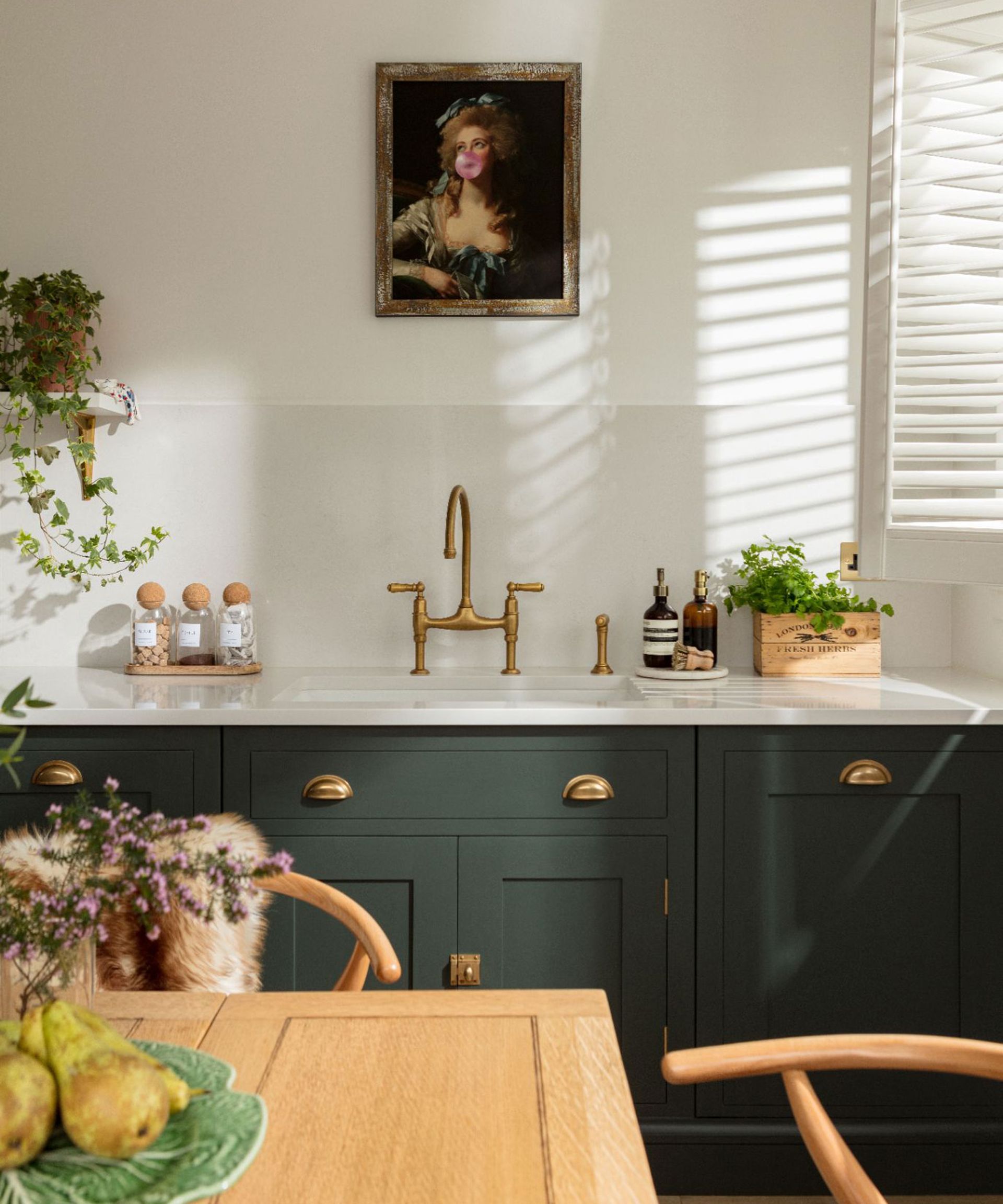 'Adding new items into a kitchen without physically altering the space can be challenging,' says Melissa Klink, Creative Director at Harvey Jones. 
'However, keeping a vigilant eye out for quirky items is a great way to uplift on a budget. Local flea markets can be the perfect place to find new additions for your kitchen. For instance, finding small charming objects such as a beautiful cluster of vintage copper or brass pots, or adding a quirky table lamp to warm up the space, or a new piece of artwork to hang on the walls are all great ways to add a pop of colour and beauty to alter the mood and character of a kitchen space." 
2. Give your space a good clean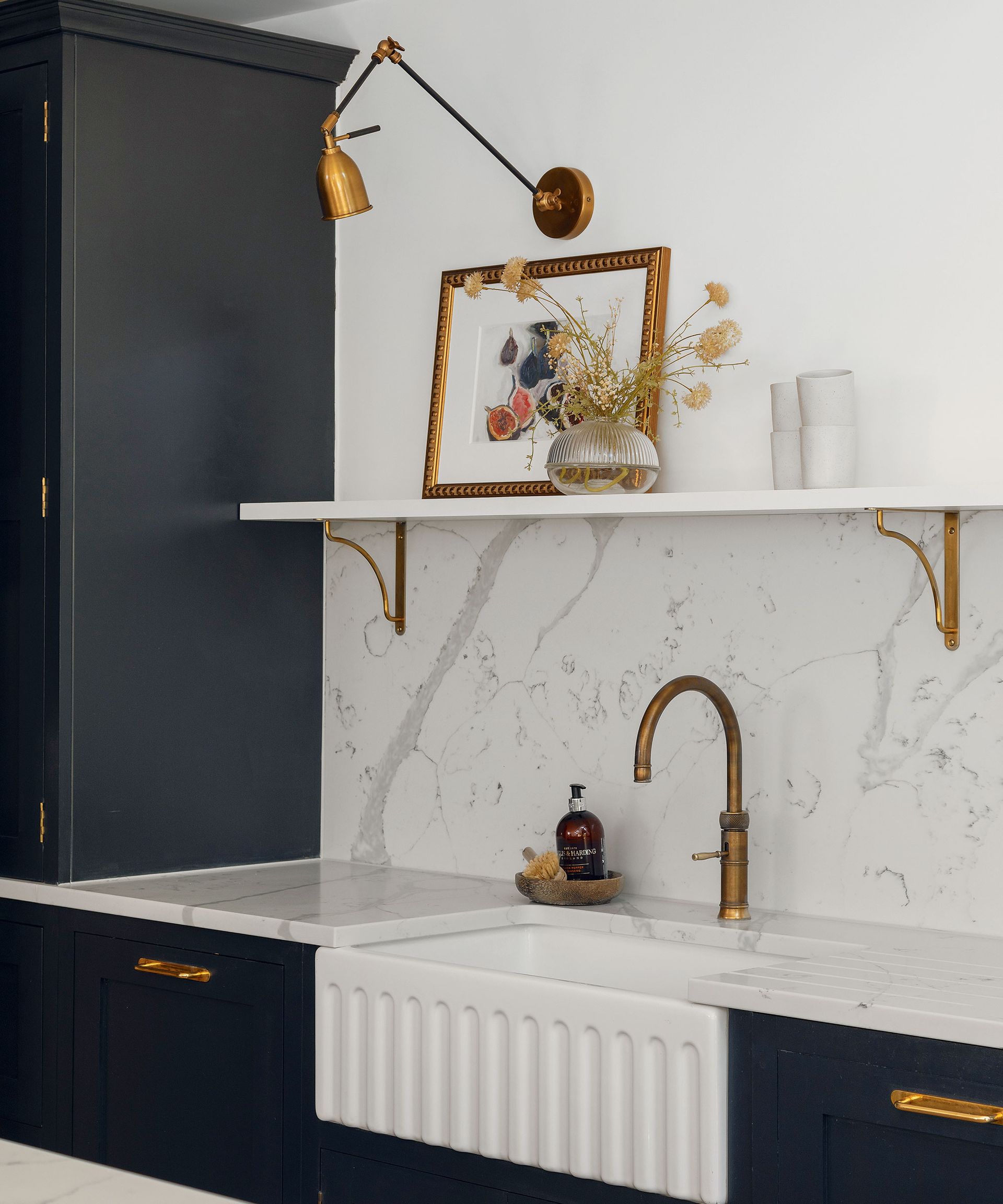 It costs nothing but it will make a huge difference to your space, so schedule a thorough spring clean to really make your kitchen shine. 
The experts at Hiatt Hardware (opens in new tab) advise, 'Thoroughly cleaning your kitchen is one of the quickest ways to ensure your kitchen looks fresh and new. While cleaning, you should remember to give all of your appliances a good once over. If you happen to have marble worktops, make sure you avoid using anything harsh or abrasive or you might end up scratching the surface.'
If you're not sure where to start, how to clean a kettle might get you in the mood for a good scrub!
3. Use plate racks as moveable shelving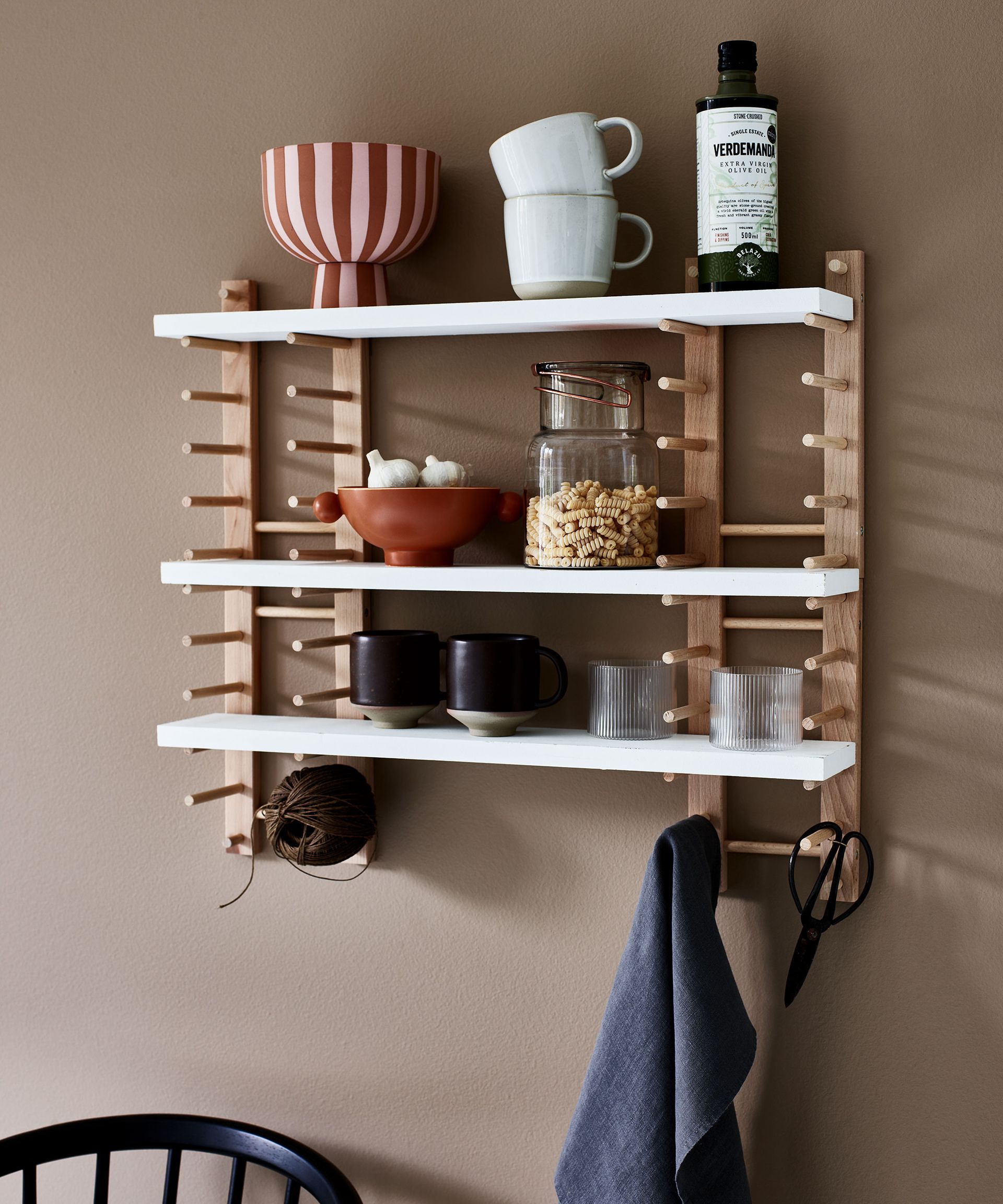 A clever idea to pep your kitchen space on a budget, this Ikea hack is both quick and cheap to re-create. 
Interior Organiser and Stylist, Nicky Phillips (opens in new tab) says, 'Mount bamboo plate holders, like the Ostbit plate holders, £3 each, Ikea (opens in new tab) to the wall, lining them up next to each other, then use planks for shelves. The wooden dowels double as hooks for kitchen utensils too.'
'To give it a twist, paint a rectangle of contrasting colour behind the unit to make it a real focal point.'
4. Go big and bold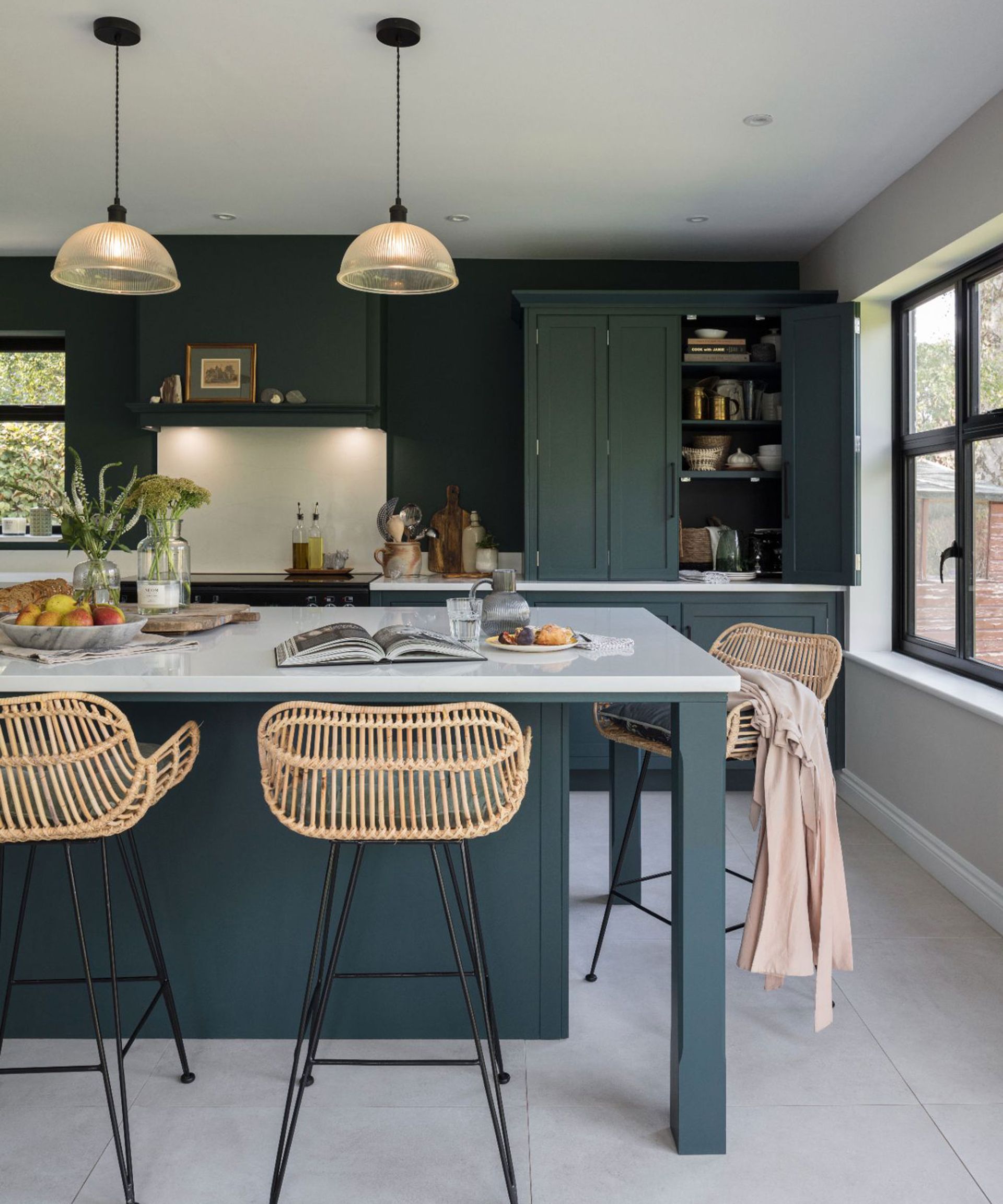 'For those wanting to take a more bold approach, when it comes to styling your kitchen, bigger items go a long way,' says Melissa Klink. 'Introducing a large scale planter or vase filled with stems to sit on the kitchen island can make the entire room feel impressive, but doesn't have to cost the earth.'
A group of tall pillar candles sat on a marble or wooden board can also create a grand centre piece to achieve the same effect, and even foraged branches in a large planter can look impressive. 
5. Add decorative finishes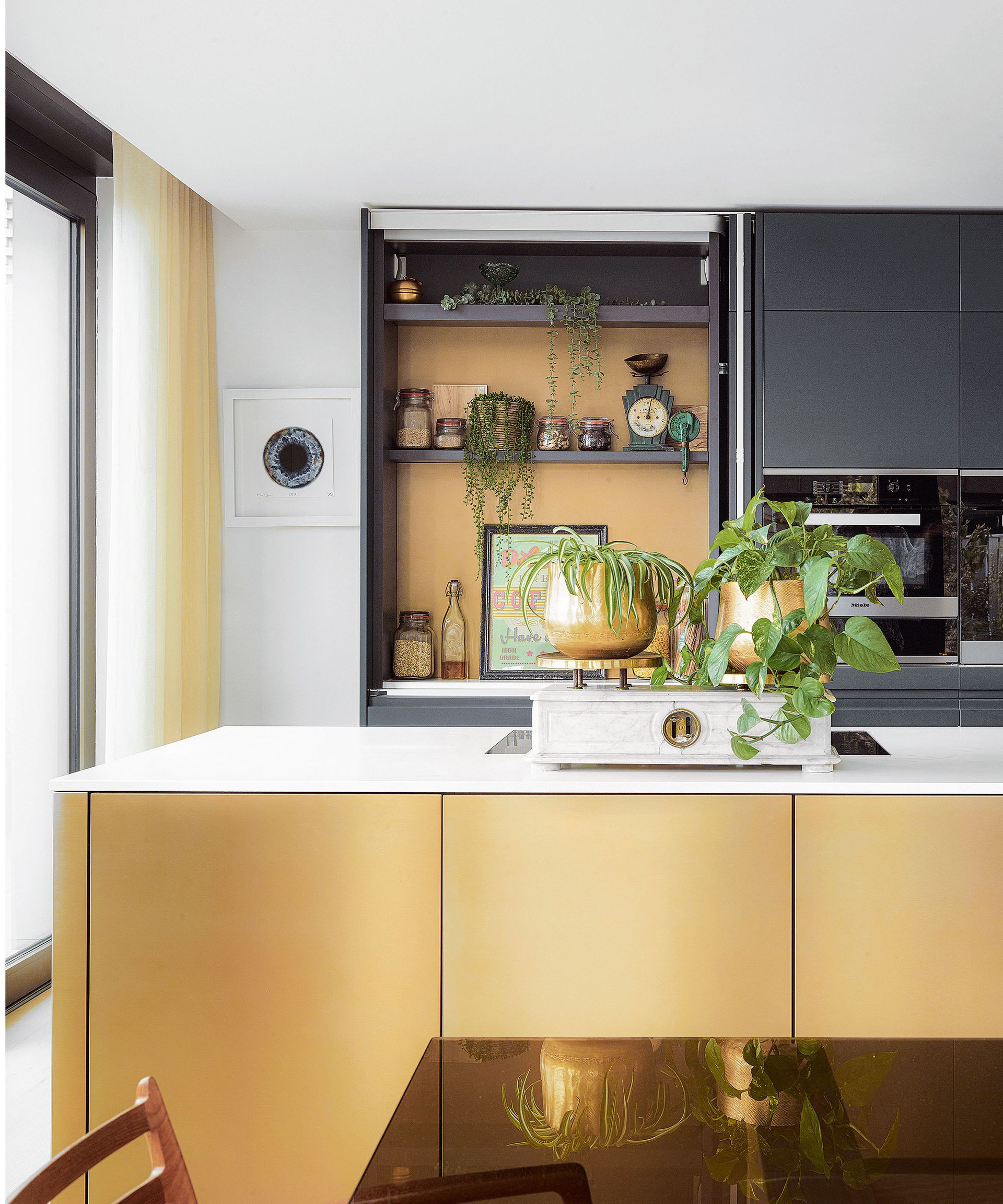 Small changes and additions can also go a long way to making a big difference to your kitchen.
The experts at Hiatt Hardware advise, 'When it comes to decorating your kitchen space, it's important to find the sweet spot so that the space looks well-presented but not cluttered.' 
'For countertop items, we recommend matching the finish and design to a consistent element in the space such as appliances and hardware so the space looks cohesive and well thought out.' 
'Another great way to enhance the interior of your kitchen is to introduce some popular house plants. Adding plants in hanging baskets, you can enjoy a wonderful new aesthetic that pulls you and your space closer to nature.'
6. Fancy up a shelf edge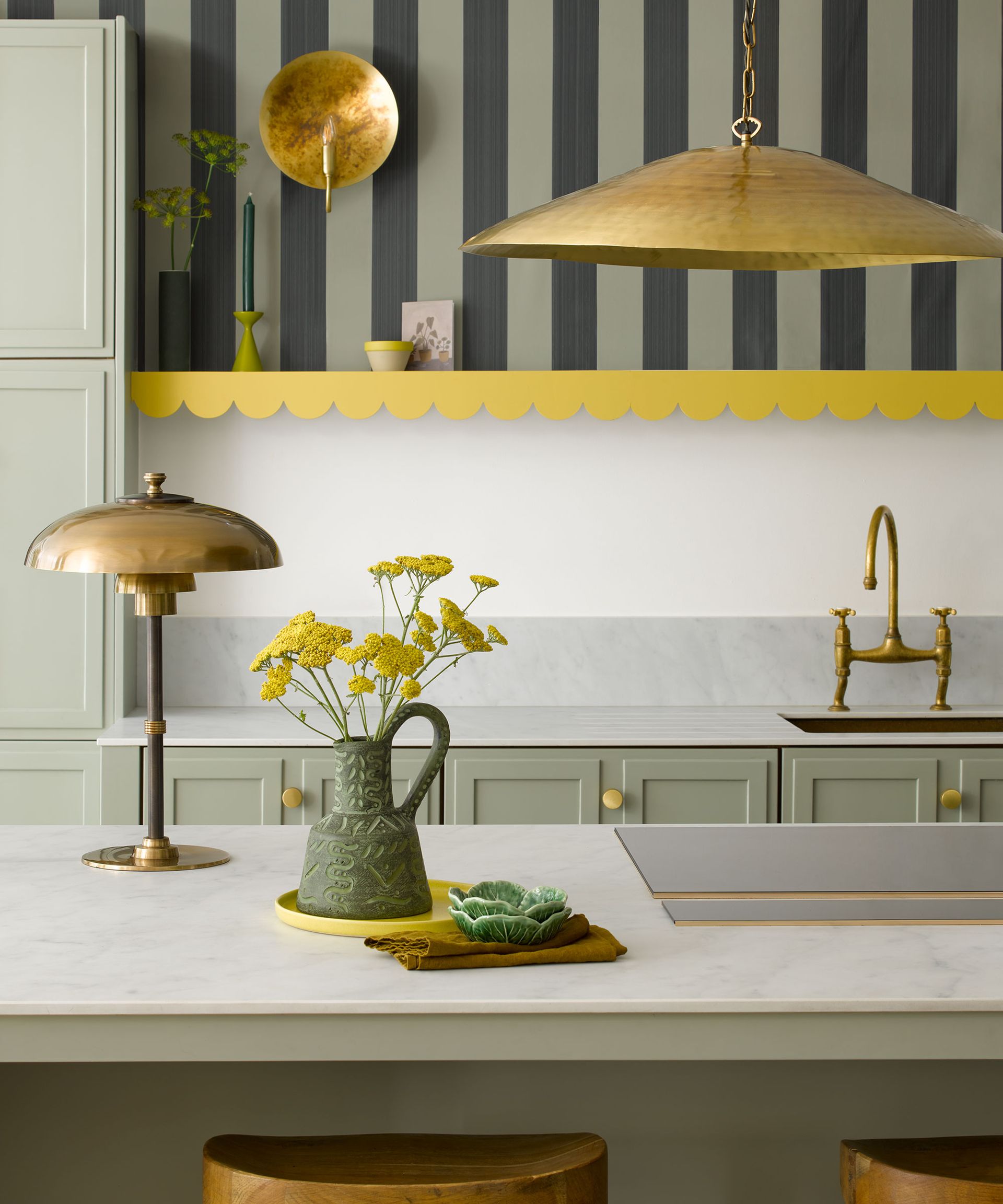 Give kitchen shelves a mini makeover by adding a neat scallop edge. If you're fairly handy with a power tool, and have a jigsaw, take a sheet of 3mm plywood, draw your shapes and cut out, sanding any raw edges, then paint in a vibrant shade.
If not, Etsy has some ready-mades like these (opens in new tab), that you can paint yourself before applying to your shelf edge. Use a wood glue and g-clamps to hold in place until dry, then step back to admire your cute new look. 
7. Tile a kitchen island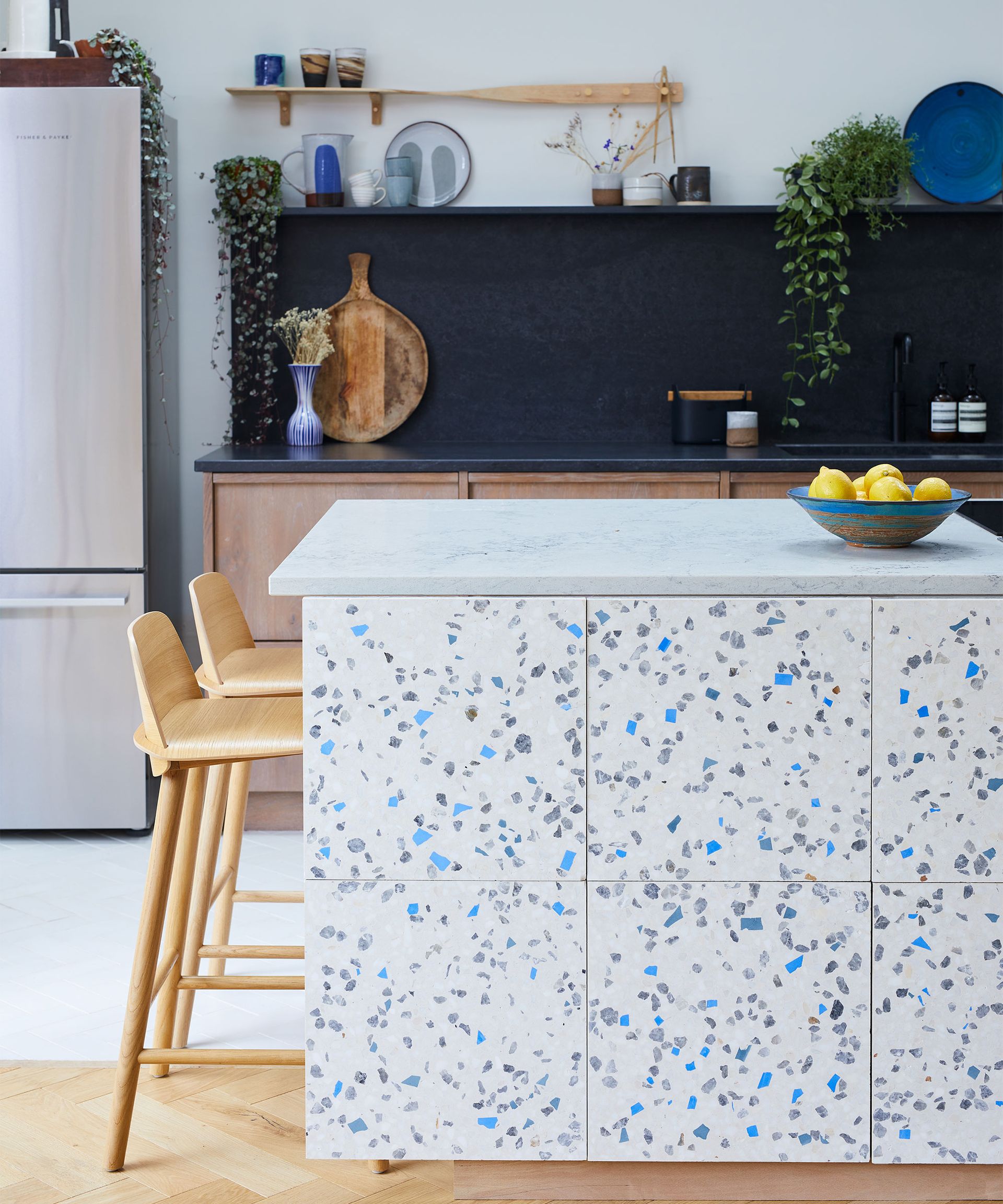 Refresh your space with a new-look kitchen island, using just a few stand-out tiles. They could be left over from a previous project, or often you can pick them up for cheap (or sometimes free) on second-hand sites. 
First, check whether your island's current surface can support tiles. If not, you may need to attach backing board first.
Measure up to you know how tiles you need. Protect the surrounding are from dust and tile adhesive, and prep the area to be tiled, by removing dirt to create a smooth surface.
Starting at the top where the side meets the worktop, apply tile adhesive generously to the surface for the first row of tiling using a notch trowel.
Start placing the tiles in a straight line, applying firm pressure and using tile spaces between each one. Once you've finished laying, remove the tile spacers, wipe off any excess adhesive then grout your tiles to seal them. 
8. Save on surface space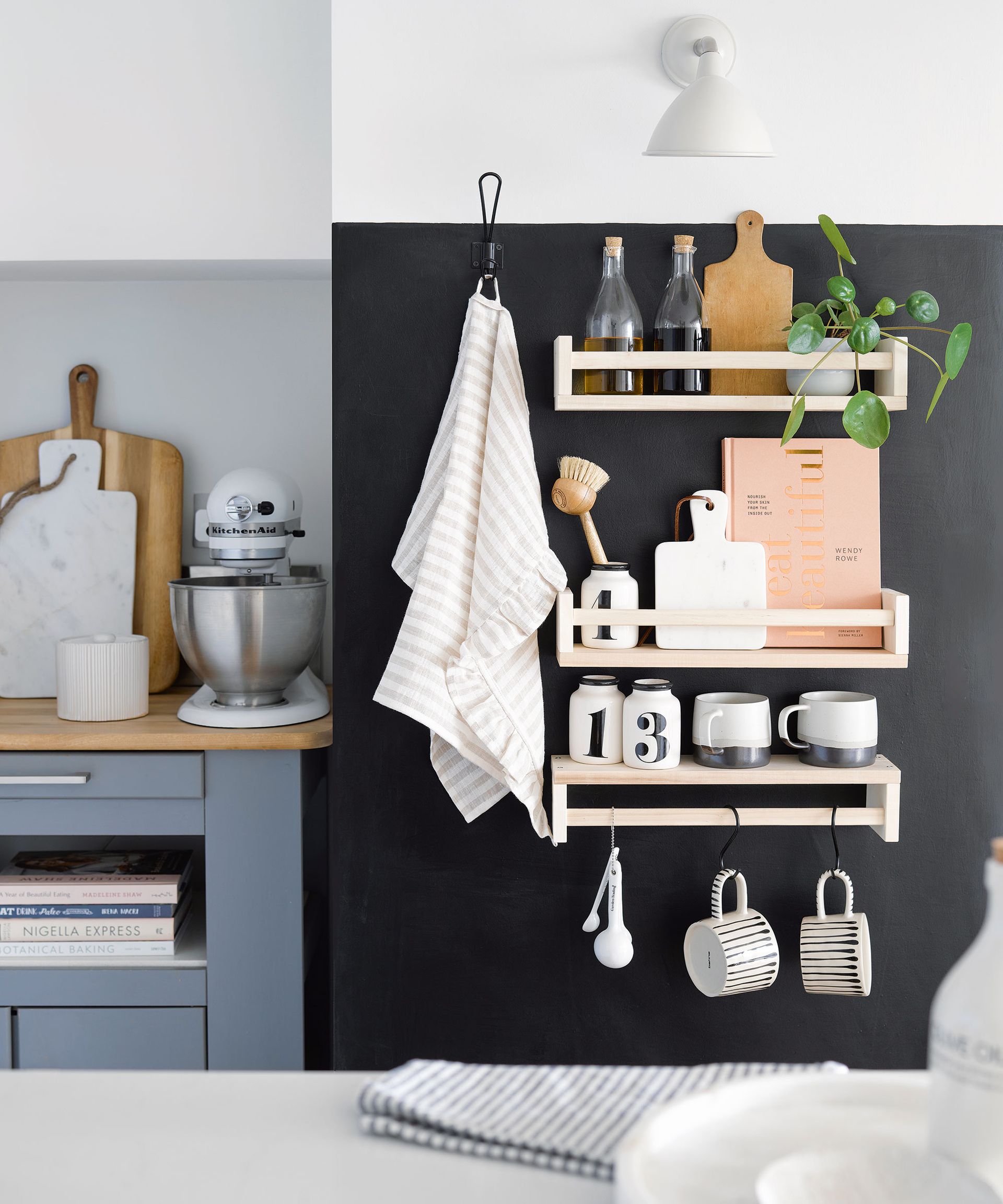 Take a simple spice rack and give it a new lease of life in your kitchen.
Nicky Phillips, Interior Organiser and Stylist says, 'Store mini chopping boards, cookbooks and mugs in easy reach and use an upturned spec rack to hang mugs and other kitchen utensils from S-hooks.'
'To give it a twist, attach small hooks to the underside of the rack to hang keys or tea towels. You could also add a blackboard paint background for scribbling last-minute shopping lists and memos.'
9. Paint a chequered kitchen splashback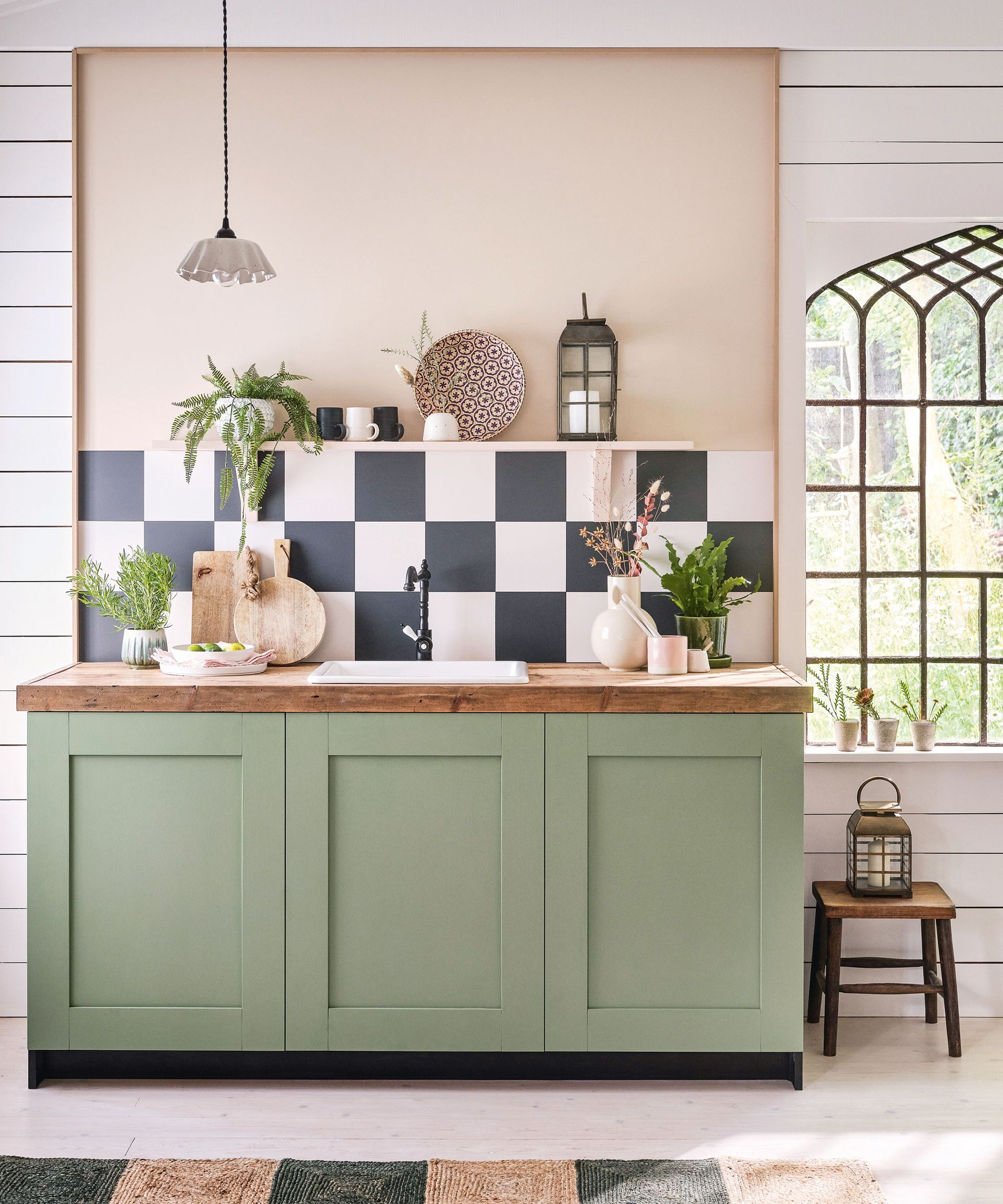 Save on cash and swap tiles for paint as a smart kitchen splashback idea, creating a classic chequerboard.
Paint the white background first, it may take a couple of coats to get it nice and white. Once dry, use a pencil and decorator's tape to make a grid and paint squares of black in alternate rows. 
10. Spray paint hardware on kitchen cabinets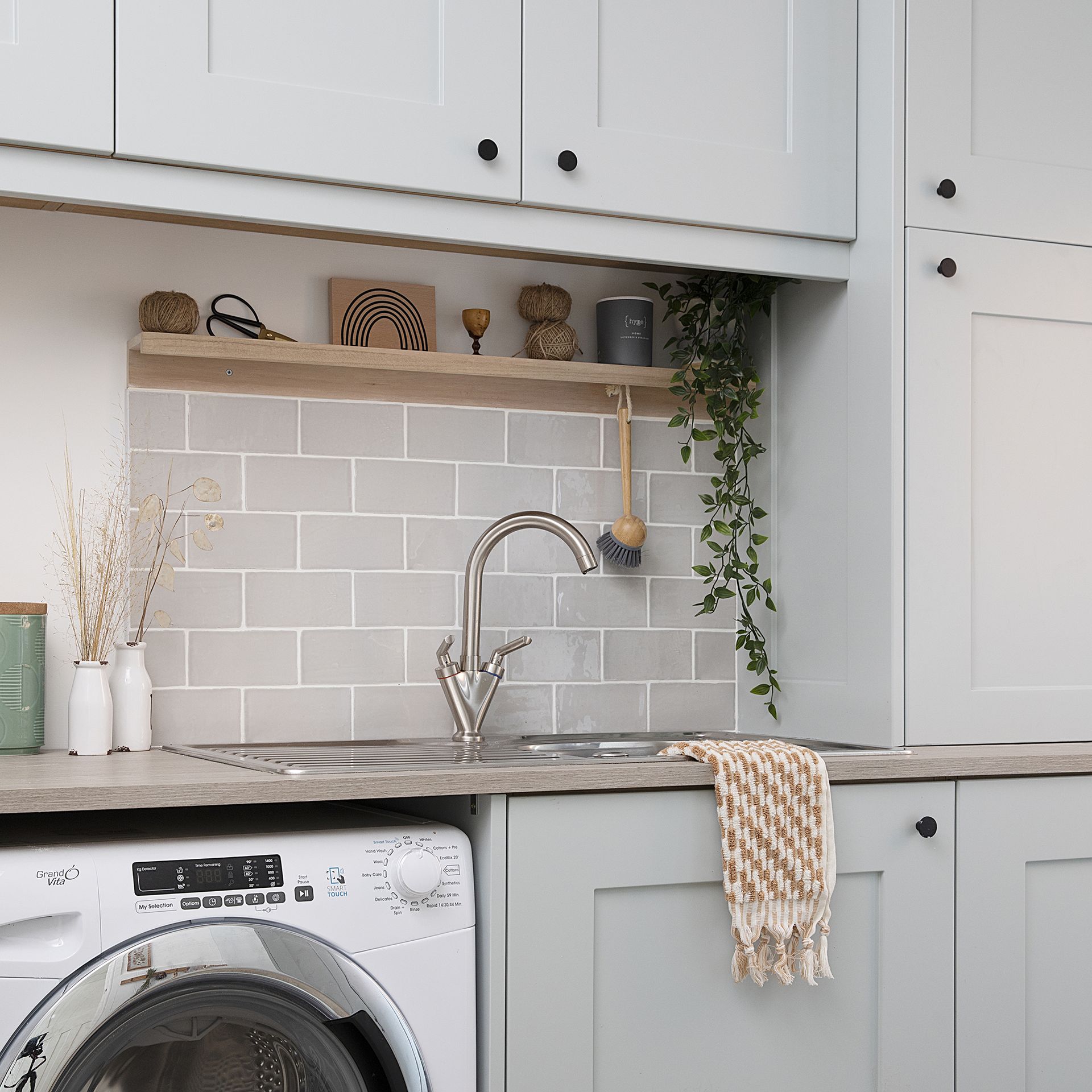 Updating hardware on kitchen cabinets is a great way to give your kitchen a quick refresh. Handles are the accessories of the kitchen world, however, buying a new set of hardware while cheaper than buying an entire new kitchen can still end up costing upwards of £20 depending on the style you choose. 
If you don't mind the shape of your existing handles, put your budget kitchen ideas hat on and consider instead updating them with spray paint for under £10. 
11. Install vinyl flooring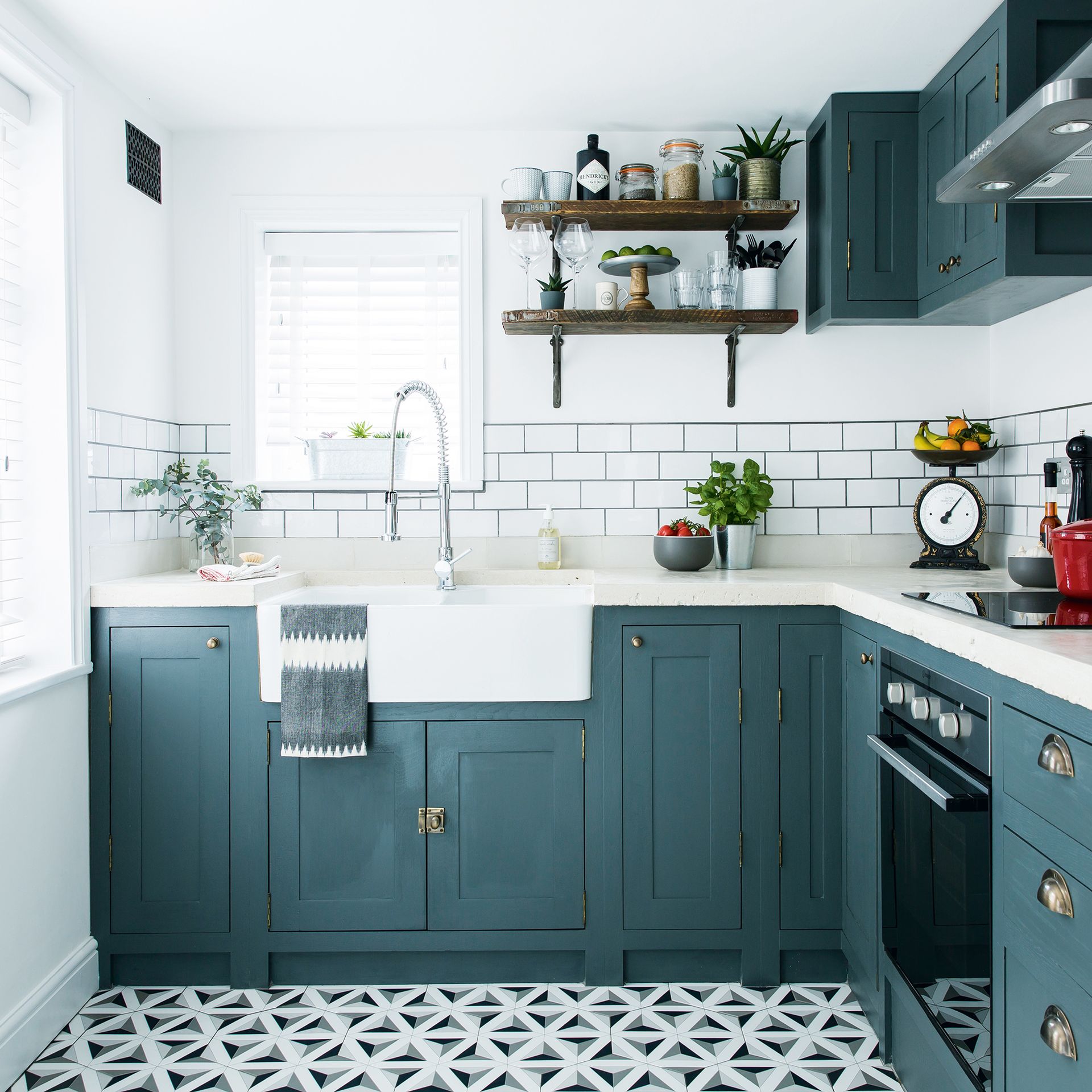 Vinyl has come a long way since the sticky plastic flooring you might remember in your grandma's house. These days it is available in realistic tile patterns, and can even be used to fake a wood effect. 
The appeal of vinyl flooring is that it is considerably easier and cheaper to install compared to other flooring options as it only needs adhesive to be fitted. However, while a lot of vinyl options are perfect for budget kitchen ideas, they do vary in price range, right from £5.70 per square metre up to £26.37 per square metre, so do bear this in mind.
12. Consider adding a kitchen rug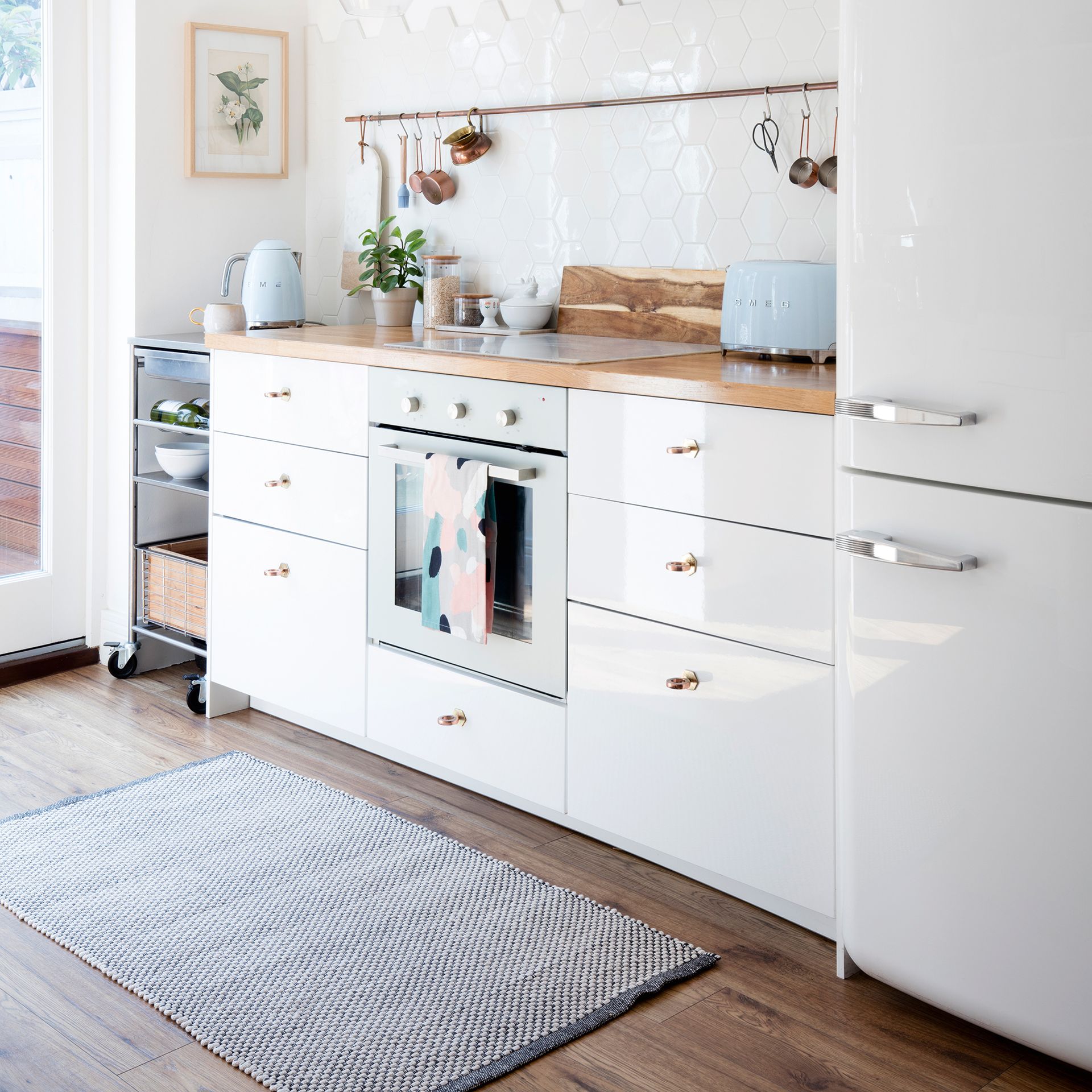 In the same way that a rug can instantly update a living room, it can do the same thing in your kitchen. While a kitchen isn't the traditional space for a rug, with careful consideration it can be a great addition to make the space look more expensive on a budget.
'Adding a rug to your kitchen decor can elevate the space by creating a cohesive look,' says the team at Ruggable (opens in new tab). 'The most important factors to consider are comfort and cleanability.' 
'To style a kitchen, leave the area around the refrigerator and stove clear from the rug. The best place to place a rug in the kitchen is in front of the sink, since it is the area most used.'
Ruggable have some of the best rugs you can buy for a busy home as they are machine washable. Alternatively, a jute rug is a hardwearing option perfect for high-traffic areas, Dunelm has a version for just £35. (opens in new tab)
13. Swap cabinets for open shelving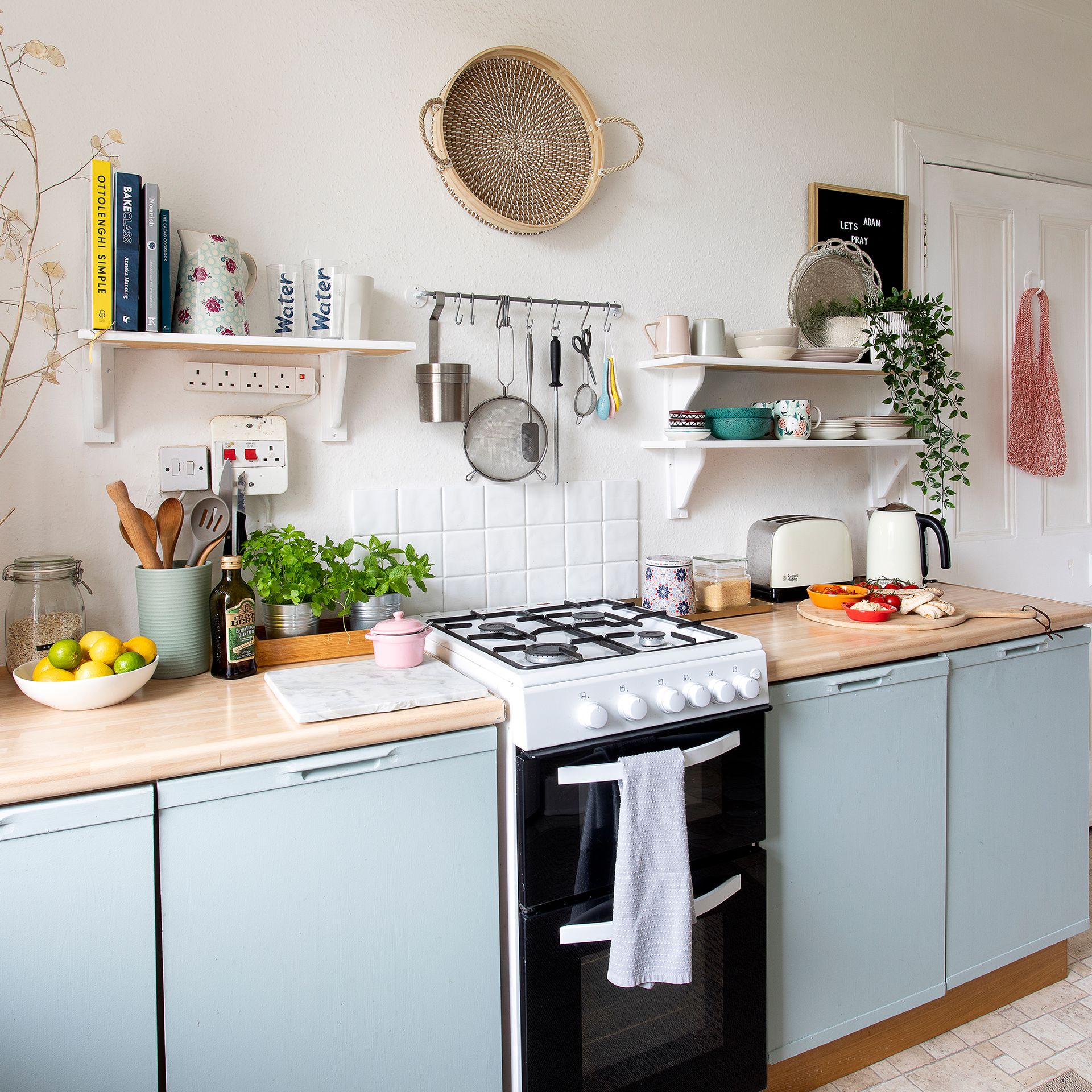 Open shelving can look seriously stylish in a kitchen. Smart kitchen storage ideas can be added to a bare wall to create extra storage to display your favourite cookbooks or crockery collection.
Alternative budget kitchen ideas include simply removing the door of one of your cabinets to create open shelving without spending a penny. However, if you struggle to keep your kitchen shelves tidy, be warned that without a cabinet door there is nowhere for the mess to hide.  
14. Upcycle an old window frame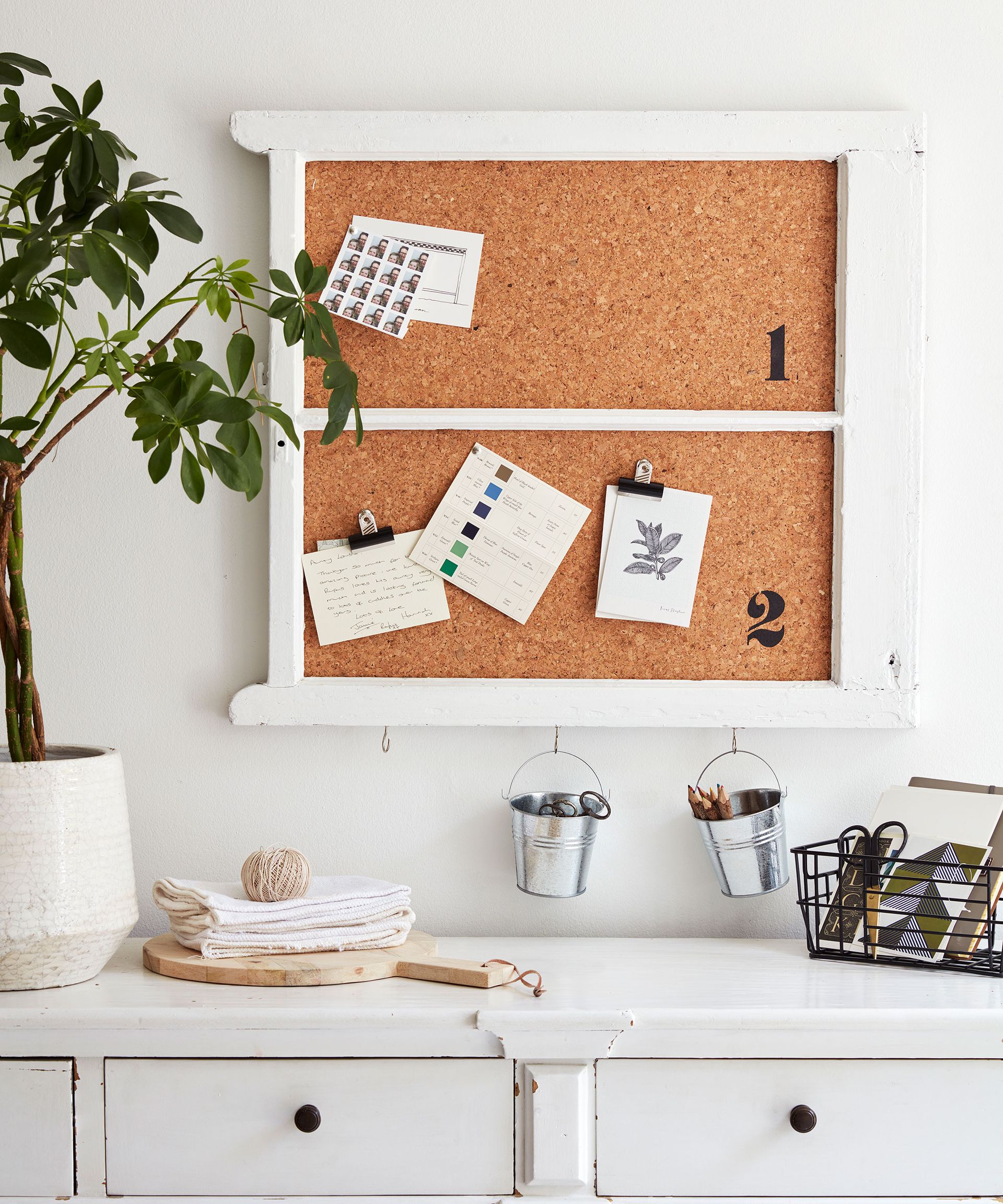 Need a spot in the kitchen to keep the whole family in check? Create a noticeboard by fixing cork tiles onto the back of an old frame using a glue gun or strong tape. Screw hooks into the bottom edge for mini buckets and fix to the wall with picture hooks. Stencil numbers in the corners with black paint, then use to pin postcards and family reminders up.
However, to ensure your family does use it you need to think bout how it's going to be used when you create it. 'I would suggest starting off with a cork noticeboard and lots of push pins,' says Aisha from Hobbycraft. 
'This way the information you want to display can be added and moved around as you like as you discover what works best for you. Once you've settled into a rhythm then start looking at ways to further enhance your notice board.'
15. Label your containers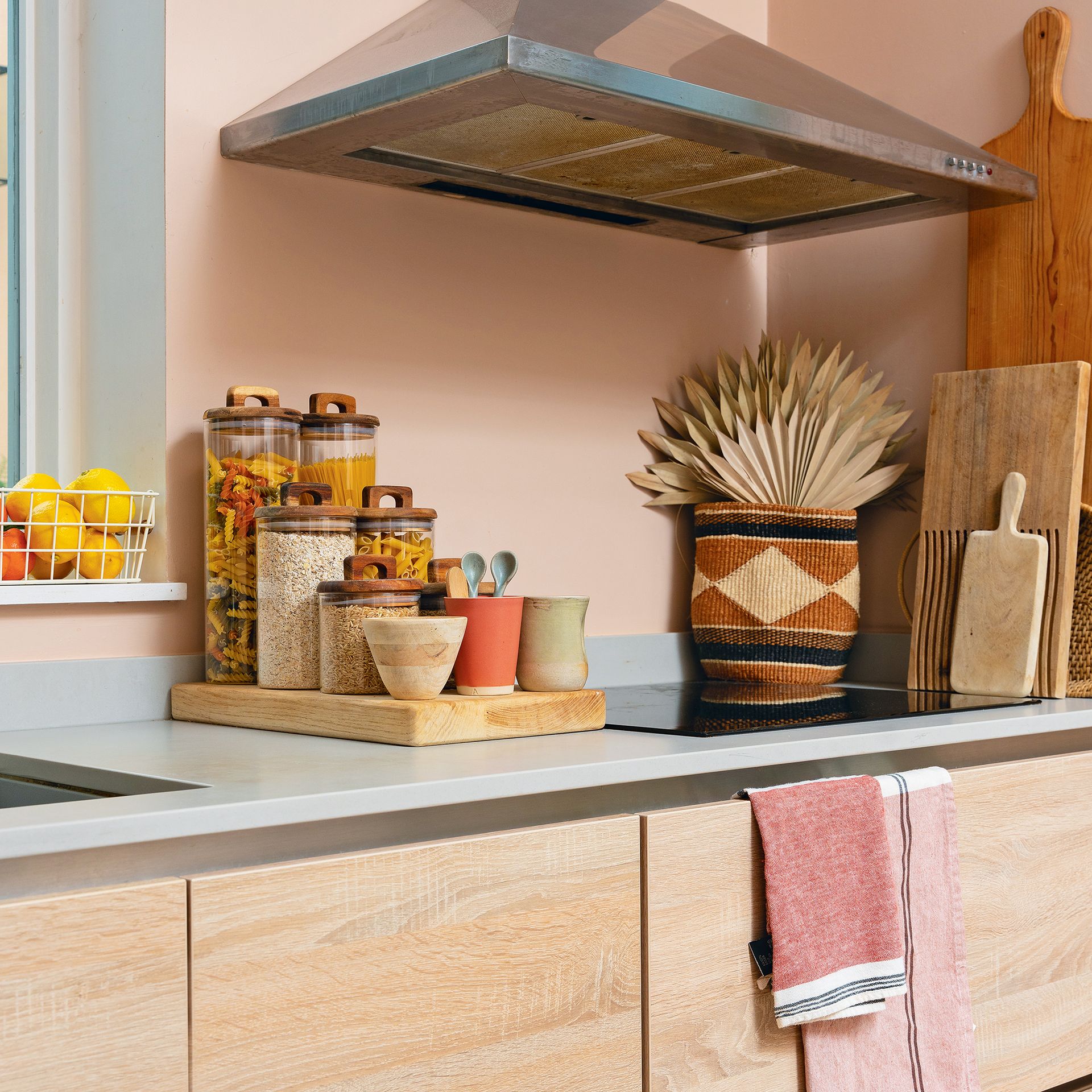 Decanting your cooking supplies into jars yields a certain amount of satisfaction and makes it easy to spot if you are running low on ingredients too. They also double as home decor when displayed on open shelving with beautiful labels.
There are now a whole range of gadgets out there to create beautiful custom labels. 'If you have a digital cutting machine (Cricut or Silhouette) (opens in new tab) these are fantastic at creating labels in an array of sizes, colours and shapes and can be cut in next to no time,' says Aisha from Hobbycraft. 'The cut labels can be added to all types of smooth-surfaced jars, and they can easily be removed when the time comes to change the jar contents.'
Alternatively, for an even more budget kitchen ideas, you can use waterproof chalkboard labels or make your own clay swing tags. Aisha also recommends trying paint markers. 
'They are ideal for adding beautiful hand-drawn labels to your jars. Make sure to carry out a few test runs before starting work on the final jar, to get used to the pen and drawing on a curve,' she adds.
16. Mount baskets on the wall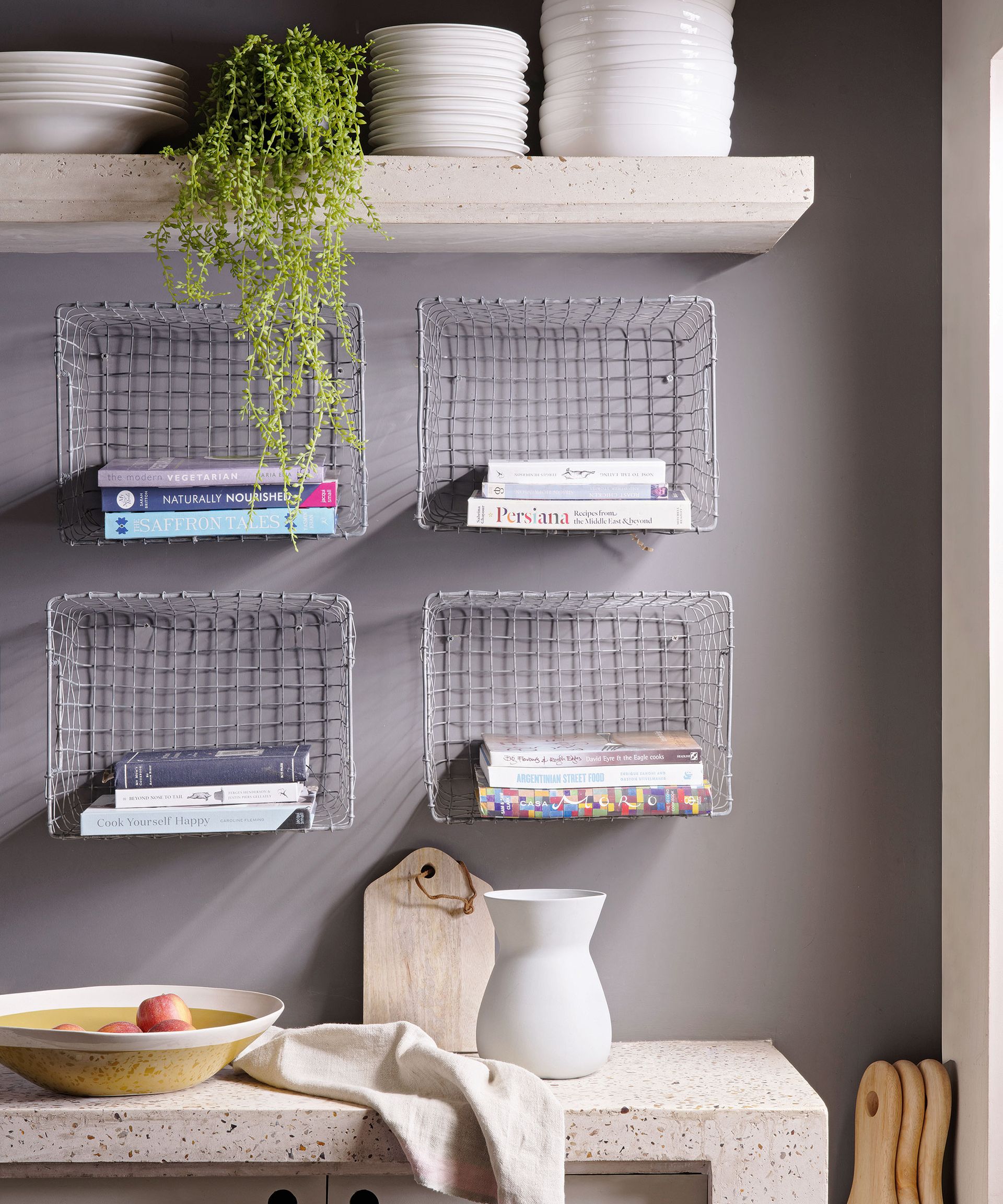 Keep your kitchen surfaces clutter free by hanging a group of wire baskets on the wall from their bases. Use to display cookbooks, spice jars, and condiments or to keep utensils handy.  
Create symmetry on your kitchen shelving ideas by hanging in pairs in groups of two, four or six. To make a style statement why not spray paint your baskets in a neon shade to add a pop of colour to your scheme.
17. Add a wooden splashback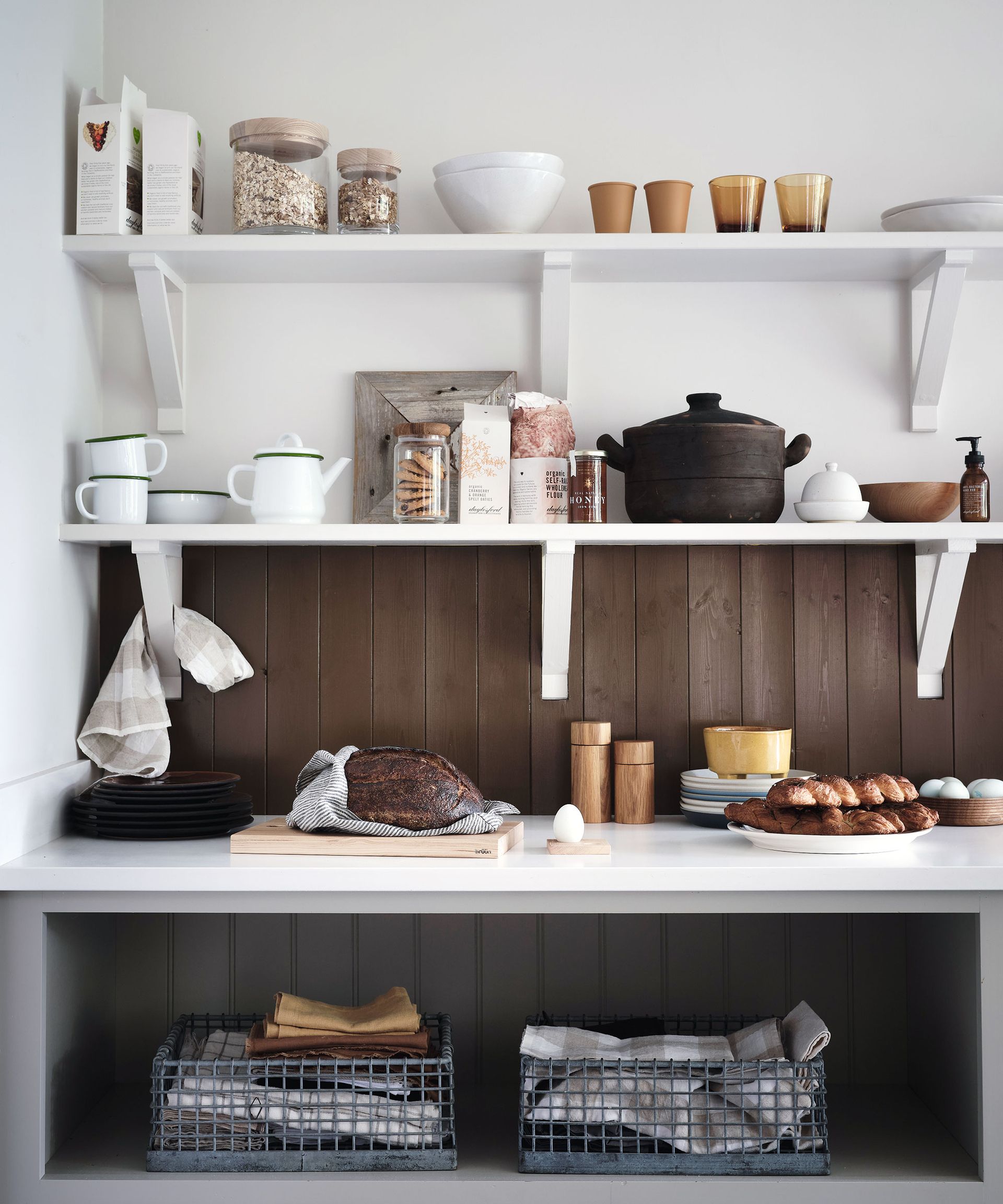 A great way to pimp up your kitchen on a budget, is by using stained wood as a splashback. It will interest and texture to your space and you might even be able to use wood left over from previous projects. Simple Ikea open shelving above, creates a rustic style display for all your essentials.
Opt for a neutral palette to create a soothing feel plus it will sit well with store cupboard ingredients.
18. Create bespoke herb holders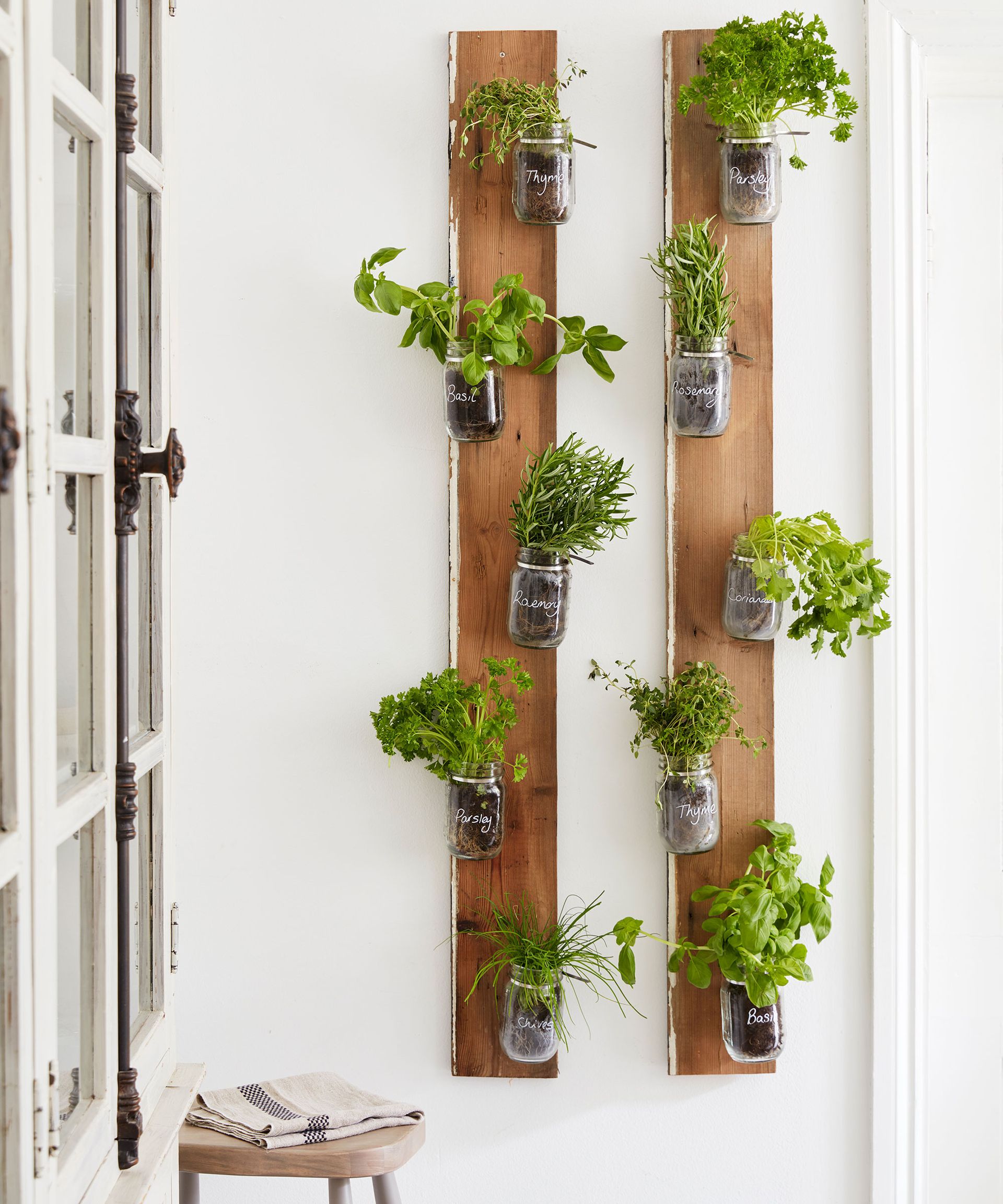 If you're a big foodie and often cook tasty meals from scratch, there are ideal budget kitchen ideas for you. Wrap metal cables ties around the neck of a glass jar, leaving enough slack to slip over a cup hook screwed into a plank or wood, or repurposed floorboard. Fill two thirds of the jar with gravel for drainage, then pop with soil and your chosen herbs.
Write the name of each herb on the side of each jar with chalkboard pen and remember to water them often!
19. Upcycle bed slats into a storage solution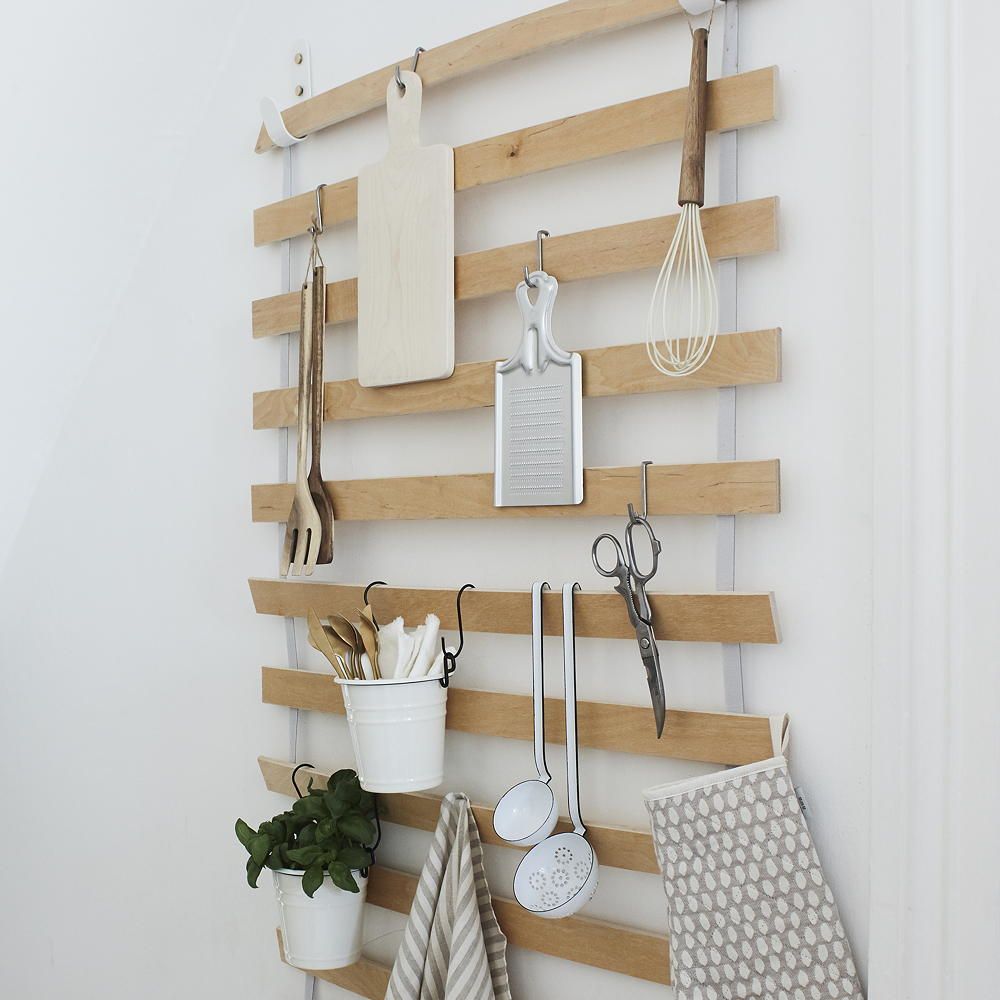 This wall rack is actually a set of webbing-mounted bed slats hung from a couple of wall hooks. It is a really cost effective way to add extra storage it saves old bed slats from ending up in the bin.
If you don't have any bed slats lying around, leftover pieces of plywood cut into small pieces will also work well. Just add S-hooks for hanging bits and bobs. This is great for small kitchen ideas, where storage space is limited.
20. Paint kitchen cabinets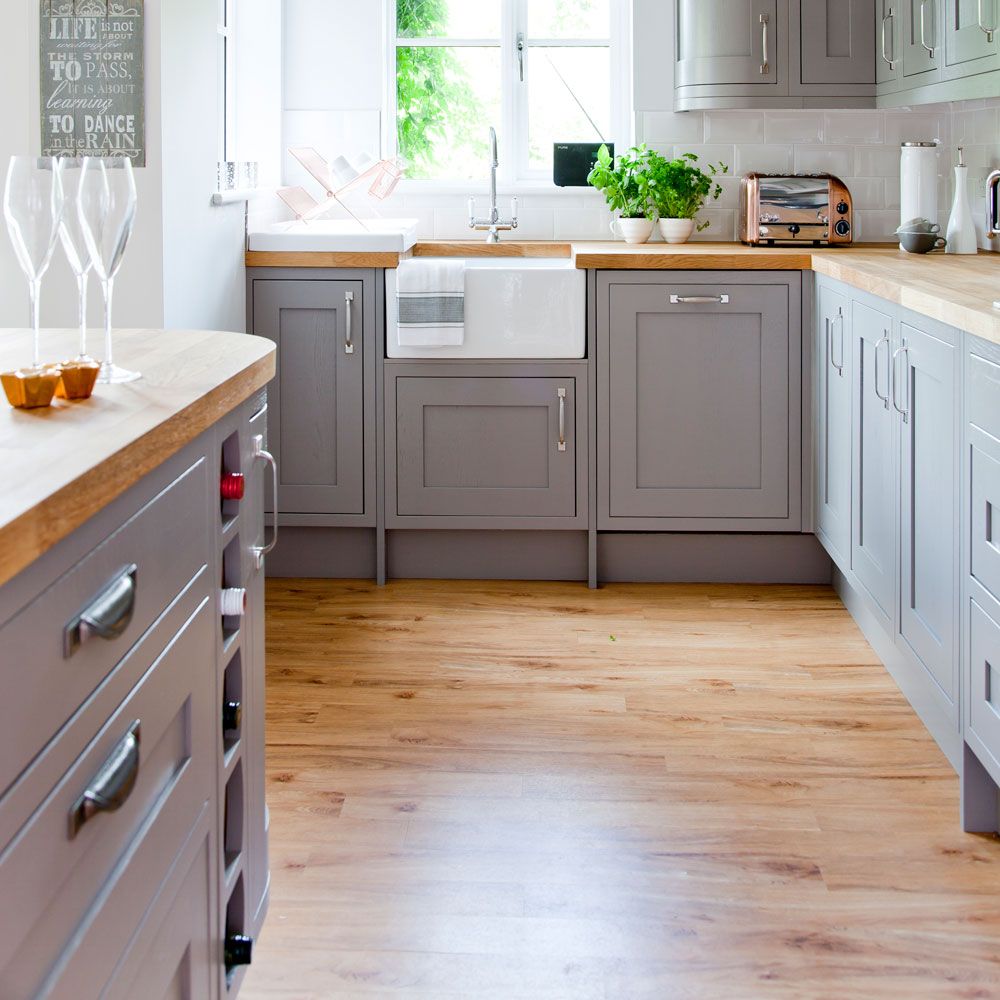 These days paint ideas for kitchen cabinets can deliver a premium look at a budget price point, as long as you don't mind spending a bit of time wielding a paintbrush.
Understanding how to paint kitchen cabinets properly will ensure you get a professional finish. 'If the units have been previously painted, give them a good rub down with sandpaper before starting to paint. If you can, find out what type of paint was used previously. If it was a water-based product then you'll be fine to paint over it with another water-based paint,' explains Phil Robinson, founder of Paint the Town Green (opens in new tab).
'However, if it was oil-based or a two-part spray, it's a good idea to use a primer sealer first such as Zinsser's Bullseye 1-2-3, £20, Amazon (opens in new tab). This will ensure the paint adheres properly when applied and doesn't flake or peel. This will also work to an extent on a melamine finish, but the adhesion here will vary and you may need to go over your paint finish with a clear decorator's varnish to protect the paint from chipping.' 
21. Replace cupboard doors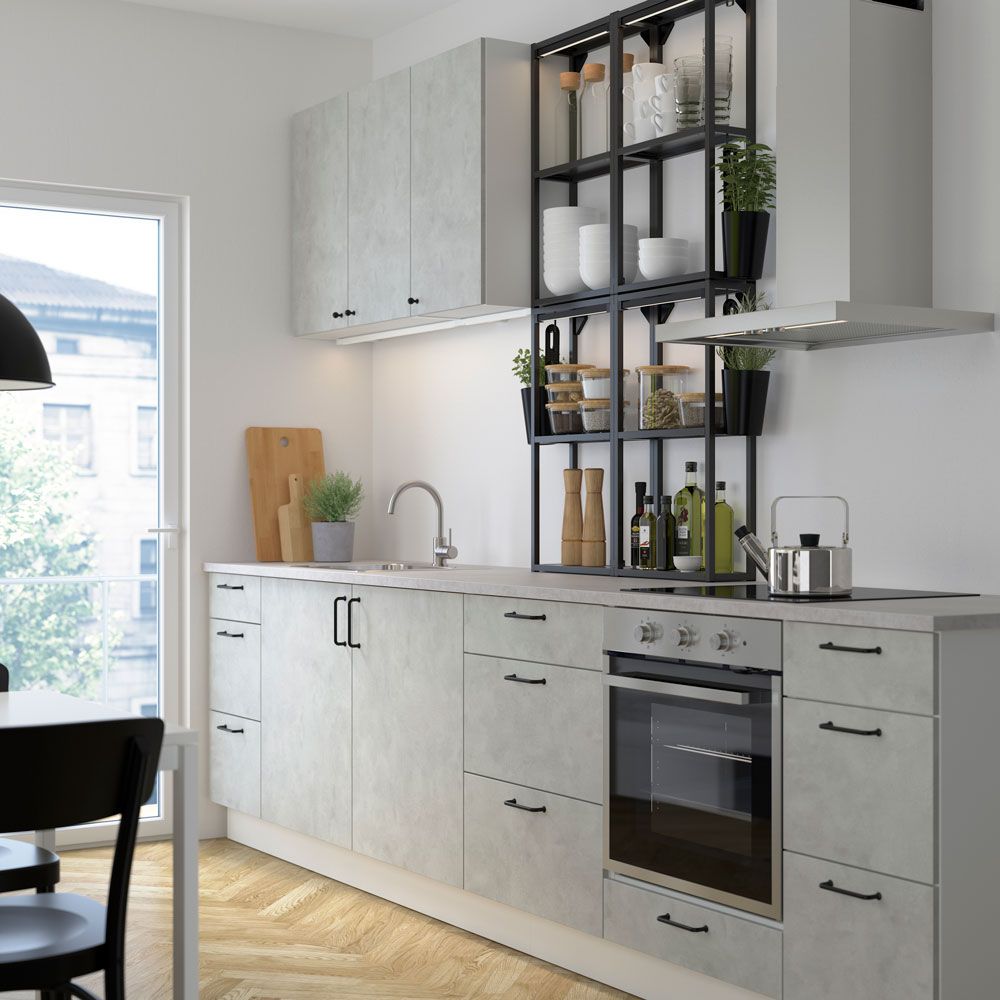 If painting is not enough to change the look, you can replace doors and drawer fronts. Rather than buy a whole new fitted kitchen at a cost that could mean remortgaging the house, we're talking about using budget kitchen ideas to make a world of difference.
'Try mixing patterned and plain doors to achieve a design scheme with contrasting detailing,' recommends Monica Born, Co-Founder, Superfront (opens in new tab). 'If you have a kitchen island, why not go for a bold patterned front, allowing it to stand out from the rest of the room.'
22. Spruce up a fridge with wallpaper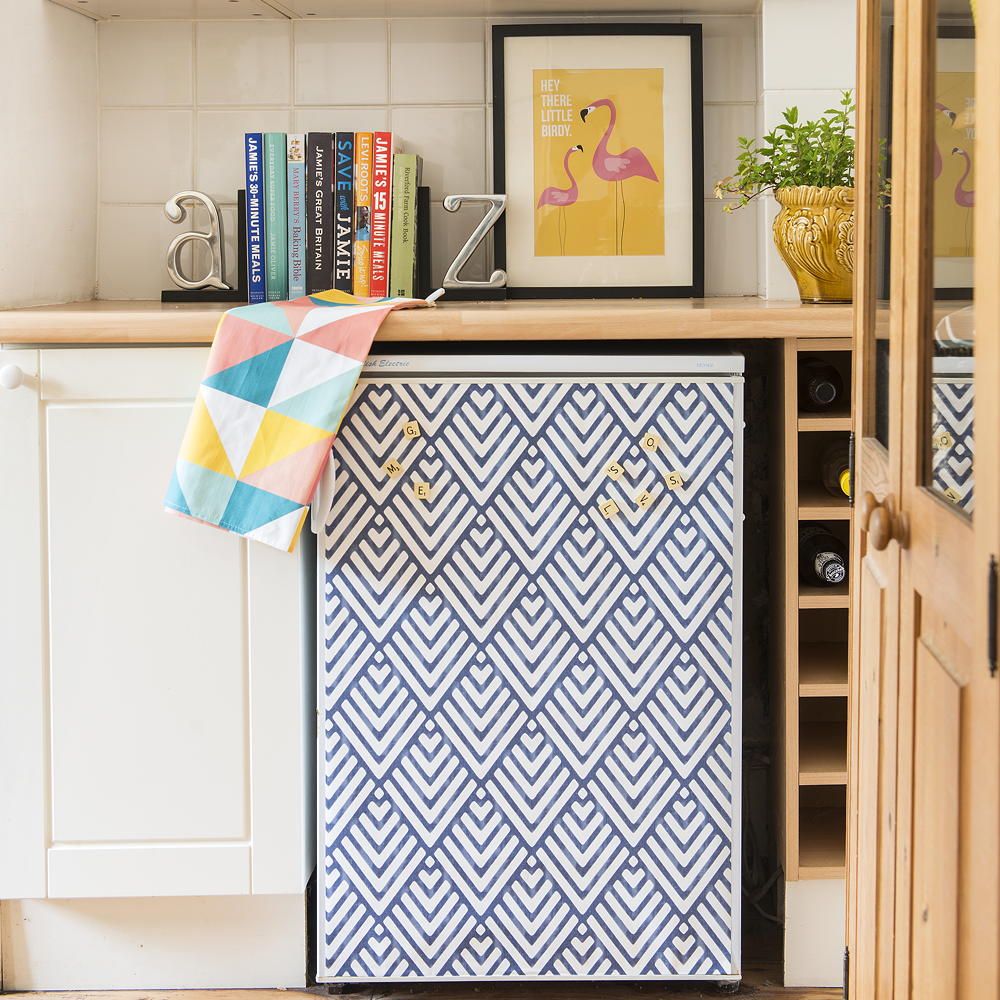 If you can't afford a swanky Smeg fridge but are desperate to give your boring-looking appliance a splash of colour, why not get crafty with a can of spray paint – a fridge hack that has been used above. 
Alternatively, for a less permanent option cover the front of the household appliance with a leftover roll of wallpaper attached with double sided sticky tape.
23. Update your kitchen floor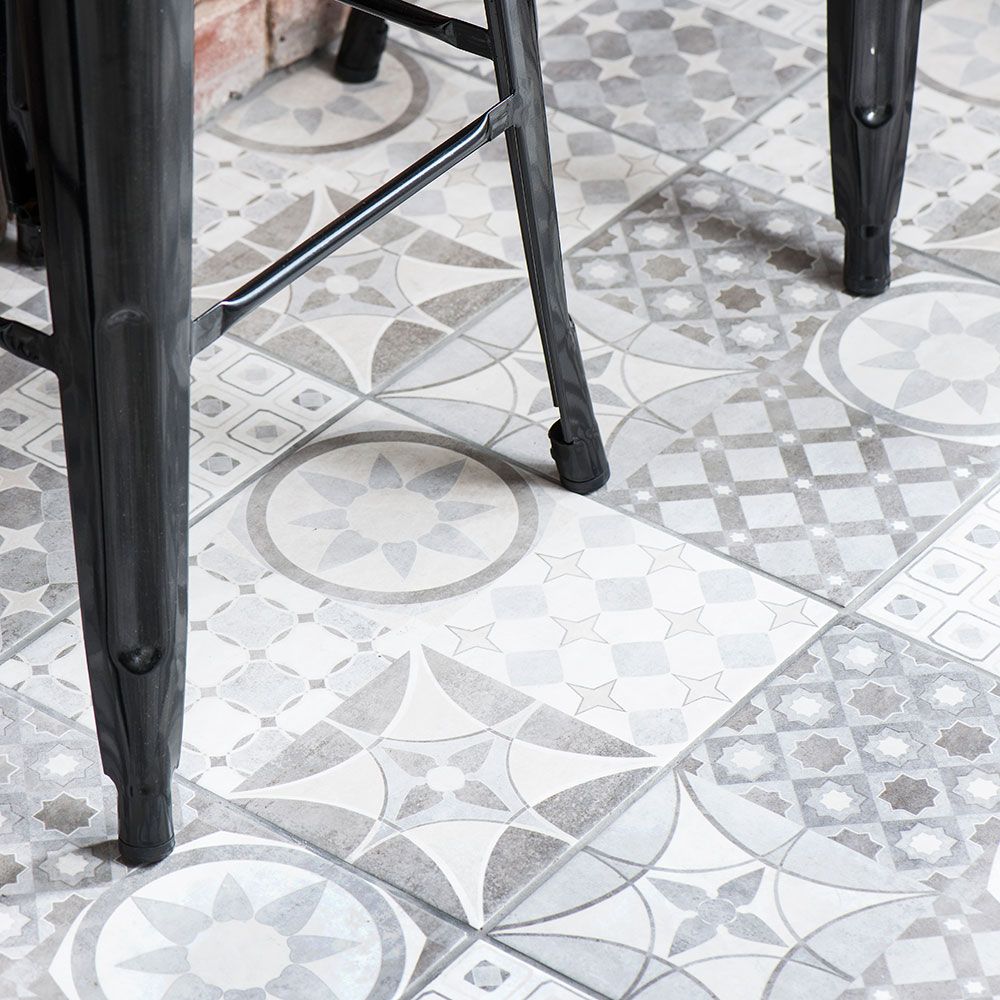 If a tatty floor is letting the scheme down, there are a range of smart kitchen flooring ideas to choose from that will breathe new life into your space.
You don't need to go to the hassle of taking it all up either, as you can lay new flooring on top. Most kitchen designers will advise that you can simply run it underneath the plinths, instead of wall-to-wall, which cuts your costs further.
24. Make your own hanging rail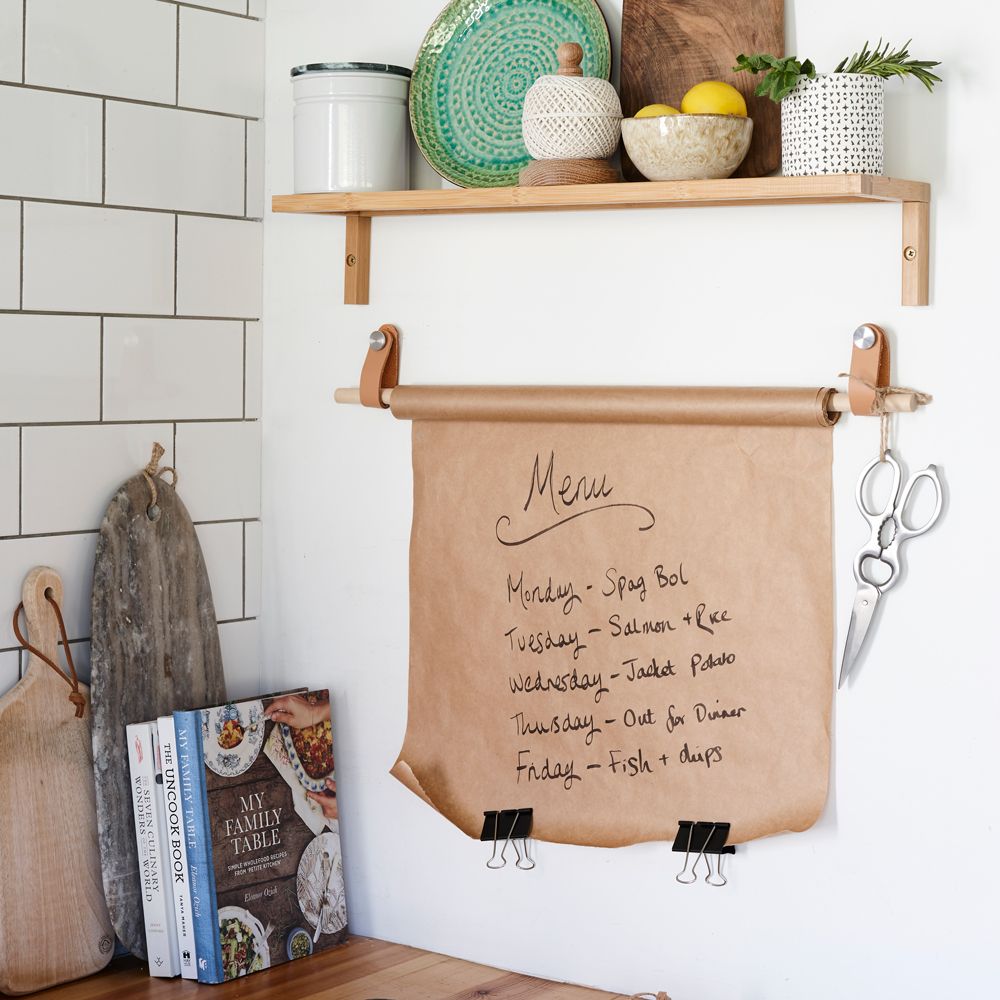 By simply attaching two handles and a length of dowel to a wall you can create a storage solution for all manner of kitchen accessories. From foil to kitchen towel, the possibilities are endless. Above we see how two leather handles are making a stylish support for a kitchen memo board, on a roll of brown paper.
25. Turn a door into a noticeboard with chalkboard paint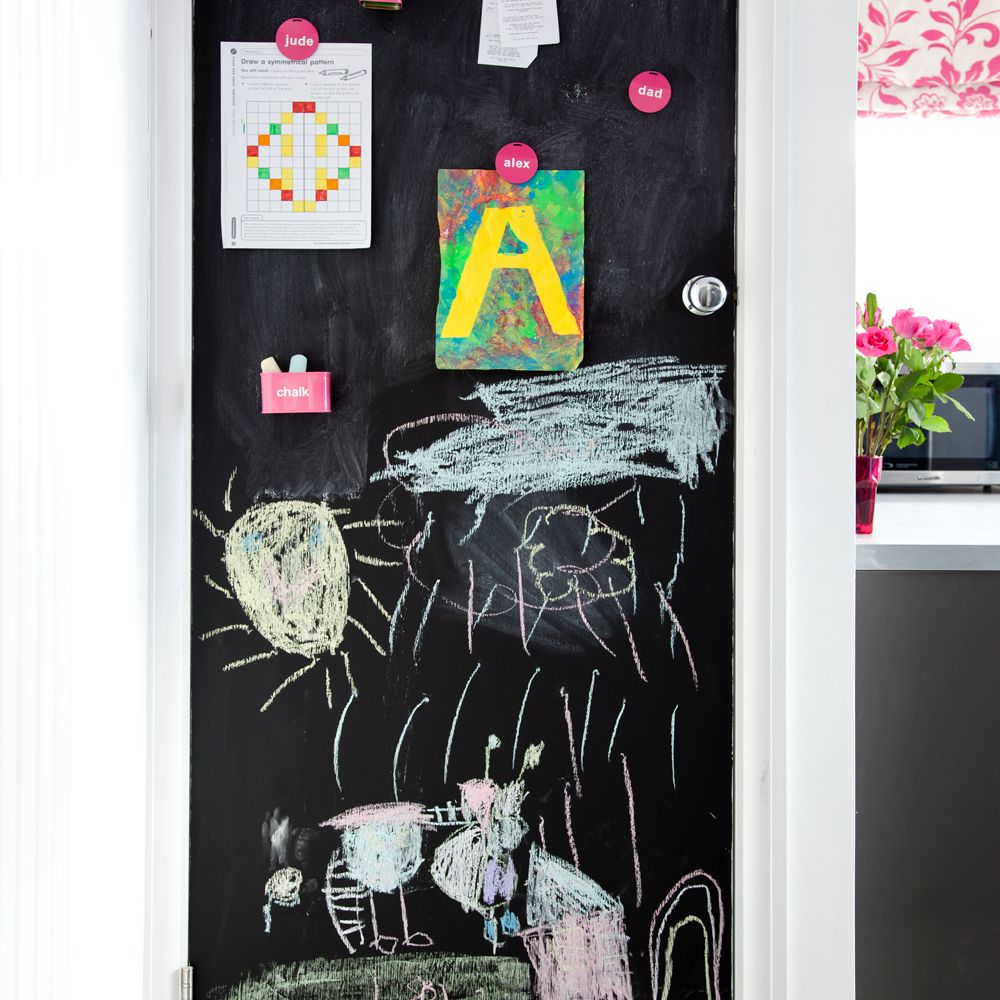 Get creative and give your kitchen personality by creating a feature wall using chalkboard paint for creative budget kitchen ideas. A simple wall of black paint, specifically designed to be drawn on with chalk, is a great way to add a personal touch to your kitchen space.
Not only does it give kids the perfect place to entertain themselves, still within view while you tend to jobs in the kitchen – it also creates an ideal family planner.
26. Create a feature wall… or two!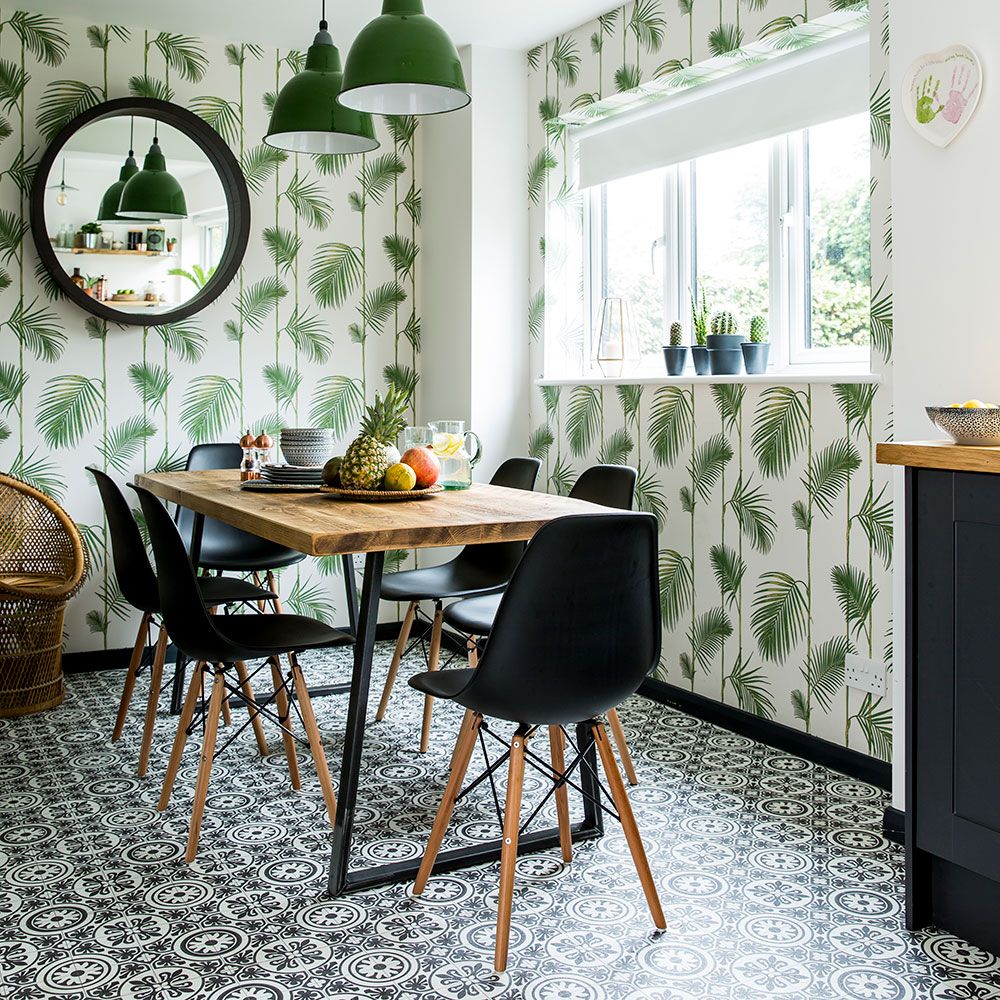 Wallpaper is a great way to add colour and vibrancy to an old kitchen. You can either cover the entire wall, or create a feature wall ideas for a cheaper but equally stunning look. 
Make sure you choose wallpaper that is specially designed for the kitchen so it is heat and steam-resistant.
27. Liven up your scheme with fun accessories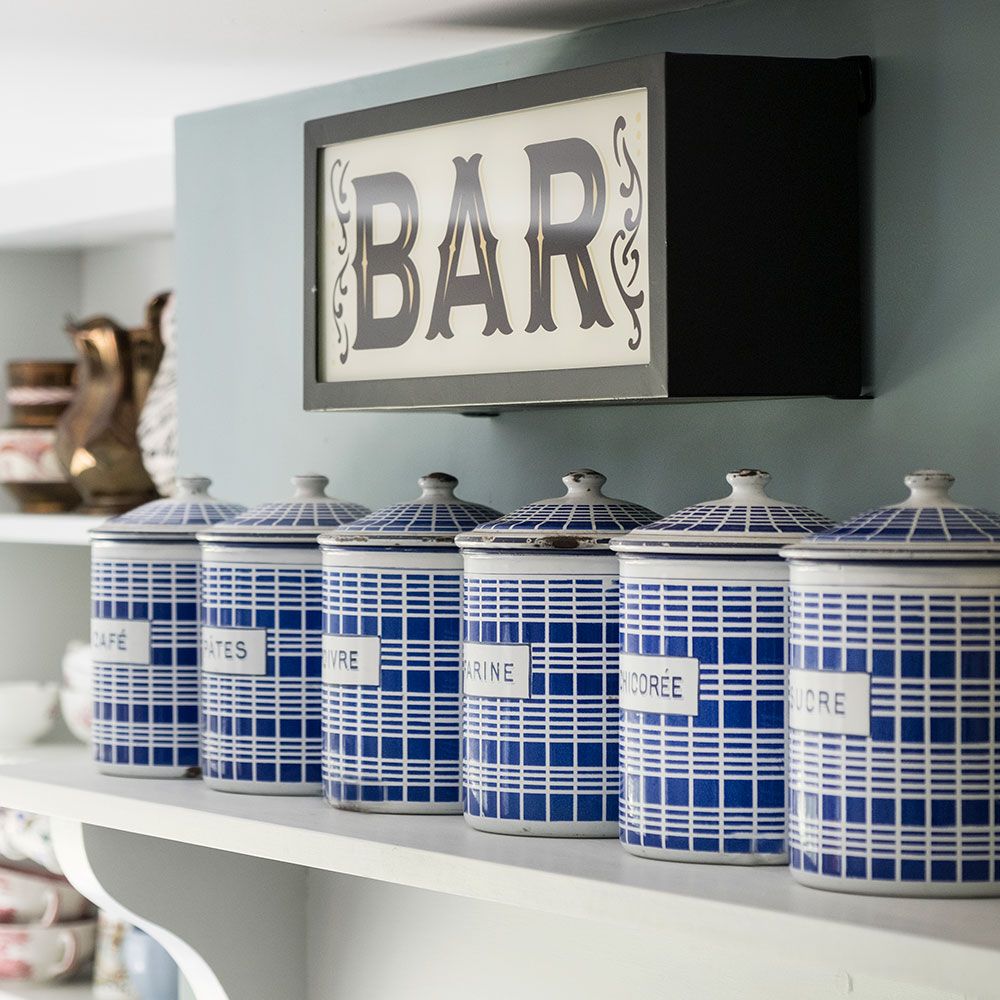 Accessories will brighten your kitchen in an instant and you can choose a theme to bring the look together. Display selected items on open shelving and think about reorganising your worktop so you only have your favourites on show. If you have a dresser, this is the perfect place to show off neat stacks of crockery, cups and glassware.
28. Install extra lighting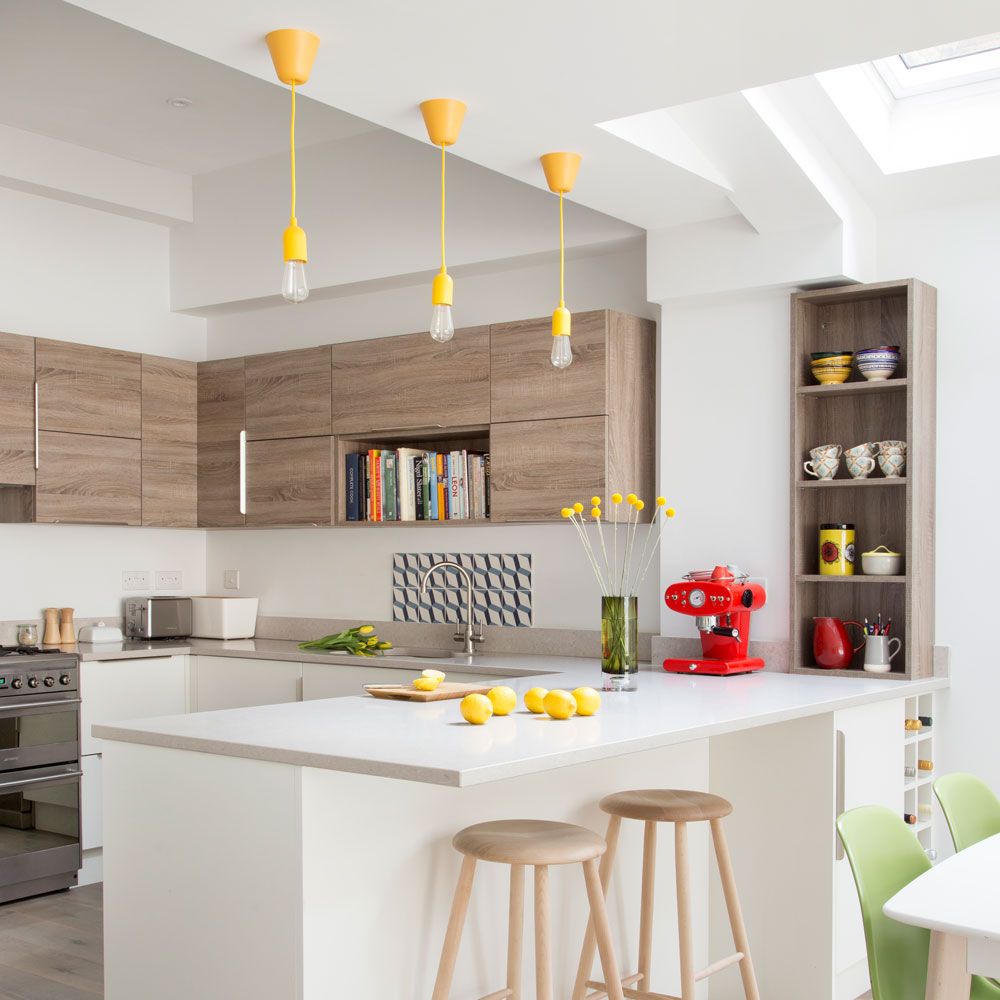 Smart kitchen lighting ideas can make a big impact to a kitchen's look and feel.
Ideally, you should have task lights, such as spotlights, over the worktops; halogen bulbs on the extractor; and overhead lighting with ambient light in a dining area. Always use a qualified electrician for anything complicated – visit the Electrical Contractors' Association (opens in new tab) to find one in your area.
29. Make a statement with a kitchen appliance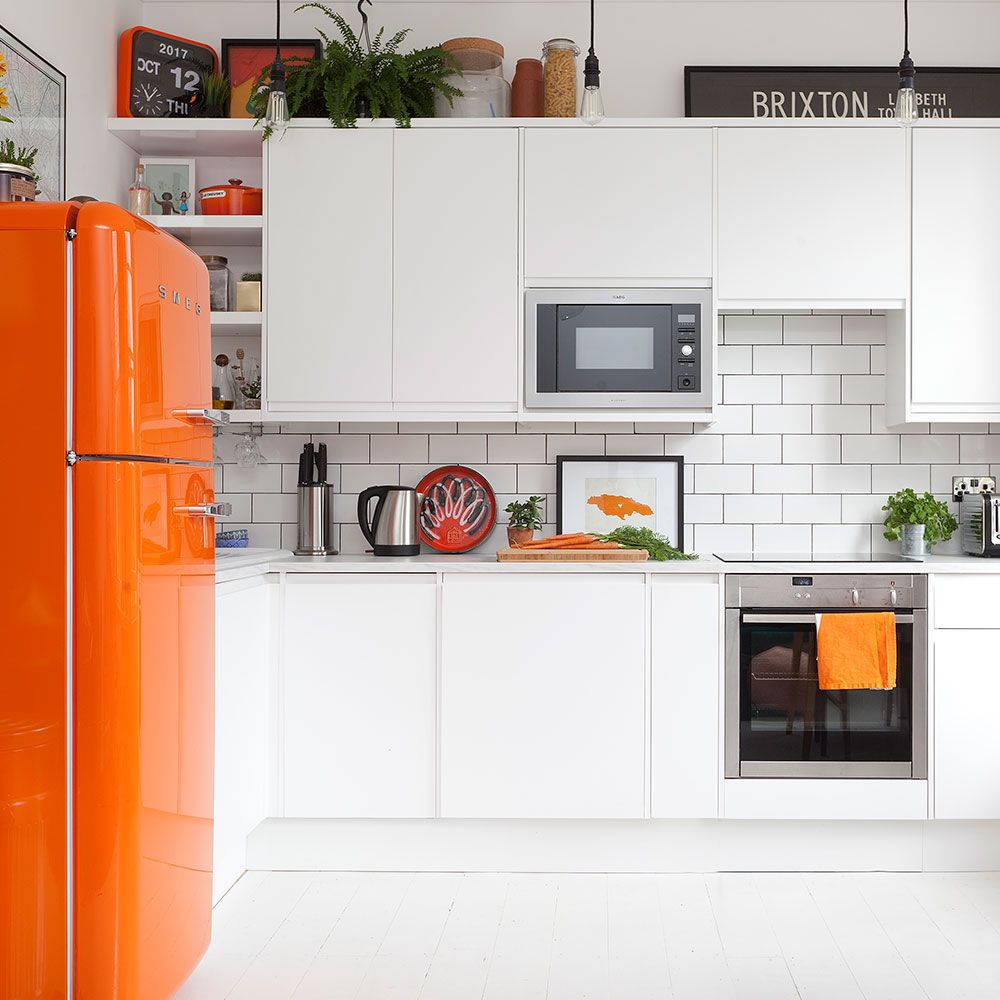 New appliances can refresh your kitchen without changing any of the furniture. You'll need to ensure that they will fit into the existing space, though.
There are plenty of kitchen appliance layout ideas that offer smart ways to smoothly incorporate appliances into your space. Freestanding appliances can be replaced more easily – and can make a real impact if you go for something brightly coloured, like this Smeg fridge. A new kettle or toaster will make a splash, too, and won't cost the earth.
30. Change the tap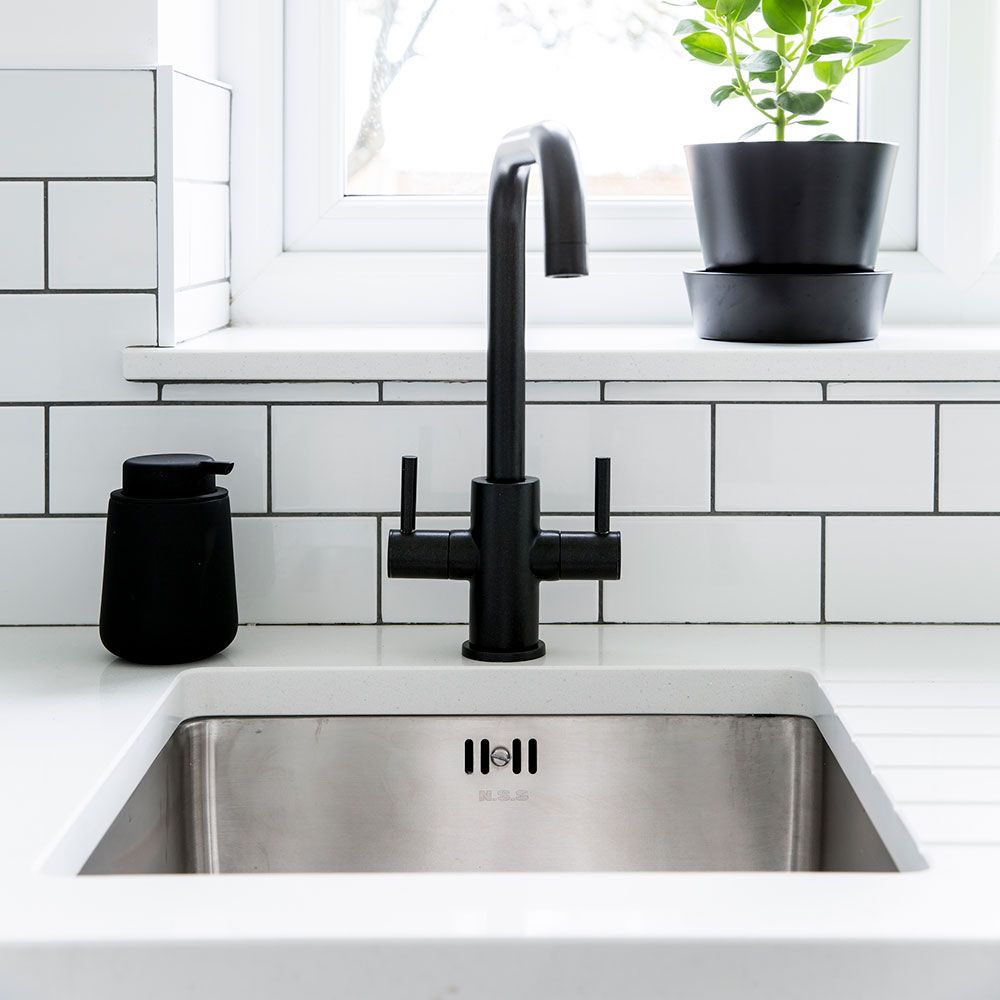 Taps add distinctive character to a kitchen and you can change the feel of yours in a jiffy by adding a copper tap or one with white ceramic handles to your kitchen sink ideas.
 A stainless steel design will create a contemporary feel or a distinctive black one will make a real statement.
31. Cover up with a curtain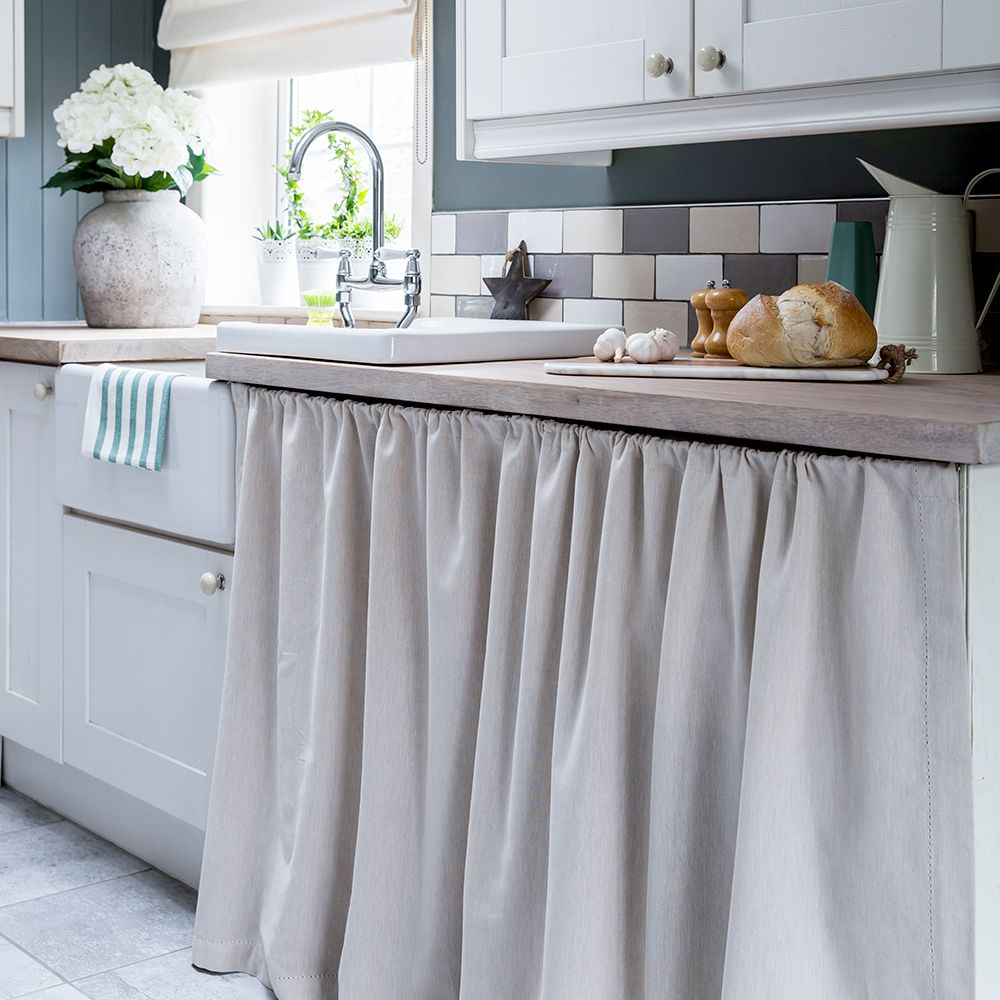 Integrating appliances can be a costly business but leaving them exposed sometimes means they can spoil the look of your kitchen.
If you're a whizz with the sewing machine, use budget kitchen ideas to make a pretty curtain to conceal your appliances or cover any shelves. This softens the scheme by making sure unattractive machines or spaces without unit doors are disguised.
Choose a fabric that emphasises the theme of your kitchen and links with the colours of the walls and accessories – whether it's something muted like this, or a bolder pattern.
32. Introduce vintage furniture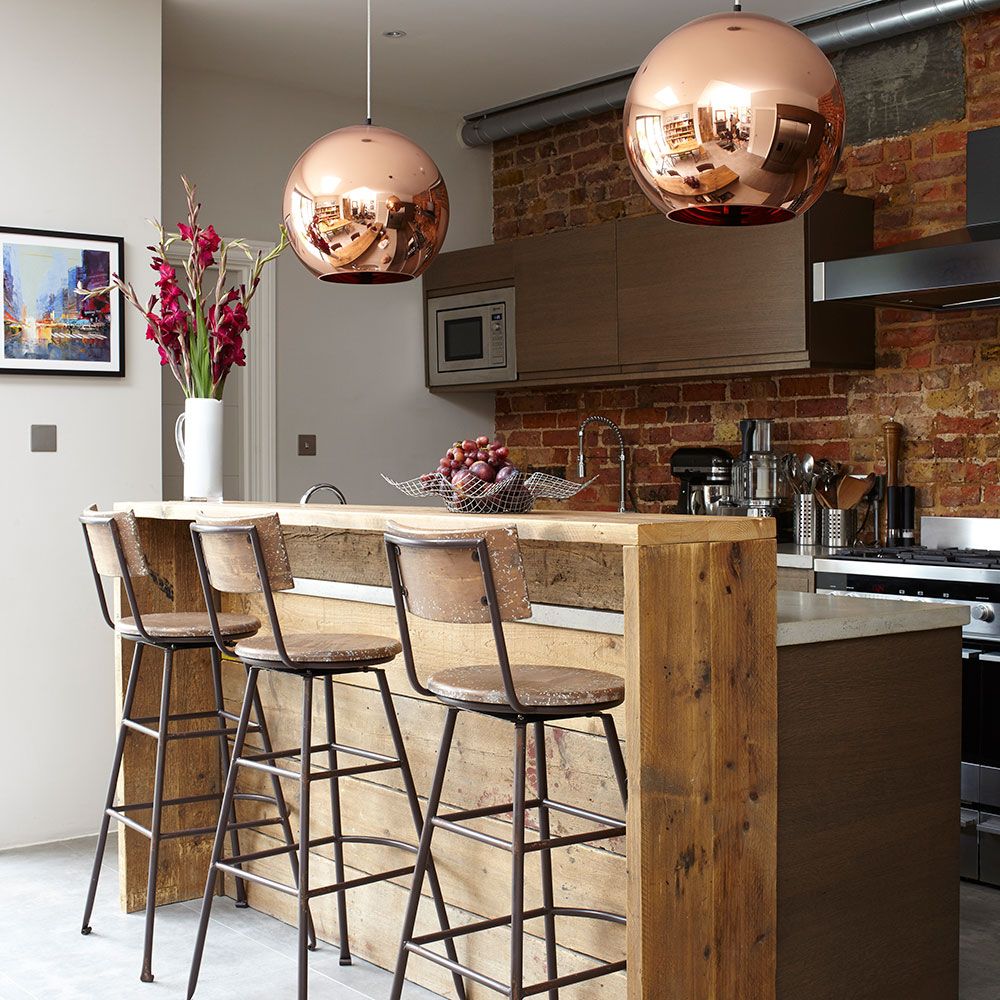 It's easy to give an industrial slant to your kitchen and introduce a completely different feel with vintage furniture. Scour charity shops, car boot sales, reclamation yards and even skips (ask the homeowner first before you take anything). After all, what's one man's rubbish is another man's treasure!
Old stools teamed with a row of stylish pendant lights can be used to create an edgy breakfast bar. And if the finish isn't to your liking then a quick coat of paint can easily sort that out. Choose the best paint for furniture and find the right shade for the job.
Vintage cookware adds charm – antique shops, charity shops and eBay are great sources. Affordable pieces, such as a vintage dresser with glass doors or repurposed furniture, can be used to store and show off your favourite china, achieving a simple yet effective kitchen makeover.
33. Display wall art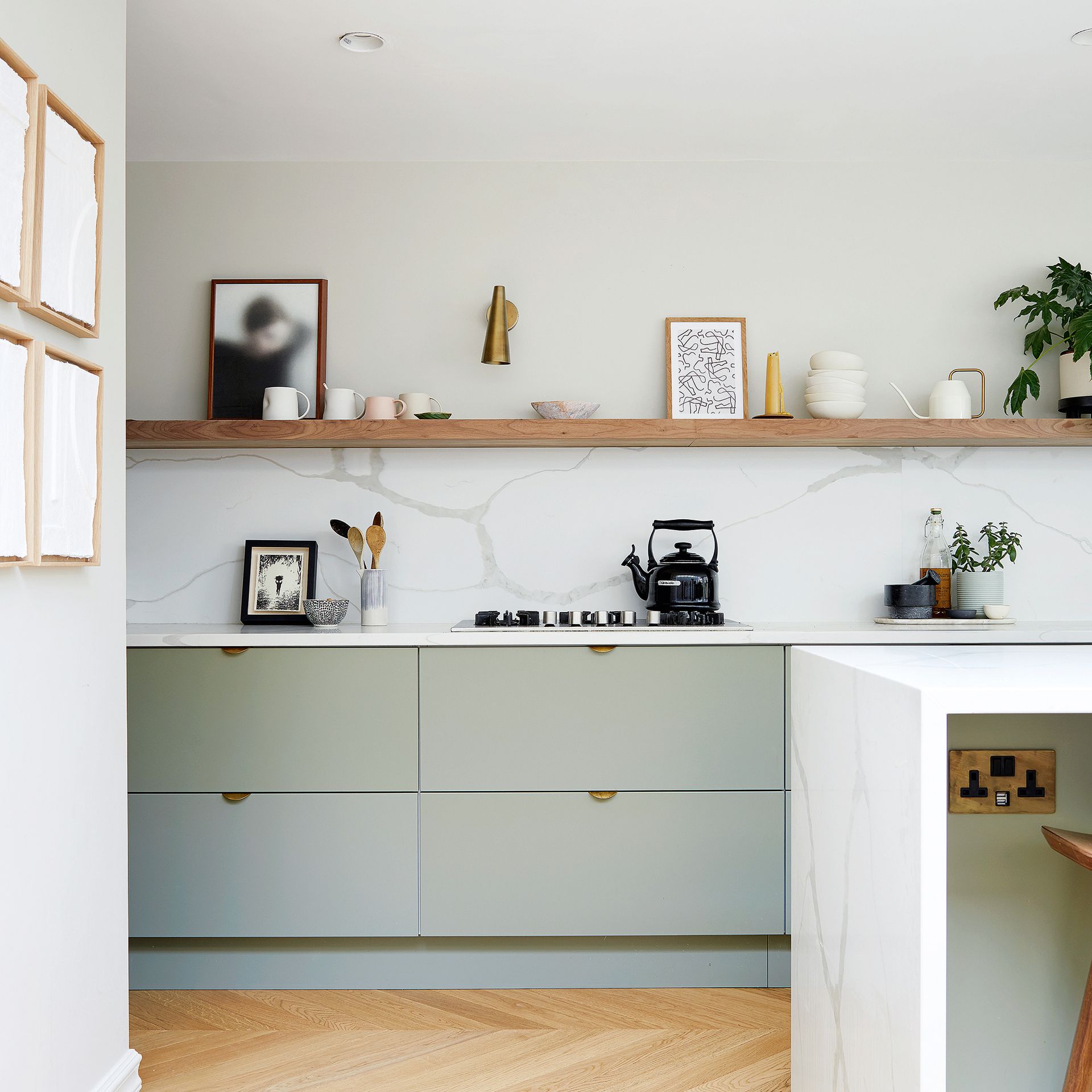 Add playful personality to a scheme and introduce a retro vibe with eye-catching kitchen wall decor ideas. For maximum effect, display against a cool white backdrop and bring in blasts of bold colour with pop art and signage in a palette of primary shades that can be picked out in your accessories.
Vary the way artwork is displayed by hanging some on the wall and propping other pieces casually against it for an informal feel.
34. Make a statement with lights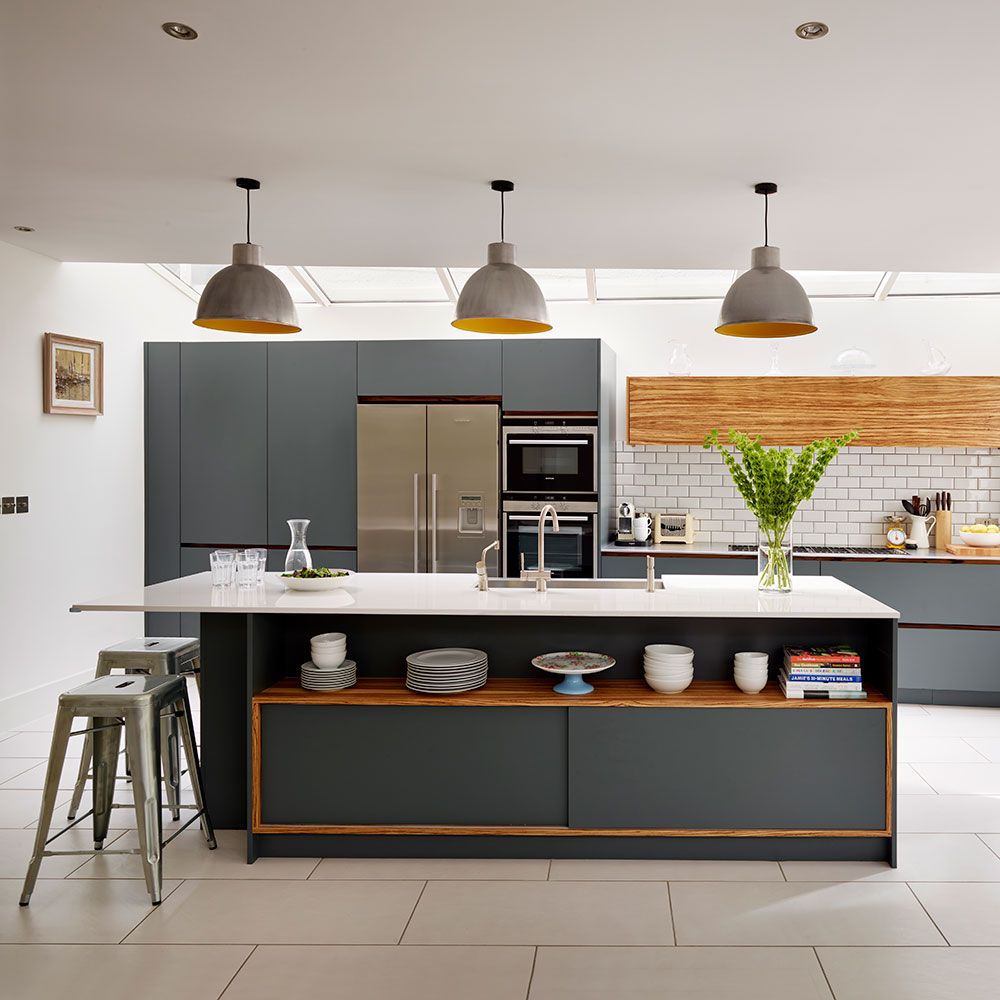 Shed new light on a budget kitchen scheme by incorporating dramatic ceiling lights. Oversized metal pendants are the perfect way to make a statement and introduce an industrial feel.
Hang them over a table or island to create a focal point and provide both task and mood lighting. If you choose a smaller design, follow the stylist's tip and hang them in threes for maximum impact.
What is the cheapest way to do a kitchen?
The cheapest way to update your kitchen is to make use of things you already have at home, such as left over paint or wood. Painting cupboard doors can give your kitchen a whole new look in an afternoon and costs nothing if you still have paint lying around from a previous update. Adding wood panelling to walls is another great way to update a kitchen and again, if you already have the wood, you're all set to complete the work without spending a penny
If you're looking to completely gut the kitchen you have and start again, it's worth looking for second-hand offerings on sites such as Gumtree (opens in new tab) or Freecyle  (opens in new tab)
Often people are keen to get rid of their old kitchens in a hurry, so you have a good chance at grabbing budget kitchen ideas, even if you do have to travel a little further to secure it.
How can I make a cheap kitchen look good?
A great tip to make a cheap kitchen look good, is to replace flimsy hardware with smarter styles. Handles, locks and latches can all be easily replaced and if you opt for on-trend brass or matt black choices, they can elevate your kitchen instantly.
Another way to achieve good looks with budget kitchen ideas is with great styling. Displaying accessories and plants in a stylish way, will make those items become the hero and the eye will be lead away from the dull design of your kitchen cabinets. Plants, whether fresh or faux, will always bring life and energy to a space and are a cheap way to update the decor.
Finally, look at painting over cheap tiles in a statement shade, cover tired worktops with Fablon vinyl and replace bog-standard taps with smarter counterparts.