9 kitchen island centerpieces ideas to elevate your schemes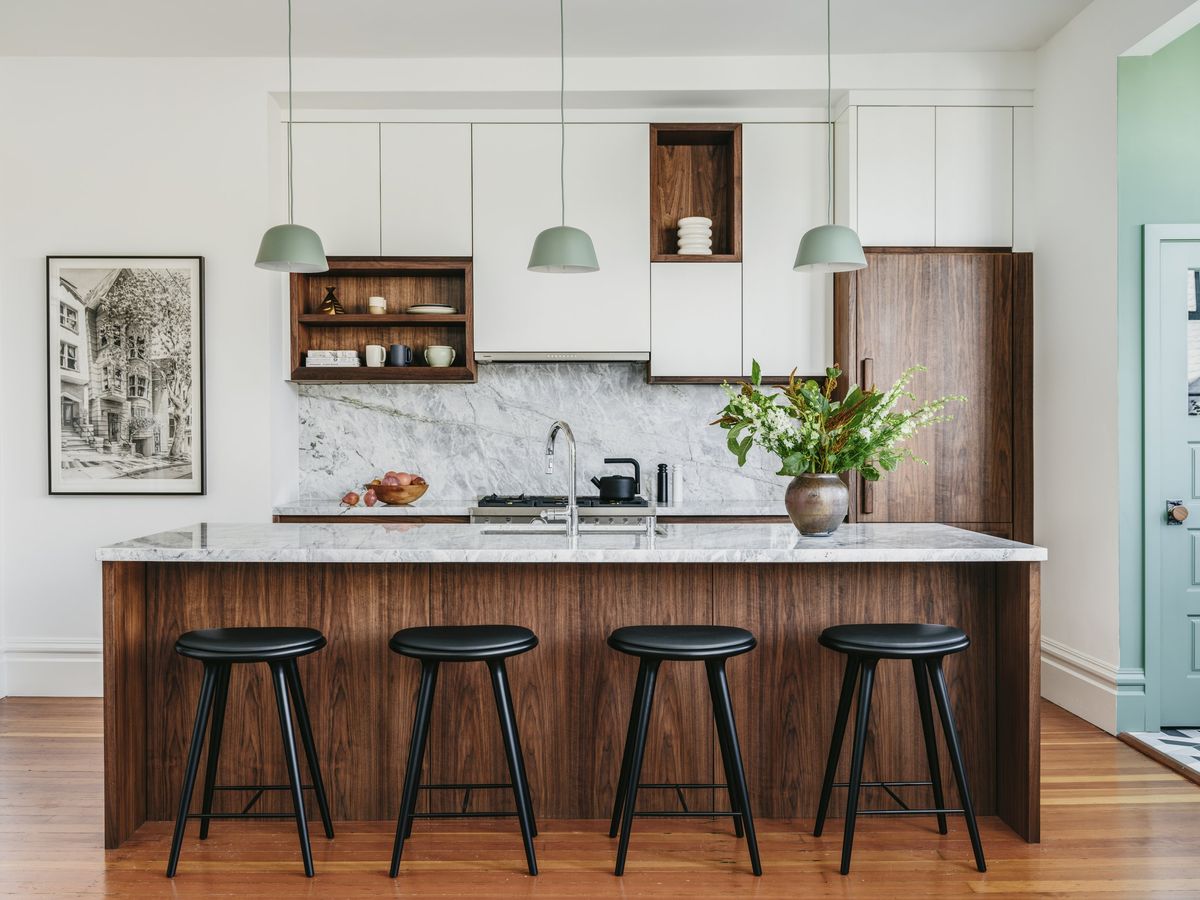 Kitchen island centerpiece ideas are a stylish way to elevate what is a focal point in your kitchen design.
While kitchen islands provide a primarily functional purpose, they also offer a multitude of ways to inject creative flourish, color, texture and character into the space.
'With a newfound appreciation for the finer, more decorative details at home, there has been a huge surge in popularity for embellishing a kitchen island or peninsula,' Helen Pett, Design Ambassador at Arteriors.
'Statement vases and centerpieces have become the transformative home accessory, easily added into an existing décor scheme to complement and accentuate your interior style and character. When choosing what accessories to incorporate, consider the material as well as color of your countertop – marble and other stone materials pair well with wooden accents like fruit bowls or decorative boards and rattan – often also used in kitchen island lighting – and can help a room feel airy.'
Kitchen island centerpiece ideas
As well as lifting your kitchen decor scheme, centerpiece ideas can also make your kitchen island look more expensive. Discover nine expert-approved kitchen centerpiece ideas below for the ultimate inspiration.
1. Try a mixed pairing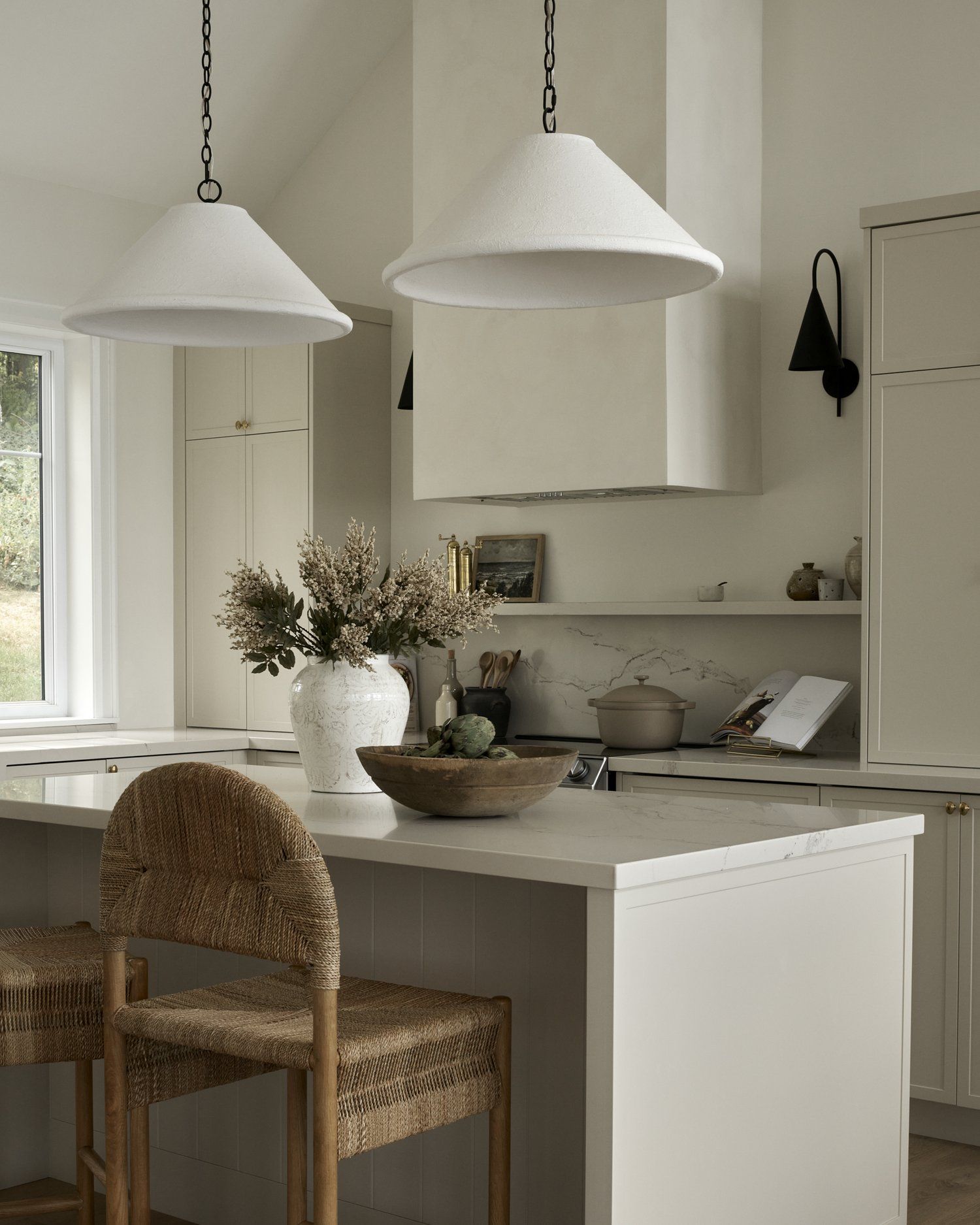 Doubling up on your kitchen island centerpiece ideas allows you to add variety and visual interest with different materials and heights of your objet.
Using two pieces doesn't have to be too fussy, either – you can make a statement and keep it pared back at the same time.
The stylish centerpiece above was created by Tiffany Piotrowski (opens in new tab), Principal Designer at Tiffany Leigh Designs.
She says: 'We love to style an island simply, yet beautifully. We skip the clutter and usually go with a large vessel filled with tall, seasonal branches, paired with a vintage dough bowl.'
And what should you put in the bowl for pretty styling? Tiffany says: 'Food makes a great styling tool – whether we fill the bowl with rustic artichokes or a crusty piece of fresh bread, food makes an island feel homey and loved – and it's practical, too.'
2. Showcase a statement vase and branches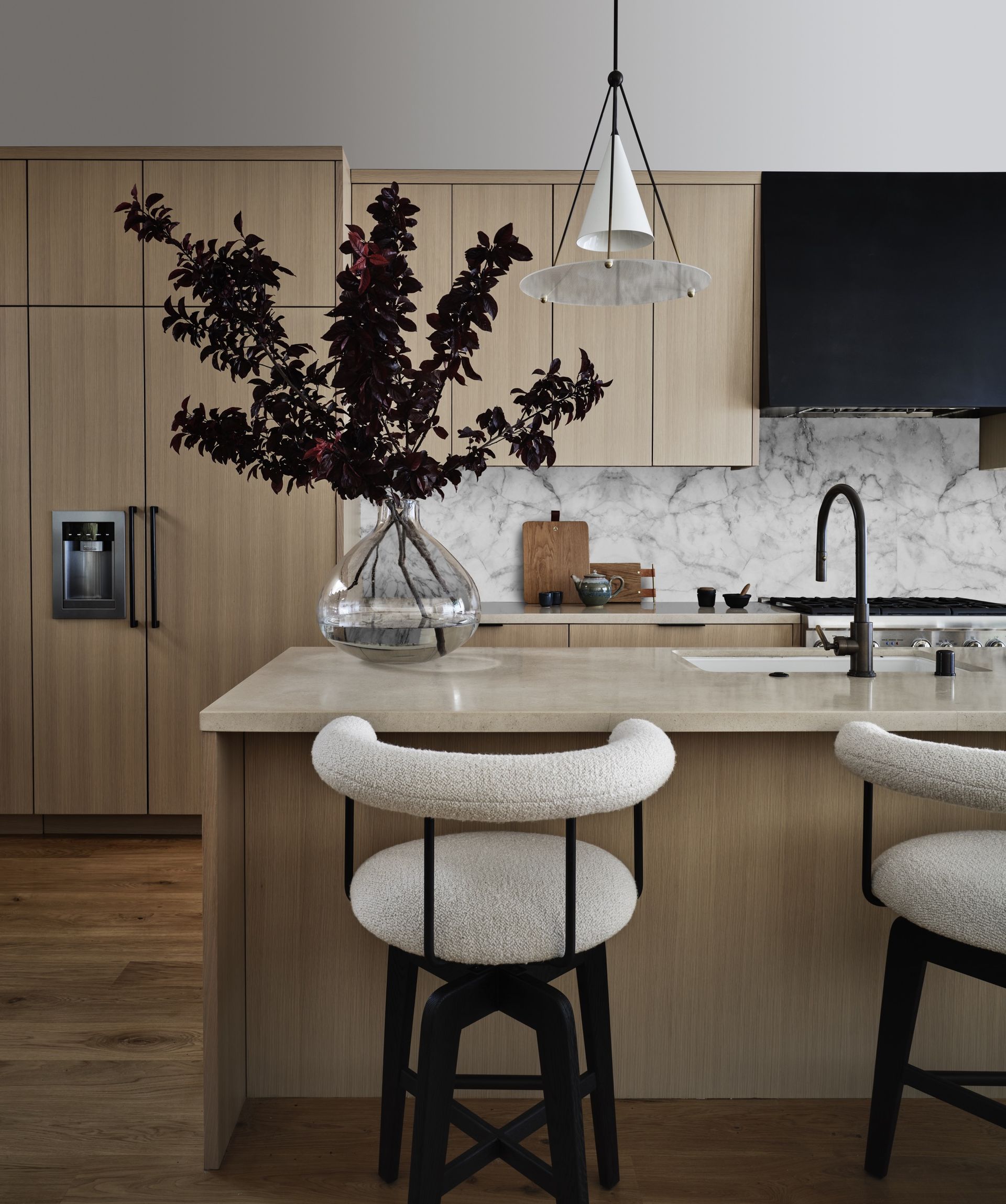 Swap out flowers for an oversized branches display to create a kitchen island centerpiece idea that's modern, sleek and organic.
Kristen Pena (opens in new tab), Principal at K Interiors, chose the beautiful glass vase and branches with richly hued leaves above for an inviting display that gives a statement yet sleek nod to the outdoors.
'I love a big vessel with large dramatic branches,' she says. 'I've never been an arranged floral person, but give me leaves or branches, and I'm in love.'
And Liz Caan (opens in new tab), Principal at Liz Caan & Co, adds: 'If you have the ceiling height, some fresh branches that have been foraged with buds to bloom can make a kitchen feel alive… Especially in the spring.'
3. Style up a vintage dough bowl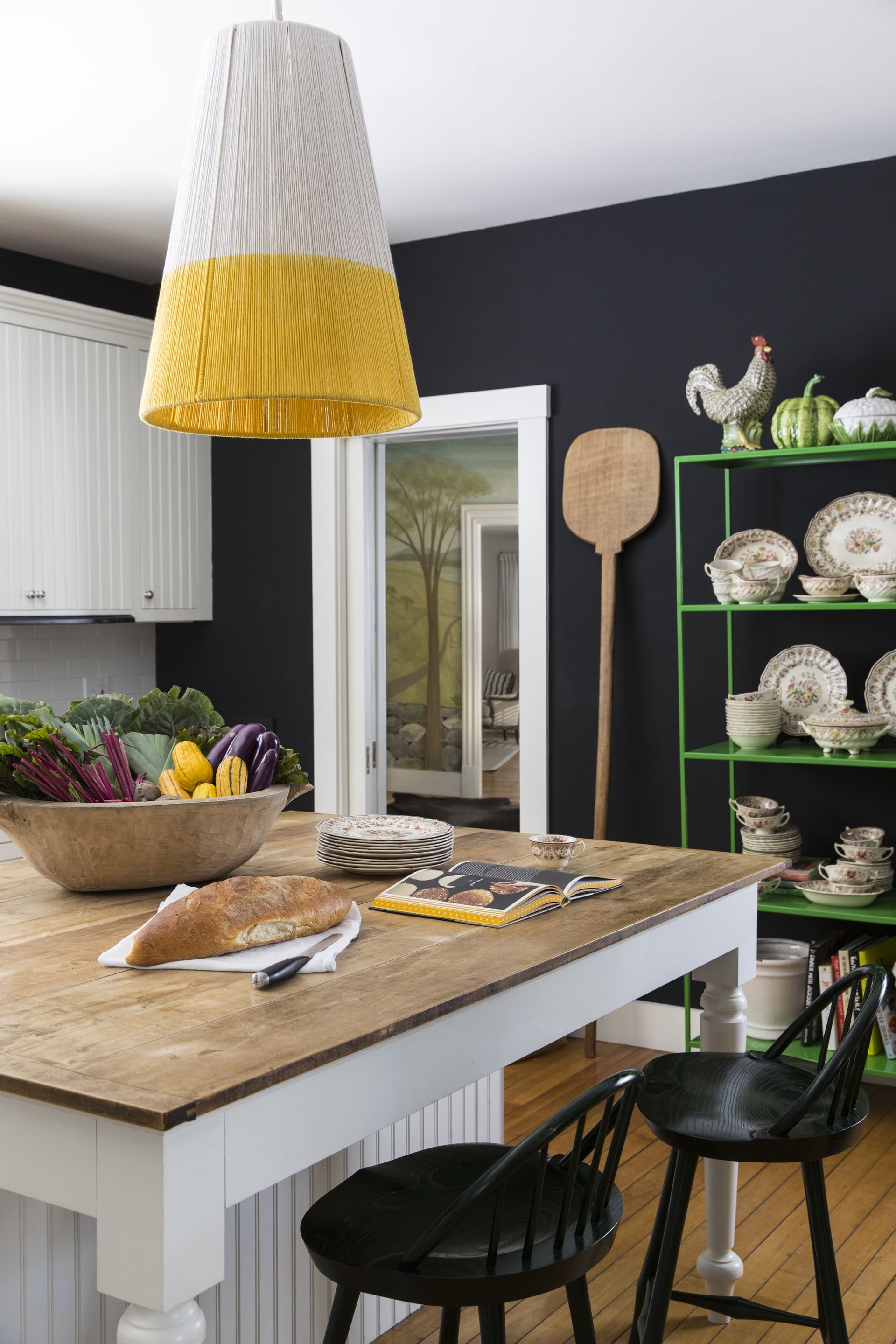 'Vintage dough bowls and troughs are wonderful on an island,' says Liz Caan.
'A large vintage dough bowl filled with fresh fruit and/or vegetables is a pretty way to add color and style the look.'
She adds: 'The style of the home and the kitchen play a role as well. Sometimes more contemporary bowls or centerpieces look nice in a rustic home and visa versa… A nice patina on an old trough adds interest to a contemporary kitchen.'
And, if you want to keep the styling neutral, dried moss or artichokes are also a lovely way to add greenery to the space, as well as character and an on-trend organic vibe.
4. Get back to basics with a fruit bowl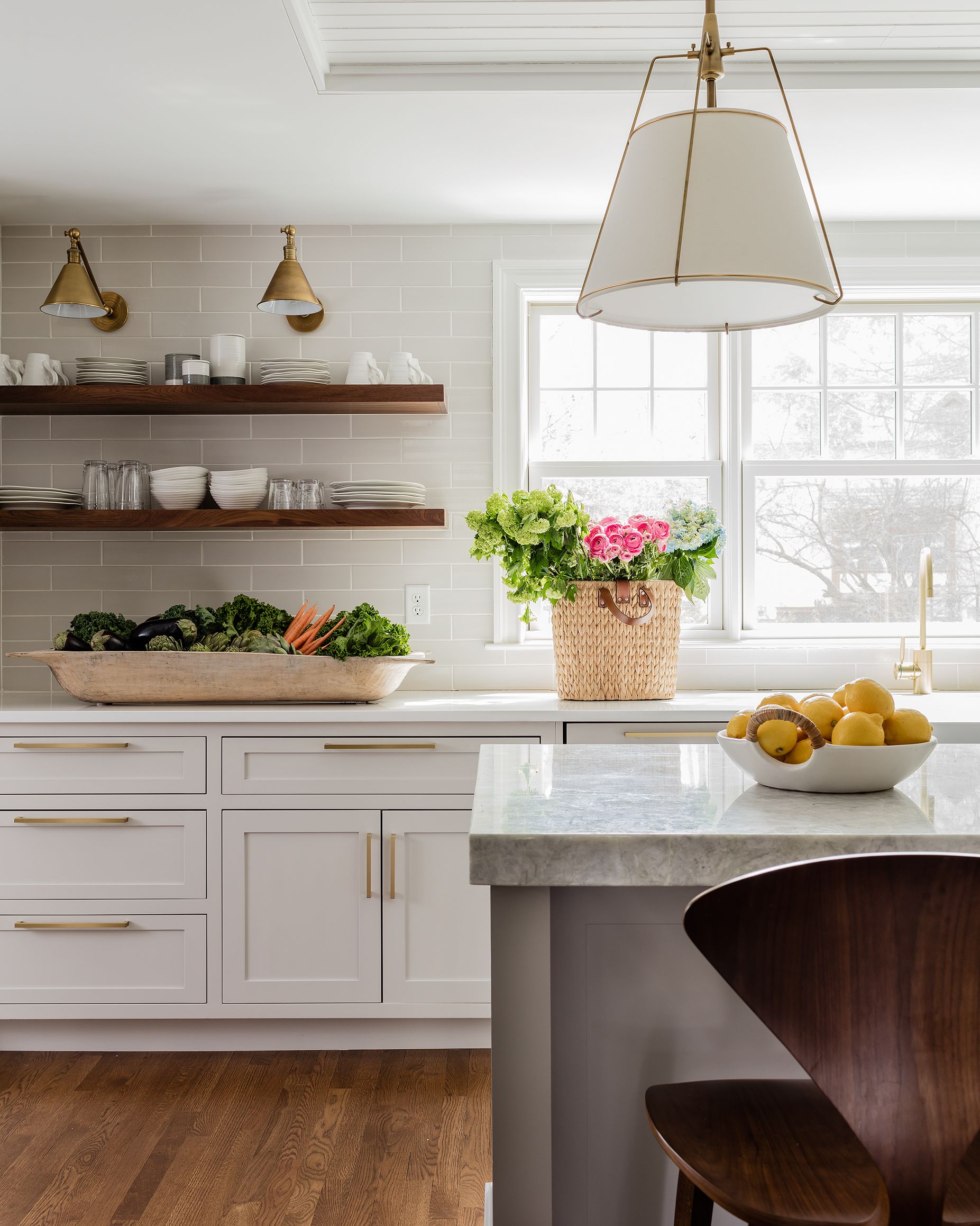 'I love a bowl of fruit moment, mostly because it can add color and texture, but also indicates that people live in the space,' says Kristen Pena. 'I like homes that feel accessible and inviting.'
Keeping it simple is also a good idea if your kitchen island has a sink in the center already, says Liz Caan.
She says bowls even work for small kitchen islands: 'I always consider the size of the island, the function and the material first. If an island has a sink or a cooktop on it, I generally keep it simple with just a fruit bowl, a vase of flowers, or a plant so as not to interfere with the program.'
And Anna Popov (opens in new tab), Principal at Interiors by Popov, is also a fan on the fail-safe fruit bowl, adding: 'A favorite styling option of ours is to use a collection of wood, glass, and/or metal bowls of various sizes on the island. These can be filled with fruit and veggies that are best stored at room temperature. It's functional and very pretty.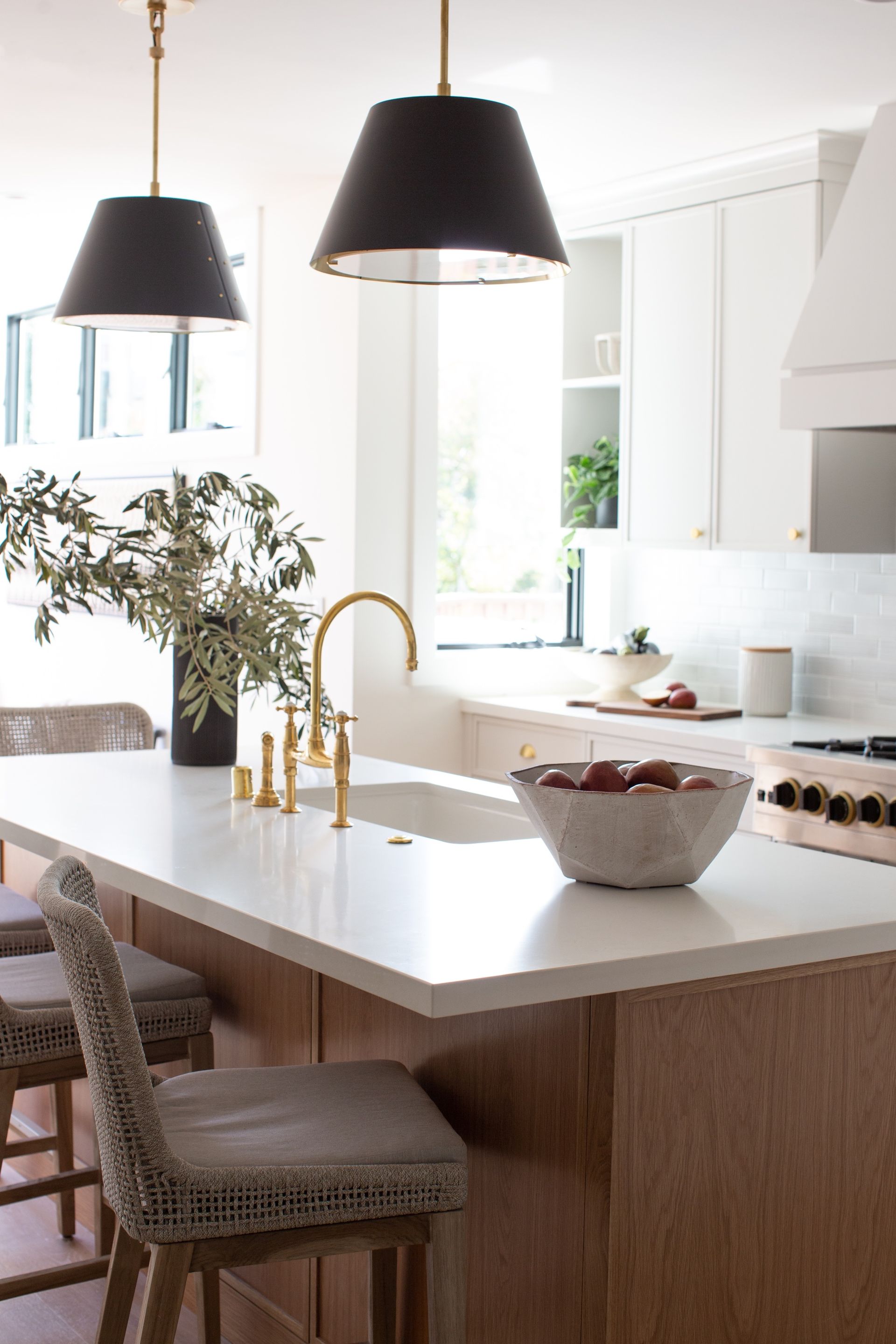 5. Choose an antique piece for a unique look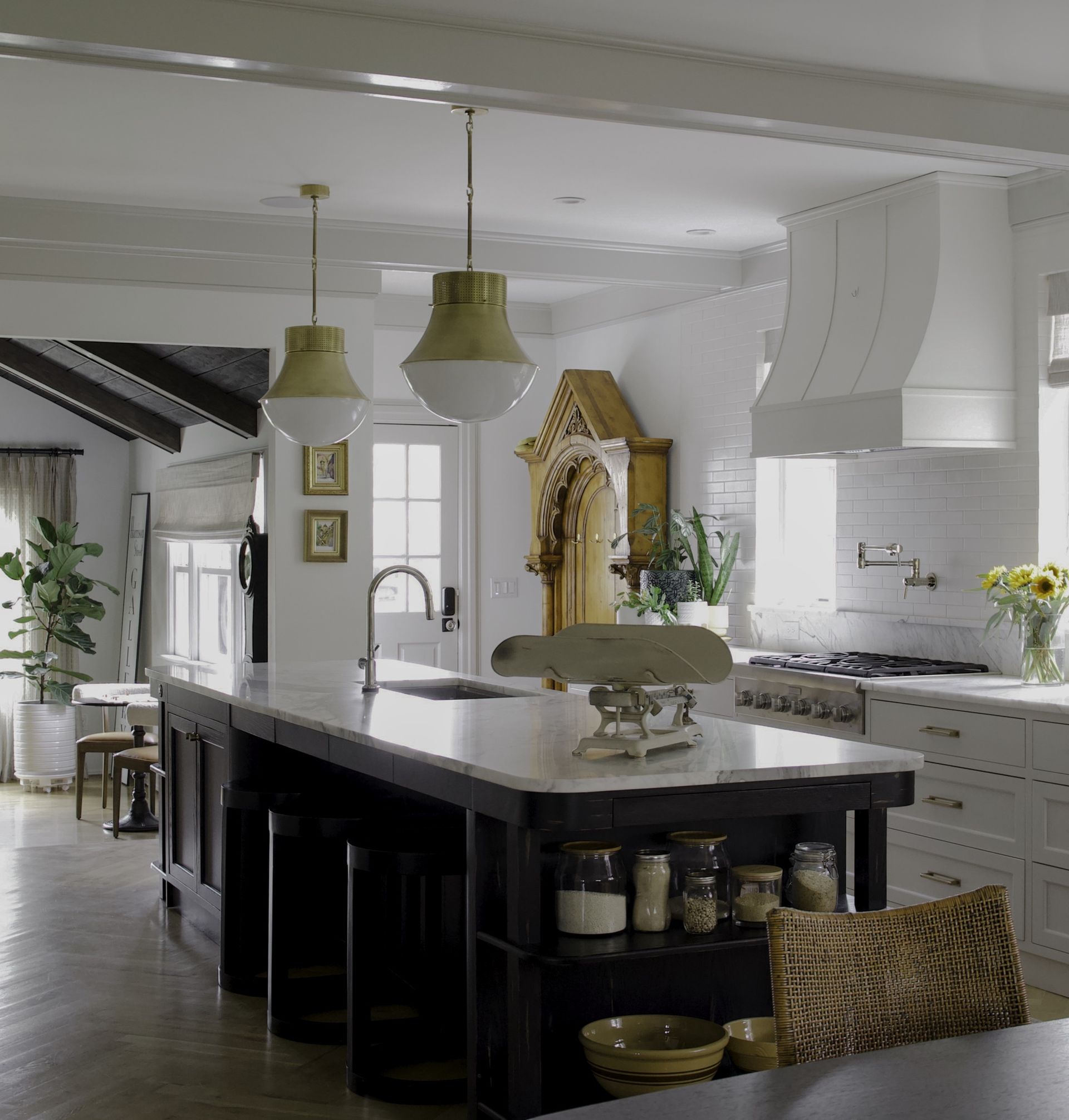 Create an eclectic, unique look for your kitchen island centerpiece ideas by making  an antique or vintage find the star of the show.
'For larger islands, we recommend going for bigger statement pieces or something a little more daring,' says Anastasia Harrison (opens in new tab), Principal at AHD&Co.
'We found this antique baby scale for this historic home restoration and new kitchen;  the piece works perfectly as a catch-all for fresh fruits and vegetables.'
She adds: 'Sometimes styling an island with pieces not typically considered add a bit of charm and function.'
6. Create a cozy aesthetic with cake stands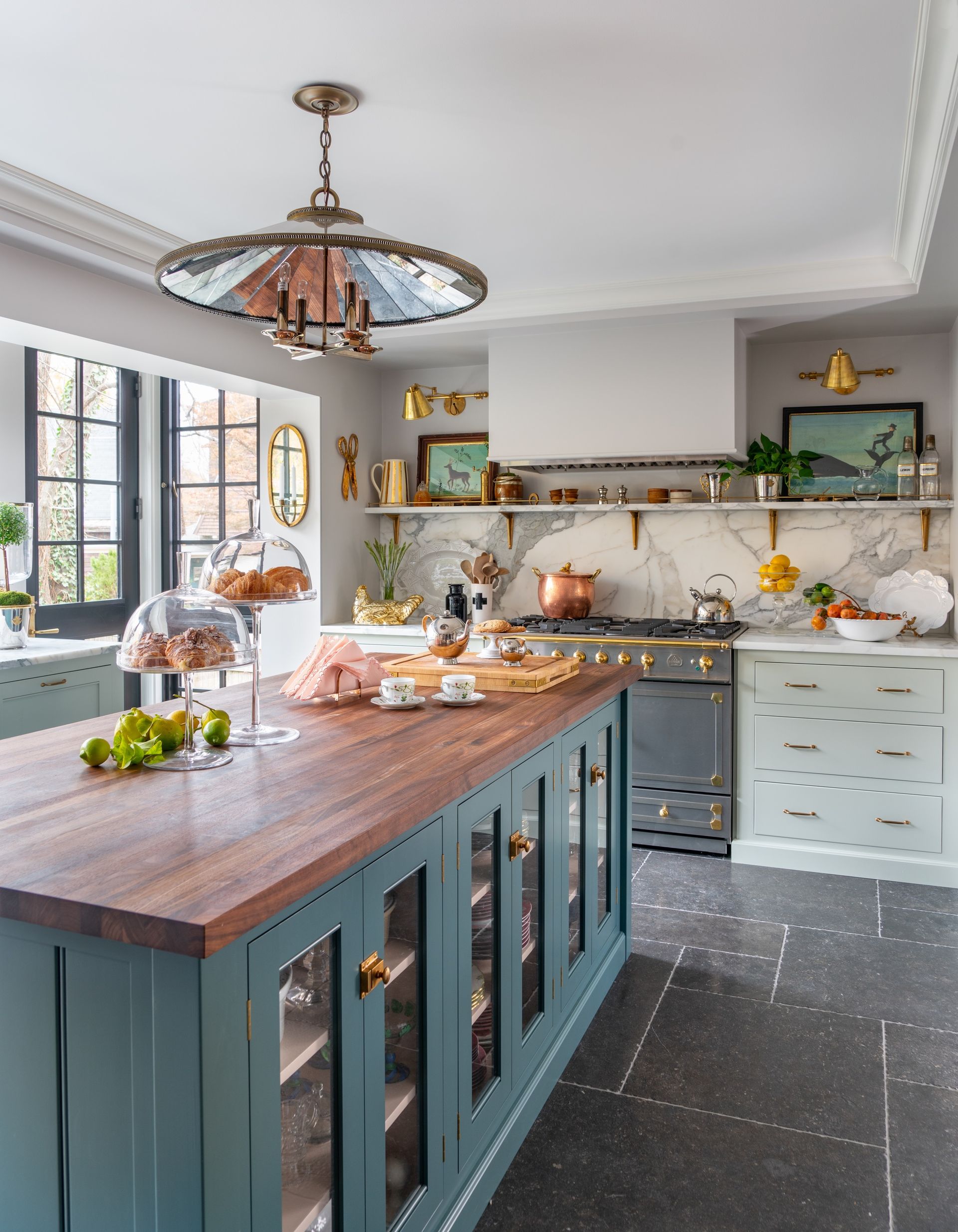 One of Liz Caan's favorite pieces to style a kitchen island? 'Cake domes at different heights filled with goodies,' she says.
Pair them with a pretty vintage tea set for an inviting look that's also visually interesting.
And Kristen Pena loves the look too, commenting: 'Pair large branches, or one other styling piece or vessel, with a vintage cake plate or two, and the island feels complete.'
Liz also notes that the kitchen island countertop material may inform what she uses as a centerpiece. She adds: 'If the island top is wood (as seen above), then I opt for glass, sterling silver or even a marble pedestal or bowl to hold things in.'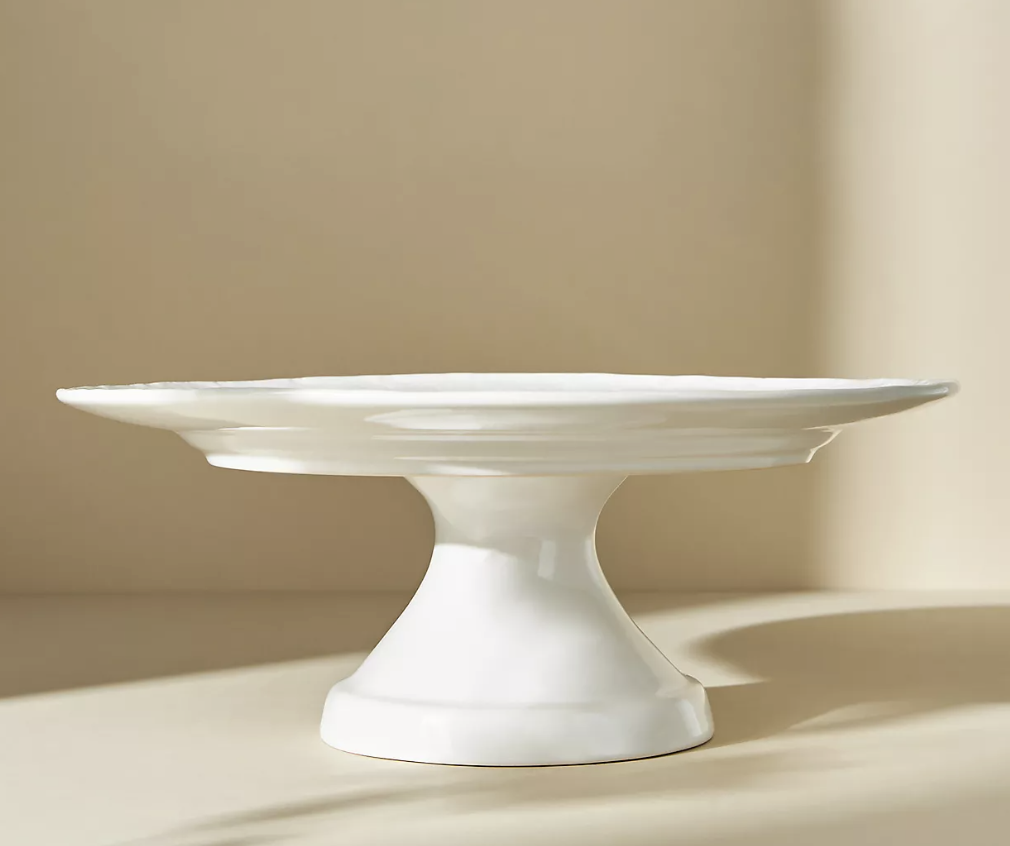 $78
(opens in new tab)
7. Display three vessels at varying heights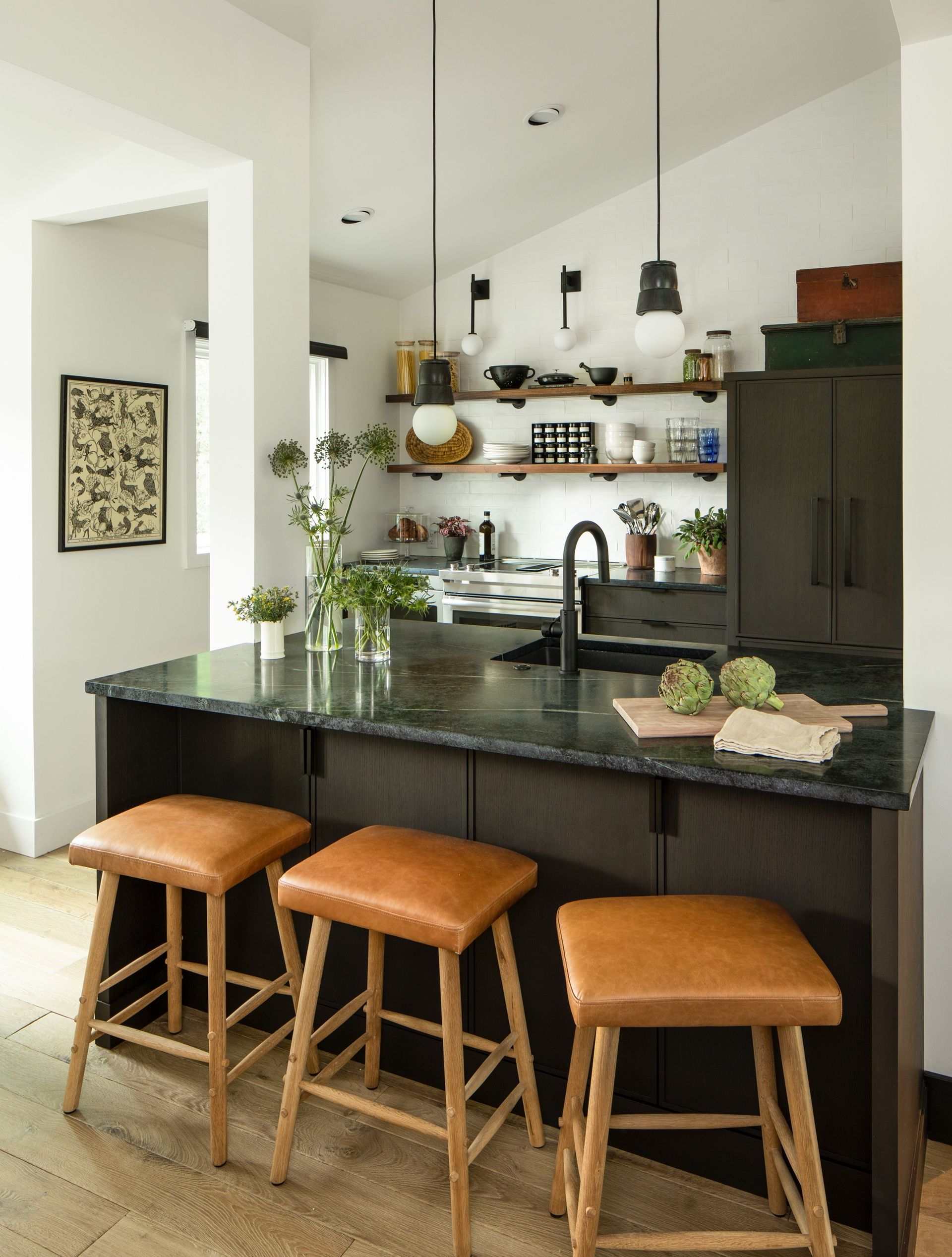 The rule of three in interior design is a styling trick that suggests grouping items in odd numbers (especially three) is more pleasing to the eye, as it's more visually interesting.
Displaying three vessels together at varying heights is the perfect solution for a kitchen centerpiece idea.
You can opt for glass vases, as seen in the sleek kitchen by Liz Caan & Co above, or choose clay pots or ceramics.
Liza says: 'A grouping of terracotta pots with myrtle topiaries in varying heights is always fun.'
8. Keep it practical yet pretty with a tray display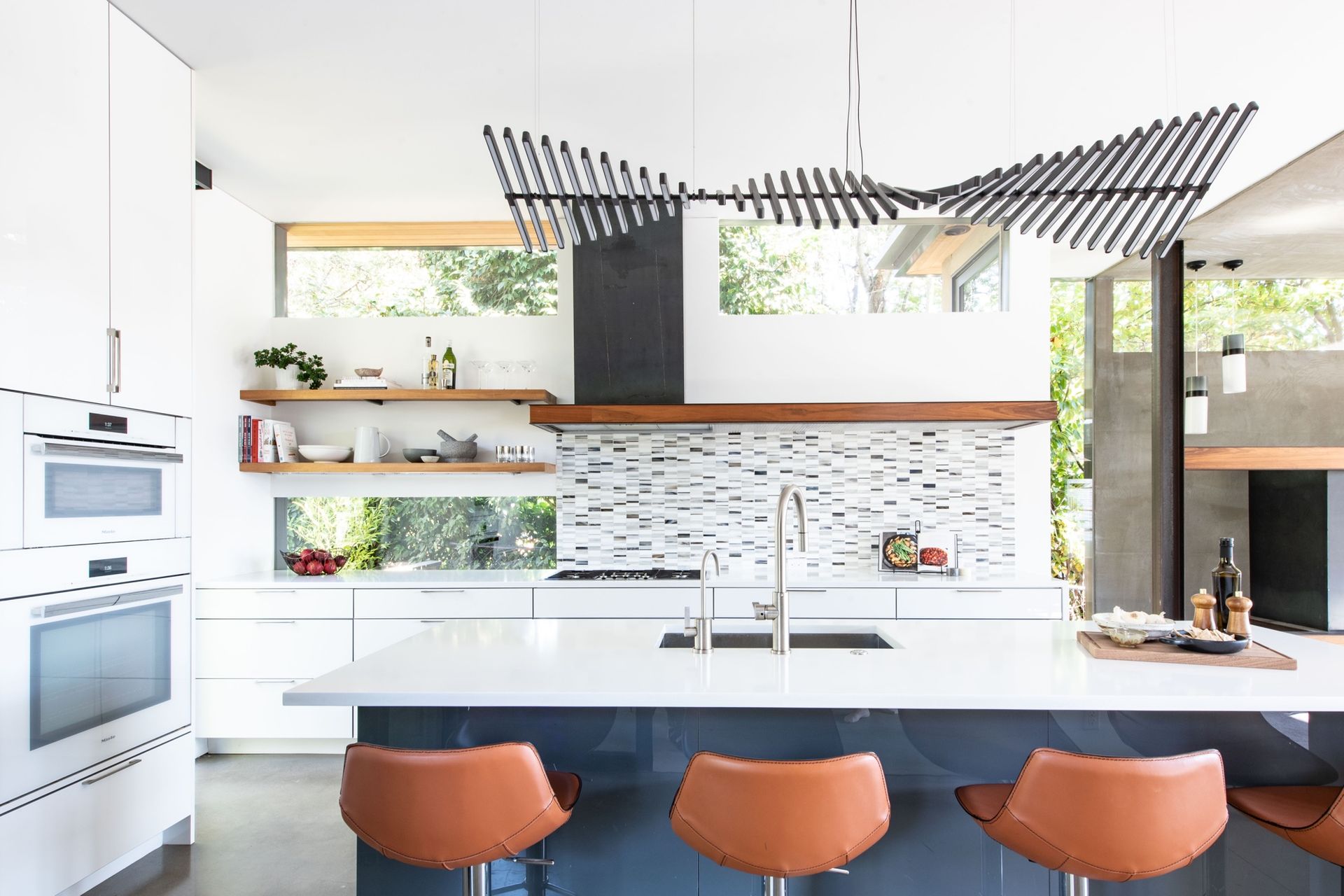 'There is a big difference between styling an island for a photoshoot and styling it for real life and everyday family use,' says Anna Popov.
'For daily use, we like to stick to practical arrangements and use functional items to double as styling props and centerpieces on the kitchen island.'
This functional can have form, too. Anna tells us how, adding: 'If you have multiple items that you often use and need to keep easily accessible, we recommend grouping them together on a stylish tray. This can be items such as oil and vinegar, salt and pepper, and your staple condiments. 
'Placing these items on a tray or wooden board transforms them from just an everyday product to a chic and functional centerpiece for your island.'
You can also pretty up your tray of objet a little further by adding in a pot plant or candle.
Liz Caan says: 'I like to add candlelight in the form of candlesticks or glass hurricanes to an island for more ambient light… Always balance proportion as well, so as not to overwhelm or underwhelm.'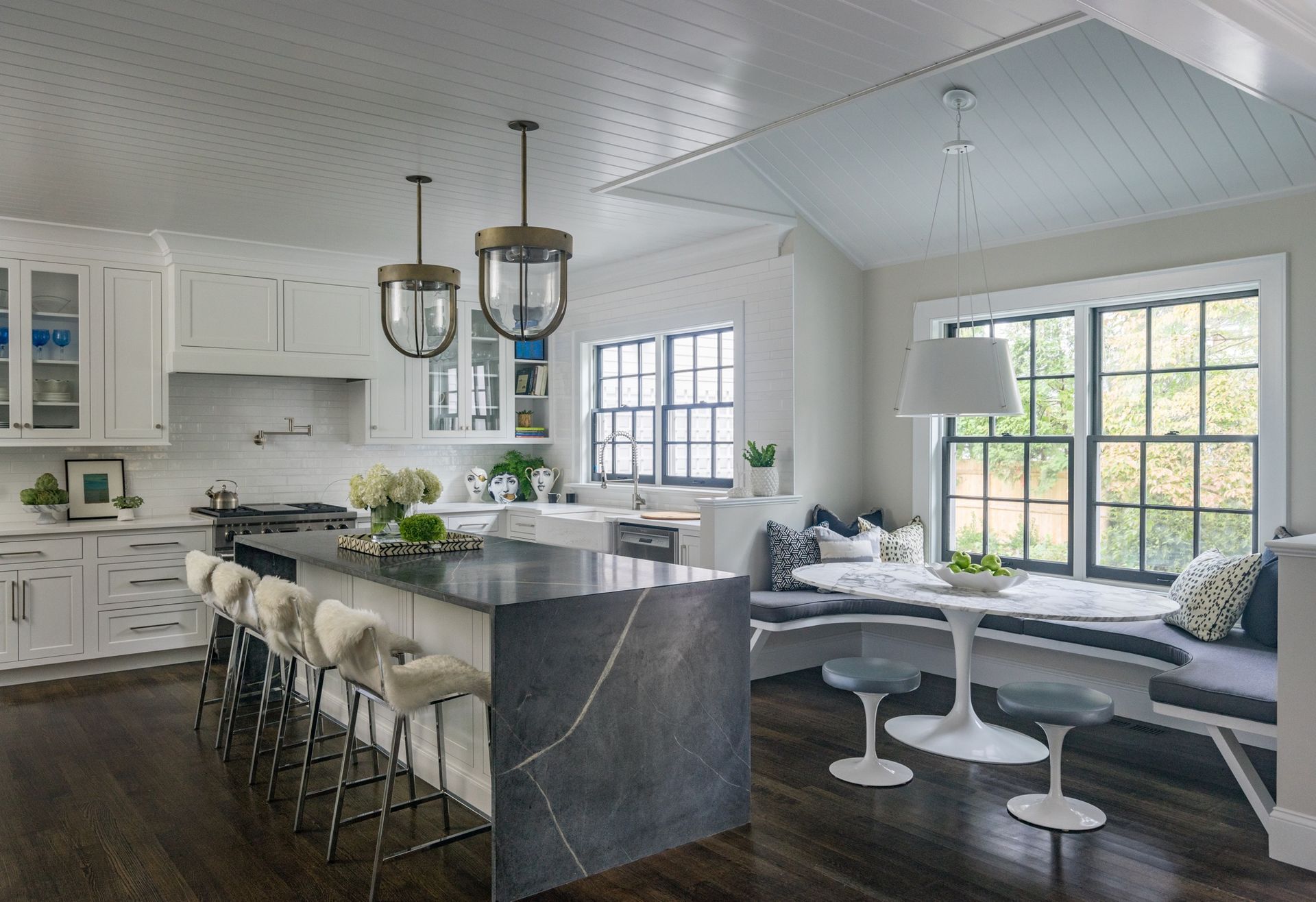 9. Opt for symmetry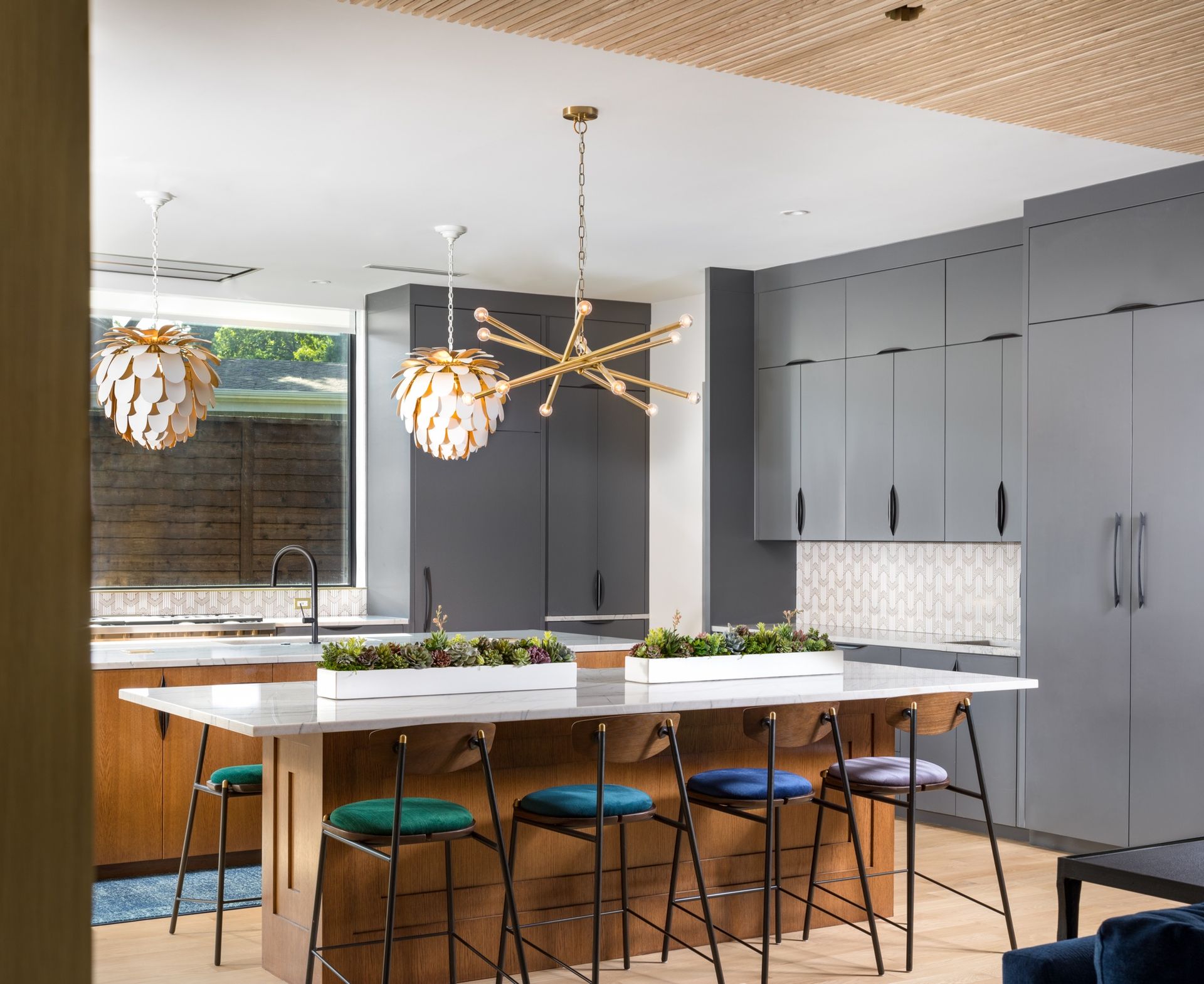 While asymmetry in design can read as fresh and dynamic thanks to its unexpected visual, symmetry in kitchens, whether it's in kitchen layout ideas or styling, creates a clean, timeless and calming space.
The elegant kitchen by Maestri Studio above shows how using two of the same items as an island centerpiece works to channel an elegant aesthetic that's relaxing and stylish at the same time.
The linear vessels are filled with succulents, which breathe life into the room and bring the outside in, giving a nod to the biophilic design trend.
Eddie Maestri (opens in new tab), Principal Architect, Creative Director, and Owner of Maestri Studio, says of the look: 'Thin, long vessels such as these are a great way to add some decadence to a kitchen island without being too distracting. The low profile allows guests to easily see those across from them for uninterrupted conversation. 
'Add some greenery with succulents; we love how easy they are to care for and the life they add to a space.'
How to decorate a kitchen island countertop: What to consider
When it comes to learning how to decorate a kitchen countertop, what you put in the center of the island may be influenced by a number of factors, from countertop material to kitchen island size.
Think about the style of your kitchen
'Accessories can really change the tone of a room,' says Kristen Pena. 'A rustic vessel in an otherwise modern kitchen creates a potentially different vibe, adding character and warmth.'
To add depth and variation to your scheme, it's a good idea to mix up materials for visual interest.
One that Anna Popov suggests to do is keep things pared back across all decor themes. She says: 'Regardless of the style, our word of advice is be minimal in your styling. Using less is better. Limit yourself to one or two items overall and keep the rest of the counter clean.'
Consider the countertop material
When choosing what to use to decorate your kitchen island, consider whether you want to add dimension with differing materials, or keep things streamlined with a matching color palette.
Anastasia Harrison, of AHD&Co, says: 'We found that matching the countertop material to the styling pieces can create a cohesive look. 
'For example, a marble island looks great with white ceramic pieces filled with flowers of the season.  If you have a wooden countertop, warm tones like copper or brass work well.'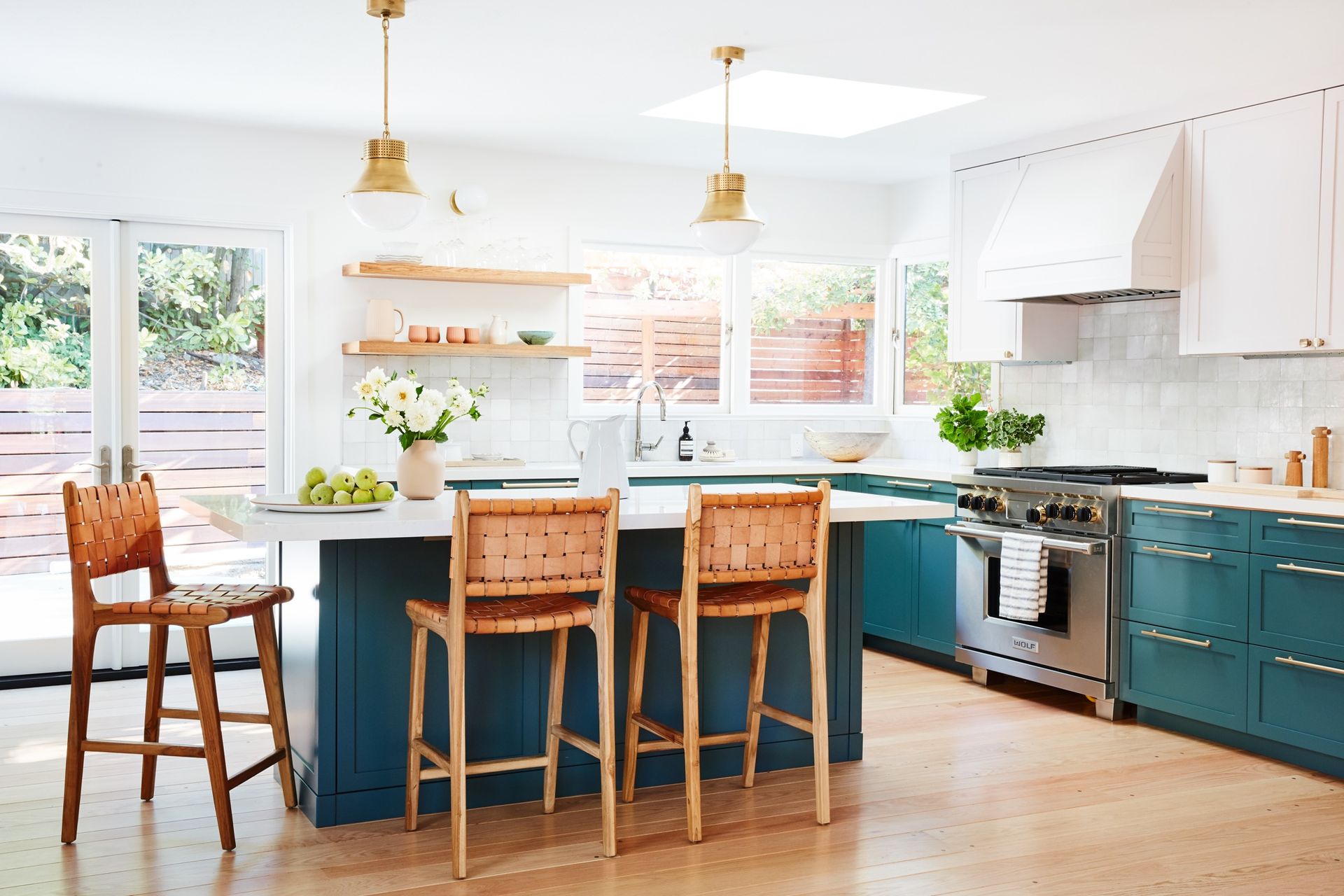 Anna Popov, of Interiors by Popov, says whether you contrast or not is personal preference. 'The countertop material does make a difference, but there are no hard-set rules,' she explains. 'It depends on the overall mood of the space and how dramatic you'd like your final result to be. Dark wood and dark ceramics can look wonderful on dark countertops but it's harder to achieve a visual balance that way. However, when executed properly the result is very appealing.'
And Kristen Pena, of K Interiors, comments: 'Material, color and texture all come into play. We like to make sure there is a nice balance of different materials.
'In my opinion, ceramic and glass vessels are usually great because they can pair with wood or stone countertops.'
The timeworn patina of the old milk jug used as a vase in the kitchen by Amy Sklar Design (below), ties in perfectly with the modern farmhouse style of the vintage rug and reclaimed island top, but contrasts the glossy tiles and modern kitchen pendant lighting, creating just the right blend of styles to make the room feel balanced yet interesting.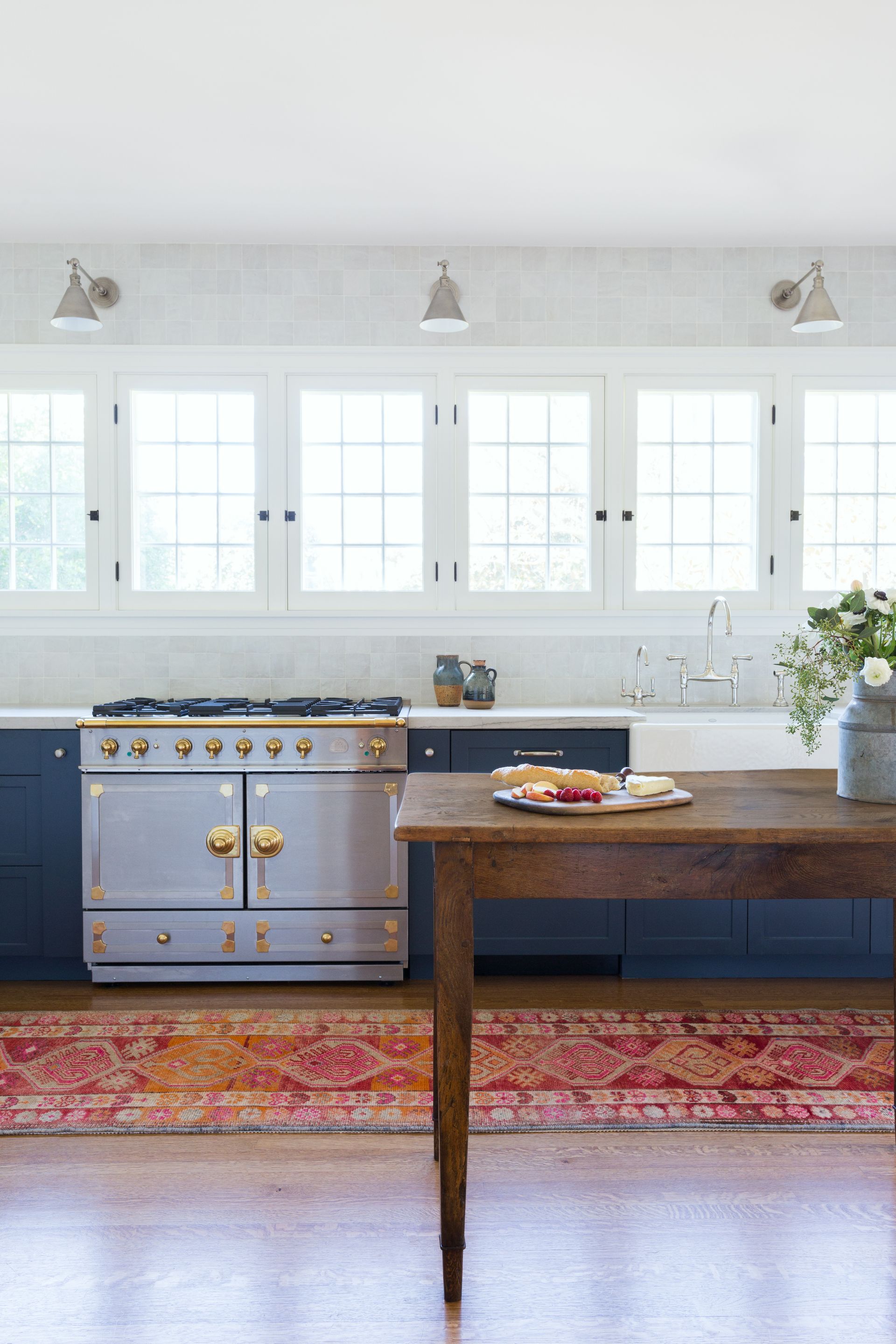 Take the size of the island into account
'The difference between styling a large kitchen island and a small one is in the scale of the styling items,' says Anna Popov. ;You can go with a larger, more substantial arrangement for a larger island, but we wouldn't necessarily use more pieces.
'We find that, when it comes to styling, it's better to come at it with a minimalistic approach.'
However, if you have a small kitchen island but love to make a statement, a vase and large branch display will still work wonders.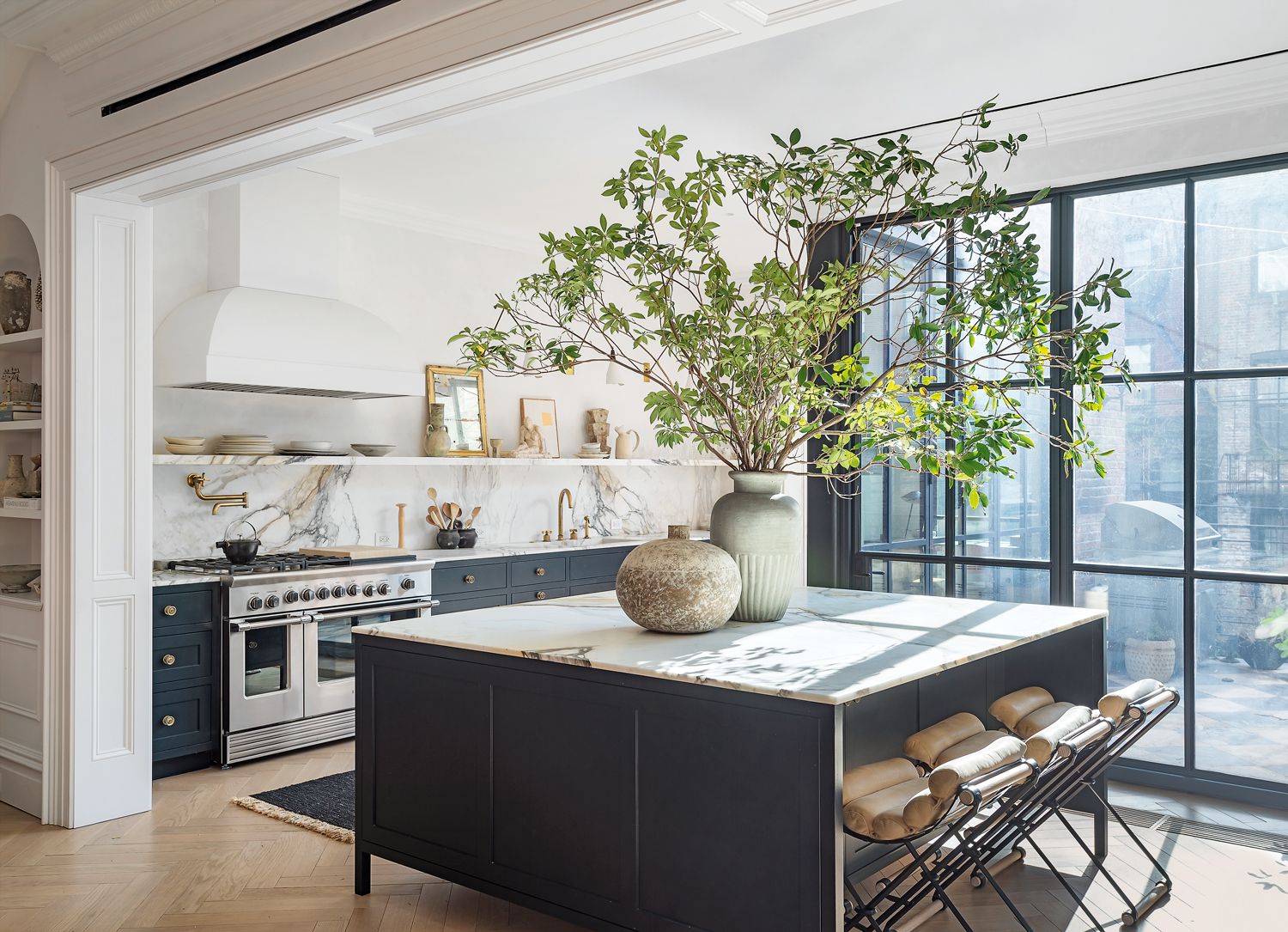 What do you put in the center of a kitchen island?
You can never go wrong with a vase of flowers in the center of a kitchen island. Whether you choose a neat selection of roses or peonies, or opt for an organic looking bunch of wildflowers, a floral display will always make a kitchen island look better.
'Displaying a gorgeous bouquet of flowers as a kitchen island centerpiece is classic for a reason,' says Eddie Maestri. 'Flowers inject life and color into the space, immediately elevating the feel without occupying too much counter space.' 
Anna Popov, Principal at Interiors by Popov, adds: 'It is always a good idea to keep a vase with fresh flowers or some branches on the countertop as it adds color and interest.'