That $317 million Madison School District voters approved in 2020? We're starting to see what it bought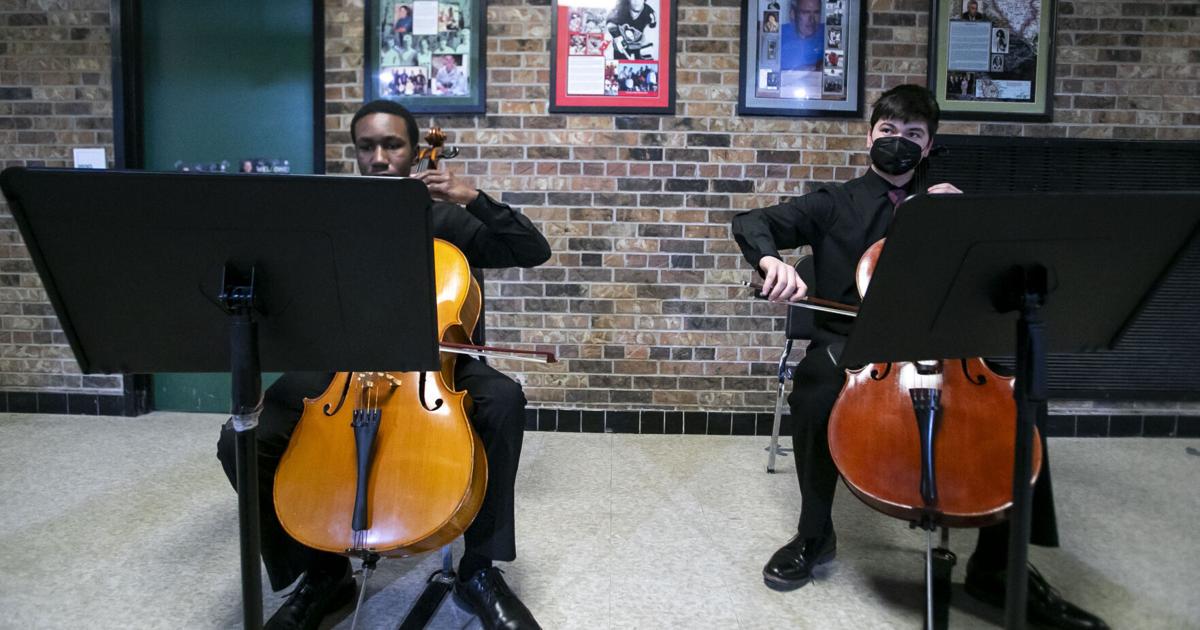 A month ago, music students at Vel Phillips Memorial High School were playing music in spaces that weren't made for it. Music rooms were cramped and dark — choir students didn't have any windows — and the acoustics were all wrong.
"Every time we would sing in there, we were like, 'It is so dead, we can't hear each other, we can't be in community with each other,' and it was just dark and dull and not cool," said senior and choir student Julia Mockert. "It wasn't fun to be in there."
During the past few weeks, though, Memorial's band, choir and orchestra have moved into a new space, intentionally designed for them, from the acoustic panels on the walls and ceilings to instrument lockers and, yes, finally having windows.
"Practicing in here has just been a delight," junior violinist Jayda Smith said. "When you walk in and you see the beautiful sunrays and you hear the music, it's just so beautiful."
"The panels on the wall make it sound really good, and I just love playing with everybody," Smith said. "It's just a different experience, and it's just full-out awesome."
Memorial's new music wing is among several projects made possible in November 2020, when voters in the Madison School District approved a $317 million capital referendum to build a new elementary school and fund significant high-school renovations.
Construction started around the district in 2022, and now all those plans are yielding real, tangible changes.
All four comprehensive high schools are undergoing renovations, including a new pool and gym at West, a new entrance at La Follette, and a cafeteria and music addition at East. A new elementary school is also being constructed on the South Side, and Capital High School is moving under one roof.
Most of the high schools started out this school year with some classrooms, bathrooms and offices already renovated. Now other, bigger projects are beginning to take shape.
Work at Capital High School is expected to wrap up this June. The district expects the new South Side elementary school, known for now as Rimrock Elementary, to be ready in August, just in time to welcome new students for the fall.
Work at the four main high schools won't be completed until August 2024, but already there are plenty of changes.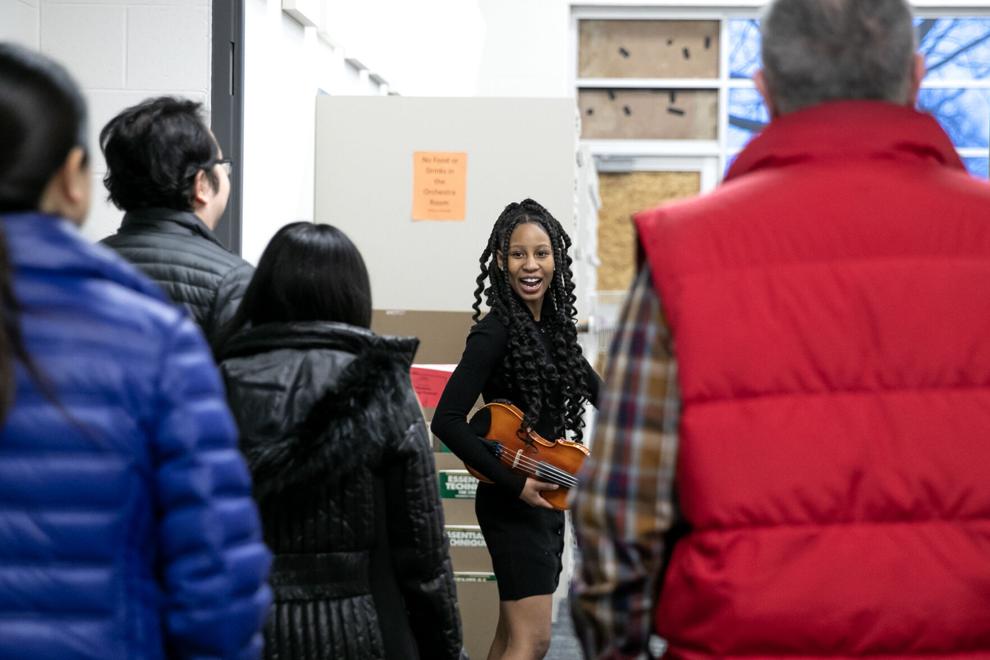 Memorial High School
During an open house on Wednesday, Memorial music students proudly showed off their new space, intentionally designed for band, choir and orchestra. In addition to the classroom changes, the space is outfitted with new practice rooms, a central lounge and plenty of locker and storage space.
"We all feel a sense of pride to be here and be in a pretty space," Mockert said.
Daniel Hutton, a junior trombonist, and his brother, Jamie, a freshman trumpet player, believe the new band room is making them and their fellow bandmates better musicians.
Their parents, Anne and Jeremy Hutton, are grateful the community supported the referendum, especially after the COVID-19 pandemic disrupted school life.
"It shows a dedication to the arts that I'm glad to see," Jeremy Hutton said. "And for them to be able to play together with other students, especially after COVID, and play beautiful music, that's been really important for them, I think."
In addition to the new performing arts space, renovations on the second-floor math and science classrooms, and locker rooms and bathrooms near the fieldhouse have been completed.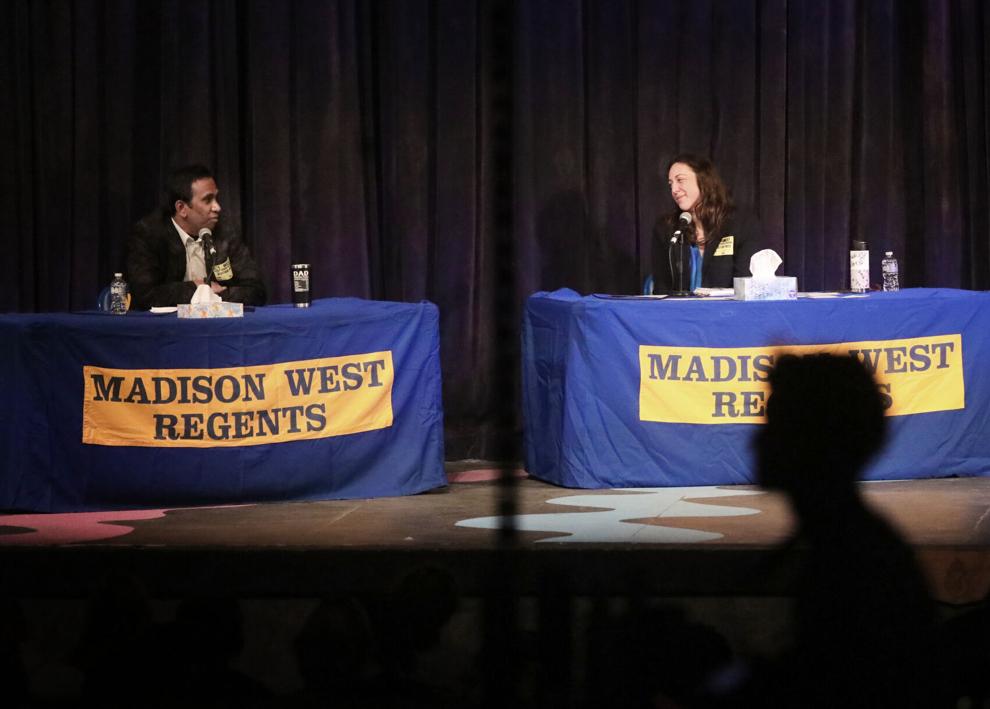 Work is nearly complete on the new arts and technical education additions, as well.
The arts wing will have four new classrooms and will include a ceramics room, a kiln for both clay and metal projects, and a variety of metal and glass-forming equipment.
And the technical education area will have an overhead door for students to bring large materials or projects in and out, and it will be equipped with new tools, including a large router table and welding booths.
Memorial's athletic facilities also will get a facelift, including a renovation to Mansfield Stadium with artificial turf, upgraded locker rooms and changing areas.
The library will be renovated, and six additional classrooms will be added to accommodate the projected 750 additional students expected at Memorial by 2038.
Work on the visual arts and technical education wing is also nearly done, according to Findorff, the construction company handling the district's projects.
The next phases of construction are underway. Walls will soon go up for the new school store and Summit Credit Union branch, which are expected to be completed by fall.
There's demolition, too, for the next phase of locker room renovations, and in the school's boiler room to make room for a new heating, ventilation and air conditioning system, as well as new plumbing equipment, which will all be installed this summer.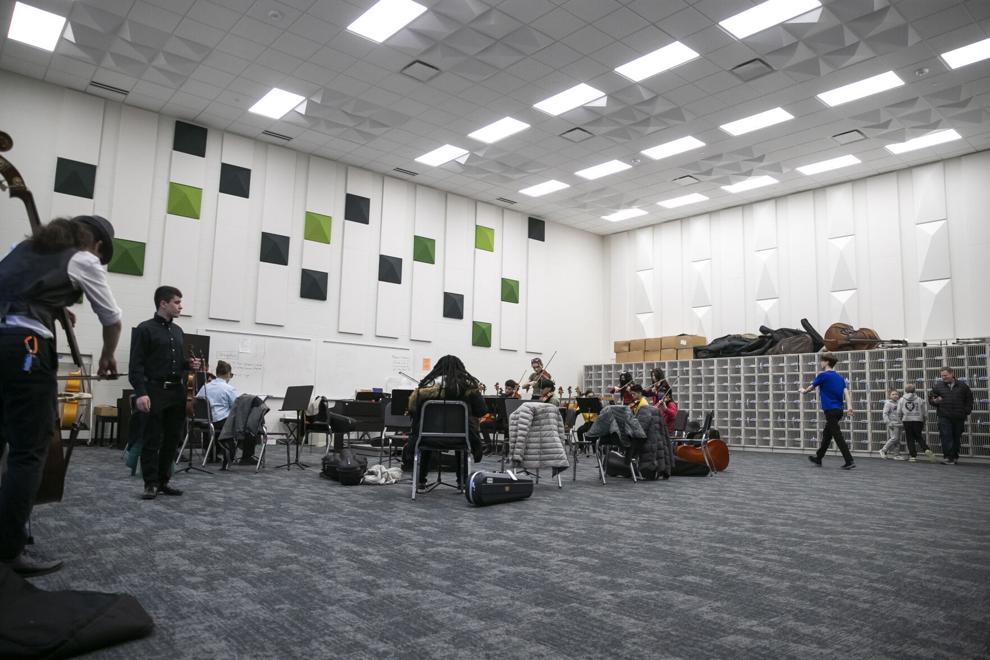 Capital High Sc
hool
Capital High students are now scattered across two sites, but soon they will have a single building on Madison's Near West Side.
The alternative high school is moving into the Hoyt School building at 3802 Regent St., and renovations are underway. Capital High, which currently has about 190 students, will be able to accommodate up to 300 in its new location, and will have a culinary classroom, a gym and space for individualized instruction.
The building is getting a new layout, a new elevator and other updates to make the building compliant with the Americans with Disabilities Act. Crews are about to begin mechanical, electrical, plumbing and fire protection work, and new boilers and air handling units will be installed.
New windows and roofing will be installed this spring, and a new elevator is being added.
The renovations will be finished off with wooden siding, matching the façade of the existing building and the natural elements of nearby Hoyt Park.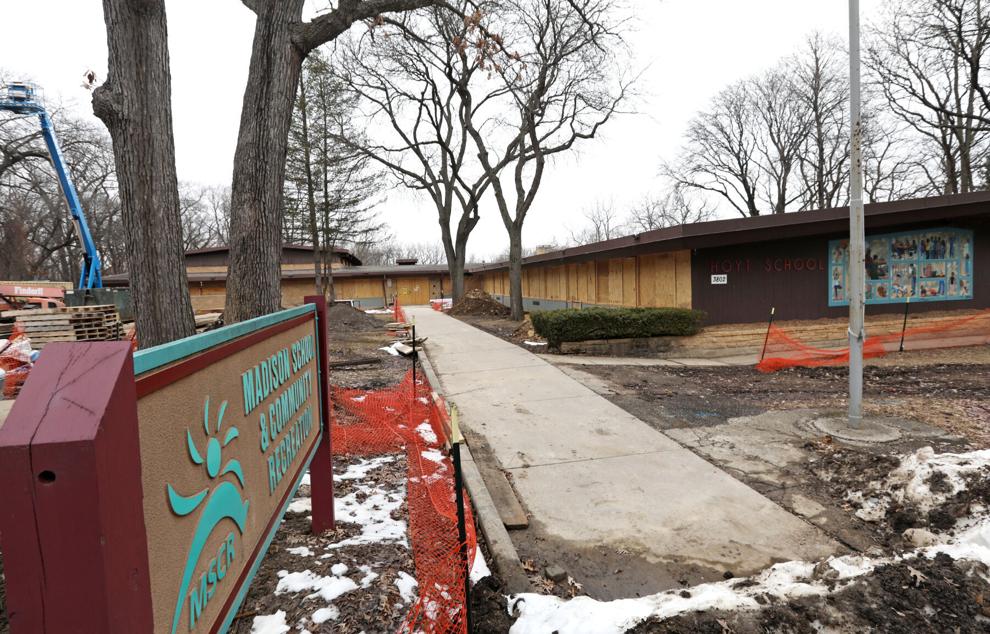 West High School
At West High School, renovations to some bathrooms, locker rooms and classrooms have been completed.
There will be a total of 20 phases of construction at West. 
One of the biggest projects is an addition at the corner of Regent Street and Highland Avenue that will include a new pool, gym and locker rooms. The exterior walls are up, and roofing is in progress. Inside, mechanical pipes and ductwork have been installed, and crews are preparing to pour the concrete for the bottom of the pool.
An expansion along Ash Street will be home to a new welcome center and serve as the main entrance.
Elsewhere in the building, classroom renovations on the third floor continue, including changes to the science classrooms, new lab tables, flooring, cabinets, lighting, plumbing, heating, ventilation and air conditioning.
The science lab renovations should be done by the end of April, and then work will begin on the third-floor music area.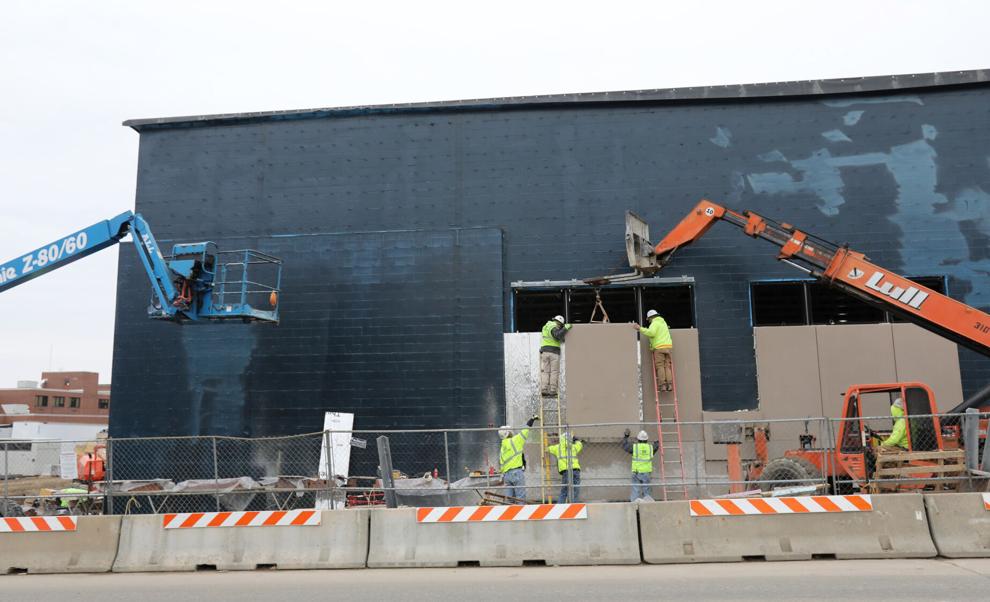 Rimrock Elementary
The new elementary school on the city's South Side is expected to be ready for students in the fall, and crews have been braving wintry weather to stay on track.
The building is an expansion of the existing Badger Rock Middle School building.
The masonry on the exterior of the building is nearly complete, and painting and ceiling installation is already beginning in some areas inside. The roof for the gym is being installed, and mechanical, sprinkler, electrical and plumbing work is ongoing.
East High School
According to Findorf, crews have painted more than 21,000 square feet of walls at East High School since construction began last spring.
East High is getting a full renovation of its science labs, STEAM classrooms, hands-on learning spaces and library, as well as a "major redesign" of its commons area known as "the mall," which will include an addition along Fourth Street for a cafeteria and music space. Additionally, a new, easily identifiable main entrance will be constructed along Fourth Street that will include a new elevator and main offices.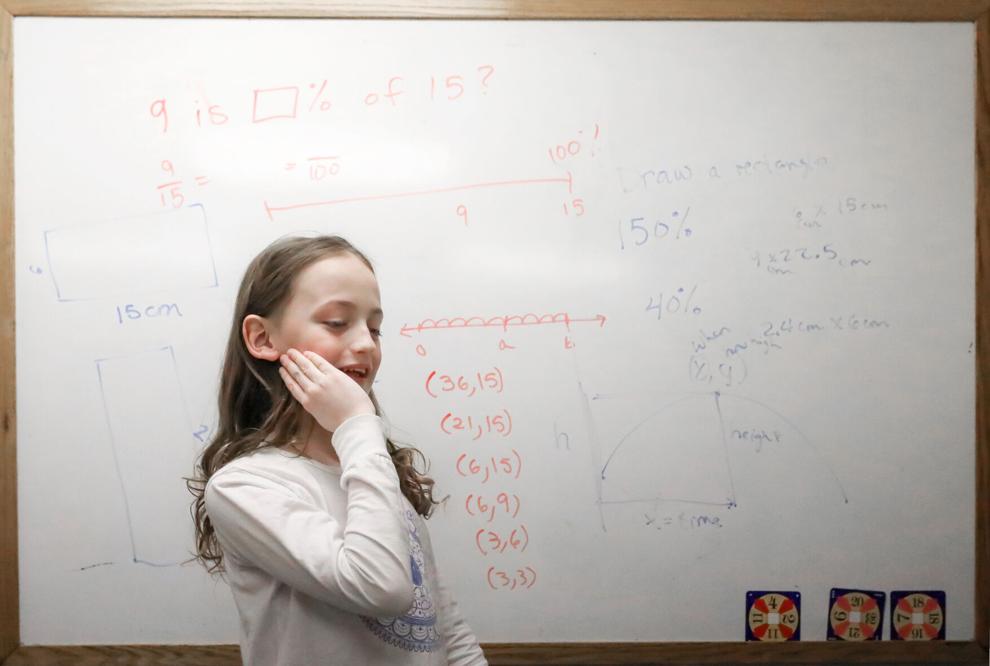 So far, a multipurpose addition connected to the school's courtyard has been completed, which will be a flexible space for student activities, such as athletics. Renovations to the world language and computer lab also were completed.
Spring athletes will be able to use the newly renovated lower-level locker rooms at East as their seasons begin in the coming weeks, with work nearly complete. After that, the locker rooms adjacent to the pool will undergo renovations.
Windows and roofing are being installed on the new cafeteria and commons addition, and crews are working on connecting it to the existing building.
Renovations on the science classrooms are nearly complete, including new lights, cabinets, ceramic tile, doors and flooring. Work then will begin on the second-floor academic area.
Exterior work is also being done, including new windows, air and vapor barriers, and roofing.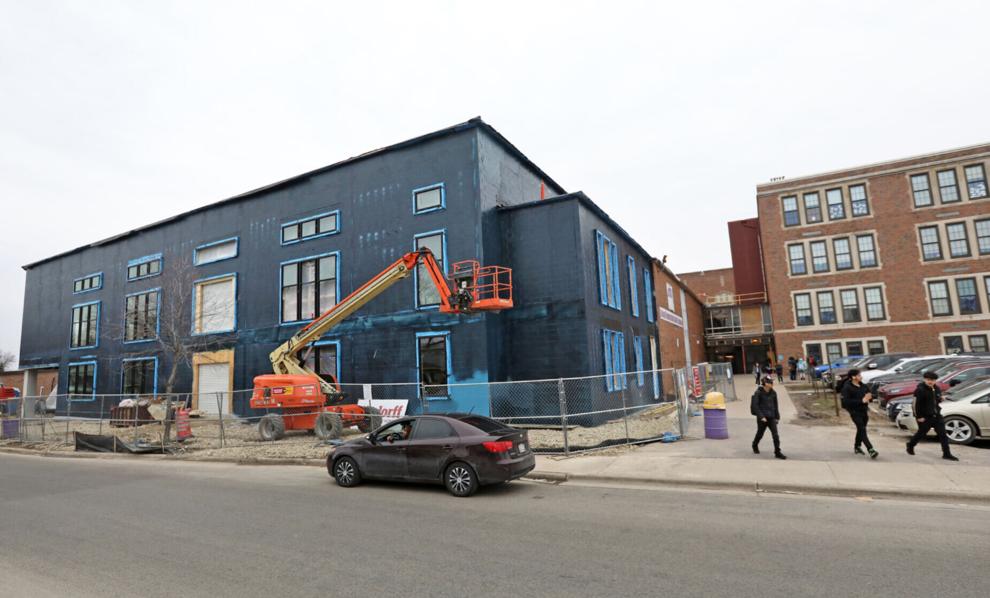 La Follette High School
Crews already have completed renovations to La Follette's science classrooms, new staff and classroom space in "The Pit" area, the library and Lussier Stadium.
A new phase of construction is about to begin on an addition for a new main entrance and north locker rooms. Demolition is expected to begin sometime this month, and construction in April.
The new entrance will include a reception desk, nurses' office, principal's office, conference rooms, flex space and a mail alcove, and will open up to the commons and cafeteria spaces.
Athletic equipment is being installed in the new gym, with new flooring coming later this month. Drywall is going up in the new concession stand and lobby area, and construction continues in the health sciences, interior and fashion design, child care, and kitchen and life skills classrooms.
Explore the story behind how every Madison school got its name
ALLIS ELEMENTARY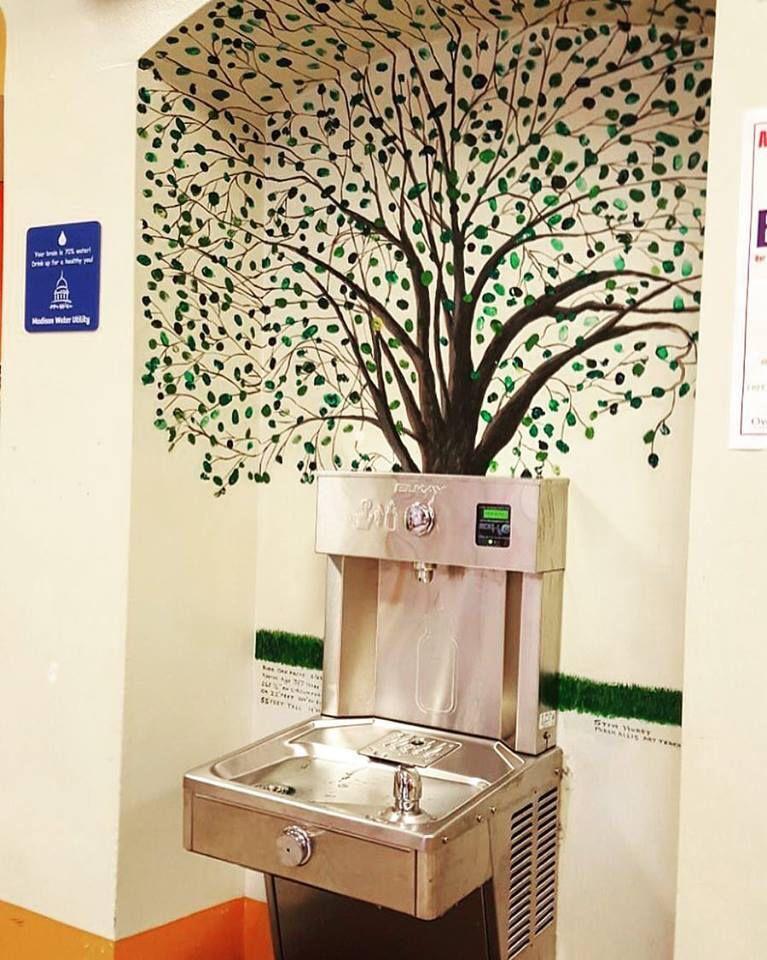 BADGER ROCK MIDDLE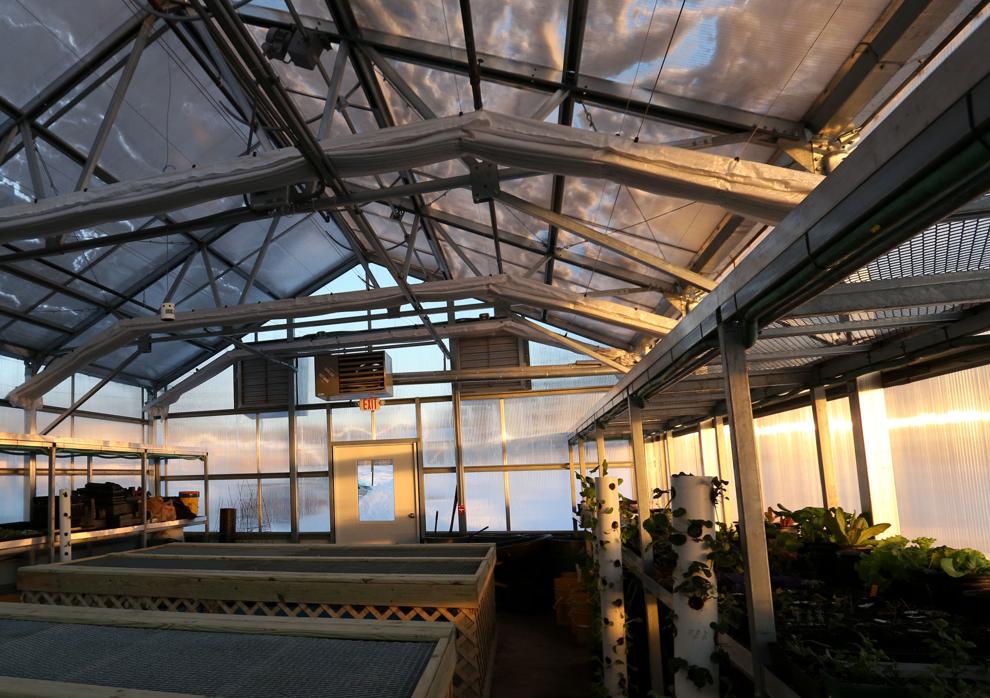 BLACK HAWK MIDDLE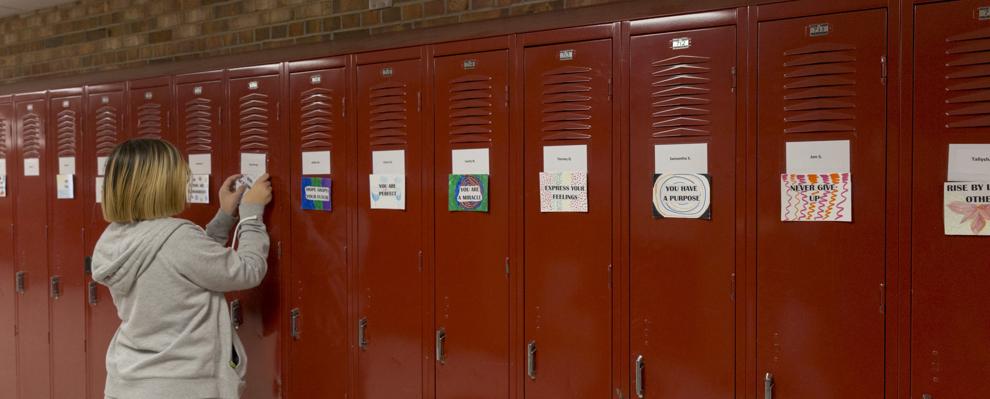 CHAVEZ ELEMENTARY SCHOOL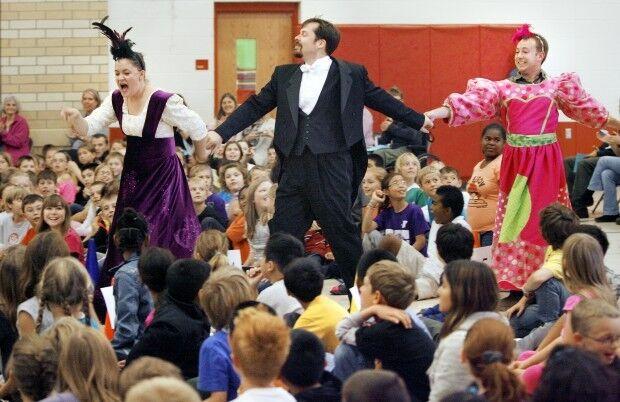 CHEROKEE HEIGHTS MIDDLE SCHOOL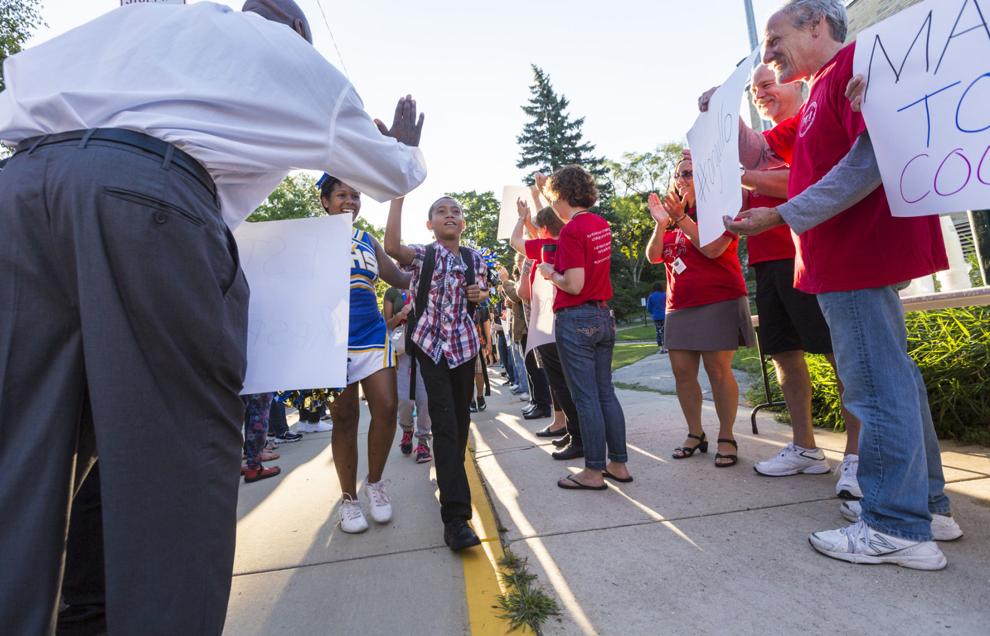 CRESTWOOD ELEMENTARY SCHOOL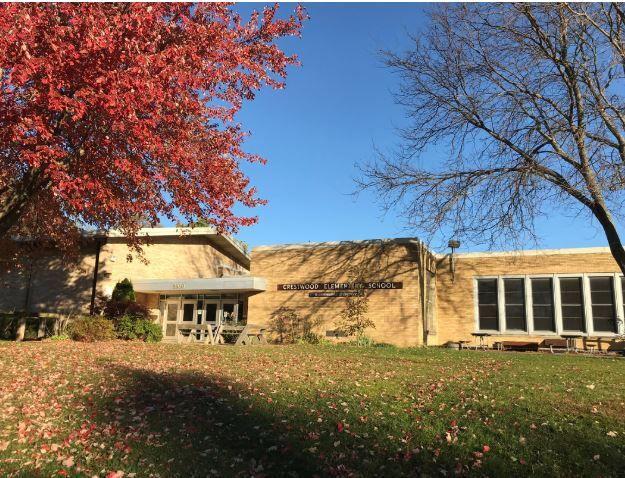 EAST HIGH SCHOOL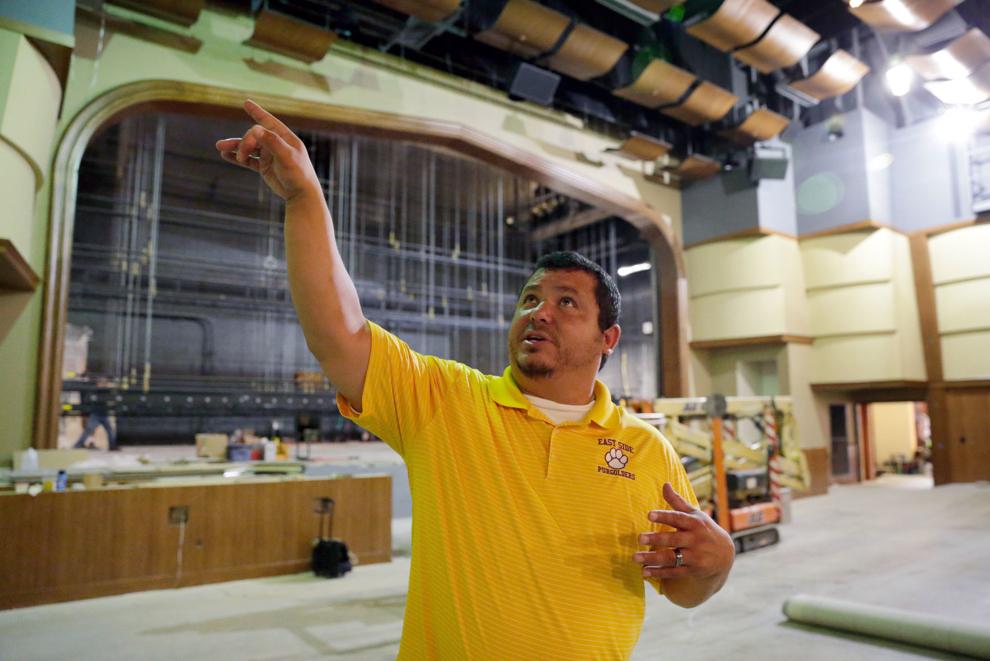 ELVEHJEM ELEMENTARY SCHOOL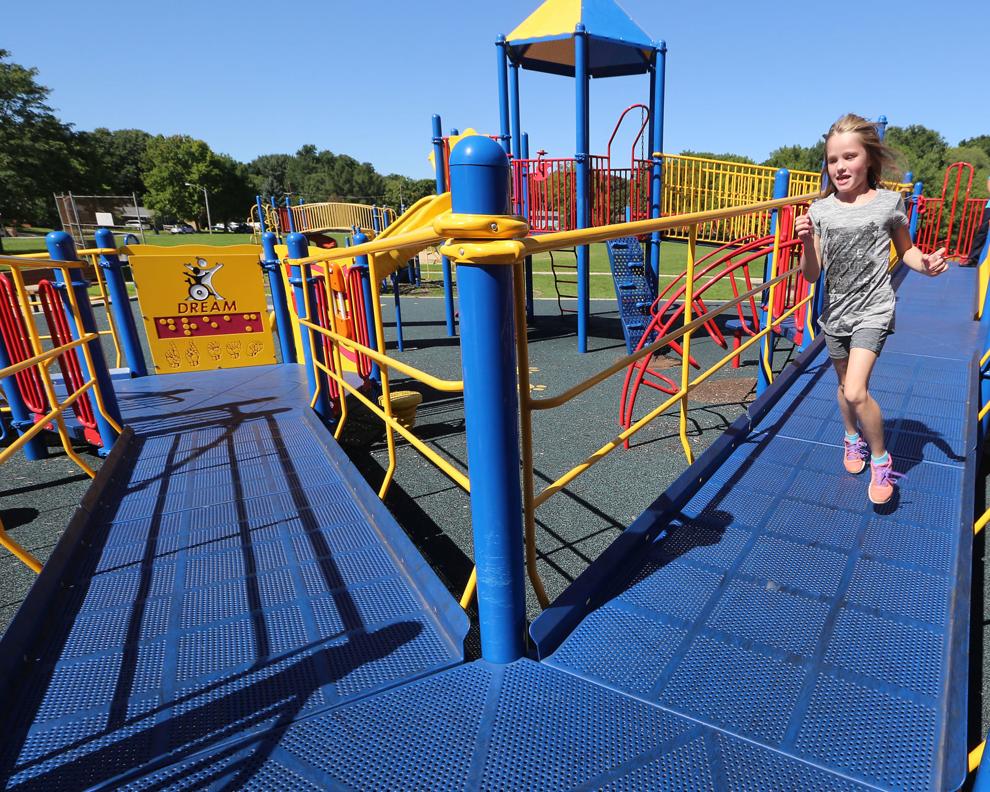 EMERSON ELEMENTARY SCHOOL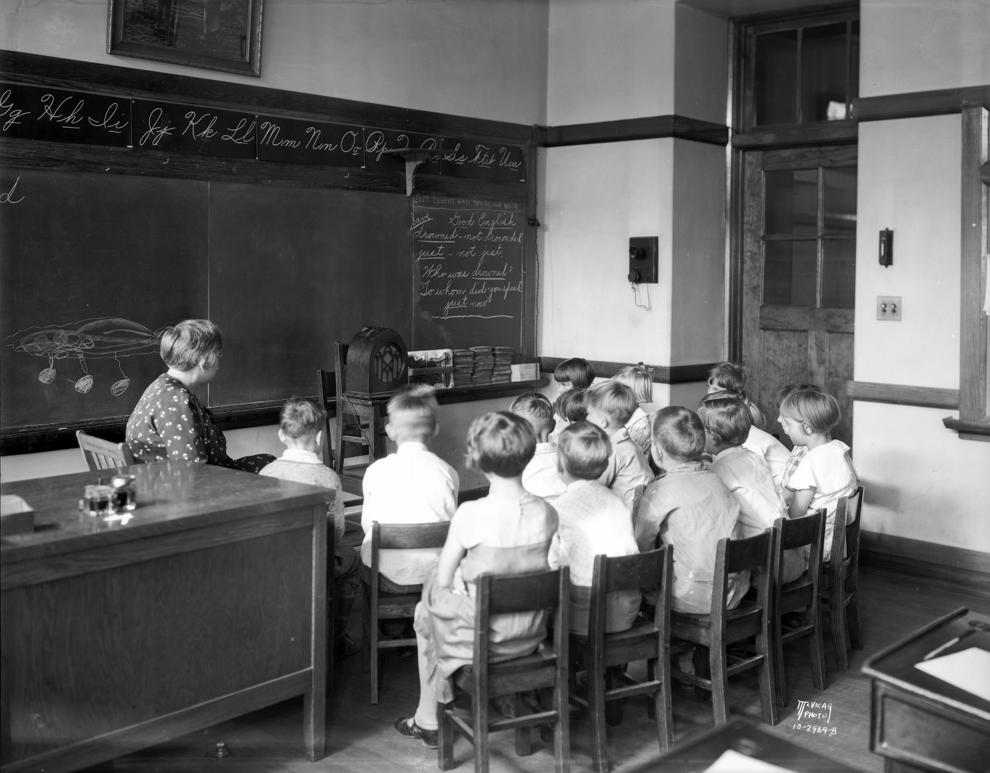 FALK ELEMENTARY SCHOOL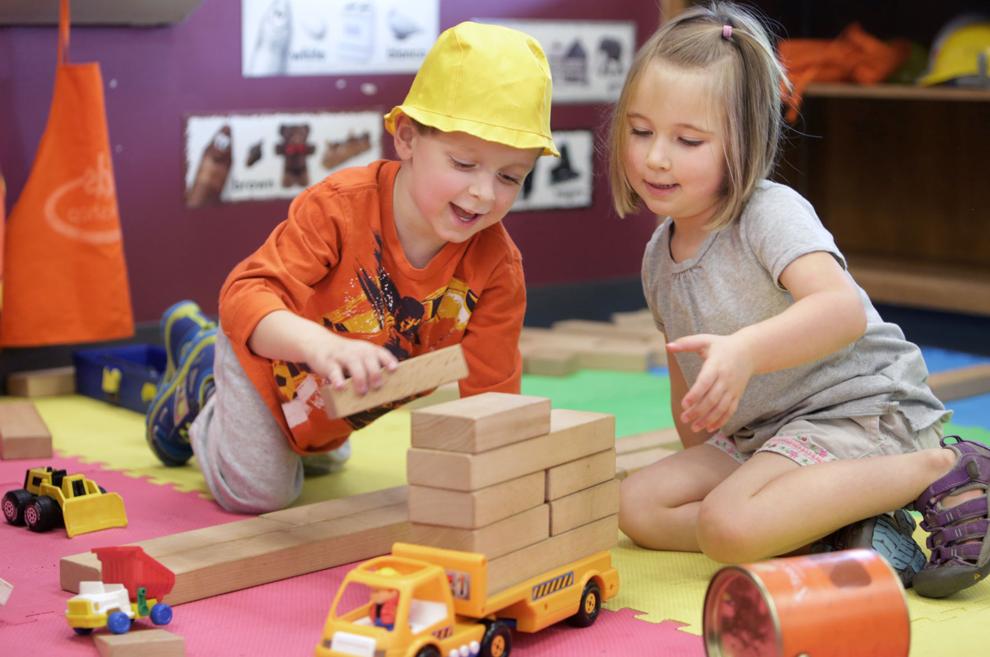 FRANKLIN ELEMENTARY SCHOOL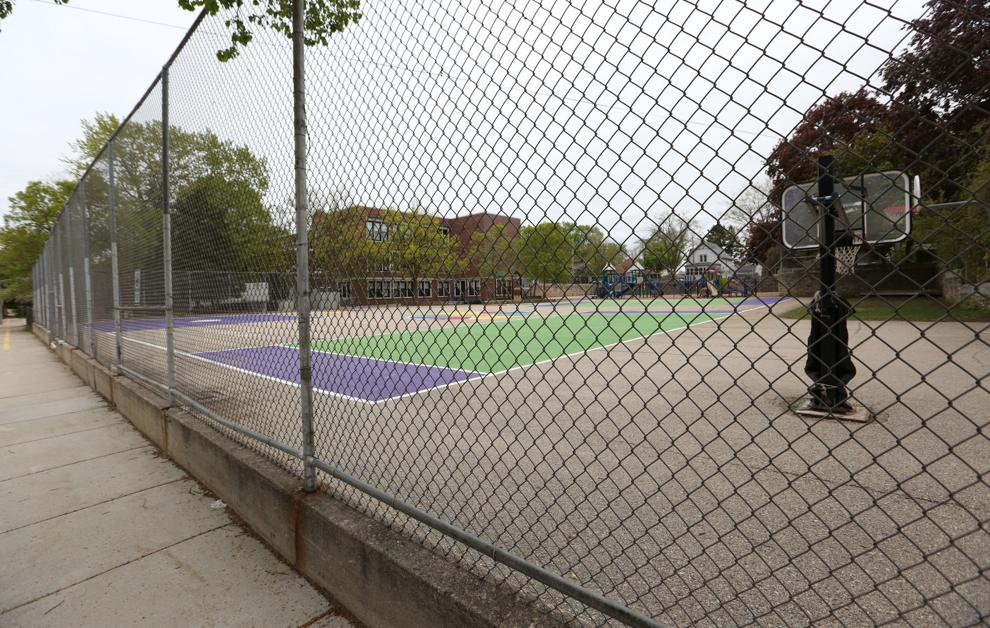 GLENDALE ELEMENTARY SCHOOL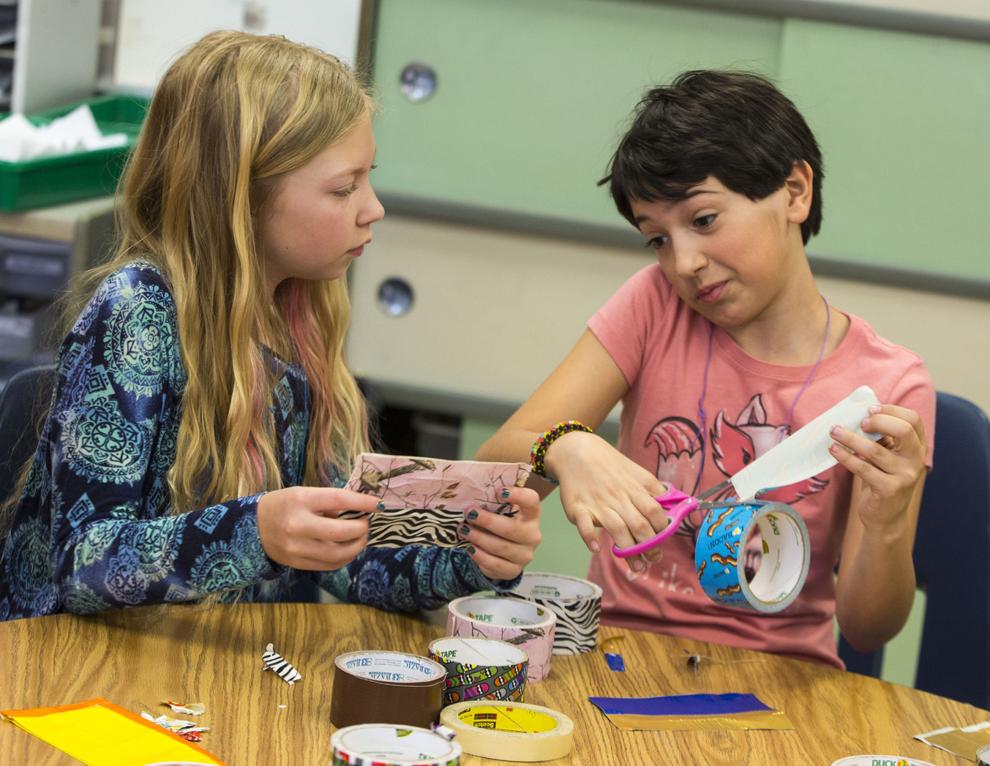 GOMPERS ELEMENTARY SCHOOL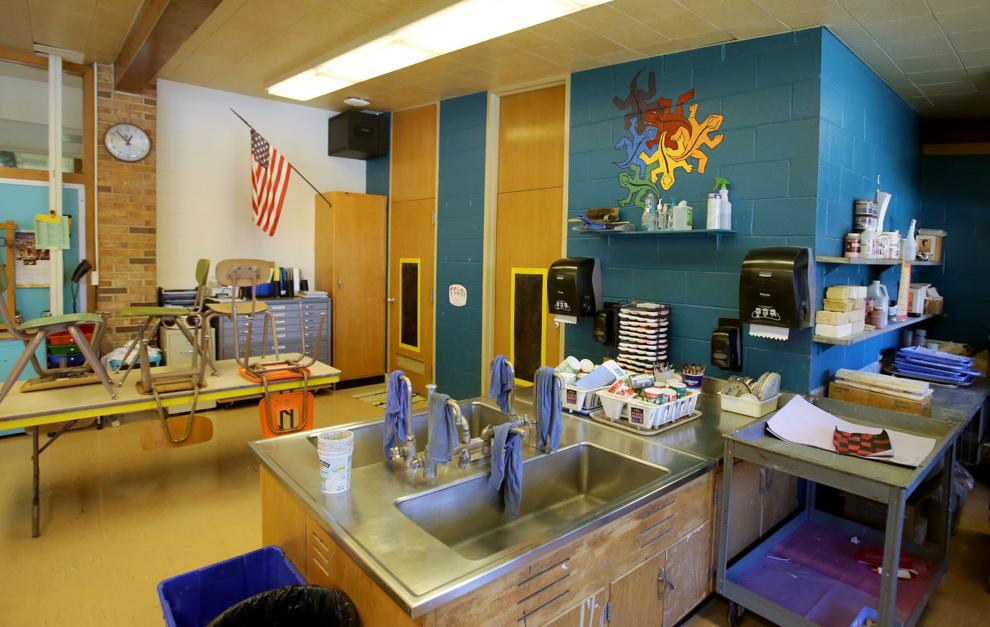 HAMILTON MIDDLE SCHOOL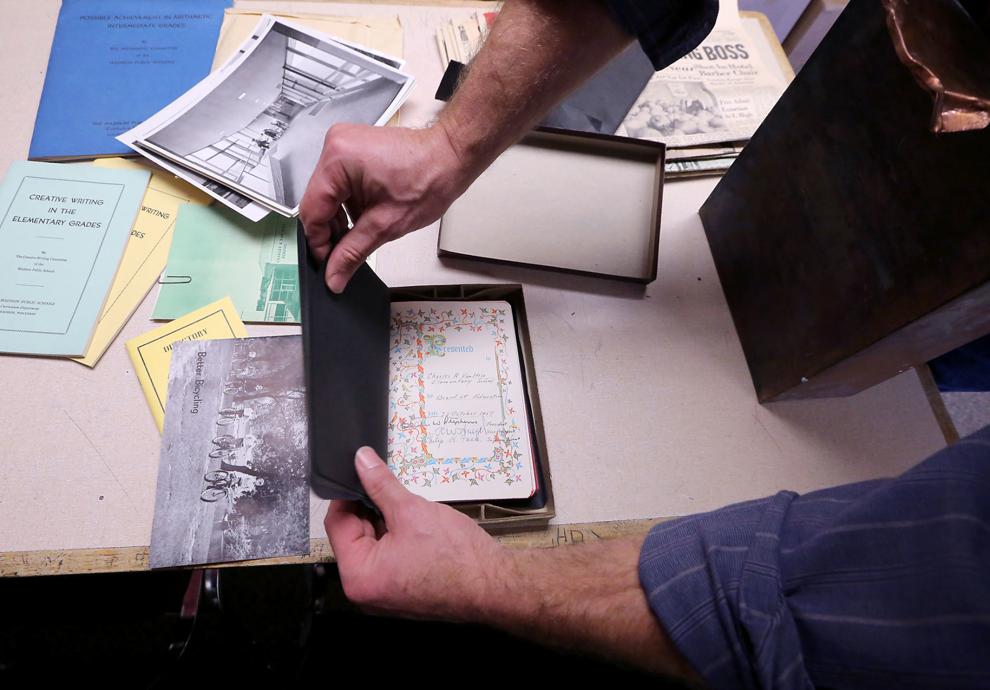 HAWTHORNE ELEMENTARY SCHOOL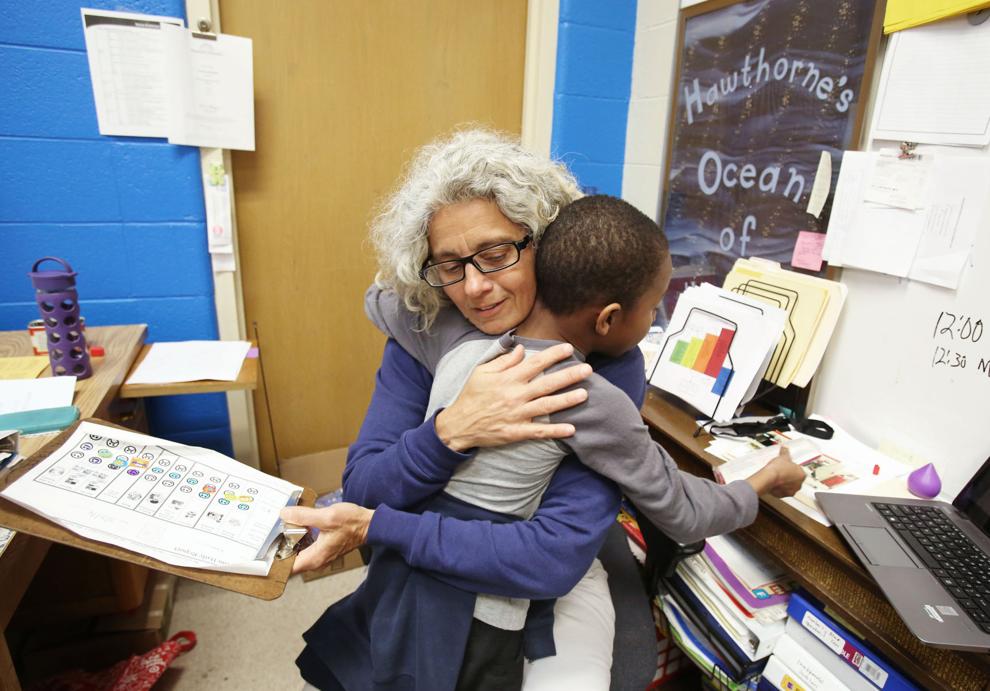 HUEGEL ELEMENTARY SCHOOL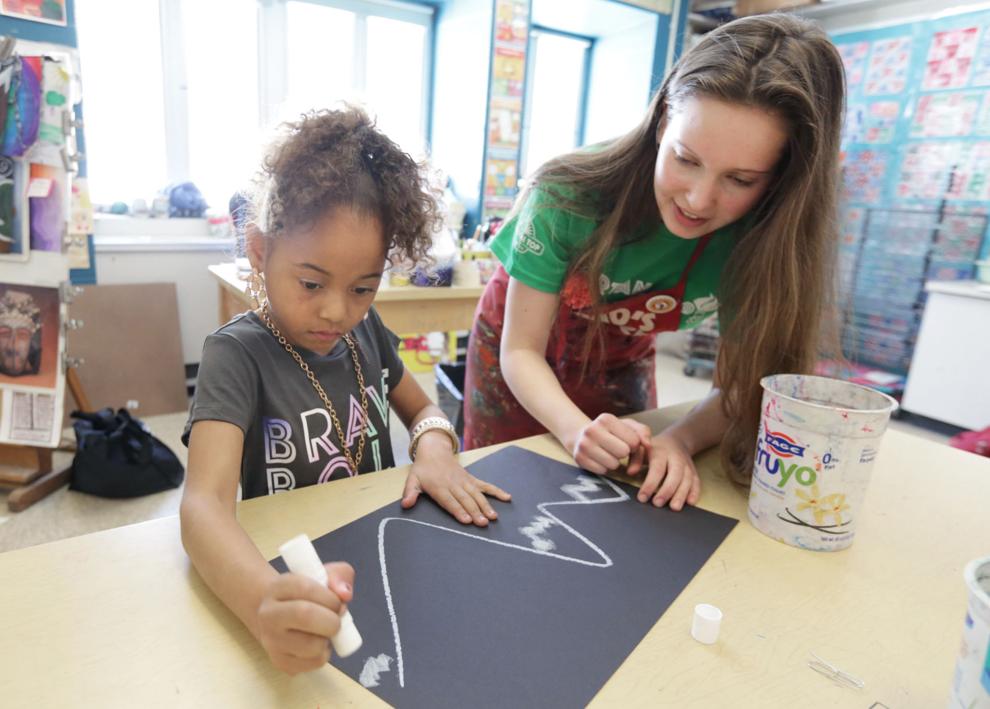 JEFFERSON MIDDLE SCHOOL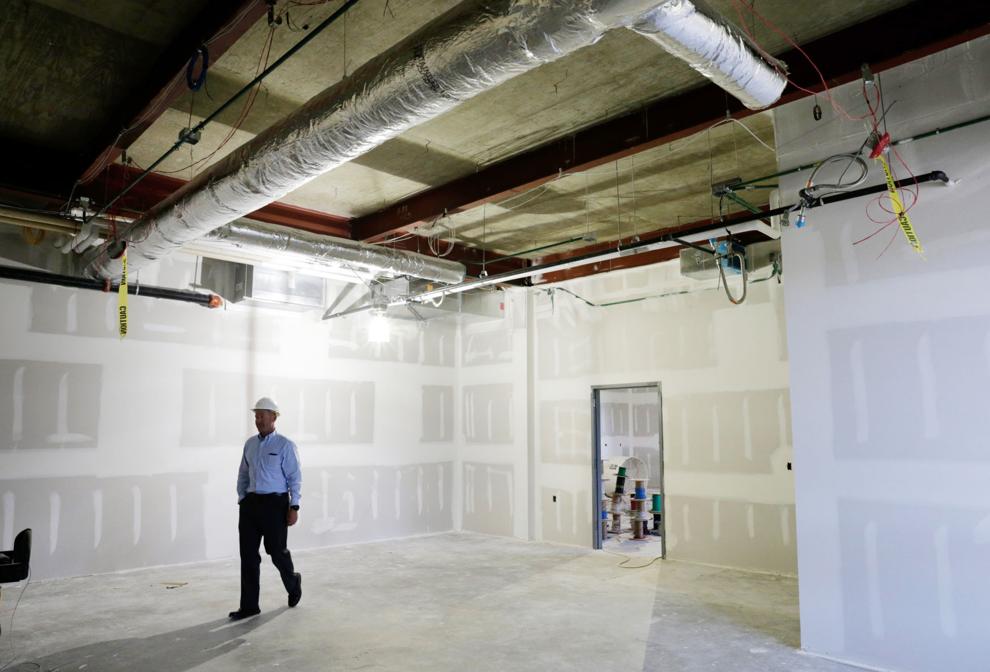 KENNEDY ELEMENTARY SCHOOL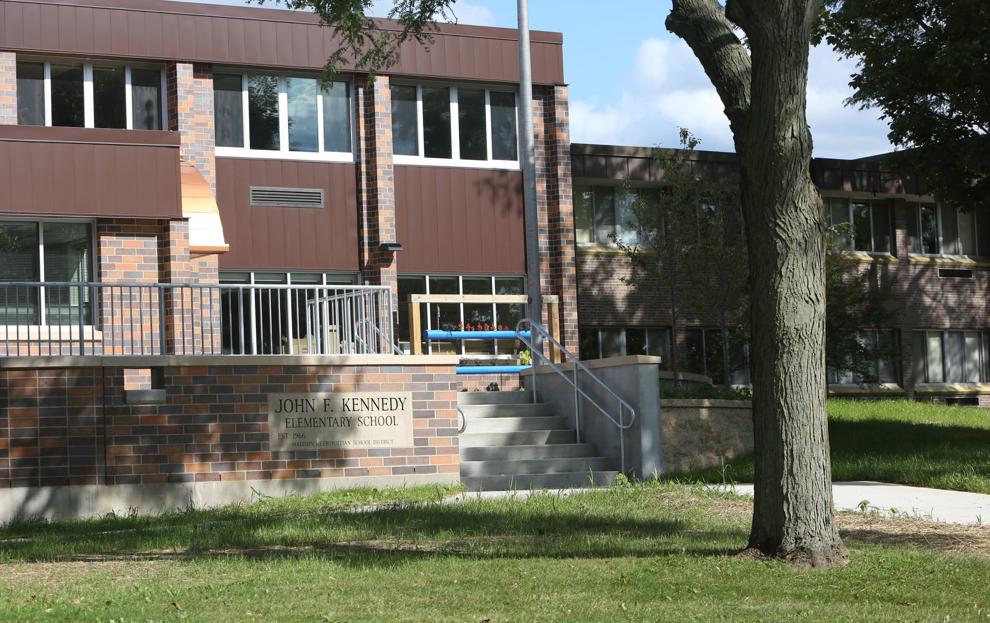 LA FOLLETTE HIGH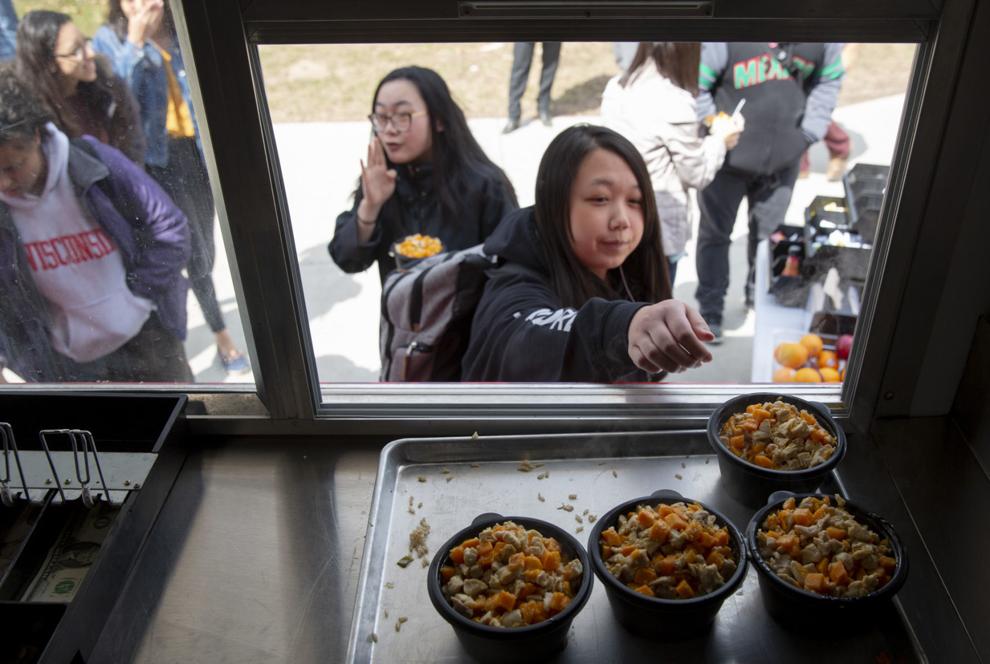 LAKE VIEW ELEMENTARY SCHOOL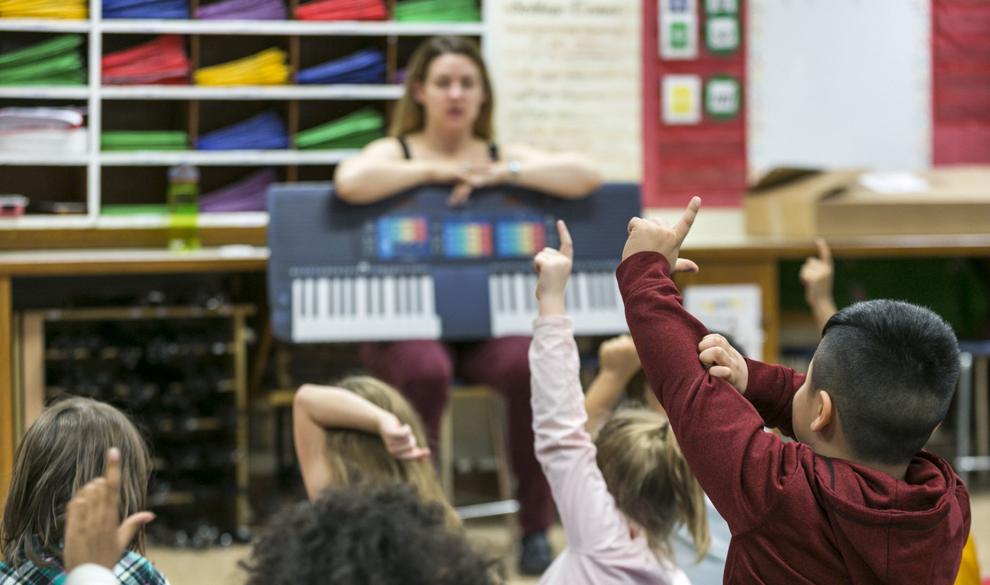 LAPHAM ELEMENTARY SCHOOL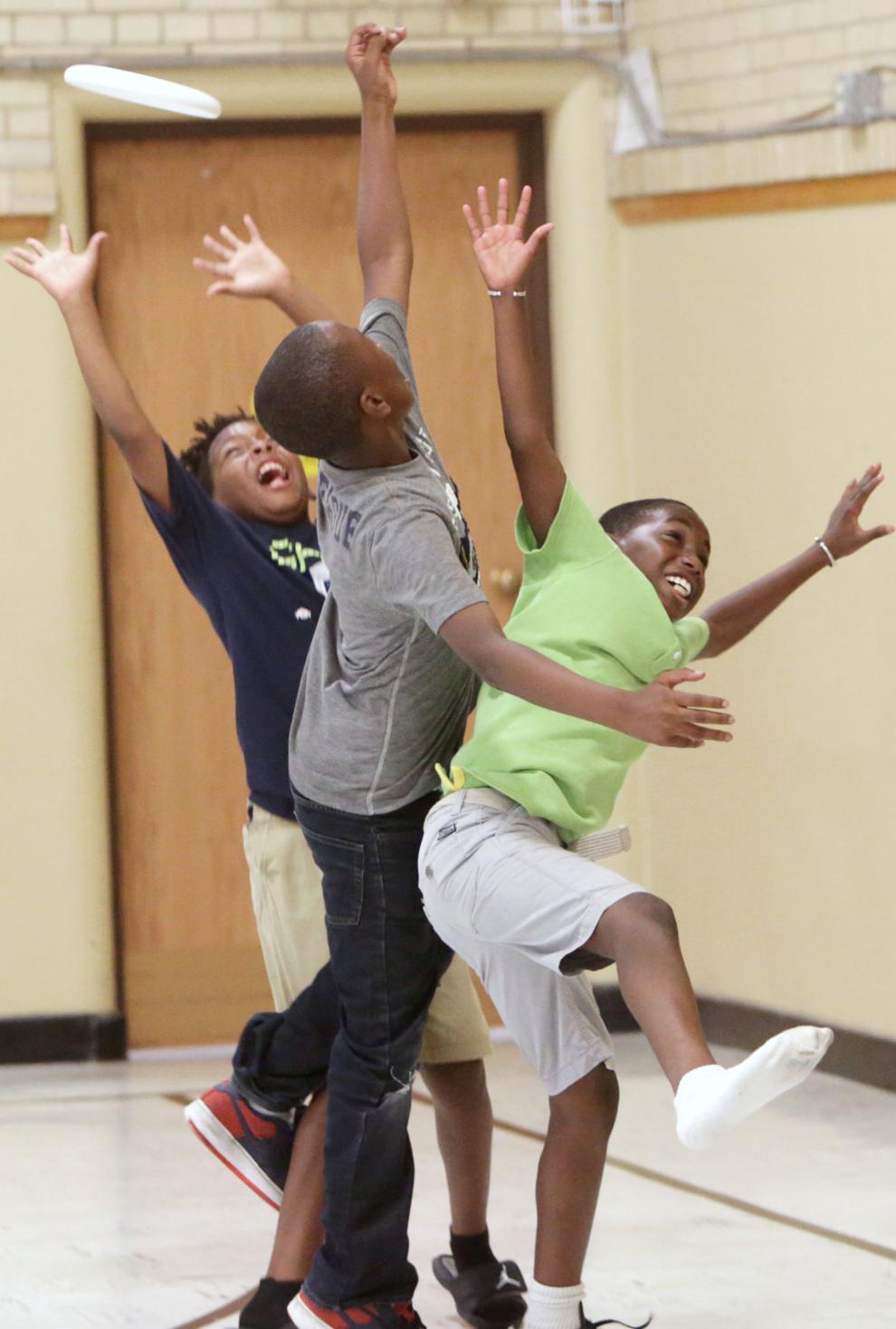 LEOPOLD ELEMENTARY SCHOOL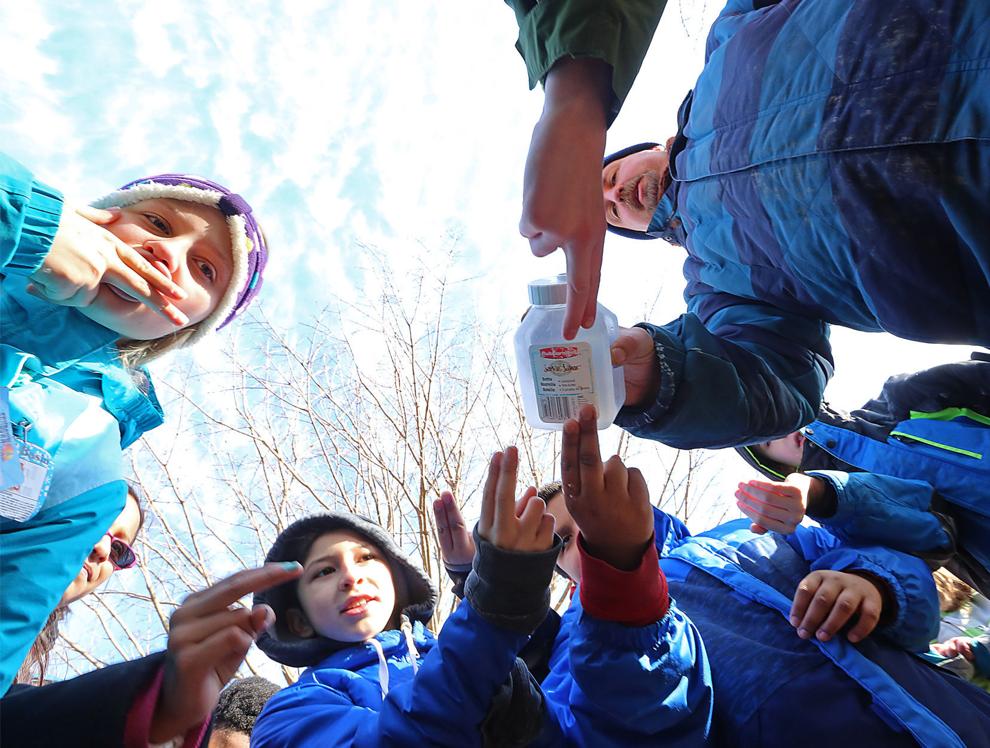 LINCOLN ELEMENTARY SCHOOL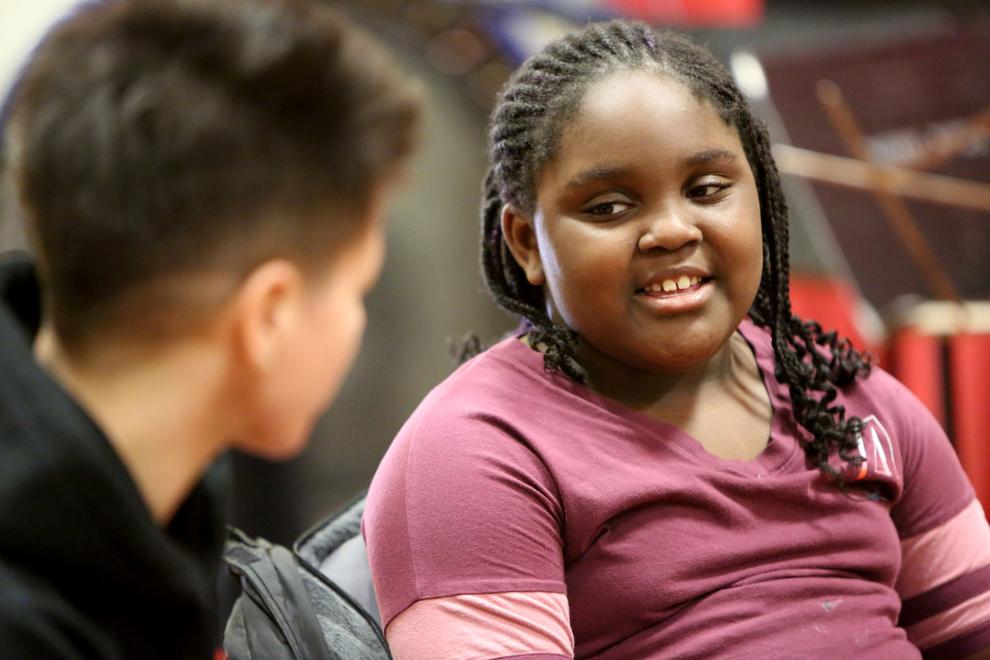 LINDBERGH ELEMENTARY SCHOOL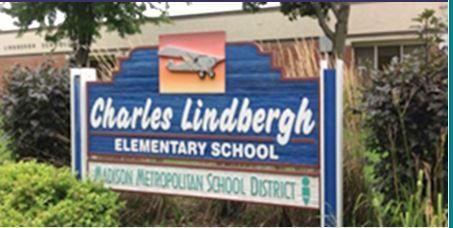 LOWELL ELEMENTARY SCHOOL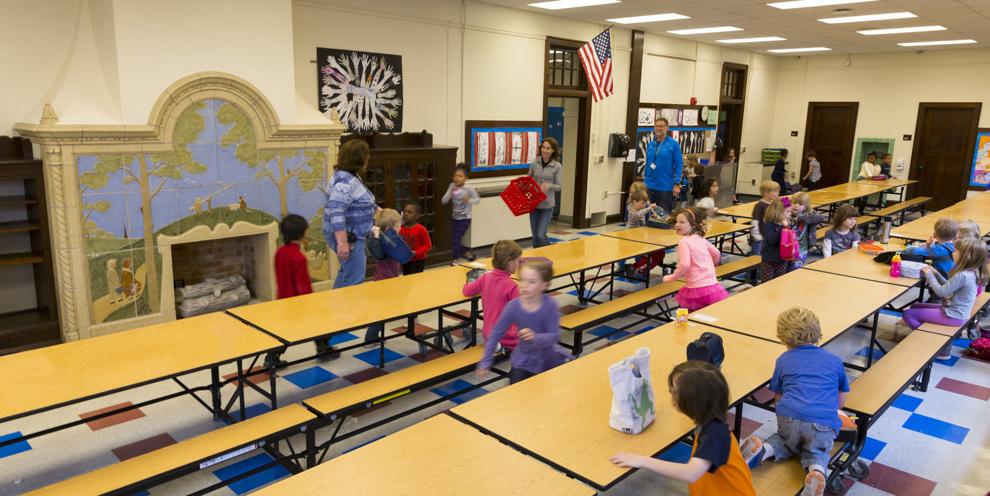 MARQUETTE ELEMENTARY SCHOOL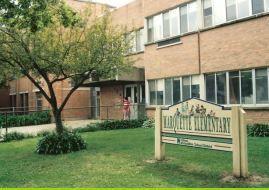 MENDOTA ELEMENTARY SCHOOL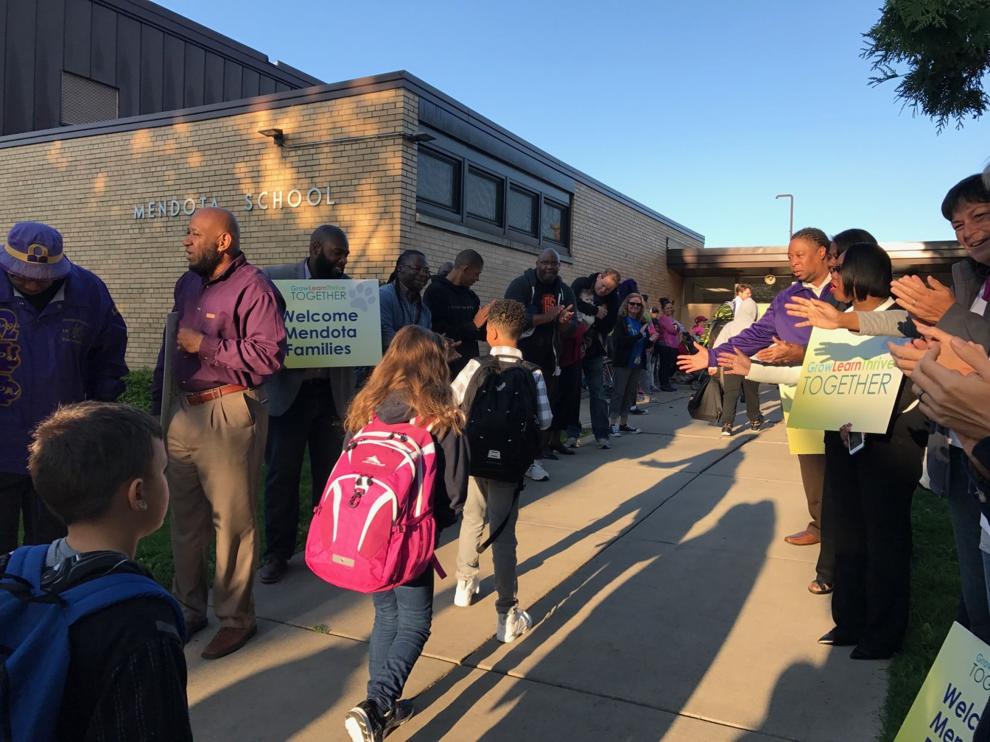 MIDVALE ELEMENTARY SCHOOL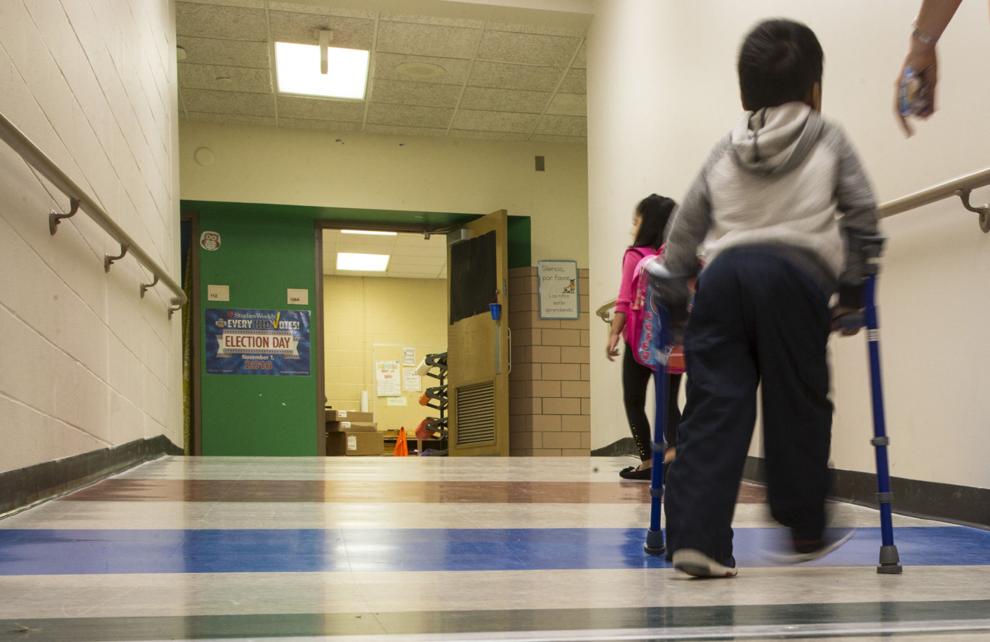 MUIR ELEMENTARY SCHOOL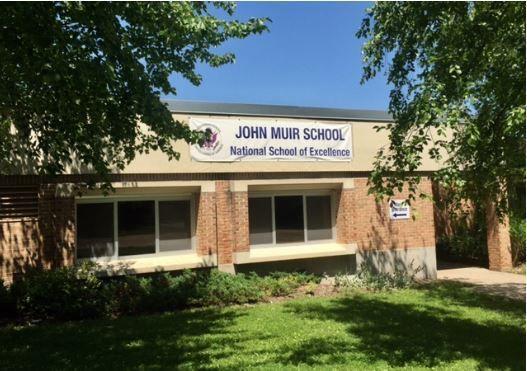 NUESTRO MUNDO COMMUNITY SCHOOL
O'KEEFFE MIDDLE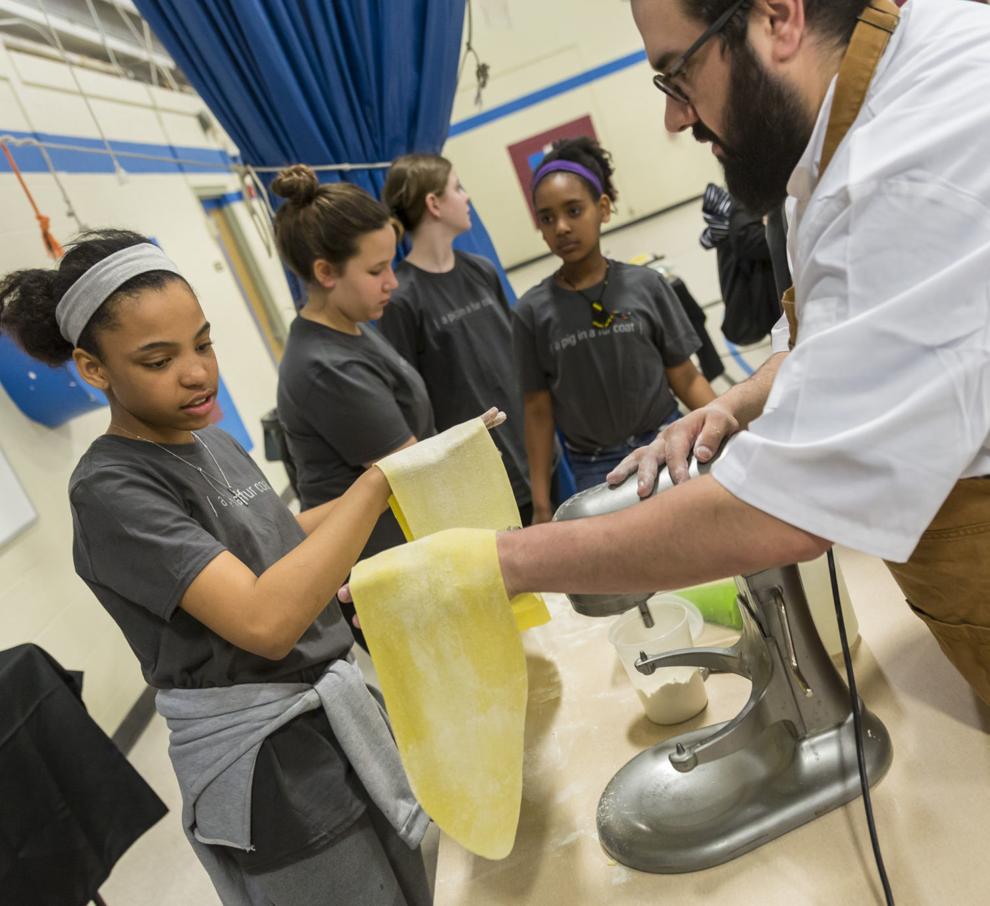 OLSON ELEMENTARY SCHOOL
ORCHARD RIDGE ELEMENTARY SCHOOL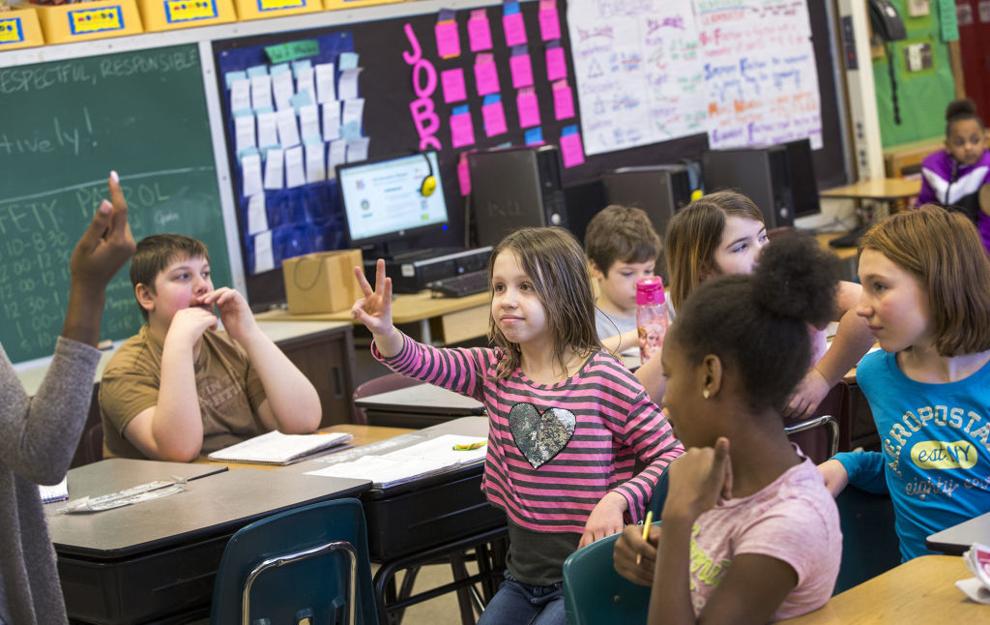 RANDALL ELEMENTARY SCHOOL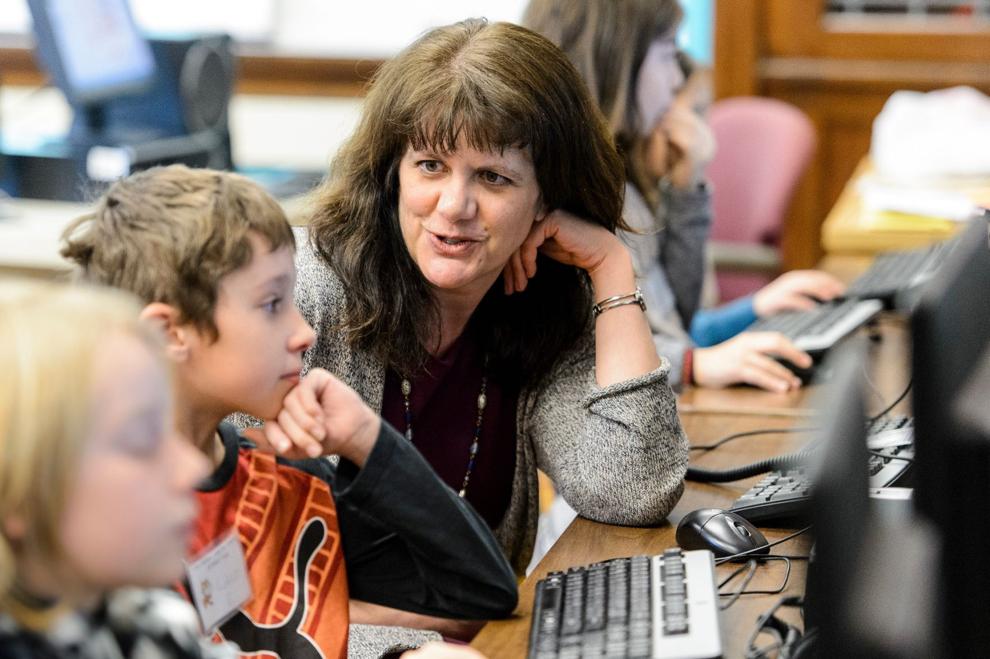 SANDBURG ELEMENTARY SCHOOL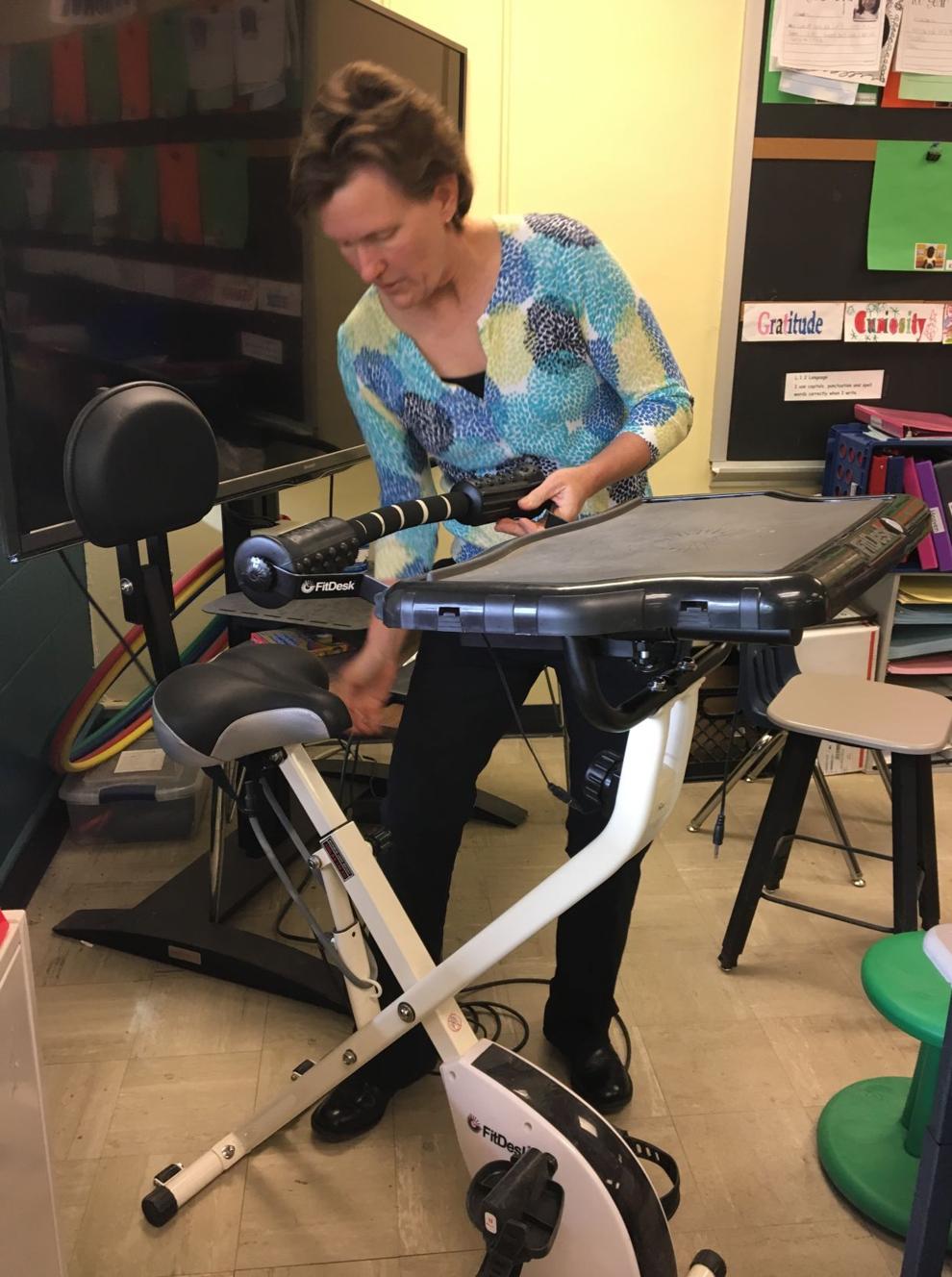 SCHENK ELEMENTARY SCHOOL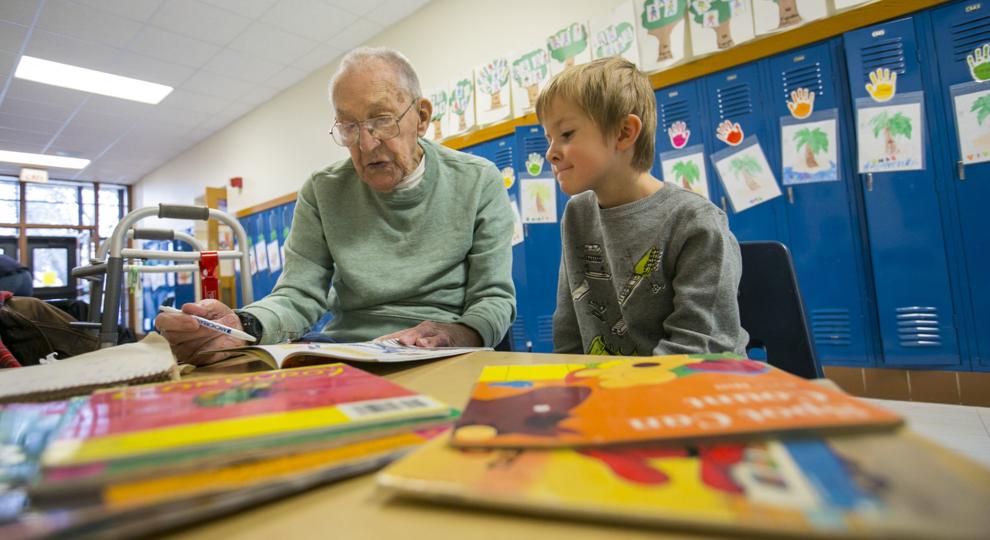 SENNETT MIDDLE SCHOOL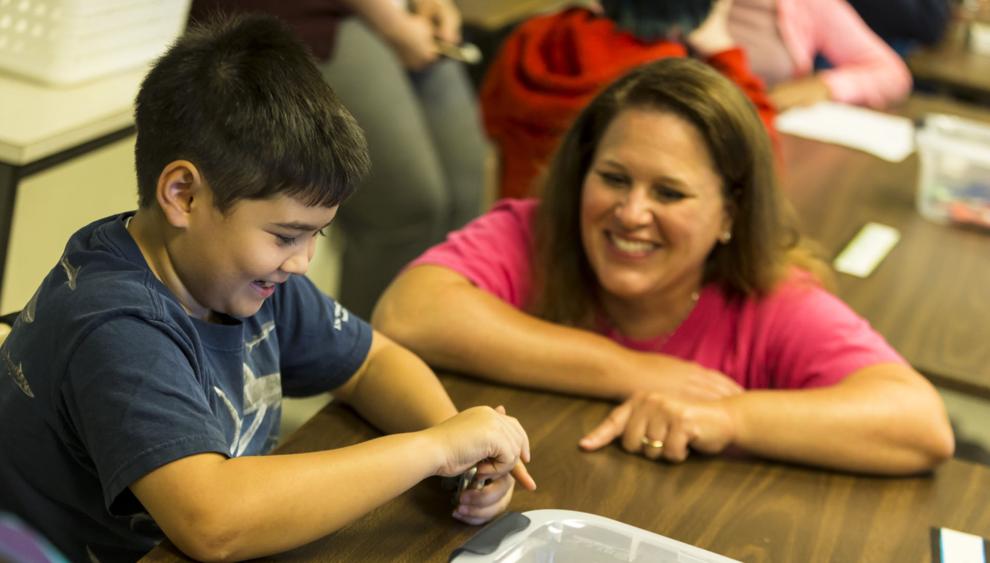 SHERMAN MIDDLE SCHOOL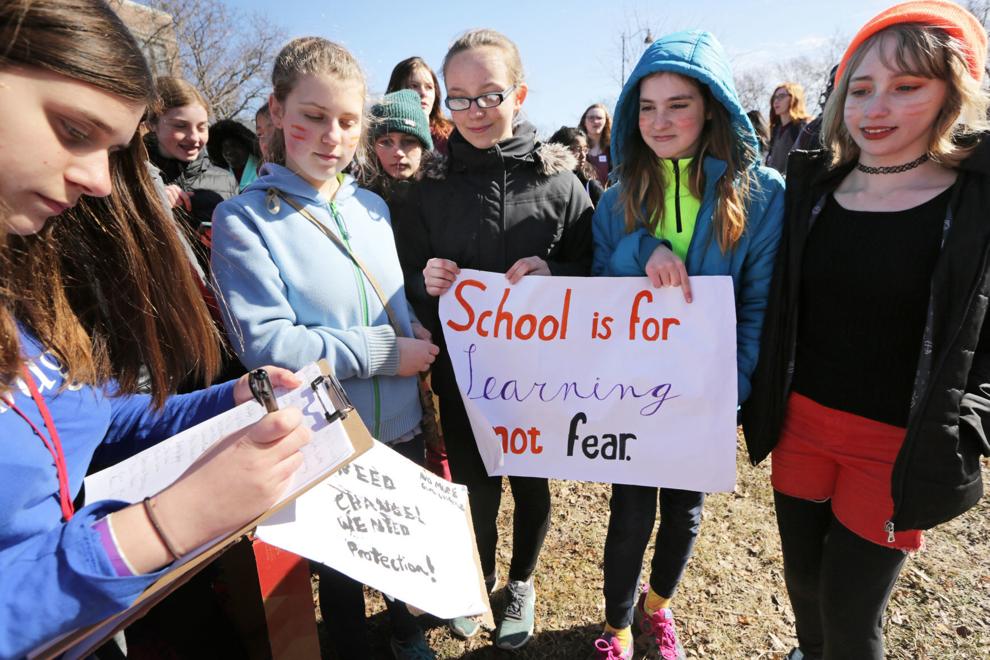 SHOREWOOD ELEMENTARY SCHOOL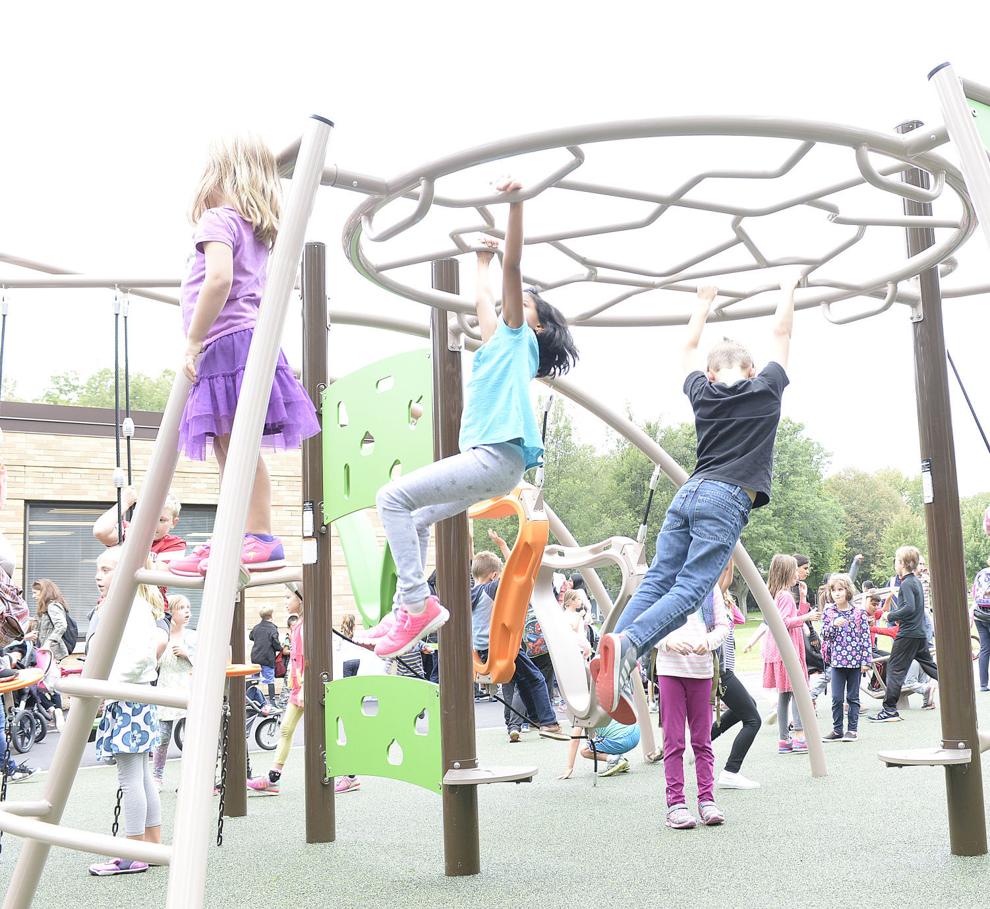 SPRING HARBOR MIDDLE SCHOOL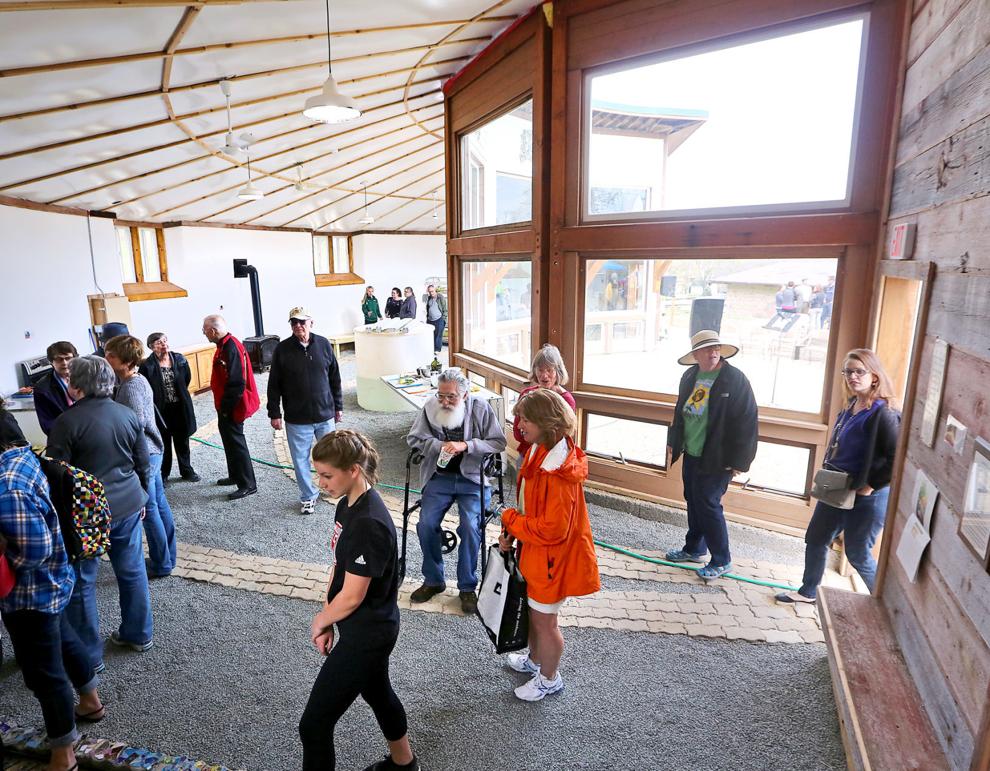 STEPHENS ELEMENTARY SCHOOL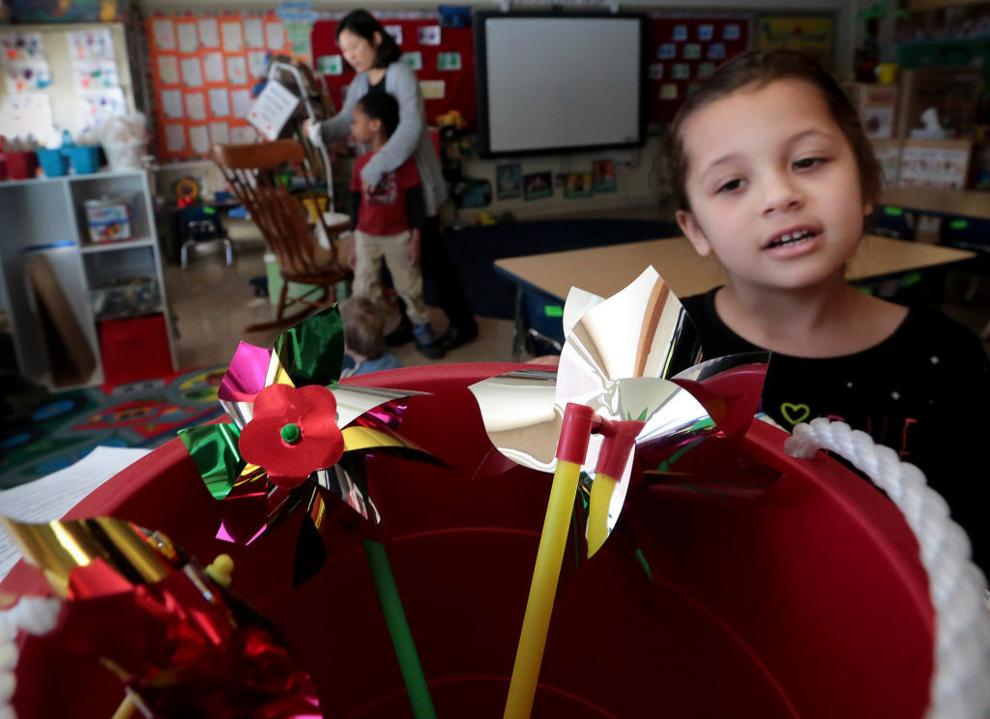 THOREAU ELEMENTARY SCHOOL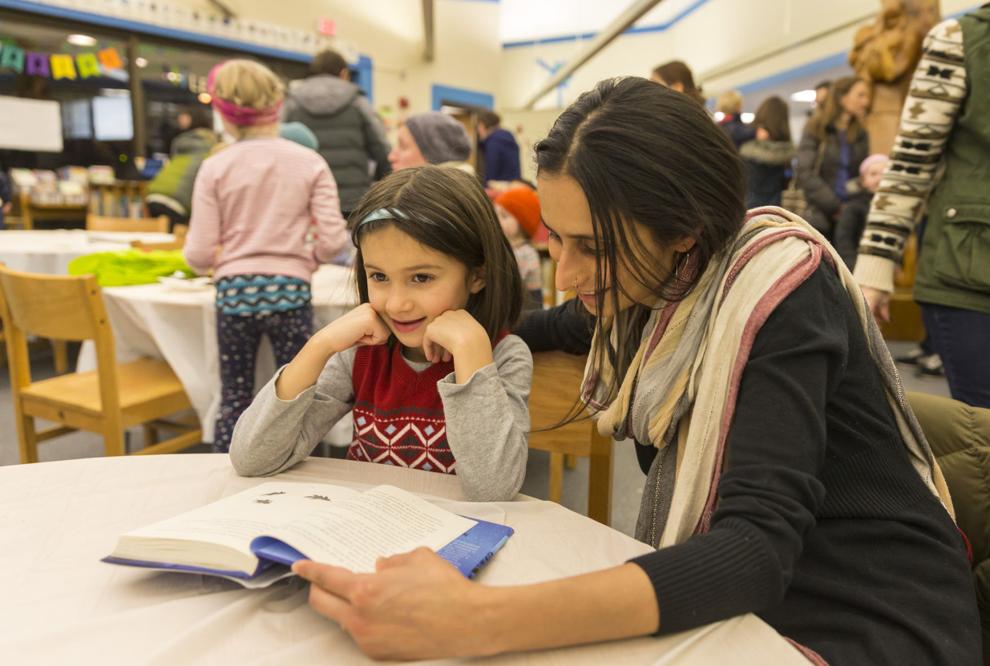 TOKI MIDDLE SCHOOL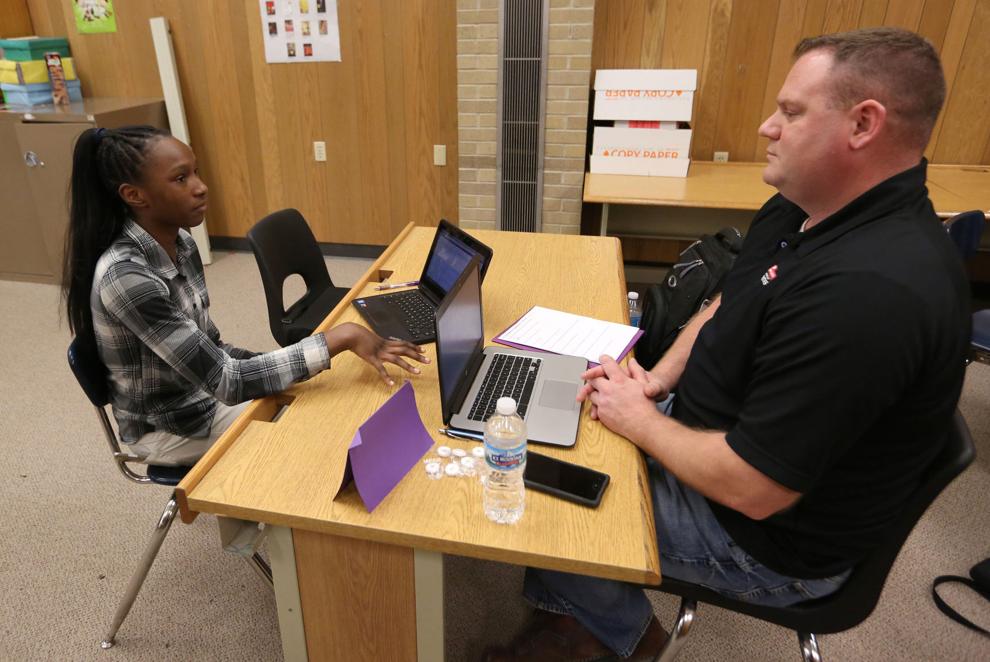 VAN HISE ELEMENTARY SCHOOL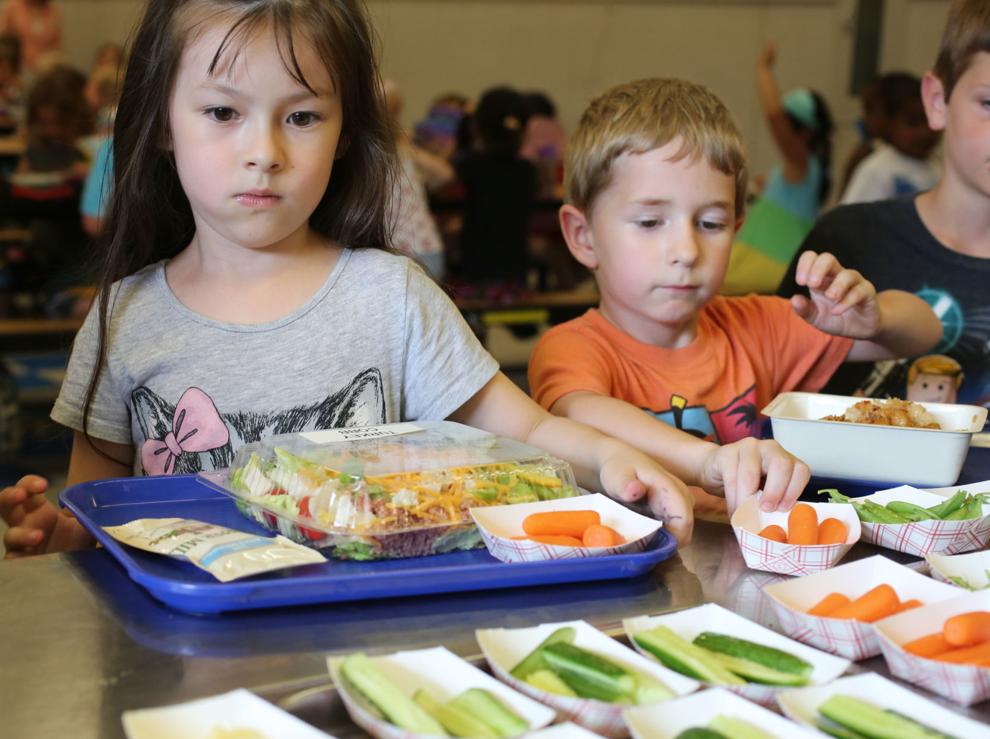 VEL PHILLIPS MEMORIAL HIGH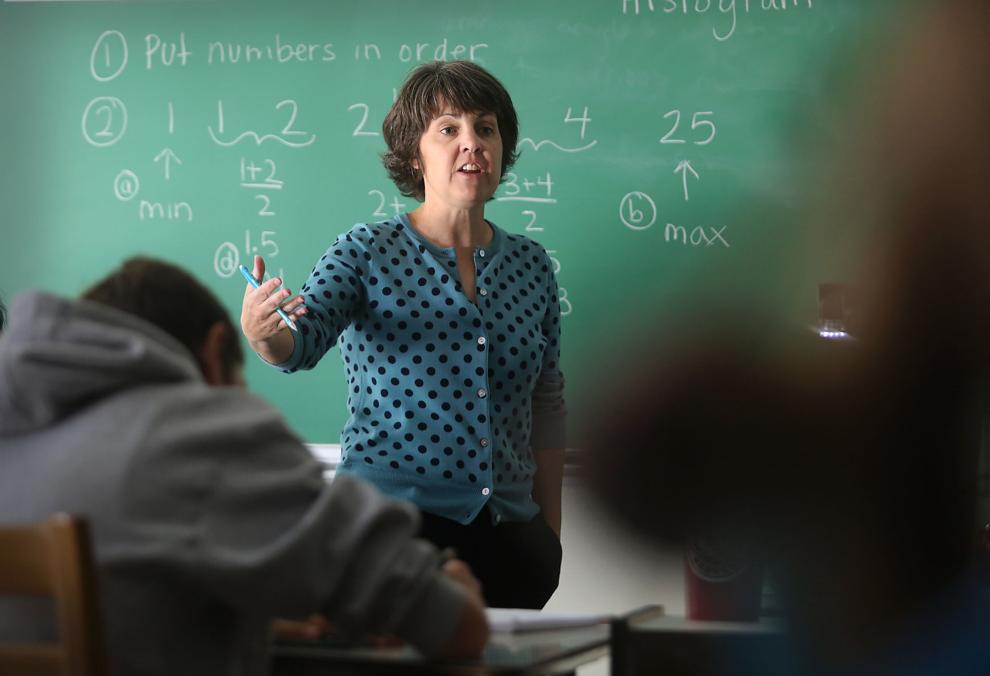 WEST HIGH SCHOOL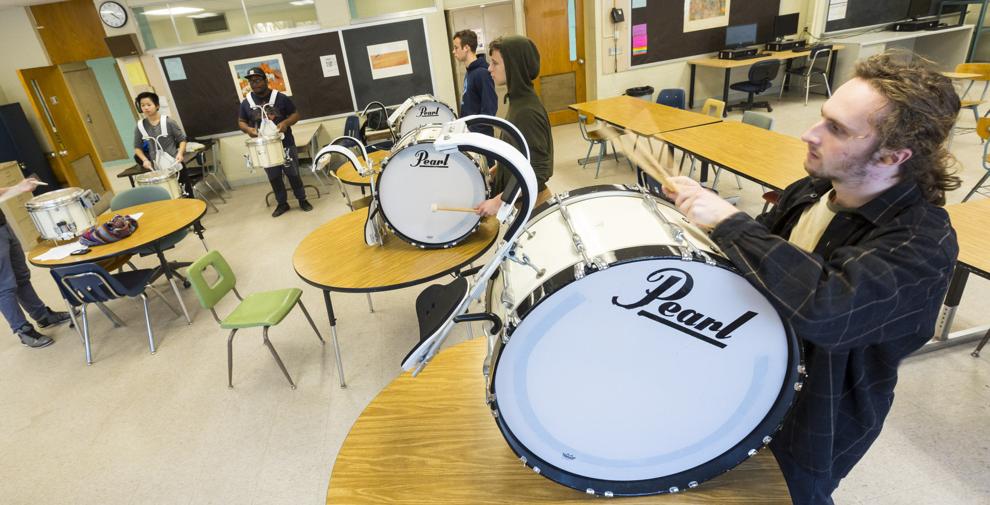 WHITEHORSE MIDDLE SCHOOL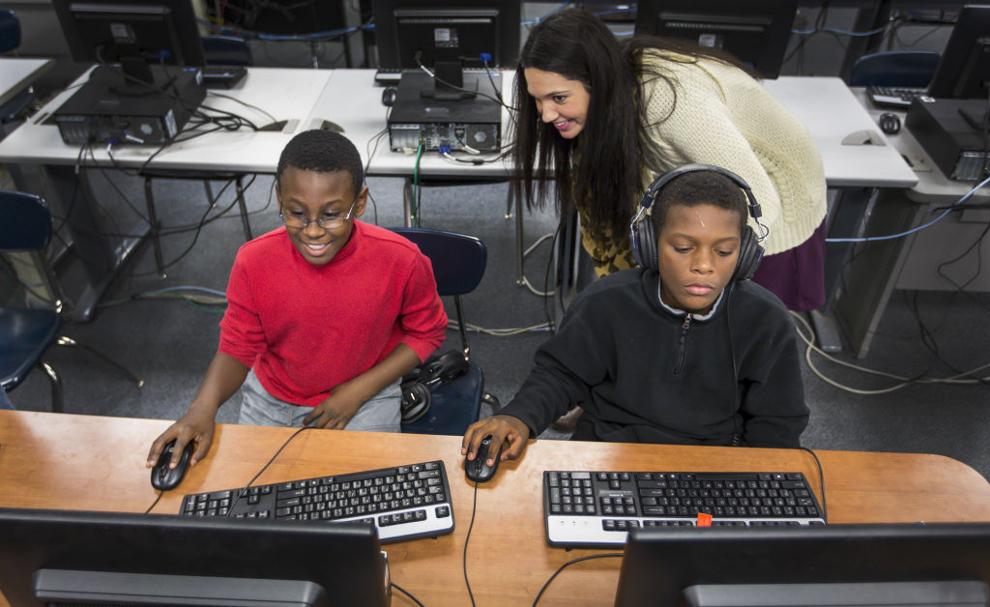 WRIGHT MIDDLE SCHOOL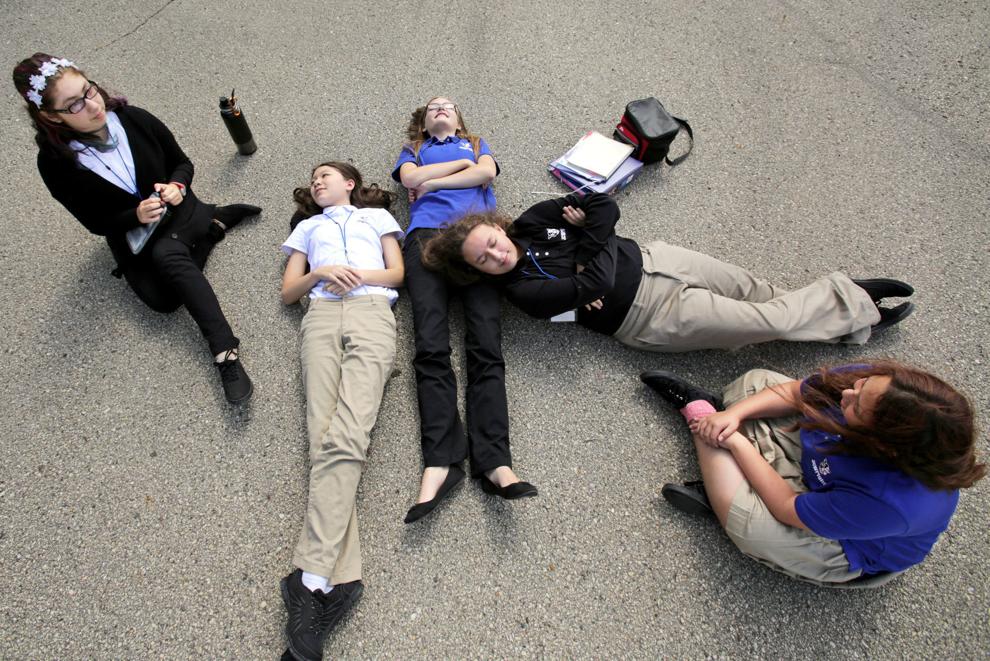 "I just love playing with everybody. It's just a different experience, and it's just full-out awesome."

Jayda Smith, Memorial High violinist