What color should I paint my walls if my floor is gray? |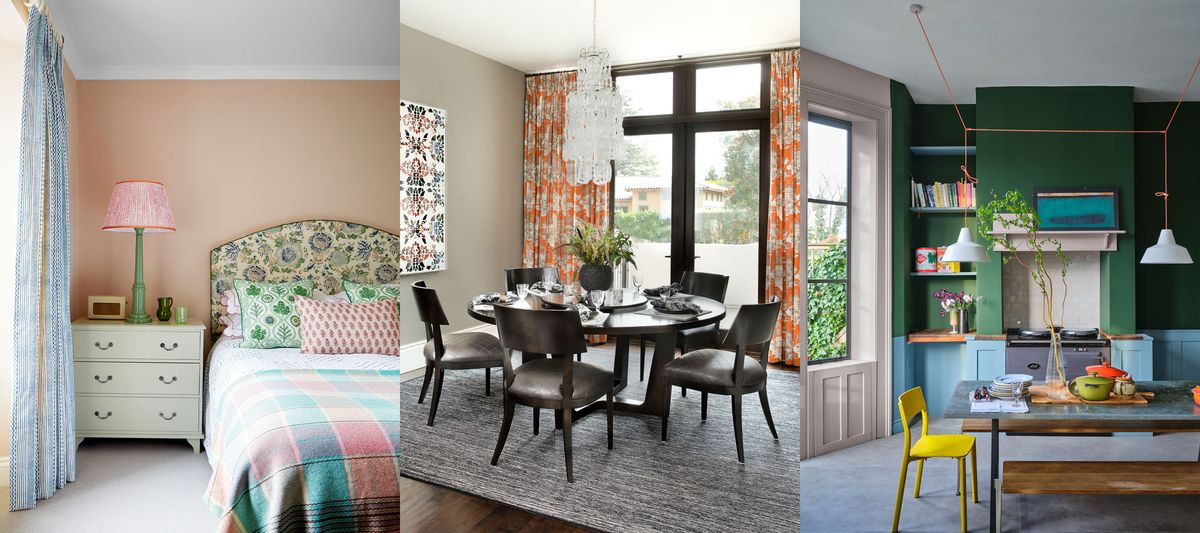 From tiles to carpet and stained wood, the popularity of gray flooring remains ever-strong in interior design.
As an enduring, adaptable neutral shade, it is no surprise that many of us opt for gray flooring ideas in the home, as this color choice provides a versatile and grounding foundation for a whole host of room color ideas and interior styles.
So, what color walls go best with gray flooring? You'll be glad to know, that gray flooring can work wonderfully with a diverse range of color palettes – the beauty of decorating with gray is that it goes with pretty much anything! However, our interior design and paint experts have narrowed down their five favorite colors to help you create the perfect color pairing with your gray flooring.
5 wall color ideas for rooms with gray flooring
Whether you're planning a new design scheme and have picked gray flooring but can't decide on the right paint ideas, or are looking into ways you can make a cool gray room feel warmer, explore the five best colors to use on the walls in a room with gray floor.
1. Create a classic look with white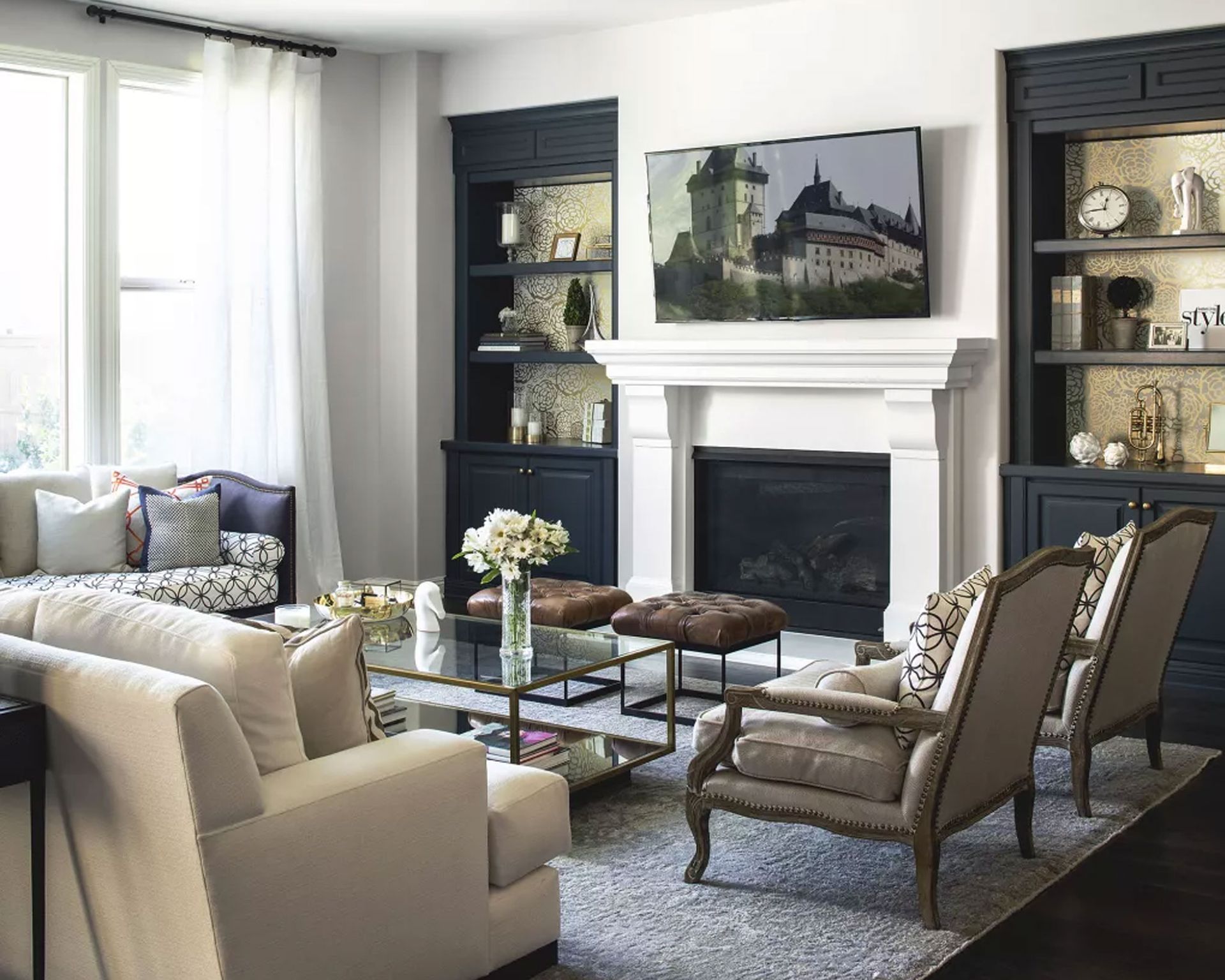 Starting off with a simple and timeless choice, you can't ever go wrong with wonderful white walls.
'My professional recommendation would be to pair a gray carpet with a neutral, white paint color such as Benjamin Moore Simply White (opens in new tab) or Chantilly Lace (opens in new tab) for an airy and fresh look. These are very clean whites that don't pull too many undertones, and nice neutrals that create a classic contrast,' says interior designer, Kirsten Holmstedt (opens in new tab), founder of Treasure in the Detail.
Combining a collection of neutral shades together as one, such as gray and white, can result in a calming color scheme that is perfect for a more minimalist look or a Scandinavian style. It can also allow for more colorful furniture, artwork and accessories to take center stage, as interior designer Artem Kropovinsky (opens in new tab) says, 'opt for simple white walls that match your gray carpet. This color scheme will create a neat and airy look that highlights your furniture and accessories.'
Arizona-based Kirsten Holmstedt is the founder and creative director of interior design firm, Treasure In The Detail. Kirsten's philosophy for a space is to combine beauty with practicality. She loves working with neutral pallets and warm wood tones while adding pops of pattern and color to make her designs inviting and fascinating.
Founder of NYC-based interior design firm, Arsight, Artem Kropovinsky has a decade of extensive global design experience, connecting a cohesive, collaborative team of passionate professionals, who work on interior projects in the U.S. and worldwide. 
2. Rich jewel tones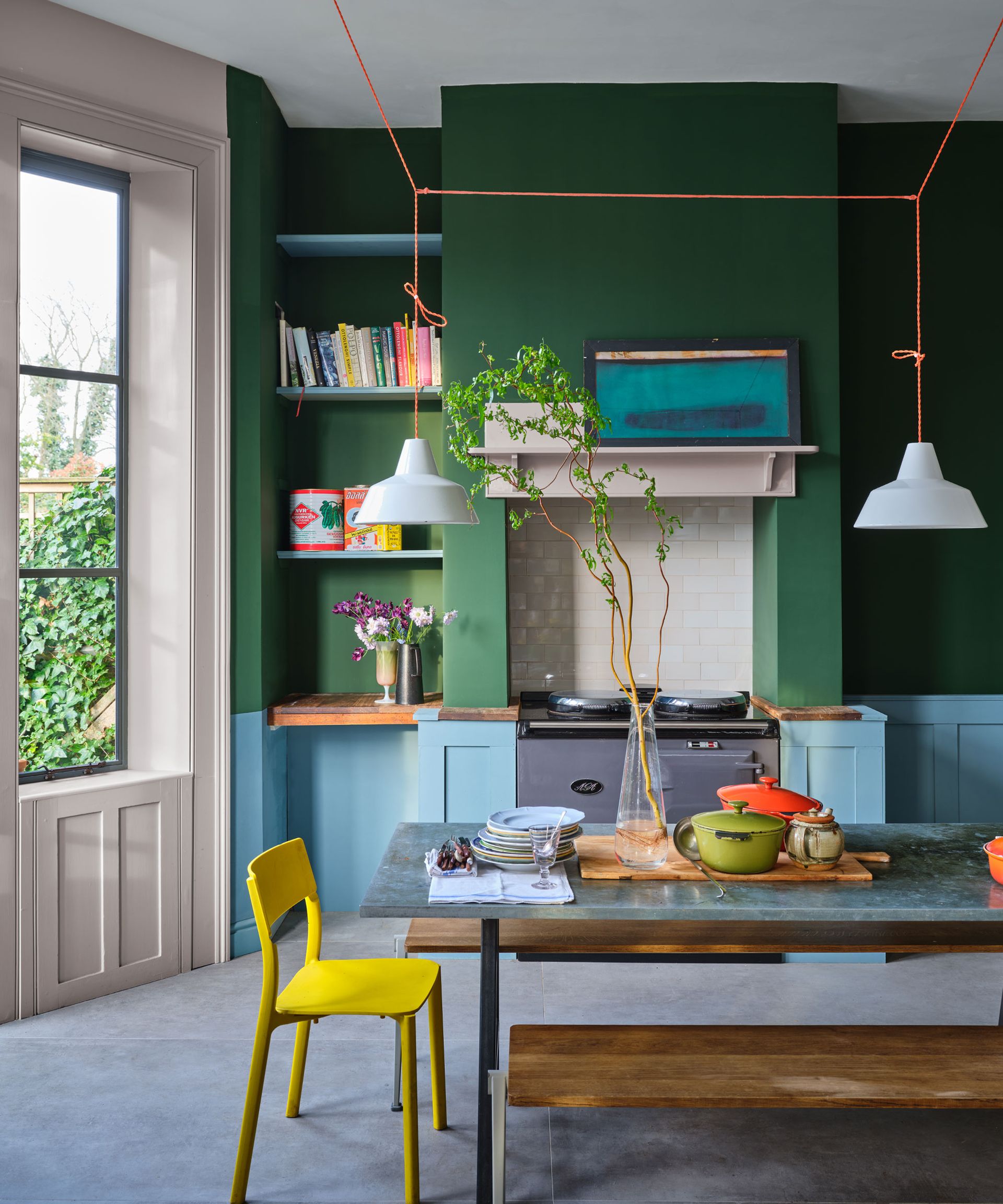 'I love pairing gray floors with rich jewel-toned colors in blue and green hues to create a sophisticated and modern feel, while adding drama and enlivening a room. Benjamin Moore In the Midnight Hour (opens in new tab) is one of my favorites,' says interior designer, Barbra Bright (opens in new tab).
Great if you are exploring blue room ideas or green room ideas, deep jewel tones make for a beautiful color pairing with both light and dark gray floors, and they can uplift a traditional or modern space with the inviting and soothing colors of nature.
Interior designer, Jerad Gardemal (opens in new tab), also supports this and says, 'navy looks especially elevated with gray carpet, and can give a space a luxurious and mature feel.'
California-based Barbra Bright founded her interior design firm in 2017 after working for various design showrooms in the Bay Area. Barbra offers complete residential design for clients from Marin to Napa to San Francisco and specializes in colorful and vibrant Mid-Century Modern interiors.
Jerad Gardemal is an interior designer based in Baton Rouge, Louisiana. A graduate from LSU School of Interior Design, Jerad started his own interior design firm in 2020, and his renowned for his luxurious use of fabrics and antiques.
3. Pretty pastel shades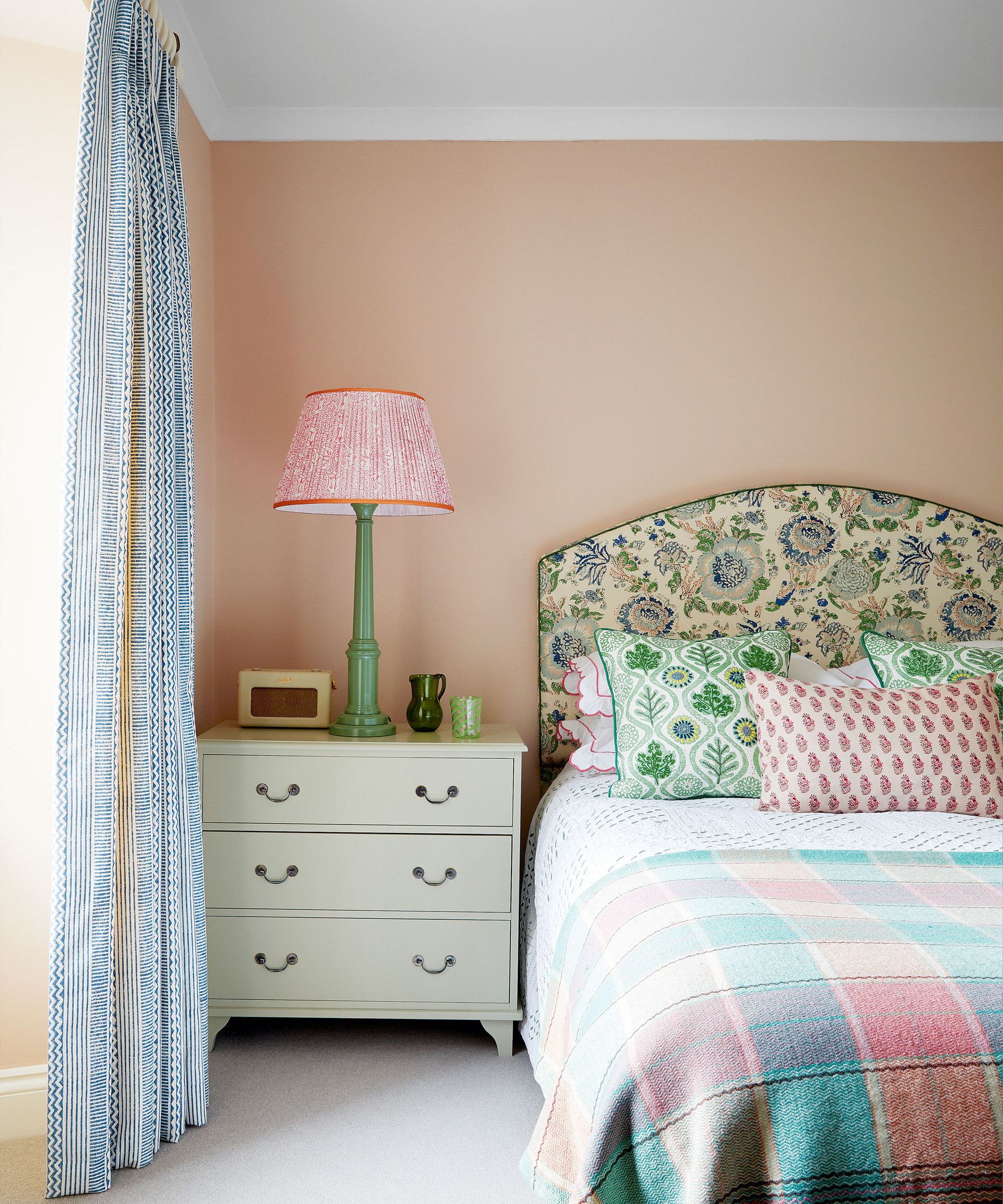 If you're steering to lighter and brighter colors for your walls, then pairing gray flooring with pretty pastels will make for a charming color combination.
As a color expert from Benjamin Moore, Helen Shaw advises, 'for a softer approach, opt for pastel hues such as blush pink. Such hues married with a lighter gray create an airy, minimalist feel, perfect for a room where tranquility is desired such as a bedroom or bathroom.'
Pink and gray will always make for a wonderful color pairing, as shown in this inviting, soft pink bedroom. The light gray carpet fits in seamlessly with the pastel color scheme used throughout, and elegantly mirrors the white-painted ceiling. 
Pastel shades such as pink will also coordinate well with dark gray flooring, establishing an elegant balance between the light and the dark.
Helen Shaw is part of Benjamin Moore's UK division. Color expert and international marketing director, Helen and her husband Craig are founders of Shaw Paints, acquired by Benjamin Moore in 2020.
4. Match with gray walls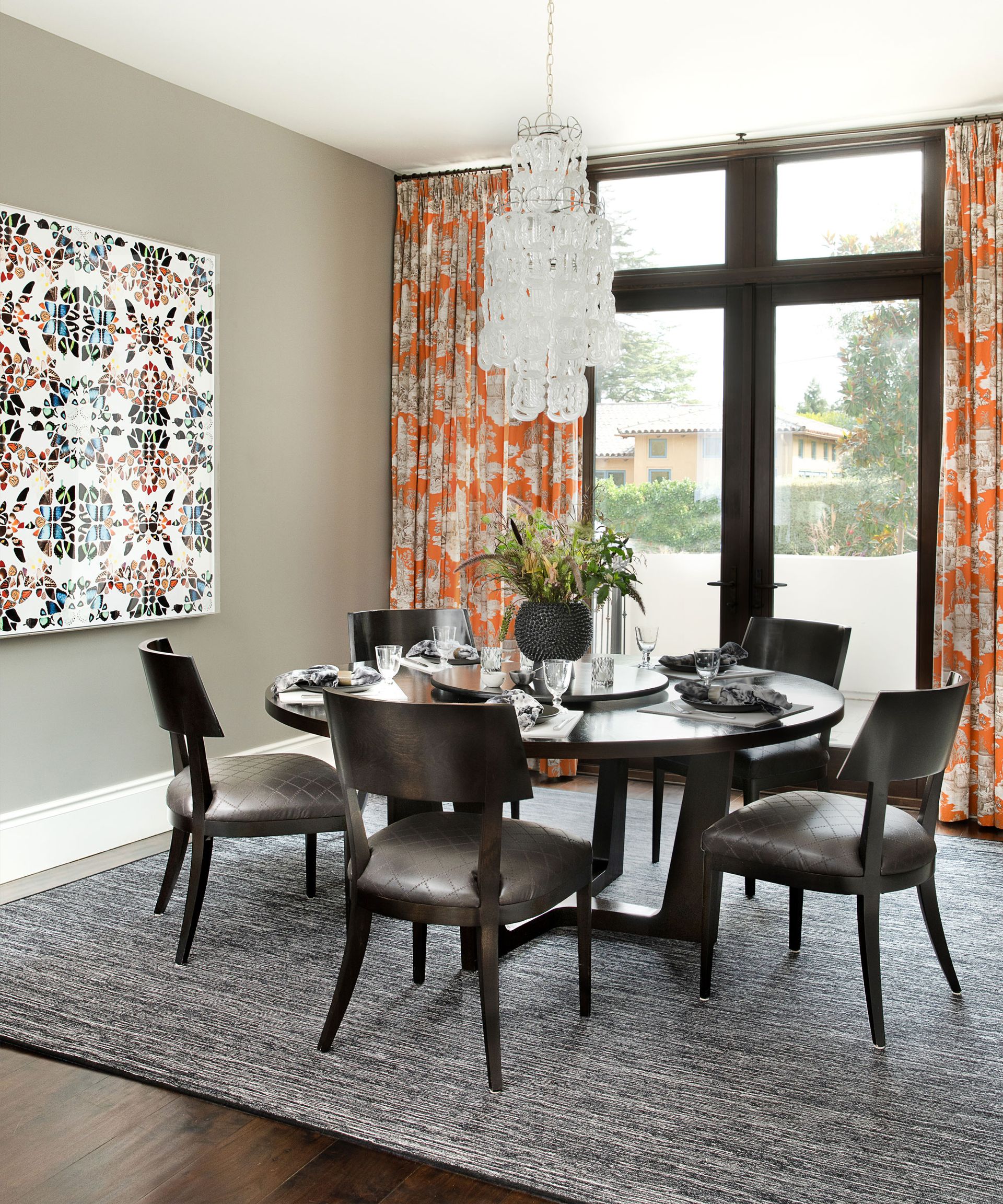 For a more tonal, monochromatic look, take the lead from your flooring and match it with gray-painted walls. 
Whether you opt for a gray shade with similar undertones for a more cohesive feel, or bring in a subtle element of contrast, as shown with the cool gray rug and the beige-gray on the walls in this gray dining room, designed by Susie Novak (opens in new tab), gray on gray can look wonderfully contemporary – just remember to bring in colorful accents!
When decorating with multiple tones of gray, Ruth Mottershead, creative director at Little Greene (opens in new tab) advises, 'different pigments in grays will affect the overall undertone and how the colors sit together in the scheme. If it's continuity and consistency that you are aiming for, consider grays with similar undertones for a harmonious palette that ties together seamlessly. 
Using grays that have different pigments in the base can make the light, both natural and artificial, pick up on undertones you may not want to highlight. It's much easier to go with greys from the same color family as this will make it easier to build a scheme.'
Jerad Gardemal also adds, 'monochromatic can work if the shade also coordinates with the flooring. A cool gray with brown undertones highlighted by white trim is beautiful with gray flooring.'
Ruth Mottershead is the creative director of the family-run paint and wallpaper businesses Little Greene and Paint & Paper Library, which specialize in creating luxurious paint and wallpaper that represent 300 years of decorative history.
5. Establish a colorful contrast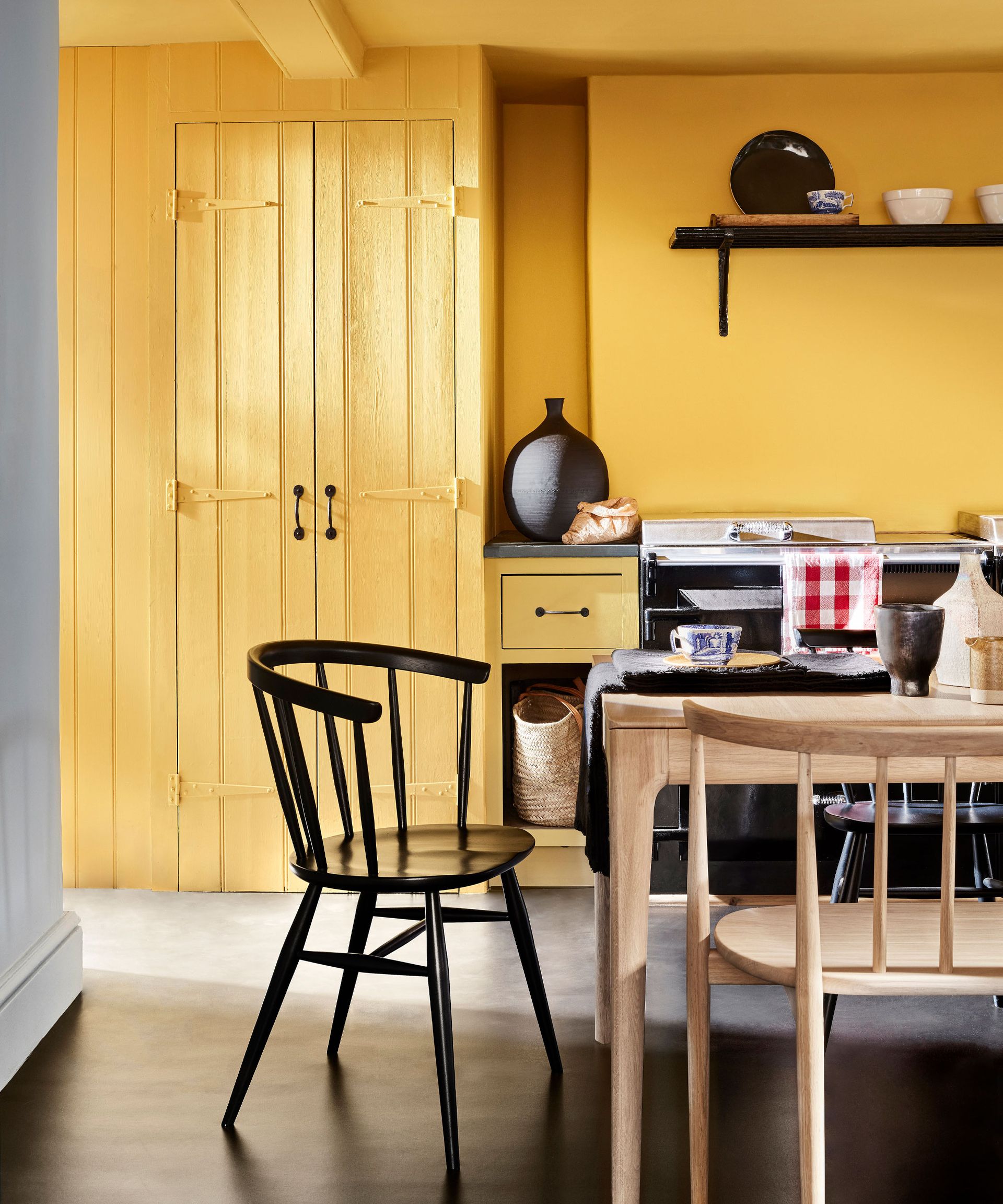 As discussed, gray is hugely versatile, and gray flooring can allow you to really go big and bold with your wall color ideas; helping to bring in a stylish element of contrast to a space. 
As Lorna Haigh (opens in new tab), creative director at Alternative Flooring says, 'as gray is such a varied color and encompasses so many different shades, it's key to make sure you're utilizing contrast in your interior design plans.'
In this glorious yellow kitchen painted in Little Greene Giallo (opens in new tab) on the ceiling, walls and cabinetry, the sunshine yellow uplifts the traditional kitchen with a charming contemporary character. The dark gray flooring offers a stylish contrast and helps the lively scheme to feel more balanced and grounded.
You can also embrace an element of color contrast with your gray flooring through beautiful wallpaper ideas, with this adaptable neutral able to coordinate with designs of all styles and colors.
Lorna Haigh is the creative director of the UK-based brand, Alternative Flooring, a company that has been producing beautiful carpets, rugs, and runners for over 25 years.
FAQs
Should walls be painted lighter or darker than floors?
Sherrell Neal (opens in new tab), interior designer and founder of Sherrell Design Studio says, 'as a general principle, lighter walls and lighter ceilings with a dark floor will help to make a room seem larger. The darker floor grounds the eye while the lighter walls and ceiling draw the eyes upward. Yet, if a room lacks contrast, using only a single color (monotone) from floor to ceiling it might occasionally have a similar impression.'
There are no set rules on whether walls should be painted lighter or darker than floors. Lighter walls can help to make a room feel lighter and more spacious, whereas darker walls can create a more cozy and cocooning effect. Color choices all depend on personal preference, and the overall feel you are wanting to create in a space. 
Whether you want to establish a sense of contrast or coordination, think about how your floors and walls can work stylishly together as one.
Sherrell Neal is an interior designer based in Houston, Texas. Sherrell holds a Bachelor of Fine Arts degree in Interior Design from The Art Institute of Houston and is an Allied Member of her local ASID chapter. Sherrell's aesthetic is heavily influenced by her upbringing in Southern Louisiana where art, antiques and everyday furnishings kept casual company.
---
A gray floor offers huge versatility when it comes to choosing the right color for your walls. 
As we have explored with our five favorite shades, a successful color scheme can be created with walls painted in everything from a deep, moody blue, to a clean, fresh white.
Whether you want to create a bold element of contrast or settle for a more simple and calming scheme, gray flooring will allow you to be as striking or as subtle as you like with your wall color – great for those who are forever in a cycle of re-decorating!