50 Christmas Dining Room Decor Ideas To Celebrate A Festive Feast In Style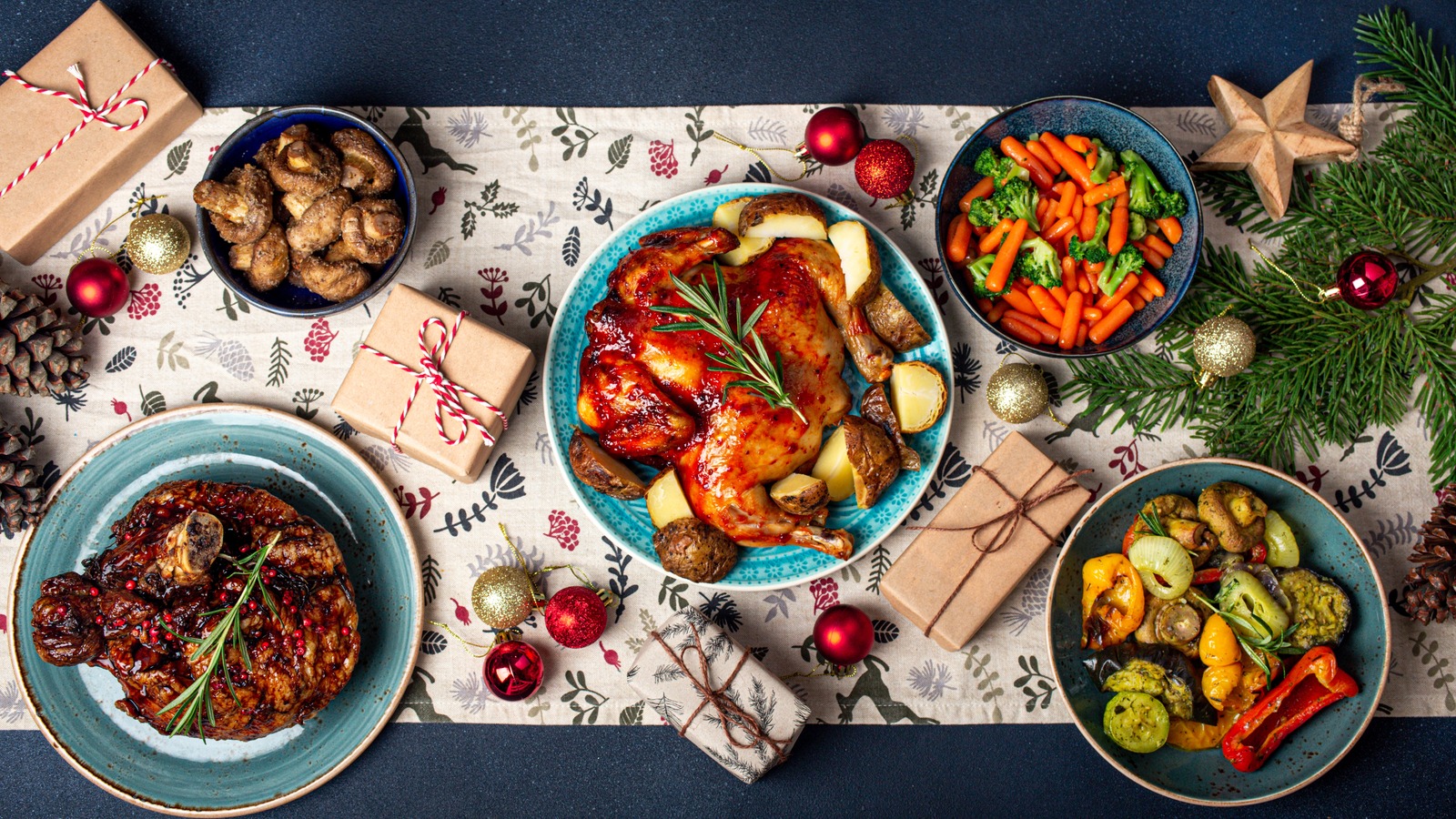 Elena Eryomenko/Shutterstock
When decorating your home for Christmas, there are two items that usually get the most attention: the tree and the fireplace. While the tree is typically the place where presents are opened, the fireplace holds the stockings.
But there's another area that many neglect to decorate, and we would argue that it's just as important: the dining room table. This space is usually only adorned with a simple tablecloth, a basic centerpiece, and maybe some decorative napkins. However, as Decombo points out, while the tree and the fireplace are the stars of the show on Christmas morning, the dining table is the most important element during a holiday party, as the delicious feast is typically enjoyed around it. Therefore, you should carefully consider the best way to decorate around and on top of your table.
Whether you're just planning a small family gathering or inviting the whole neighborhood over, you'll need some ideas on how to decorate the table, and that's exactly what we've provided for you below. The first 38 ideas center around creating a festive tablescape, while the last 12 have to do with decorating the rest of the room.
1. Welcome guests with wrapped presents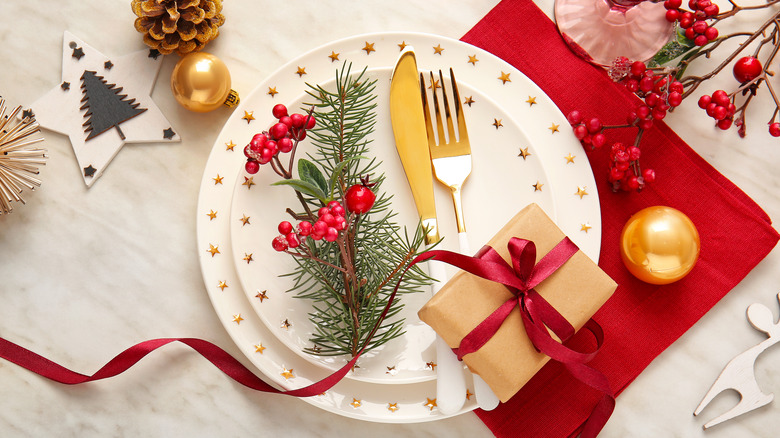 Pixel-Shot/Shutterstock
Consider how you'll welcome your guests to the table. One of the best ways to do this is by providing each plate with its own wrapped present. Inside, you could place a festive treat. 
2. Gift candy canes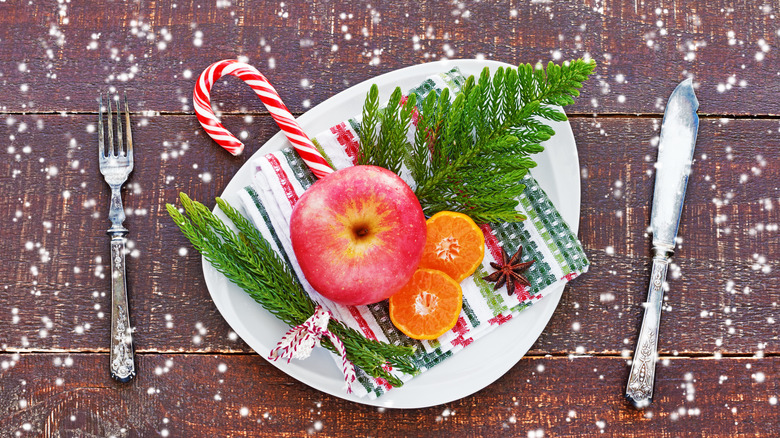 Anna Shkuratova/Shutterstock
Or, if you'd rather not wrap presents, gift your guests something else that's both edible and adorable: a candy cane. 
3. Get inspired by fruit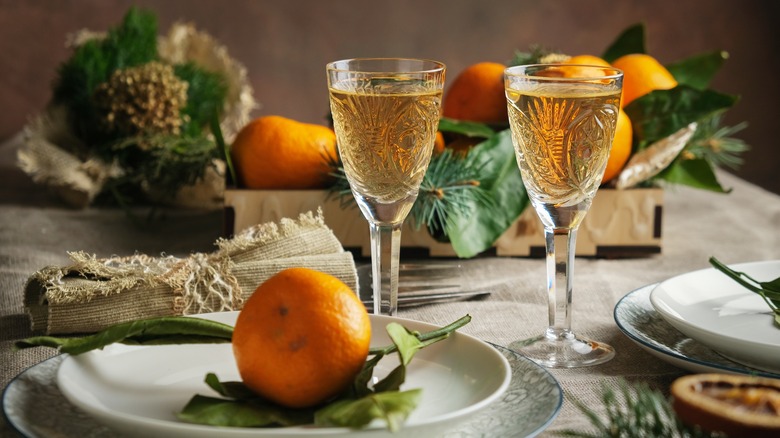 Meteoritka/Shutterstock
Fruits like apples and oranges could be a great source of inspiration. Place an arrangement in the center of the table or one piece on each plate. 
4. Twirl red napkins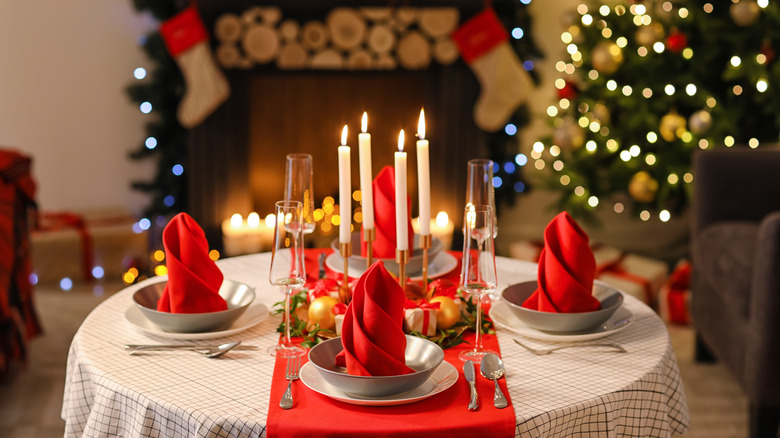 Pixel-Shot/Shutterstock
To create a luxurious feel, fold or twirl your napkins before setting them on the table. This would add visual interest and height to your tablescape. 
5. Wrap the napkins in ribbon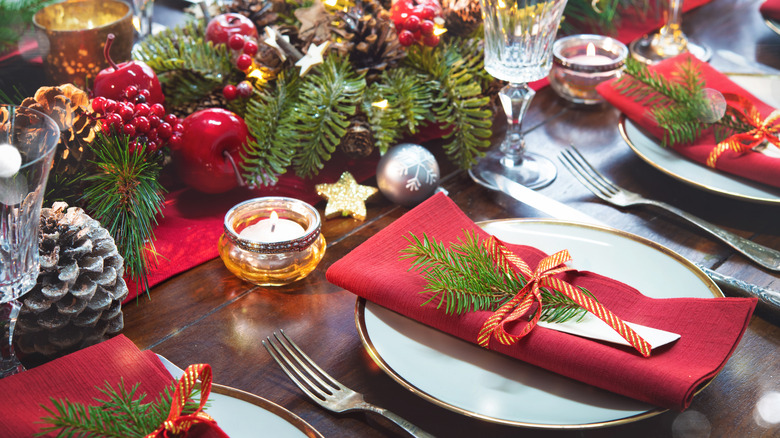 Alexander Raths/Shutterstock
If you'd rather simply fold your napkins, amp up their look by tying a ribbon around them and tucking in a small piece of pine. 
6. Place rings around napkins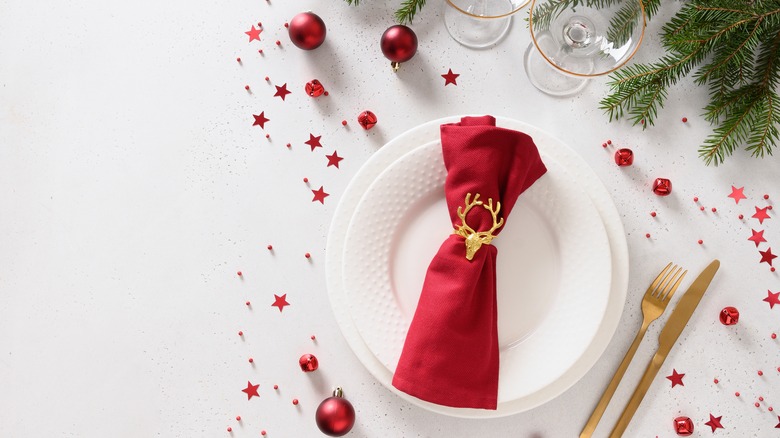 Lazhko Svetlana/Shutterstock
Another idea is to place napkin rings around them. These can be found in a number of designs, with some appearing more Christmas-y than others. 
7. Focus on natural elements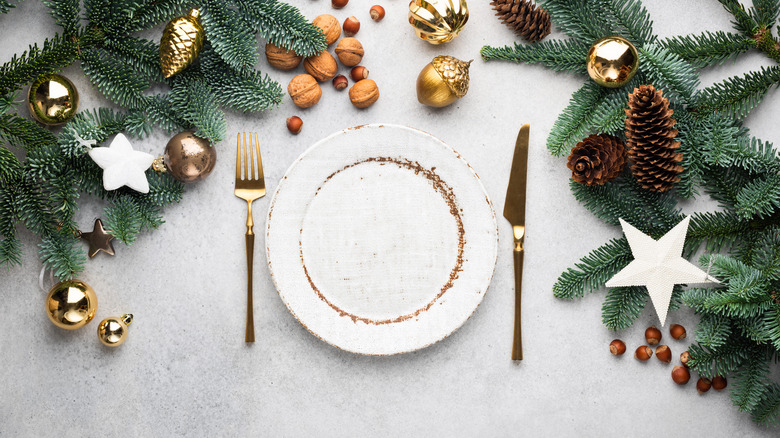 Vladislav Noseek/Shutterstock
Natural elements, such as greenery and pinecones, could be scattered along the center of your table. To keep it neutral, include only golden or white elements as well. 
8. Lay a long garland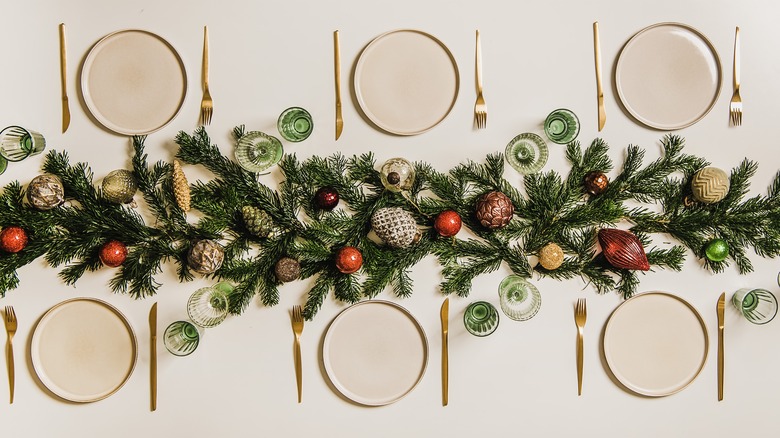 Foxys Forest Manufacture/Shutterstock
If you have a long, rectangular dining table, spread a garland down the center and place ornaments and pinecones along it. 
9. Layer lots of candlelight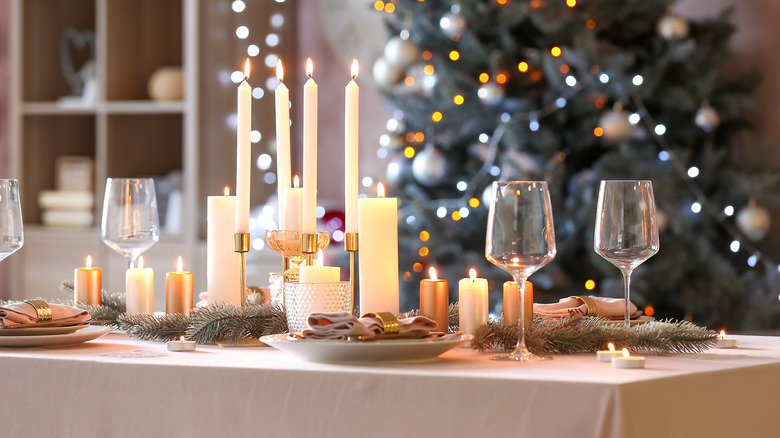 Pixel-Shot/Shutterstock
The best way to add some warmth to your setup is by displaying many candles. To include lots of varying heights, use every type, from tapered to short votives. 
10. Use white as the base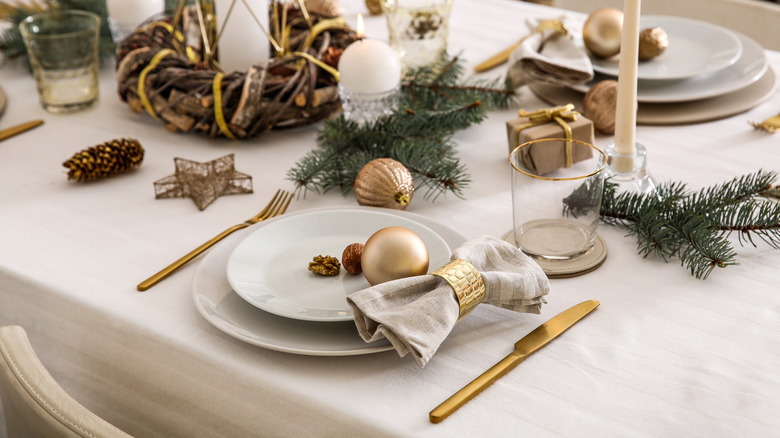 Pixel-Shot/Shutterstock
A white tablecloth would provide your tablescape with a clean appearance while allowing you to layer any colored decorations you desire over the top. 
11. Add a classic red runner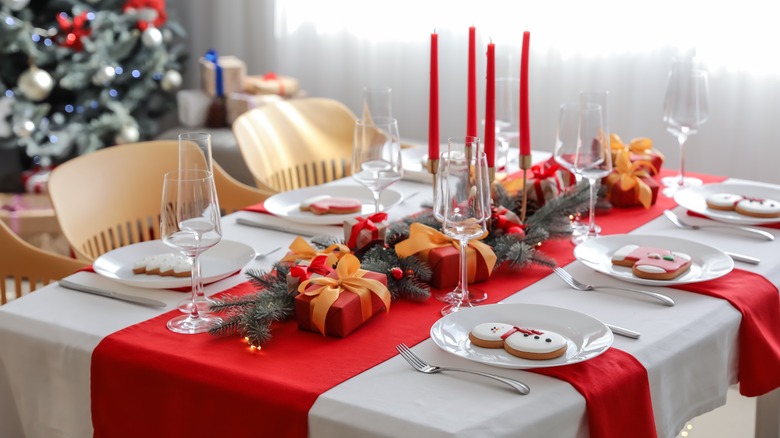 Pixel-Shot/Shutterstock
A runner could help break apart a white tablecloth and make the centerpiece stand out. For a classic look, choose one in a solid, bright red tone. 
12. Keep it sophisticated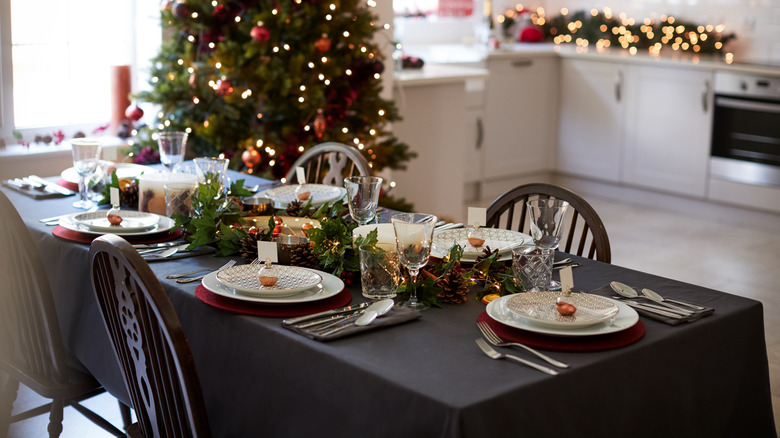 Monkey Business Images/Shutterstock
Instead of a white tablecloth, keep your setup sophisticated by choosing one in deep black. This would make any lighter-toned pieces really pop. 
13. Choose a patterned tablecloth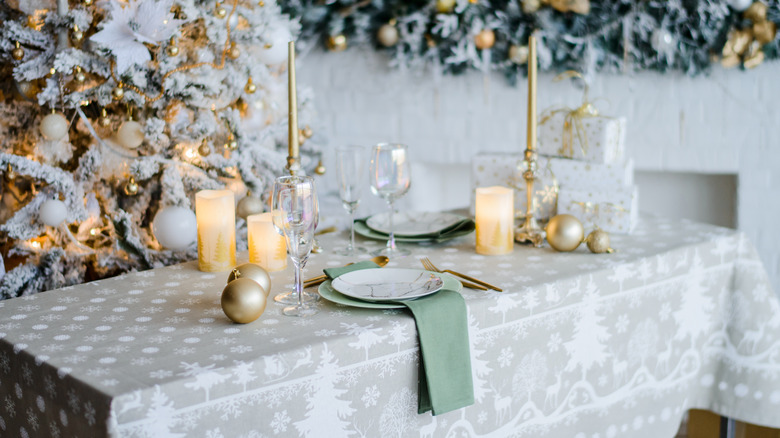 Mariia Lobanova/Getty Images
On the other hand, patterned tablecloths that showcase snowflakes, trees, reindeer, or any other festive elements would provide your dining room with a more playful look. 
14. Mix gray and green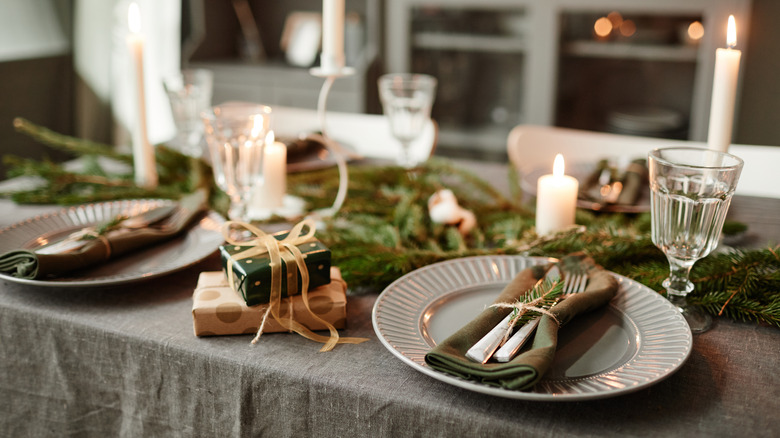 Seventyfour/Getty Images
Neutral gray and soothing green make a great pair and would create an earthy but modern feel. 
15. Limit the color palette to white and gold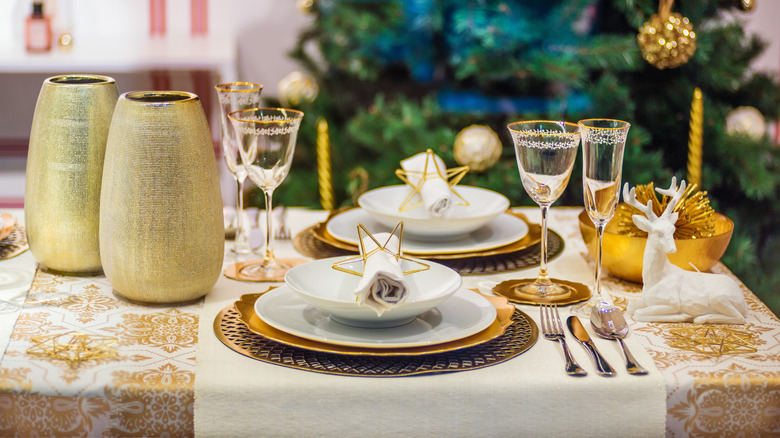 Agephotography/Getty Images
Those who would rather steer clear from the traditional tones of red and green may prefer a white and gold color palette, which would make your party appear extra lavish. 
16. Bring a nostalgic feel with old-fashioned dishes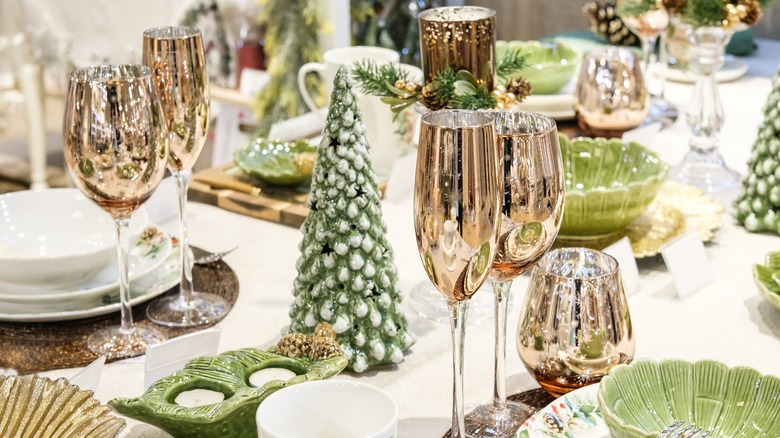 Ivan Gran/Shutterstock
If you have fancy china, now's the time to break it out (if you're having an adult party, of course). Or, if you don't currently own older dishes, peruse the aisles at your local thrift store for any pieces that would give your space a nostalgic and comforting appearance. 
17. Include deep and cool toned shades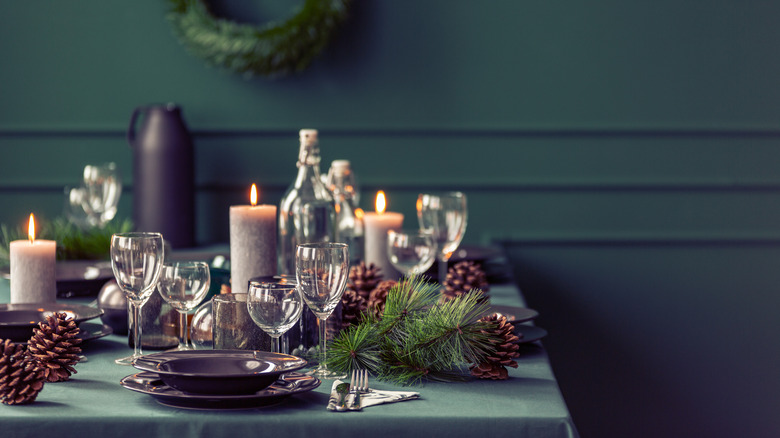 Ground Picture/Shutterstock
Those with cool-toned homes may want to keep their palette strictly on the cool side of the color wheel. To do this, you could mix a green tablecloth with purple dishes. 
18. Fill the center with poinsettias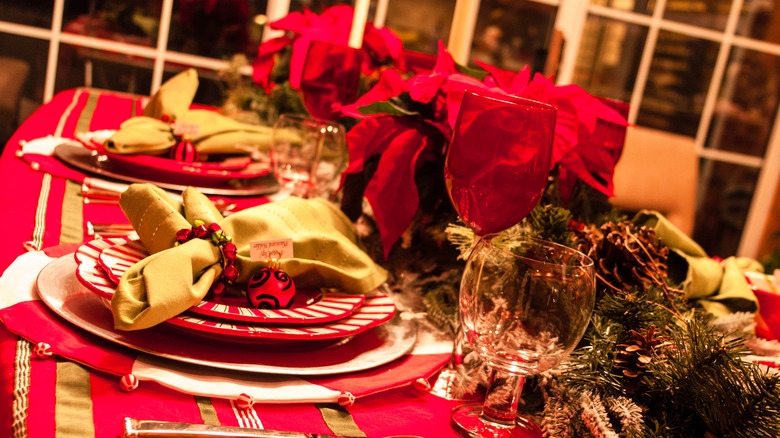 Tvirbickis/Getty Images
To fill the center of a large table, place multiple poinsettias in a row and fill in the areas around the bases with greenery. 
19. Array items on a two-tiered centerpiece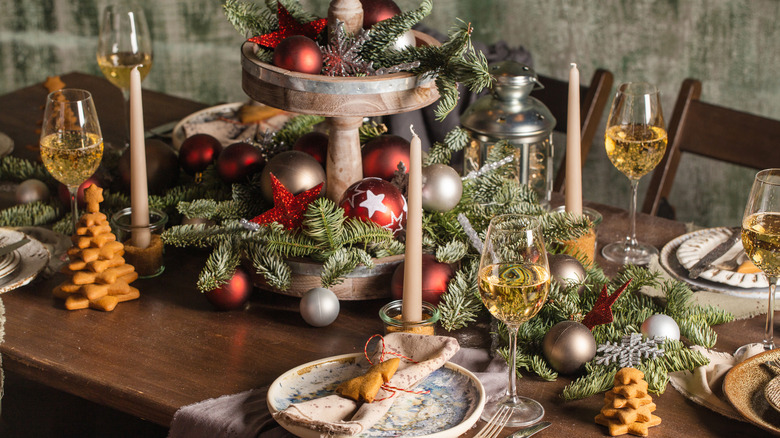 Angelina Zinovieva/Shutterstock
A two-tiered stand in the center of the table would create dimension and height. You could adorn the piece with pine branches and ornaments or, to make it more functional, decorate it with edible items like bread rolls, sides, or desserts. 
20. Adorn the table with twinkle lights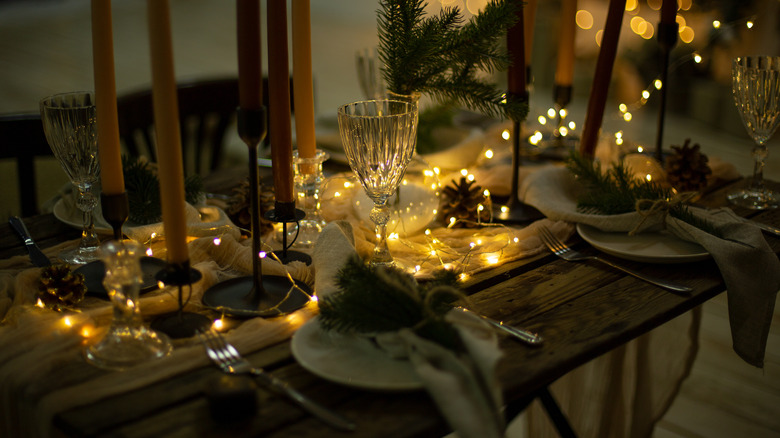 LVD photo/Shutterstock
Even if you're using candles, you may still desire more soft lighting. If so, wrap twinkle lights around the base of your décor items. 
21. Pair red roses with greenery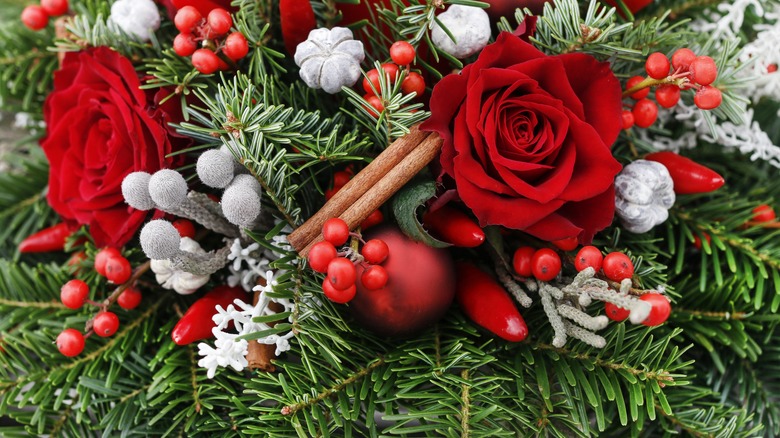 Agnes Kantaruk/Shutterstock
A wintery floral arrangement could become the perfect holiday party centerpiece. To create one, mix red roses and berries with green pine branches and white elements. 
22. Arrange pieces on checkered flannel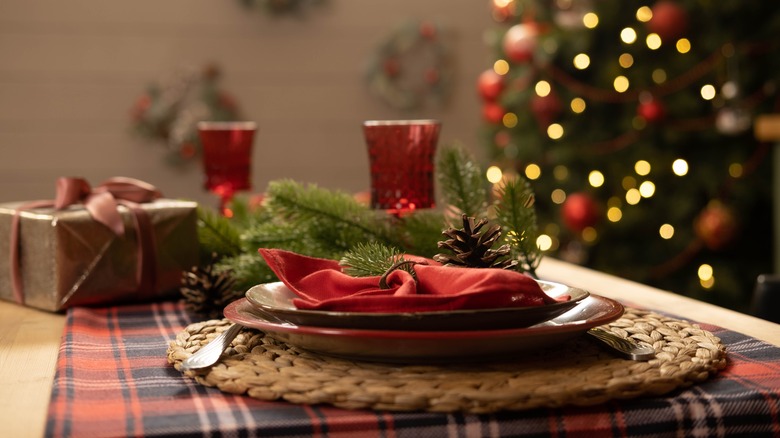 Natali Nekrasova/Shutterstock
Checkered red and black fabrics always make spaces feel cozy and warm. You could lay down a flannel-looking tablecloth or runner. 
23. Utilize tree ornaments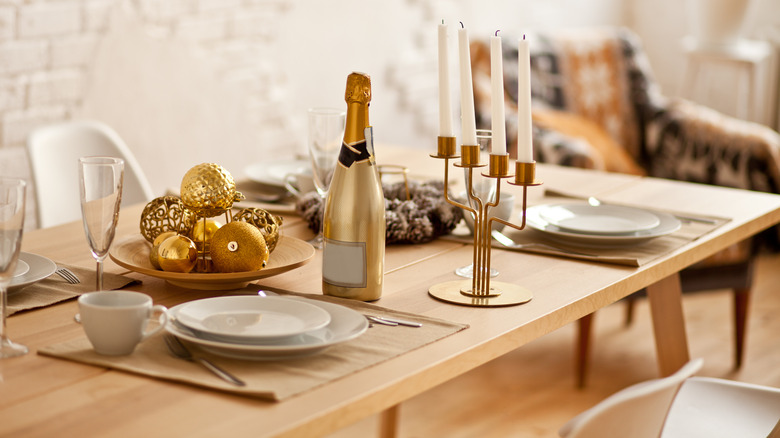 Zulfiska/Shutterstock
An easy way to create a festive centerpiece is by saving some of your tree ornaments and arranging them in a basic bowl. 
24. Center a tabletop tree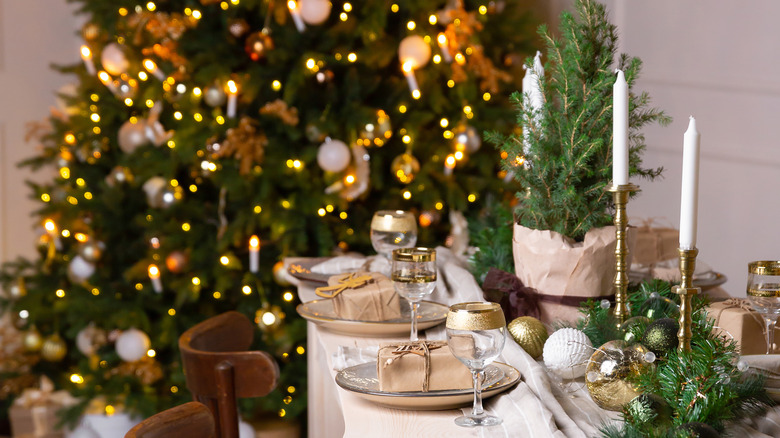 Mantikorra/Shutterstock
A tiny tabletop tree could easily become the focal point in your dining room. For a more natural look, keep it bare. 
25. Combine jewel tones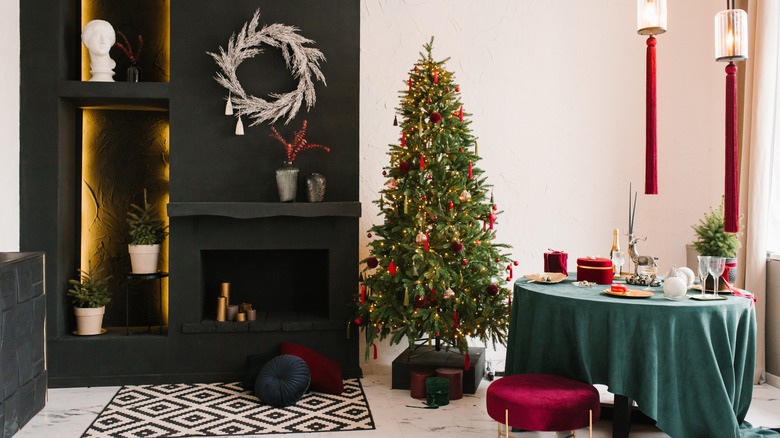 Chamomile_Olya/Shutterstock
Jewel tones, also known as the winter colors emerald green, navy blue, and ruby red, could create a non-traditional tablescape. 
26. Build a winter wonderland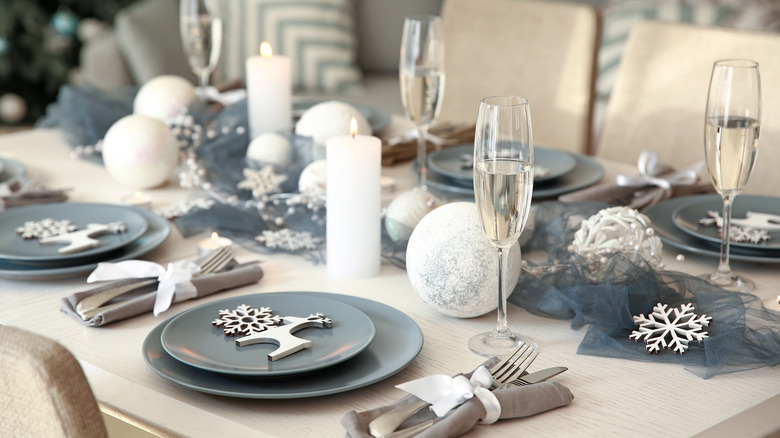 Pixel-Shot/Shutterstock
Those leaning toward a winter-themed party should limit their color palette to blue and neutrals and use plenty of snowflake pieces. 
27. Replace pine greenery with eucalyptus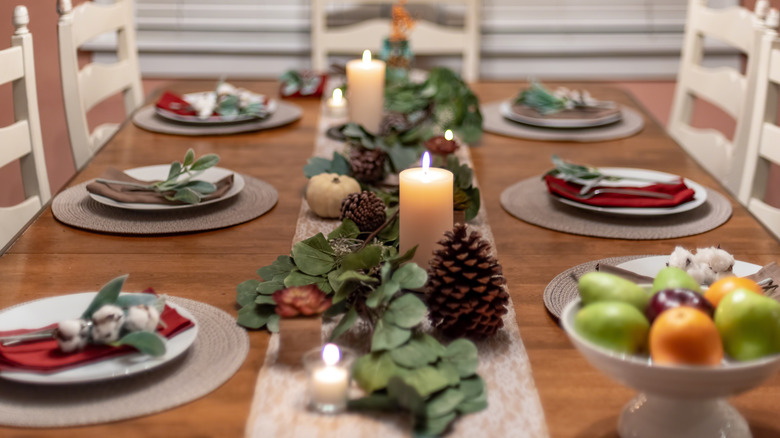 Kristen Prahl/Shutterstock
If you're not a fan of pine (perhaps because it sheds), replace it with another form of greenery like eucalyptus. 
28. Repurpose wooden slabs as placemats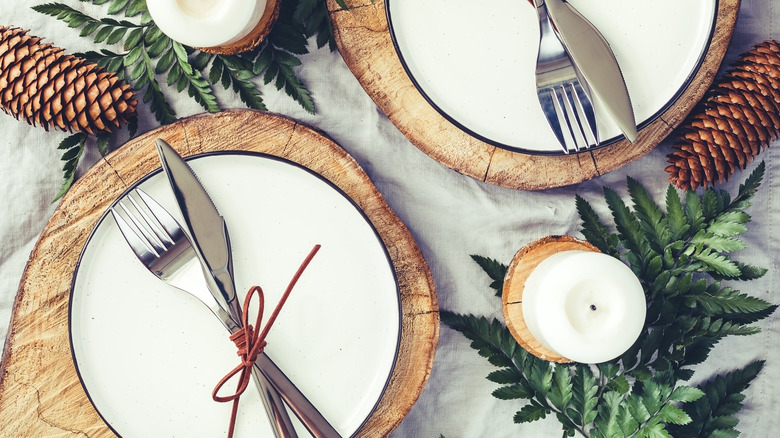 Edalin Photography/Shutterstock
For a rustic look, repurpose wooden slabs as placemats. To make the setup appear more cohesive, you could include wood in other areas, such as underneath candles. 
29. Design a rustic tablescape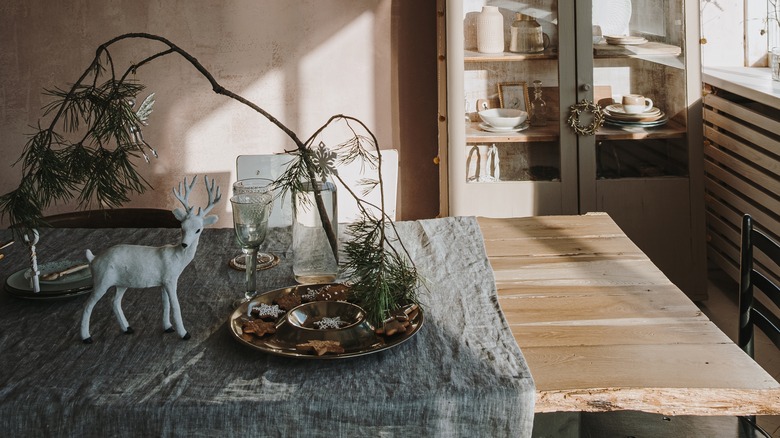 Floral Deco/Shutterstock
Another way to include more rustic elements is by decorating with a cut tree branch on a plain-colored tablecloth. 
30. Accent with burlap materials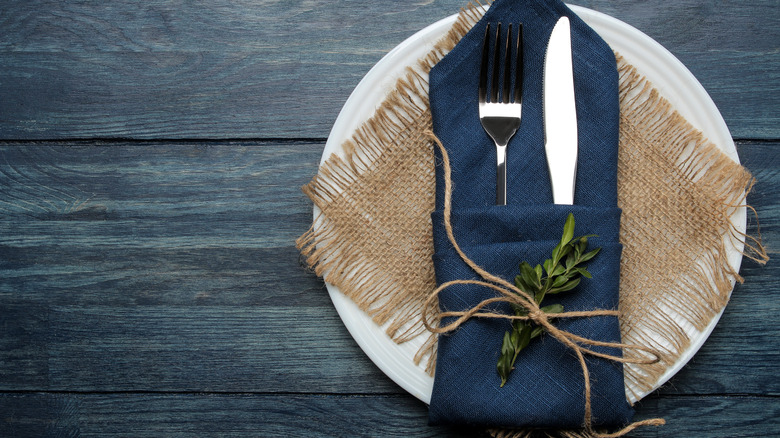 MK studio/Shutterstock
Further, burlap is yet another way to make your table feel a bit more rustic and rugged. Place a small square underneath each napkin and wrap it in neutral twine. 
31. Align mini trees in the center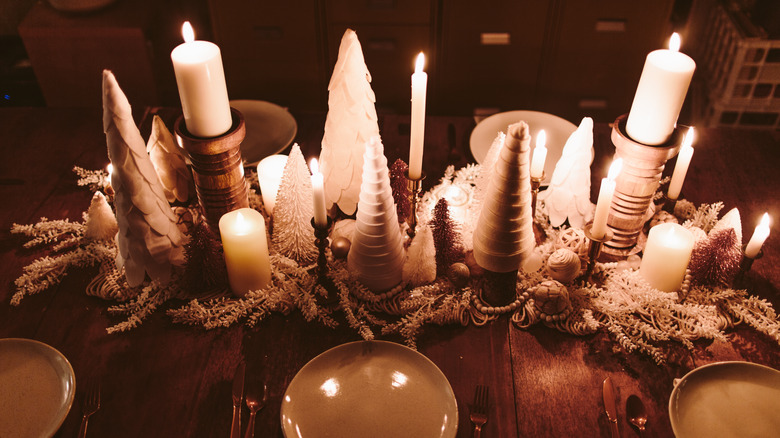 Liz Morrow/Shutterstock
For a more eclectic look, gather many mini trees of varying heights and sizes and align them down the center of the table. 
32. Highlight pine branches
Lazhko Svetlana/Shutterstock
If you're going for a chic look with black elements, place green and white pine branches underneath the dishes for a nice pop of greenery. 
33. Bake gingerbread houses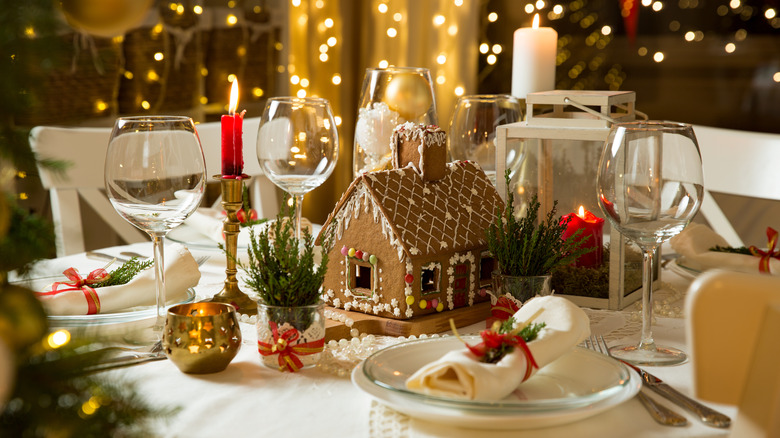 Aleksandra Suzi/Shutterstock
Welcome your guests with both the smell of freshly baked goods and the sight of a beautifully decorated gingerbread house. 
34. Scatter small items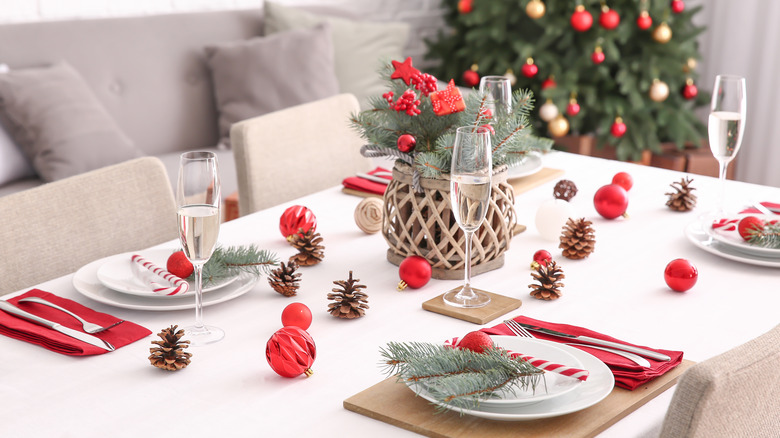 Pixel-Shot/Shutterstock
An easy way to fill a large space is by scattering small pieces like pinecones and ornaments down the table. 
35. Print meal menus and name tags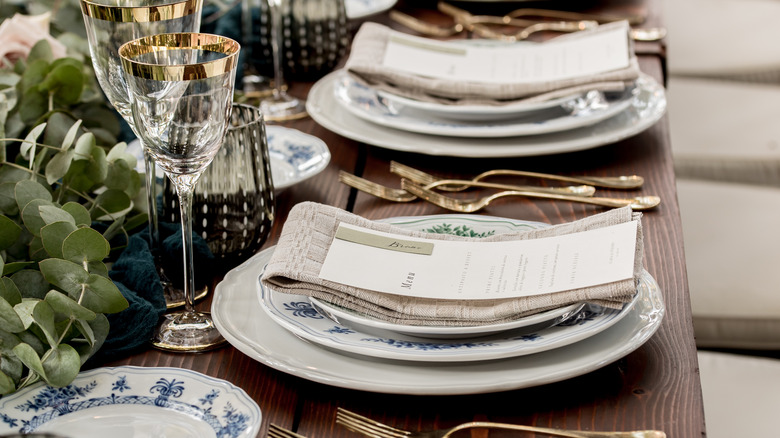 Claire Adams/Shutterstock
To make your party unforgettable, print out menus with personalized name tags and lay them on each place setting. 
36. Feature non-traditional warm tones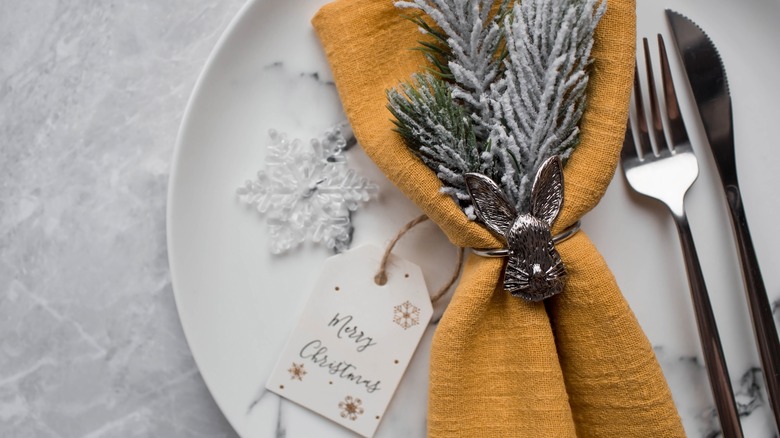 PhotoJuli86/Shutterstock
Non-traditional tones, even mustard yellow, could be used in your tablescape. These colors could accent other traditional shades like green and red or could only be paired with neutrals. 
37. Display a wicker element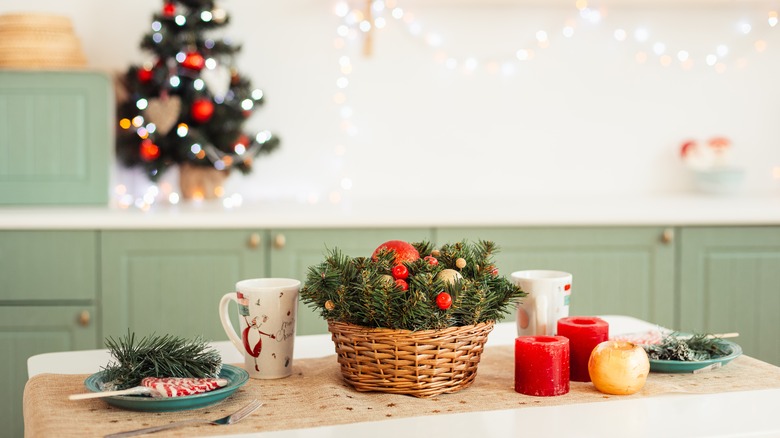 maxfoto.shutter/Shutterstock
Wicker will provide a bohemian element to your space, and it's super easy to thrift. The easiest way to include it is by creating an arrangement inside a wicker basket. 
38. Make the tablescape simple
Vanit Janthra/Getty Images
If you're more about functionality than aesthetics, keep the design simple with just one piece in the middle of the table. However, be sure to add decorative items around the rest of the room. 
39. Go all out with a full tree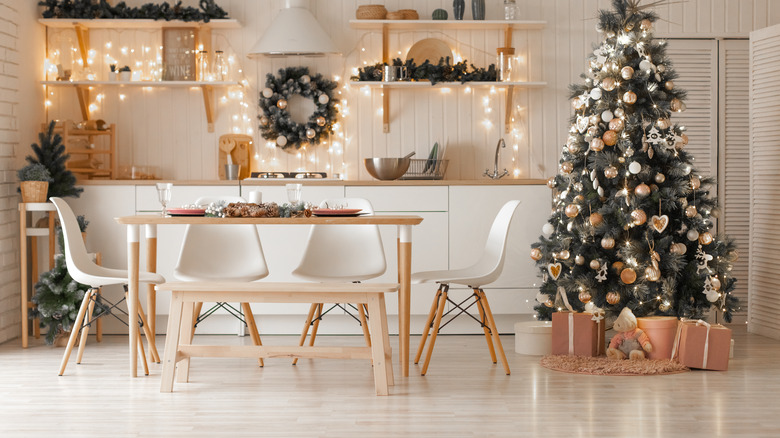 Stanislaw Mikulski/Shutterstock
Place a full-sized tree in the corner, complete with twinkle lights, ornaments, and presents. 
40. Don't forget about the lighting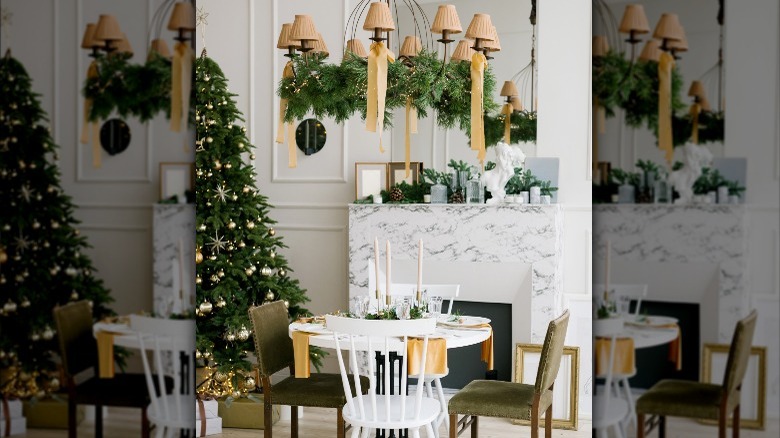 Chamomile_Olya/Shutterstock
Don't forget to also adorn your lighting. If you have a chandelier, add greenery and flowing ribbons to it. 
41. Dangle ornaments over the table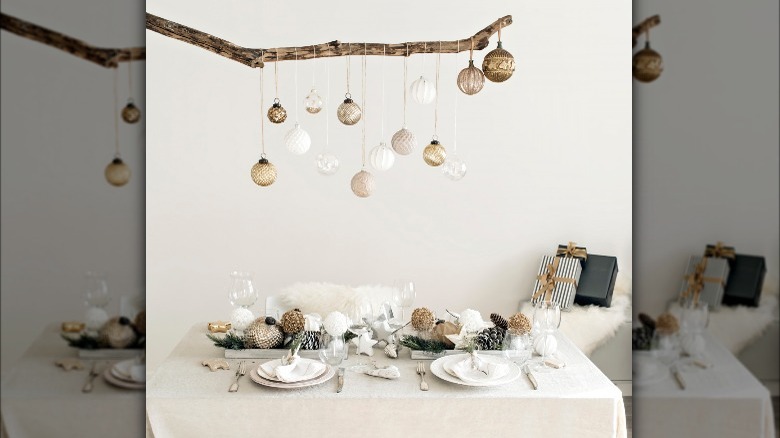 Shyrokova/Shutterstock
On the other hand, if you don't have a large light fixture, extend a long branch above the table and hang ornaments from it. 
42. Turn off the bright lighting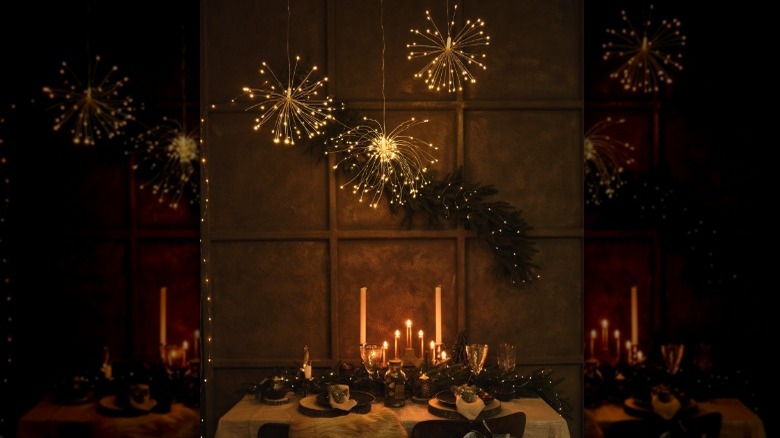 Inna Vlasova/Shutterstock
Or, for a moody atmosphere, turn off your regular lighting and instead only use candles, twinkle lights, and unique hanging fixtures. 
43. Present the food in a festive way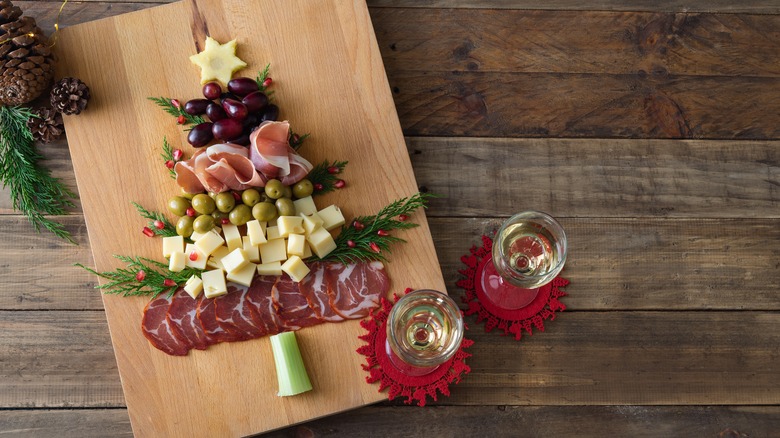 Maria Castellanos/Shutterstock
To really get your guests excited about your party, be creative with the way you present the food. For instance, you could arrange a charcuterie board to look like a Christmas tree. 
44. Set up a baked goods station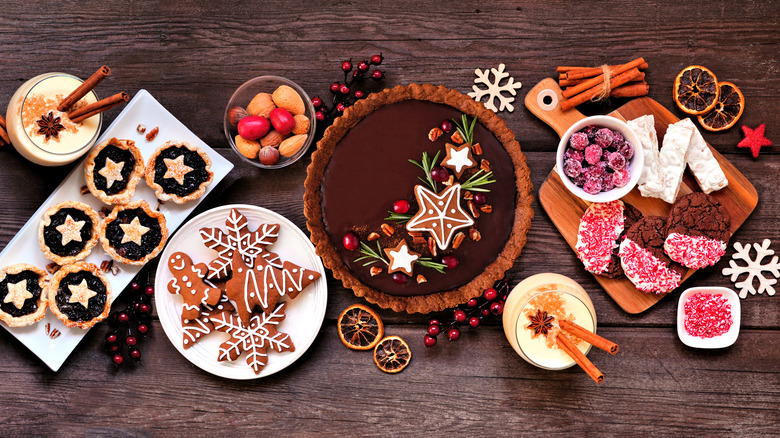 JeniFoto/Shutterstock
Further, make sure you have a full dessert and baked goods station. This could be created on a buffet table or a bar cart. 
45. Establish a drink station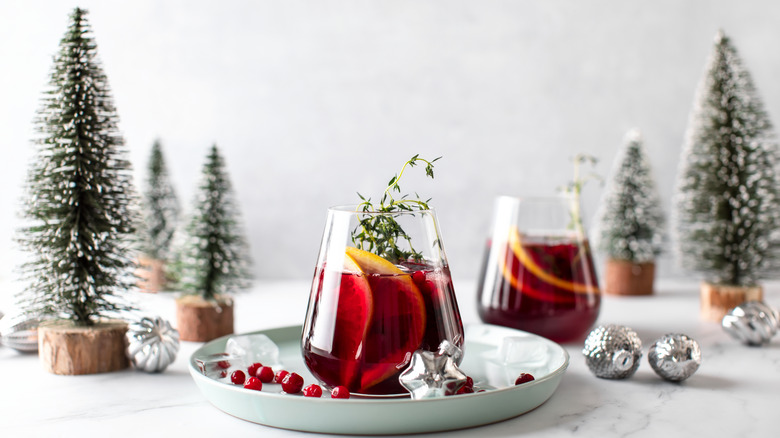 Fattyplace/Shutterstock
Of course, you'll also need to keep your guests well-hydrated. Include a space for them to fill up on fun and festive drinks. 
46. Attach greenery to the chairs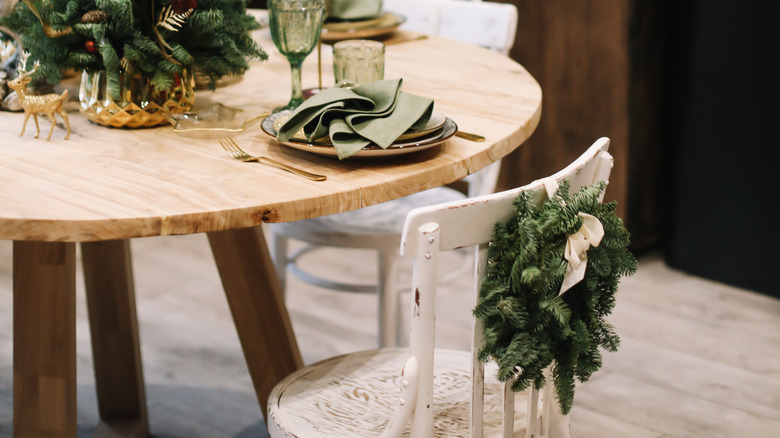 paralisart/Shutterstock
Just as decorating the table is important, so is adorning the chairs. One of the most common ways to decorate dining chairs is with a small wreath, which could be attached with a ribbon. 
47. Spotlight wreaths with ornaments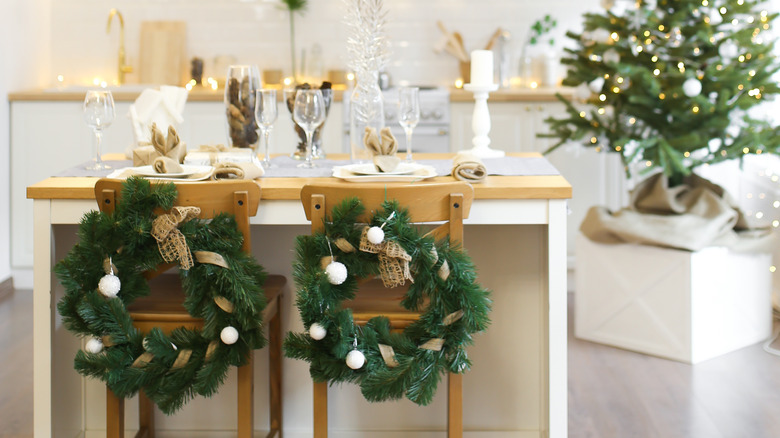 Elizaveta Starkova/Shutterstock
Further, you could choose larger wreaths such as these, which also display white ornaments and tan ribbons. 
48. Incorporate red bows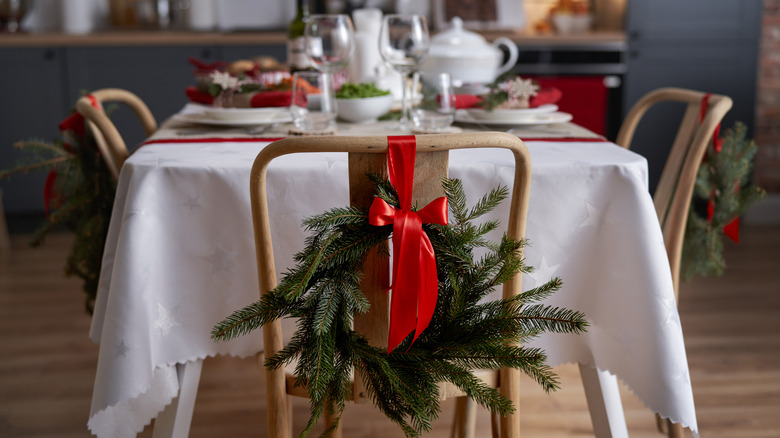 Gpointstudio/Getty Images
Or, you could include a pop of color with a red bow, which could either adorn a wreath or just be used on its own. 
49. Decorate any shelving around the table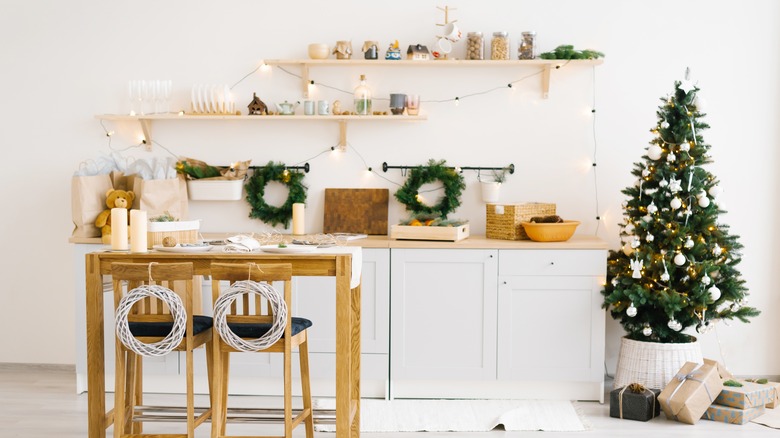 Chamomile_Olya/Shutterstock
You'll also need to make sure you decorate anything that's around the table, such as shelving, counters, or a hutch. Further, notice the wreath alternative on the chairs in the above image for another idea. 
50. Surround the windows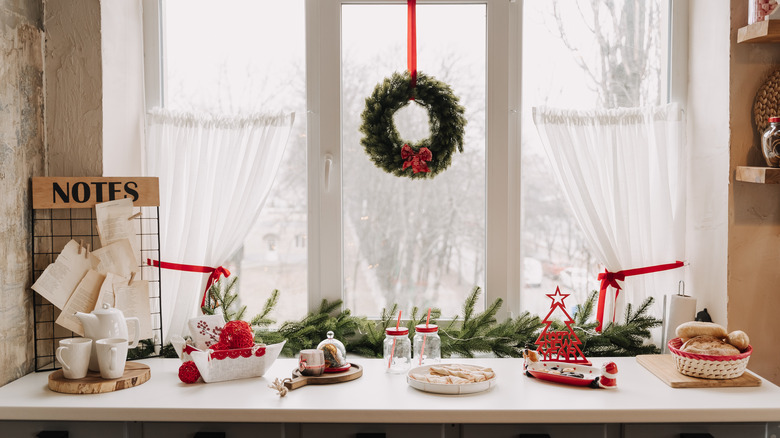 Oksana.Bondar/Shutterstock
Finally, to decorate your windows, either suspend wreaths, which could be hung from the curtain rod, or stretch garlands across the top.