New Products 2023: Carpet, laminate and sheet vinyl are big focuses for the coming year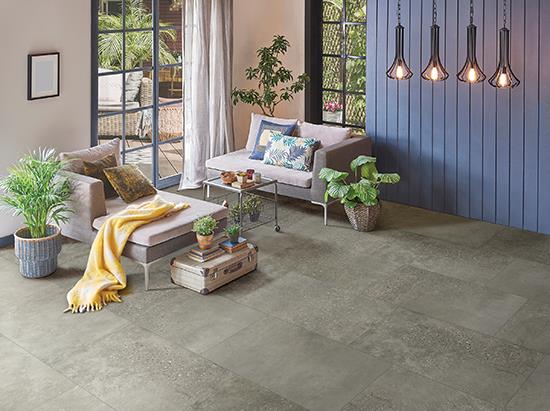 By Jennifer Bardoner
While still the industry leader in terms of marketshare, carpet has seen its dominance shrink following the introduction of LVT, which has eaten into every category. However, amid the pandemic, the soft surface's inherent coziness led to a renewed awareness by consumers, and manufacturers seem focused on maintaining that relevance through style and performance innovations. Similarly, laminate and sheet vinyl, both of which offer value and durability, are getting a boost from current economic conditions, and manufacturers are responding with new releases.
INDUSTRY LEADERS
SHAW
Based on the retailer and market response to Shaw's introduction of performance-based PET offerings last year, the soft surface leader is expanding its lineup, primarily in its Pet Perfect and Pet Perfect+ collections.
"It's all about having great looking products that offer style and design, that are luxurious but also livable," says Herb Upton, vice president of residential product and channel management for soft surface, noting that 70% of single-family homeowners have pets. "Pet Perfect remains a key franchise for Shaw and our specialty retail partners."
While Upton says the company is now "fiber agnostic," focusing on the desired characteristics rather than strictly the fiber type-which in the past was primarily nylon-it is updating its Anso Colorwall, a sign of ongoing support for nylon 6 fiber. Exclusive to Shaw Flooring Network (SFN) dealers, the display's enhancements will be unveiled at the SFN Conference in mid-January, with "rediscovery kits" shipping throughout the month.
To help hone the 25+-year-old display's evolution, Shaw polled its customers, "and they all agreed we've got a good thing," Upton says. But "one thing we identified in soft surface is that solid cut pile, while still a significant portion of the visuals out in the marketplace, has diminished some. It's gone to tonals, tweeds and other things."
In response, Shaw is debuting a new "novel solid," one of the Colorwall's three product categories, designed to help simplify the shopping process for consumers by focusing them on construction and color. Canvas Comfort features a fabric finish that gives the perception of a subtle but tailored pattern. "It's really a big change for us on the Colorwall from that perspective," he adds.
Retailing between $33 and $35 per square yard, the new Colorwall introductions represent the middle to upper end, a target for Shaw's overall soft surfaces releases. While Upton foresees a slight decline in carpet sales amid ongoing economic uncertainty and affordability issues, he doesn't think consumers will largely trade down.
"I believe there is going to be a renovation revolution at some point," he says, noting the age of existing homes, the increase in equity and the cost of homes overall. "Their home is still the largest asset on homeowners' balance sheet. I feel they're going to continue to invest in that, and when they do, I feel like they will be focusing on more upper-end goods."
Shaw's LifeGuard Spill-Proof Technology will be available as an upgrade option on all 2023 Colorwall introductions, and the brand is updating the proprietary technology by combining the moisture barrier component with its SoftBac backing, which provides greater softness and flexibility with a wrinkle-free finish. The new SoftBac with LifeGuard Spill-Proof Technology will be available on all 2023 Pet Perfect+ introductions.
Service will again be the primary focus for the company's hard surface rollouts, "which includes portfolio simplification and targeting clear revenue drivers for our retailers," Upton explains. Amid supply chain challenges that limited last year's hard surface introductions, he reports that the manufacturer diversified its countries of origin, and "we feel very comfortable as we come out with these launches that we will be able to hit our timelines."
Most notable among the new WPC and SPC introductions under the Coretec and Floorté brands is Coretec's new Soft Step underlayment for WPC. The premium offering, made from 100% recycled plastic bottles, offers 70% better sound absorption and 46% more warmth underfoot than WPC, he says.
"This is the next turn of the wheel for innovation for Coretec," Upton notes, though adding, "We are still committed on cork. It has some really great attributes." The brand will also see the expansion of the pressed bevel introduced last year, he says.
MOHAWK
As consumers sought comfort from their surroundings amid the pandemic, carpet got a boost. The category is a leading focus of Mohawk's 2023 rollouts. SmartStrand will see the largest number of new styles introduced in three years, and Godfrey Hirst will gain more than 50 new SmartStrand, wool, nylon and PET styles.
"Mohawk is doubling down on carpet," says president of flooring for North America Paul De Cock, noting over $200 million invested into that side of the business over the last few years. "We are positioning our business to take every advantage of consumers' renewed focus on carpet."
The new SmartStrand Color Wall display features 66 options in a simplified shopping experience that hones in on color and comfort level. "The Color Wall will be the prime avenue to get people back to carpet and reinvigorate SmartStrand sales," De Cock says.
Additionally, the related warranty has been strengthened as it relates to pets. The new AllPet protection promises "all pets, all stains, all the time." If a pet stains it, Mohawk will replace it free of charge, and that now applies to any product containing SmartStrand, says Denise Silbert, vice president of marketing for soft surface.
Previously available in the decorative division as part of a nylon blend in pattern and loop constructions, SmartStrand is being combined with PET and nylon for new visuals, constructions and performance attributes across the residential portfolio.
"The innovative combinations of nylon and Triexta (SmartStrand fiber) are sure to be a hit, and they are available across all of our brands in Mohawk, Karastan and Godfrey Hirst with an enhanced warranty that includes AllPet protection," Silbert says.
With Mohawk comprising 54% of the year's soft surface launches, according to Jamie Welborn, vice president of residential carpet development, the lineup of EverStrand solution-dyed PET will also see substantial releases, all with mergeable dye lots.
"We've reset our base-grade portfolio, so we have the right products with the right technology at the right cost," says De Cock.
While Karastan, Mohawk's premium carpet brand, is gaining patterned designs with rich color options, its new laminate collection is seen as a differentiator. Made using Mohawk's Signature Technology for ultra-realistic embossed visuals and texture, the 16-SKU BelleLuxe line also features the company's WetProtect installation system, both of which are being expanded across product lines.
Launched on RevWood Premier last year, Signature Technology features 64 layers of high-definition details and up to 1,000 color variations in a square inch. It will be added to offerings under Pergo and Mohawk as well.
Pergo, along with SolidTech Plus and SolidTech Reserve, is also gaining WetProtect technology. Vice president of resilient Adam Ward says there's been good reception since the system's launch in 2021, but the addition of GenuEdge technology to Pergo and Karastan is seeing more interest from retailers. The pressed bevel lends a more realistic look to click installations.
In addition to rounding out color lines within his division, which includes SolidTech, VersaTech, Pergo, Ultimate Flex and Karastan offerings, the category is also debuting several tile looks, including Karastan's first such collection, Opulent Charm.
"We've been getting more requests for tile [looks] as labor has gone up," says Ward.
The VersaTech brand of resilient sheet also gained several tile looks, and Ward notes that "sheet has been one of our best success stories this year," citing inflation in addition to challenges related to tile installation.
ENGINEERED FLOORS
As the industry begins to pivot from nylon, which has limited suppliers and a higher price point, manufacturers are beginning to diversify their offerings with solution-dyed polyester-long the basis of Engineered Floors' (EF) soft surface platform. In response, EF is enhancing its proprietary techniques, which helped make the fiber relevant beyond the lower end by adding bulk that translates to greater durability, colorability and design capabilities.
"With TwistX, we've proven that polyester, when put in the right construction, can perform in a way that most people would associate with premium fibers like nylon or Triexta," says residential carpet manager Joe Young. "We are taking the next step in how we put solution-dyed polyester together, with a product that will keep us a couple of steps in front of our competition, who are clearly coming in our direction with solution-dyed polyester."
At Surfaces, the company will launch two new products under its DW Select brand, Gold Standard and Silver Lining, which will lead a collection to be developed over the course of the year. Trademarked as PureColor High-Def, those products represent the platform's first upgrade since its launch seven years ago.
"The TwistX products within DW Select are very pattern- and loop-heavy," Young says. "The one holdback to that technology is that it's not really effective on the cut pile side, which is 70% of the market. What we're looking at here is opening up that DW Select brand to more universally used product. Multicolor has taken over the market."
Up to 24 colors will be used to create additional depth and clarity, as compared to the average six colors in most products today, he says. And the product's enhanced bulk will not only lend greater texture and durability, but also softness, sometimes seen as a hindrance to longevity.
"You've got two options in order to win the jumpball against your competition," says Young. "One of those is to take costs out. The other, and the thing that we're focusing on here, especially as we go through a downturn in the economy, is to focus on enhancements. It should be relevant today, because people are looking for something to hold on to when it comes to closing a sale."
To retail at roughly $14 per square yard, the new products will fall in line with the company's average price point while expanding that of DW Select, EF's premium brand.
THE DIXIE GROUP
Launched last year at Surfaces, Dixie's new decorative products division (housed under the 1866 by Masland and Decor by Fabrica brands) will see the addition of 30 new products split evenly between its two brands this year. Supply chain challenges pushed the initial products' debut in the market to the fourth quarter of 2022, but division vice president Len Andolino reports "outstanding" customer reaction.
"Obviously there's been a downturn in market conditions, but I think history has taught us that they affect the high-end consumer a little bit less than the middle-market consumer," he notes.
Still, the division, which comprises Dixie's highest-end products, is also widening its price points-typically between $45 per yard and $90 per yard at retail-with the addition of heavily patterned polyester products under Décor by Fabrica. The higher-end of the two, the brand has traditionally focused on wool in Wilton-like constructions.
"The decorative business is not tied exclusively to wool; the decorative business is the 'pretty carpet' business," Andolino says. "We are very supportive of wool, but we also recognize there is a very nice niche market in other fibers. High-end consumers don't really concern themselves [with fiber type]."
Under 1866 by Masland, the company is adding a line of UV-stabilized polypropylene broadloom targeted at the indoor/outdoor market, which Andolino pegs at $25 billion between its various decor offerings in the U.S. Allseasons collection, which can be fabricated into area rugs, will feature the same differentiated design for which Dixie is known.
"What we've done with the Allseasons collection is we've made it look like woven carpet-fashion at a very value-driven price point," Andolino says, noting that only 20% of indoor/outdoor rugs actually get used outdoors.
He expects the 15 products to retail between $45 per yard and $75 per yard. Three of the designs were introduced at Surfaces 2022, before the decision to roll them into a full collection.
Having focused on nylon in its core business, the company is also adding a polyester collection called Elements under its Dixie Home brand. It will feature nine styles: a three-weight texture series topping out 75 ounces; four colored patterns; and two heavyweight patterns with a silk-like accent yarn.
"Polyester has become the dominant fiber in the residential market, and with the increases in nylon pricing over the past couple of years, we have seen the market move even more toward polyester in the low to mid residential price points," says TM Nuckols, president of Dixie's retail business. "The Elements collection places us solidly in that space, with style and color that will set us apart from the sea of polyester sameness."
Debuted at Surfaces in 2019, Dixie's TruCor rigid LVT line continued its sales growth last year, up nearly 19% over 2021 even as the landscape shifted in the second half of the year. In 2021, the line grew 80%, reports hard surface vice president Jamann Stepp. This year, the brand will see the addition of roughly 45 SKUs-including an eight-look hybrid laminate collection called TruCor Refined. The new category features a unique composite fiber core topped with melamine that offers the heightened scratch resistance for which traditional laminate is known.
"We tested the heck out of this product, and there was zero water absorption after 24 hours of being fully submerged," says Stepp, adding that while competing products may enter the market in late 2023 or sometime in 2024, "there is not another factory in China making this stuff currently."
Having already seen laminate regain some of its footing in the market over the past few years, he expects the hybrid option to be popular. He's already working on 60-inch-long plank sizes, should the line grow.
"I think we will continue to expand laminate," he says of the general category, noting an eight-look collection called TruCor Tymbr set for debut and another 16 SKUs "sitting on go."
Citing personal experience that better-end products hold their own in economic downturns, Stepp expects his hardwood category to grow at least half as much as the 55% jump it experienced in 2022. Dixie has been diversifying its sourcing strategies, and Stepp reports that freight challenges have largely abated. He's planning several midyear wood launches: eight under Fabrica and four to six under Dixie Home.
AHF PRODUCTS
Having acquired many of Armstrong's assets last summer, AHF Products has plans to leverage its new capabilities and capacity in the new year.
"When we bought Armstrong, we bought plants, and we are building them up with more SPC products and resilient sheet products for new-home builders, multifamily and commercial," says AHF president and CEO Brian Carson. "We are reinvigorating the Armstrong Flooring brand and enhancing the product assortment."
Among that new assortment is an expansion of LVT into flexible and looselay options, including a reintroduction of flexible LVT with Diamond 10 Technology, a patented treatment that incorporates cultured diamonds into the surface for exceptional scratch-, scuff- and stain-resistance. Armstrong is also restructuring StrataMax into the new StrataMax Pro product line of residential sheet. Available in 22 visuals to meet a wide variety of design aesthetics, the collection features a "Bounce Back" core for enhanced durability against rips, tears and gouges.
The company is beefing up its resilient offerings under other brands, including Bruce, Hartco, Parterre, Robbins, LM Flooring and Tmbr, but there is naturally a pronounced focus on new hardwood introductions, as AHF was founded as a hardwood supplier.
"The buzz will continue to be around our revolutionary Densified Wood, which we have already introduced into Hartco as DogwoodPro and as ArmorWood in Robbins," Carson says, noting that both brands are exclusive to independent retailers. "Look for continued innovation. New technology continues to be a driving force for growth, particularly if that technology solves problems such as installation issues or resistance to water and dents."
For example, Bruce's new Rooted in Tradition sliced-face engineered collection of red and white oak features Cleantivity antimicrobial technology that inhibits the growth of bacteria on the floor surface. Meanwhile, Hearthwood will gain the Living Tree TimberTru laminate collection, offering inherent scratch resistance along with waterproof technology that provides top-down moisture protection for up to 24 hours, according to Carson.
MANNINGTON
To tap into increasing consumer interest in the category, Mannington is adding two new patterns to its Restoration laminate collection. Featuring a deep wirebrushed texture combined with the patina of natural cracks and knotholes, Heirloom is a European white oak pattern reminiscent of a reclaimed antique. Harmony mimics Japanese maple with its smooth surface and consistent graining. Both are 8" wide patterns in 20 individual plank designs and feature Spillshield Plus Waterproof technology.
Mannington is also adding several hardwood launches. The new Chateau hardwood collection is a European white oak plank in four on-trend colors. It features a super-low-gloss finish along with a handscraped and hand-planed surface 7" wide, in lengths up to 84". Prospect Park's two new colors, Amber and Flaxen, are subtle and muted, with multiple stain layers and light wirebrushing. The premium sliced white oak face is 7-1/2" wide.
TARKETT
Well-known in the commercial sector, Tarkett is looking to become a household name in the residential market. This year, the company will introduce new styles and refreshes across virtually every category and product line.
"We've really focused on introducing some lighter colors and warming neutrals to round out the color line," says senior marketing manager Nicole Roth. "A lot of them were very Midwest-based as far as color-your browns."
During the pandemic, more people turned to lighter colors to create soothing, tranquil environments for themselves, and the firm wants to carry that forward. It is also looking at ways to enhance comfort through better acoustics, luxurious texture and the like.
On the soft surface side, Tarkett is debuting a new solution-dyed polyester collection called Cloud Nine, which residential division president Jason Surratt believes will be the softest in the market. The new cut pile products will broaden the firm's focus, which has traditionally been on patterns, as well as its price points. Surratt says it will fall in the mid to upper end for polyester.
"The premium fiber category is pushing that softness and luxe feel, so this is a whole new feature for that price point," he adds. "We feel it really brings the best of all three purchase factors for the consumer: It's the ultimate in softness or comfort, it's got great durability, and it's still at a great value."
Following Tarkett's acquisition of Lexmark in 2018, this is a significant launch for the company as it charts a new course forward.
"There was a lot of waiting after the Lexmark introduction-what are we going to do in carpet?" says Surratt. "We don't want to be a 'me too' player. We want unique, differentiated products that are going to bring value to the retailers."
While Tarkett is rolling out new styles for its ProGen and NuGen LVT lines, as well as a new gluedown line, he says the company is most excited about its new vinyl sheet collection. Called First Class, it offers high-end styling. Amid inflation, people are stepping down from LVT to sheet, he notes.
"Sheet is an area where we have seen tremendous growth over the last two years," Surratt says, "and it's an area everyone else, to some degree, has taken for granted. We feel we can grow marketshare by putting style emphasis into it."
NEW PRODUCT HIGHLIGHTS
The following products are some of the newest in the market, with many set to debut at Surfaces.
AMERICAN OLEAN
The new Foyer porcelain collection, American Olean's 100th anniversary benchmark release, is a marble look with bold veining in three colors. The colorbody tile comes in extra-large sizes and decorative mosaics.
CALI
The new Windansea rigid core collection offers coastal-inspired looks with an embossed-in-register surface, and an attached acoustic padding for better sound and thermal insulation. The early 2023 launch will include a custom beach-themed showroom display.
CFL
The new Naturtrend finish for vinyl offers a natural oiled-wood look, avoiding that characteristic vinyl shine. The patented technology provides a long-lasting matte look with improved wearability and will be featured on lines under the Firmfit and Novocore Q brands throughout the year, beginning with the new Firmfit Matte LVT collection, set for debut in Q1.
CROSSVILLE
Capturing the luxury of patinaed metals and ores, the new Native Metals porcelain collection features rectified field tiles in six designs finished with multiple glaze techniques. Floor and wall mosaics are available, including two rectilinear resin wall accents (waves and dots) formulated with real metals.
DALTILE
Inspired by handcrafted Moroccan tilework, the new Miramo porcelain collection features six curated colors, from soft neutrals to rich ocean tones, in three popular mosaic shapes: picket, fan and 1"x6", plus a coordinating jolly to complete the look. The tiles are protected with Defend, powered by Microban.
The new Outlander porcelain collection offers a contemporary terrazzo look in an ultra-durable colorbody tile, available in today's most popular sizes and three designs: Grande, Palazzo and Medio. Daltile's StepWise technology allows for a seamless design that flows indoors to outdoors, a trend in residential spaces.
EMSER
Replicating the warm beauty of solid wood flooring, the new Boxwood ceramic collection is available in three warm neutrals in a single size.
Inspired by the ancient technique of fluting, the new Tubage porcelain collection promotes a play of light through rhythmic grooves and scalloped dimension for walls/accents. The six hues, all grounded in the beauty of nature, feature a glossy finish and come in 7"x16".
FLORIDA TILE
Capturing the beauty of natural slate, the new High Ridge porcelain collection comes in six adaptable, neutral color choices geared toward transitional design. Appropriate for use on floors and walls in residential and commercial interiors, the collection is Greenguard certified and includes Microban antimicrobial technology. Made using pre-consumer recycled content, the pressed field tile formats come in 12"x12" and 12"x24", with a traditional 25-piece mosaic and 3"x12" bullnose available in all six colors.
HEMPWOOD
The new Common Grade hardwood collection of 4-1/2"-wide residential-grade prefinished planks was developed in response to market demand from end consumers seeking more eco-friendly solutions. And consumers can now view Hempwood products in their space thanks to the company's partnership with Roomvo.
KÄHRS
The new Aware collection of PVC-free, bio-based, hybrid floors features embossed wood designs inspired by national parks around the world. Suitable for residential and commercial applications, the planks are made of five layers: a wear-resistant top layer, a design layer, a comfort layer, a high-durability HDF and a cork backing. The top layer features an ultra-matte surface and a Class 33 rating, providing scratch resistance and sealing the surface against stains, chemicals and dirt. The comfort layer offers elastic properties, making the floor comfortable and quiet to walk on-up to 40% quieter when compared to, for example, a laminate floor.
KALEEN
The new Sikri area rug collection features a blend of wool and cotton that is hand-knotted and hand-serged before being finished by hand. The low pile and latex-free open-back construction make the rug easy to move, clean and care for.
KARNDEAN
In honor of Karndean Designflooring's 50th anniversary, the company is expanding its flagship Knight Tile LVT collection. The 12 mil gluedown and rigid core collection was the first range the company introduced to the U.S. market in 1998. The latest visuals add a mix of mid-warm wood tones, more traditional looks with some character knots, airy aesthetics, aggregate concrete visuals, and a light, warm marble look.
MARAZZI
The new Illusionist porcelain collection offers a concrete look inspired by the movement of watercolor paintings, with a unique glossy effect that creates high definition and variation. The colorbody tile comes in a creamy white, smokey greys and a saturated blue, all available in an array of large format sizes, plus two statement color blends in a 1"x24" mosaic.
MERCIER
The new Source hardwood collection speaks to the ongoing return to warmer tones. Grouped into three shades of brown with caramel tones, the seven products feature a muted grain through a delicate application of color on the wood's surface, combined with a matte or signature Intact gloss. Made of red oak, white oak or white ash (pictured), the planks are offered in solid and engineered formats in widths varying from 3-1/4" to 8-1/8" according to the species.
The Naked hardwood collection is adding red oak in widths ranging from 3-1/4" to 8-1/8". The collection features a proprietary finish that seals the original color of raw wood. Available in solid and engineered formats, in Distinction and Authentic grades, the surface is protected by Mercier Generations and Generations Intact 2500 finishes, and is available in matte and Intact glosses, respectively. Developed several years ago, the Intact finish is being relaunched with an improved matte-looking gloss.
METROFLOR
The new Inception Reserve SPC collection features two designs that reflect the evolving trends of "cozy cottage" and "farmhouse natural": Wellness Oak and Family Oak, respectively. The 7"x48" Wellness Oak planks invoke a more relaxed, casual vibe with a milled and hewn wood design enhanced with saw marks and rustic character. Featuring a more refined and subtle look that's extra wide and long (9"x60"), Family Oak is a mix of modern, clean lines paired with the warmth of natural toned wood.
MSI
MSI's new porcelain shower panels provide a seamless look with minimal grout joints and the option of bookmatch designs. Available in four colors, the panels feature a polished finish and come in two different sizes: 32"x64" and 32"x96".
Incorporating MSI's patented ZeroSlip technology, the new Traktion porcelain collection is designed for indoors and outdoors, including wet areas. Available in a cement and a limestone look, it comes in 12"x24" and 24"x48" sizes.
MULLICAN
The new Nordic Naturals hardwood collection offers eight muted natural tones. Inspired by Scandinavian design, the subtle variations in stain colors allow customers to choose the exact hue to complement the natural lighting in their space. There are three widths for each color, and all feature an antimicrobial and durable finish.
NOURISON
Part of the new Prismatic area rug collection, handmade from a blend of premium New Zealand wool and silky Luxcelle, Sand was inspired by the winding rock formations of a slot canyon. The collection features abstract designs enhanced by carved accents and shimmering accents.
STANTON
The new Crystabella area rug collection is made from lustrous yarn (66% Royaltron polypropylene/34% Polysilk) in a high/low pile linear texture, adding depth, dimension and visual interest. The Moroccan-inspired design is offered in six colors and is 13'2" wide.
TORLYS
Backed by Torlys' Surface Flood Guarantee, the new Grand View laminate collection is topped with a protective wearlayer with an AC4 wear rating. The ten SKUs offer a range of traditional and contemporary colors in extra-long and extra-wide planks. The 8mm laminate, which features four-sided bevel edges, is transition-free on floors up to 50'x50'.
VÄLINGE
The new Rigid Core LVT collection is made using Liteback technology that makes the floor lighter, meaning less material, less heavy transports and a smaller environmental footprint. The attached IXPE foam pad provides sound deadening, and the 5G Dry installation system creates a watertight joint. The embossed-in-register, oak-look planks come in larger formats and feature a scratch-resistant surface.
Copyright 2023 Floor Focus 
Related Topics:Shaw Industries Group, Inc., Tarkett, The Dixie Group, HMTX, American Olean, Daltile, Crossville, Metroflor Luxury Vinyl Tile, Kaleen Rugs & Broadloom, Mohawk Industries, Marazzi USA, Masland Carpets & Rugs, Engineered Floors, LLC, Mannington Mills, Armstrong Flooring, Karastan, AHF Products, Parterre Flooring Systems