New products and innovations in flooring from the annual show – March 2022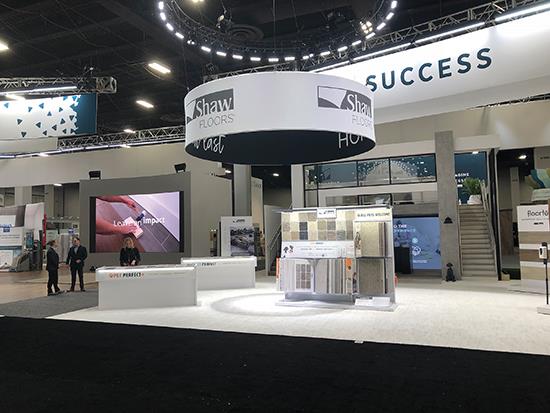 By Darius Helm, Jennifer Bardoner and Anne Harr
This year's Surfaces took place over the first three days of February, and, by all accounts, a high volume of business was conducted, despite attendance down by nearly 50% from pre-pandemic levels. The people who did attend came to make deals and forge partnerships, and the exhibiting firms came prepared, stocking their booths with new products in on-trend colors and designs, many touting a range of new technologies.
EVENT OVERVIEW
Surfaces 2022 marked the 12th year of shows at the Mandalay Bay Convention Center. While last year's show, a trimmed-down event held in June instead of mid-winter, took place without most of the larger exhibitors and with only a few thousand attendees, the 2022 edition looked a lot like the Surfaces of old, with most of the big players in attendance, along with several new-to-the-show flooring producers, both domestic and foreign, from California's Cali Floors to South Korea's KCC Glass. Most notably, Shaw was back with all its brands for the first time in nearly 20 years. However, numbers were down for foreign exhibitors, particularly those based in East Asia due to travel restrictions.
Many exhibitors invested a lot of time and money in their spaces this year. AHF Products' booth centered on a large tree trunk design with planks representing its various brands rising out of it. Tarkett Home erected a two-story house design to signify its new brand. Shaw's new 10,000-square-foot booth, with a theme of "Reimagine" and a focus on its Pet Perfect programs, combined flowing space, vignettes and architectural elements to showcase its many brands and capabilities.
TRENDS IN PRODUCT & INNOVATION
As has been the case for the last few years, Surfaces 2022 was heavily focused on rigid LVT and carpet. "Carpet, without question, has surged back," said Steve Sieracki, Shaw's vice president of residential sales, on the show floor on day one. "And nothing can slow down resilient."
There was plenty of new innovation, largely on the hard surface side for rigid LVT, laminates and the occasional composite engineered wood, and mostly in service of waterproofing. While some of the click system developments were for patterning, like herringbone or square tile installations, or for wall systems, most were focused on their use as water barriers-and the same was true for surface and core treatments. Many rigid LVT producers emphasized their acoustic attached pads, which are largely made from IXPE, an extruded cross-linked polyethylene foam.
Another key innovation at the show came in the form of hardened and compressed wood veneers that bring the surface performance level of wood floors-indentation and scratch resistance-closer to that of laminate and ceramic. The key players are AHF Products with its Dogwood technology and Välinge with its Woodura technology, both through its own Hardened Wood brand as well as through partners like Mannington.
Antimicrobial treatments were emphasized in all the signage, no doubt in response to the pandemic. All the major manufacturers have their own branded treatments, or, in the case of Mannington and Phenix with Microban, an established brand. Välinge touted its Hygenius titanium dioxide treatment. Cleanability was also a major focus.
Another significant trend is PVC-free flooring. It's been occurring in the commercial market, which is more focused on sustainability, for several years. And it probably wouldn't be happening in the residential market right now, were it not for the development of rigid LVT. More traditional residential materials like sheet goods and flex LVT are all still made of PVC, but there is so much innovation taking place in rigid core products, and in such an open, exploratory spirit, that manufacturers quickly expanded their search for materials to a wider range of polymers, minerals and binders, and they have been developing non-PVC systems that work as well as vinyl for both cores and top layers. And being able to market products as PVC-free and plasticizer free turns out to be a good selling point.
Digital printing, including systems that print directly on the core, will likely help drive this PVC-free category further down the road. Hymmen's digital printing and digital lacquer embossing and Unilin's Digitouch and Digicor technologies-see Innovations: Surface Technologies, starting on page 76-are at the forefront of a wave of advancement in digital design.
DESIGN TRENDS
There were also strong design trends in evidence at the show. In terms of carpet, the mills put their best foot forward, emphasizing their patterning, fiber effects and textural capabilities. The higher end has been surging in carpet, driving mills to offer similar looks in middle price points, including woven looks. In terms of color, neutrals continue to lead the way, and where there was color, it tended to be a shade of blue (along with some low-key pastels). Carpet at the lower end featured more earth tones. In terms of grey colorways, many were cool, in contrast to the overall trend toward warmer greys, likely to provide a balance to the hardwood and wood-look flooring that command most of the residential floor space.
In terms of hardwood and wood visuals in general, while there weren't any really red looks-we'll have to wait until next year for that-the biggest shift in colorations came from orange hues. The pale, dry trend remains strong, but just about every major producer had planks with colors toward the fiery end of the spectrum. And while matte finishes are still ubiquitous, some woods and plenty of ceramic tiles came with higher gloss options.
In the decorative segment-from firms like Stanton and The Dixie Group's 1866 by Masland and Décor by Fabrica-there was, as always, a lot more experimentation. Woven wools and wool blends were a major focus. Flatwoven indoor/outdoor constructions were also popular. At that higher end, rugs fabricated from carpet are becoming increasingly important as custom solutions to go over hard surface flooring. And in terms of patterning, there was everything from animal prints to reinterpretations of classic motifs to chevrons and menswear textile designs. Handmade and vintage looks were also strong.
"This year, the trends are helping us alleviate this pandemic mindset we've all been faced with and finally reconnect with the outside world," said Terry Marchetta, Mannington's vice president of residential design, noting that the firm's new designs range from "looks that are very minimal to others that harken back to tradition."
The overarching design trend seems to center on uplifting aesthetics and comfort, which unfolds into a range of expressions. Most prominent were designs that were expressive but still gentle and flowing, particularly in wood looks. Shifts in color and intensity between planks seems toned down to allow for an easy flow across the floorscape.
Classic looks, largely in retro interpretations but some in formal representations, seem to be making a comeback, perhaps because of the comfort of nostalgia. Minimalism still remains a key interior décor design trend, but there are signs of a burgeoning movement toward more ornate décors.
SHOW HIGHLIGHTS
For the first time in 19 years, Shaw's four residential brands-Shaw Floors, Anderson Tuftex, Philadelphia Commercial and Coretec-were all together at Surfaces, and attendees responded enthusiastically, according to Sieracki.
"I think when we evaluate this, we're going to see it as a huge success, because our customers told us it was a great way to see all our new materials and how they tie together," he said, when asked if he anticipated a repeat next year.
Front and center were new carpet releases in Pet Perfect and Pet Perfect+, stretching across multiple collections in both Anderson Tuftex and Shaw Floors. Made with either Anso nylon 6 or Shaw's new Anso high-performance PET, the lines are the company's counterpart to Stainmaster, targeted at the 70% of U.S. households that own a pet.
"Sometimes you can make certain looks better with PET, other times with nylon, and then you tell one story-a Pet Perfect story," Sieracki said. "As long as it's all high performance and beautiful, people are going to buy it."
Anderson Tuftex, Shaw's premium residential brand, introduced three new Pet Perfect+ options, including two on-trend styles patterned through color and texture, while Shaw Floors added nine Pet Perfect products, including reintroductions of some of the brand's best-sellers in this new pet-friendly format. The brand-new releases were mainly striking geometric multicolor patterns.
On the hard surface side, Coretec's new integrated bevels drew the most attention, Sieracki said, though the LVT line also gained nine new colors-including four walnut varietals-most with warm undertones. Achieved by pressing the edges of the plank down during production, the new bevel offers a much more realistic representation of hardwood when installed.
The approach, sometimes called a rolled or pressed bevel, was featured on its Coretec+ HD line of 7"x60" planks, which are 7.5mm thick with a 20 mil wearlayer, and the firm intends to roll it out across other platforms going forward.
Later this year, Coretec, which is celebrating its tenth anniversary, will gain Direct Digital Design Technology, offering a pattern repeat of over 200 square feet, and a new underlayment with enhanced sound absorption and insulation properties.
Under the Anderson Tuftex brand, the firm introduced Joinery, a new engineered hardwood line. In addition to 8" wide planks, the line features 2"x8" inserts for placement at the ends of the boards, replicating the look of traditional woodworking techniques, with the grain of the inserts running perpendicular to the grain in the planks for a dynamic visual effect.
Mohawk came to Surfaces with a raft of new products and plenty of new technology across its hard and soft surface categories. The firm added atop its three tiers of RevWood laminates its brand-new RevWood Premier, featuring the firm's Signature Technology, which features four times the resolution of the firm's existing technology and up to 1,000 colors. "Signature is all about beauty and authenticity," said David Moore, Mohawk's senior director of wood and laminate. The line also features the firm's new CleanProtect antimicrobial treatment.
In RevWood Plus, which was previously made up of all 12mm products, the firm has vacated some price points at the lower end and introduced a good-better-best hierarchy with 8mm, 10mm and 12mm products.
The TecWood engineered wood line added two collections-Island Air, a sliced European white oak on a thinner 3/8" board and lengths up to 75" in pale and natural colorations, and Urban Square in deeper hues. And in UltraWood, the firm's composite engineered wood offering, the firm added new colors in Myerwood Park, a character maple, and Tideland Trail, a sawn-face European oak in a higher, cleaner grade.
On the resilient side, Mohawk has shifted away from WPC construction to focus on SPC in both domestic production and imports. At the show, the emphasis was on the domestic products, including Bedford, a new SolidTech Plus collection featuring, according to the firm, the first domestically produced, embossed-in-register SPC in the industry, using the firm's RealPlank technology. And coming this summer is another SolidTech Plus product, Poppy Reserve, that will offer 12 styles in even larger boards in white oak, red oak and hickory visuals.
The firm has expanded its VersaTech sheet line to add VersaTech Plus atop its Essentials and Select programs. At the top is its 120-gauge Genial Crest with CleanProtect, made up of both wood and stone patterns. And in its Pergo Extreme SPC program, the firm has also added a third tier, Ultra, featuring RealPlank technology and made in Georgia.
On the soft surface side, under the Mohawk brand, which in recent years has been heavily focused on EverStrand PET at the lower price points and SmartStrand Triexta for the medium to higher end, this year saw a stronger focus on nylon and nylon blends, particularly at the higher price points-most likely driven by the void left with the departure of the Stainmaster brand.
For 2022, Karastan is rolling out 20 new products, including styles using a 50/50 nylon/SmartStrand blend, like Whitemere, Windsor Tweed and Artful Radiance, and it also refreshed the colorways in its top-selling Artistic Charm, keeping the medium tones and adding several lighter colorways, offering the line as Artistic Elegance.
Godfrey Hirst, the Australian firm best known for its wool products and purchased by Mohawk in 2017, came to the show with 11 launches-two in wool and the rest in nylon, SmartStrand or a blend of the two.
Mohawk, having stopped producing polypropylene carpet, introduced a line of berbers in PET, including Infinite Charm, a traditional berber updated with cool pops of color.
On the backing side, Mohawk's ReCover backing system dispenses with latex entirely, using a low-melt polyester resin to lock in the tuft binds, essentially replacing the secondary backing. Also, the product weighs as much as 30% less and eases installation. The technology is used on a line of seven SmartStrand products.
The Dixie Group has been a dominant player at the higher end of the residential carpet market for decades through its Masland and Fabrica lines-Dixie Home was created in 2003 as a more affordable brand, with products starting in the middle price points-and both have offered wool products along with nylon, mostly produced domestically in-house. But according to T.M. Nuckols, president of The Dixie Group, its machine-tufted wool business, targeting the higher end "decorative" segment, "has underperformed significantly in the past. Most of our product development has been focused on traditional tufted wool looks, and the market has moved to beautiful woven products, handmade, hand-loomed, hand-tufted-products made with different techniques."
In response, the firm has completely retooled that business. Industry veteran Len Andolino, who has worked at firms like Stanton and Couristan, that have flourishing decorative businesses, was brought on last year to create two new decorative divisions, 1866 by Masland and Décor by Fabrica, using both in-house and sourced products made with techniques other than machine tufting to offer a fuller range of options. These new offerings also position the firm to better compete in terms of fabricated rugs, custom stair runners and the like.
At Surfaces, the decorative divisions had a standalone booth. Under 1866 by Masland, the firm introduced 20 new products, mostly wools, including hand-tufted products like Palatial, Munich, Prague and Brussels, with lush textural patterns. The show floor featured product made into fabricated rugs with micro-serging for an elevated look. Also on display were some more affordable woven face-to-face products made of UV-stabilized polypropylene, wholesaling for about $35 a yard, as well as soft polypropylenes, including an animal print pattern, Kudu.
In Décor by Fabrica, the firm also came out with 20 new products, all 100% New Zealand wool. The offering includes face-to-face wool Wiltons, among these are some traditional patterns with updated visuals and effects, like in Regal Treasury and Regal Estate, and two organic patterns, Palladium and Majestic, a new take on its popular White Noise collection.
In Dixie's traditional Dixie Home, Masland and Fabrica brands, the firm came out with about 35 new products. In Dixie Home, there were a handful of new Envision SD PET offerings, but most of the offering was in Envision nylon 6 and 6,6-21 new products across the three brands.
On the hard surface side, Dixie came out with 70 new SKUs, including its first laminate offering, TruCor Tymbr, in 12 SKUs, to be sold through Masland. The higher-end laminate is made in Europe. Also new is a WPC product called TruCor Pinnacle, its widest and longest offering to date (12"x94") in 12 SKUs. And a new TruCor SPC, Boardwalk, with cooler coastal colors and a pillowed edge. And in Fabrica, there are 18 new engineered woods, including oak and ash, as well as eight new wood SKUs in Dwellings, a new Dixie Home program. While Fabrica's woods start at about $7 a foot wholesale, the woods in Dwellings will start below $4.
Last year, the firm sold off its commercial operation to Mannington, leaving it with assets in Atmore, Alabama that are now freed up to be used for residential solution-dyed products.
Syosset, Long Island-based Stanton focuses on the higher-end decorative segment with a huge array of carpet designs across its six brands-Antrim, Rosecore, Crescent, Hibernia, Caban and Stanton and under the Stanton brand is its Atelier carpet line, its Stanton Street mainstreet business and its Decorative Waterproof Flooring (DWF) rigid LVT line. This year, the firm introduced 36 new SKUs to its DWF line, including 12 stone visuals, a first for the firm. While many of the wood looks are smooth, clean oak visuals, the new styles include Rustique, with knotting and some mineral grain and whitewash effects, along with four herringbones whose four colors match existing straight planks. Another wood look, Yukon, comes in a hefty 9"x72" format with in-register embossing. And Golden State of Mind offers West Coast visuals in pale and natural hues.
Under the Stanton brand, the firm came out with Grand Shores, an indoor/outdoor product made of UV-stabilized, solution-dyed Royaltron polypropylene with the look of a chunky woven wool in a laddered design, and Grand Cayman in a similar construction with an angled design reminiscent of chevrons. Another is Stargazer, with a low-key linear field sparsely dotted with stars. A standout design is Giabella, a fractured linear design of buried triangles for a dynamic large-scale effect.
Under Rosecore, the firm introduced a new fiber, L.I.O.N., which stands for Luxury Indoor Outdoor Nylon, on a range of products, including La Scala, a lustrous and richly textured irregular linear design, along with indoor/outdoor flatweave designs like San Sebastian.
In the Crescent brand, Stanton introduced a heathered texture in wool called Chambray Stripe with a vintage handspun look. Another great-looking Crescent product, Stitchery Plaid, is an artisan piece of panels hand-stitched together with lush and thick contrasting yarns. Another is Traditions, made of wool, Polysilk (a premium polyester fiber) and jute, is a nubby linear design of bound rows.
Antrim's new products included Tazo, a 15' wide undyed wool in a crisp slubbed yarn construction, along with Mombasa, a chunky woven linear design elevated with sporadic contrasting meandering yarns rising through the field, made of wool and Polysilk.
Mannington's new products represented some key trends at the show this year, with a slew of gentle, flowing designs, easy on the eyes rather than vivid and complex, along with a return to some softened rustic looks and some nods to traditional, historical styles, and with colors shifting strongly toward warm medium browns and soft honey hues.
The family-owned firm, now in its fifth generation, offers just about every flooring type, including carpet through its 2020 Phenix acquisition. The firm's biggest residential category is resilient flooring. At the start of the show, the firm announced its acquisition of Georgia Carpet Finishers, a producer of carpet backing and cushion and a long-time vendor to the firm.
In its Adura Apex line of WPC, the firm came out with Artemis, an 18"x36" format of a large-scale marble with painted bevels to mimic narrow grout lines, as well as Mokuzai, a wood look inspired by Japanese maple with a subtle wirebrushed finish. Mannington is currently the only domestic producer of WPC.
In the Adura Selling System, with designs available in three constructions-flex LVT, SPC and WPC-the firm came out with a weathered wood design, Calico, featuring saw marks and fuming visuals, as well as Regency, a toned-down white oak look with cerusing and low-key wirebrushing effects. Also new is Dune, a 12"x24" soft organic sandstone design. Both Calico and Regency feature the firm's Crafted Edge technology, which has the chiseled look of handmade bevels and serves to enhance the realism of the firm's wood-look vinyl products.
In engineered wood, Mannington came out with a new European white oak collection, Sanctuary, that comes in widths of 9-1/2" and lengths up to 95". The 5/8" thick product, from a longstanding manufacturing partnership in Guatemala, has a hefty 4mm veneer and comes in six colors, including a rich brown. And Triumph, a line of maple, oak and hickory, now comes in three new, trendy colors: Copper, Bronze and Raw. And Provence, a hickory product, comes in a new color, Blanc, a light natural hue with soft color movements.
However, the firm's most unique new wood flooring is called TimberPlus. Using Välinge's Woodura technology, the composite engineered wood features a 0.6mm sliced white oak veneer, compressed from 0.8mm, fused to an HDF board through a wood powder and melamine binder that also fills in all the open cells, creating a robust, high-performance surface with three times the indentation resistance of a traditional hardwood floor, according to the firm. And with Välinge's 5G Dry locking system, it's a fully waterproof flooring. The collection comes in six colors, including Rust, a warm color with a strong lean toward orange.
And in laminates, Mannington added to its Restoration collection with a new pattern, Revival, a sumptuous 8" wide hickory design in 20 unique boards created using digital print technology, along with Haven, a smoky oak visual with a hint of cerusing.
Adjacent to the Mannington space was Phenix Floors, a residential carpet manufacturer acquired, along with Pharr Yarns, by Mannington two years ago. With the Stainmaster brand now folded into Lowe's, Phenix has become just about the only residential mill to offer cationic nylon, which features enhanced resistance to acid-based dyes and stains-it's more common in the commercial market-and it also offers PET, both solution-dyed. To fill the gap left by Stainmaster's PetProtect offering, the firm has come out with the FloorEver PetPlus program, using cationic solution-dyed nylon, with Microban in the latex backing for an added layer of protection, along with added soil and stain protection.
The new FloorEver PetPlus merchandising units feature 32 products, from textures to higher-end patterned goods, topped by Mykonos, a patterned ColorPoint product. Also at the higher end is Maxwell, a patterned cut and loop in an organic design. Phenix also came out with three new textures with a surprise metallic glimmer visible from angles-Fierce, Bougie and Luxe.
In addition, the firm launched 36 PET SKUs in a quick-ship program-with products shipped 72 hours after credit approval.
On the hard surface side, the firm unveiled a merchandising unit for its SPC that includes a well-designed stair tread with a patent-pending process that bends the board around the edge for a finished look. The firm's SPC products also feature Microban in the wearlayer on ten SKUs, including two stone looks.
While I4F is the youngest IP (intellectual property) firm in the flooring business, it has grown to become the market leader in several categories. At this year's Surfaces, the company was promoting several enhancements to its patented "drop-lock" floating floor click system, including a water resistance enhancement as well as a new herringbone feature.
The company was also promoting its partnership with Hymmen for its licensing of its digital printing systems for factories that produce rigid LVT. Lastly, the firm has developed a True Grout technology for SPC rigid core tiles and planks that provides an innovative way to add a colored stripe without actually grouting the installed product.
AHF Products has been busy since it split off from Armstrong just over three years ago, rejuvenating its portfolio of brands and adding new brands targeting the new generations of consumers, expanding several of its facilities, and also acquiring other operations, like Asian producer LM Flooring in 2019 and domestic producer American OEM last summer. The American OEM acquisition added three brands to the line-up, Emily Morrow Home, Hearthwood and Raintree. All told, the firm has 14 brands, including five on the commercial side. In addition to wood, AHF now also offers SPC and laminate flooring. On the day before the show, there was a change in ownership, with American Industrial partners completing the sale of AHF Products to Paceline Equity Partners.
In 2021, under the firm's most prominent brand, Bruce, the company introduced its Dogwood line of high-performance composite engineered wood using its Densified Wood technology and HDF cores, with some of the larger planks or thicker veneers using traditional engineered multi-ply constructions. The patent-pending process compresses the top veneers by 30% to 50%, more than doubling the hardness in terms of Janka ratings, according to the firm. The current veneers range from 1mm to 3mm. The product has now been extended as Dogwod Pro to the Hartco brand, which is exclusive to the independent retail channel, in a range of different red oak looks.
Bruce added an engineered wood offering to the Barnwood Living collection by Mark Bowe, host of DIY Network's Barnwood Builders series. Solids were introduced last year, and, according to the firm, the collection has found strong traction. Bowe was heavily involved in the development of the line, a vintage reclaimed look in red oak, white oak and hickory. For instance, one style on display, said Bowe, "was [derived] from a cabin that I took down." On the TV show, Bowe and his crew salvage and repurpose timber from old cabins and barns to build new homes. The collection starts at mid-price points.
On display under the Robbins brand were a handful of engineered wood offerings, like Artisan Living, a sliced white oak in a range of colors, and Lasting Traditions, with wirebrushed and smooth white oak and hickory. Also new was Established Style, a TimberTru laminate flooring designed with high water resistance and manufactured in the U.S., and Pro-Tekt, a plank and tile SPC line in wood and stone looks.
SPC sourced from China and Cambodia sells under the Bruce, Hartco, Robbins, Tmbr and Hearthwood brands in four constructions that range from 5mm products (including 1mm underlayment) with 12 mil wearlayers up to 6mm products with 22 mil wearlayers, with larger board sizes and enhanced aesthetics for the thicker boards. The firm is getting ready to shift the majority of its sourcing to a domestic partner in Cartersville, Georgia, including products like Yosemite, an addition to the Tmbr brand, launched last year with the Big Sur engineered line. Yosemite is a 5mm SPC with a 20 mil wearlayer.
Despite new releases in laminate and LVT, categories that Engineered Floors added to its portfolio in 2021 and 2018, respectively, the company's booth at Surfaces focused primarily on carpet, EF's core business. Known for its PureColor solution-dyed residential carpet, EF initially entered the market at the value end but has been beefing up its spectrum.
The stars of the show were new introductions under the DW Select residential line, which features enhanced designs thanks to the addition of EF's TwistX technology, resulting in bulkier profiles. Launched two years ago, DW Select represents the high end for the company.
"This is polyester at prices people probably didn't think [consumers] would buy at," said director of residential development Joe Young, the grandson of industry icon and company founder Bob Shaw. "But because of what we're able to do with TwistX…it's a construction that can be put up against any of the nylons, SmartStrands and all those other great fibers."
The resultant three-ply yarn allows for more dynamic multicolor and varied pile heights, which the company used to bulk up the 20-look line with new striated and geometric patterns in a neutral color palette, available in multiple sizes and can be fabricated into area rugs.
The LVT introductions were on the SPC side, a format EF switched over to in 2019, with in-register embossing and natural color schemes lending a realistic look.
Last year, the company became the first flooring producer in America to purchase Hymmen's digital print technology, so EF's booth at next year's Surfaces could offer some sneak peeks of the hyper-realism available through the new technology. Young set a target production date of next year for America's first domestically digitally printed LVT line.
"Much like going from piece-dyed or topically dyed carpets to solution-dyed carpets- I'm sure that's where we'll be starting on the SPC side: simple," he said.
Cali Floors-now backed with new investment money from U.K.-based parent company Victoria, a global, publicly traded flooring company-was a first-time exhibitor at Surfaces this year. The primary goal with its presence was to give its customer base an opportunity to compare and contrast the Cali message and products from other competing brands at the show. Doug Jackson, CEO, told us: "We didn't come to the show to sell products but to build stronger relationships." The core promise for Cali is hidden in the name-California casual lifestyle-both indoors and out.
The brand has diversified its product offering from its bamboo and LVT roots to now include a totally redesigned Meritage engineered hardwood, area rugs, a new laminate line, outdoor decking and even landscaping turf.
In the rigid LVT category, Cali offers both SPC and WPC products. The planks in the SPC collection are long and wide, measuring 9"x71". Although Cali is a West Coast lifestyle brand, its products are available nationwide.
Emser, a California-based ceramic tile specialist well known for its elevated, demure neutrals, came to the show with a focus on the more decorative side of the business in a dynamic display of color and design. Its Parkview collection of porcelain tile for floor and wall, for instance, takes the trend toward marble and infuses it with rich colorations (including a dynamic blue) and heavy veining. The collection comes in matte and polished finishes. L'Amour, a glass mosaic wall collection, was shown in a range of cool neutrals. And Bizou is a groutless marble mosaic for both floor and wall installations.
Emser also came out with a custom grout line in five colors-Deep Dive, Sea Breeze, Botanical, Moon Rock and a sumptuous smokey rose called Blossom that matches products like Rosa from the Passion floor and wall collection.
Also new is a classic encaustic design called Reminiscence, an 18"x18" design made up of four squares, colored in contrasting warm and cool neutrals with subtle color infusions.
Immerse, a wall tile line rated for outdoor pools, offered visuals of sliced quartz geodes in a range of colors, including Cobalt and Aqua. And Afloat featured similar colorways but in more classic small-scale paver and square motifs and without the stone looks.
Another attention-grabbing line was Luxo, a wall tile with metallic shimmer effects that comes in Black, Opaque, Silver and Gold.
Creative Flooring Solutions' (CFL) big news at Surfaces was centered on U.S. manufacturing and new innovation. The company is on track to become one of the largest domestic producers of rigid LVT with its new factory in Calhoun, Georgia, and it is one of five CFL manufacturing facilities around the world. CFL president Thomas Baert was also excited to talk about two new patents, one of which was granted for its NovoCore Q sound deadening construction and the second for a honeycomb dematerialization process that allows the firm to produce lighter but strong SPC. NovoCore Q starts shipping in April with 12 colors and two plank formats with an attached cork underlayment. The honeycomb product is still in development.
The company continues to build on its FirmFit and Tenacity brands and offers the market a diverse range of multilayered flooring with a pyramid of performance and price points.
While Sweden's Välinge is best known for its click systems-5G, 5G Dry, 5G Climb, etc.-along with its Liteback technology to reduce the weight of LVT cores, a major focus these days centers on its wood powder technology. The technology, first developed by Välinge over a dozen years ago, is now being sold in the U.S. market as the Hardened Wood Flooring collection. At Surfaces, the firm showcased over 30 new styles. Mannington has partnered with Välinge with its TimberPlus wood flooring line using both Woodura and 5G Dry technologies. 5G Dry is a glueless fold-down system developed for waterproof installations of hard surface flooring that passed the moisture swell test developed by the North American Laminate Flooring Association (NALFA).
In addition to Hardened Wood and 5G Dry, the firm also focused on its Hygenius treatment, integrated into the lacquer layer, that breaks down bacteria and reduces odors using titanium dioxide as a photocatalyst-Lauzon has been licensing this technology since 2013 in its Pure Genius line.
Having rebranded its residential division as Tarkett Home late last year, the company's booth at Surfaces mimicked a suburban setting in a nod to the new branding.
Tarkett released its first residential carpet three years ago, after acquiring Lexmark, and its six new introductions this year were mostly understated, neutral patterns as the company works to hone that part of its portfolio with its own designs. Tribaleigh stood out among them, a multicolor pattern reminiscent of African motifs displayed in Solitude, a dynamic bluish grey.
Tribaleigh, Cypress, Papyrus, Presidio, Serenade and Somerset are all made from solution-dyed PET backed by a lifetime warranty.
Tarkett's soft surface debuts also included nine of its most popular styles in new colors, mostly true neutrals and cooler greys.
The company's popular ProGen Rigid Core LVT gained six new designs, including Chevron Tawny and Calacatta Marble Pearl, and its NuGen Rigid Core saw the introduction of longer (60") planks. However, the real focus seemed to be among Tarkett's luxury sheet vinyl offerings.
Tarkett introduced a new sheet line, TritonTuff, combining a traditional fiberglass construction with the company's BeyondTough textile backing for substantially increased strength against tears and gouges, along with self-adhesive installation. Waterproof and mold resistant, the line features 18 designs-a mix of stone and wood looks, including herringbone, augmented by two mosaic tile looks-making it suitable for multiple rooms in the house.
Mohawk's Dal-Tile division-featuring its Daltile, Marazzi and American Olean brands-did not disappoint. Centered around Daltile's 2022 Trend Report, the new releases spoke to the themes of Restorative Nature, Self-Expressionism, Origins Exploration, Female Celebration, Noble Simplicity, Nostalgia Escape and Tech Retreat.
A sense of nostalgia ran through the brands' introductions, expressed through color, shapes and patterns that blended old and new: midcentury modern blush in a diamond format (American Olean's Playscapes) or Spanish-style motifs in a picket format (Daltile's Stagecraft), for example. Both are emerging shapes, along with triangles-sharp shapes-said Karen Sigrist, product marketing manager for Dal-Tile, though chevron and hexagons aren't going anywhere.
Catering to the shift toward maximalism, mixing different patterns, textures and styles to achieve a highly curated look, many of the new products are available in multiple formats, sizes and glosses. And most were displayed as wall applications, which are growing in popularity, Sigrist said.
Amid the colorful swatches and feature walls, Daltile's pearlescent, diamond-format Starscapes stood out to visitors, said Sigrist, adding, "Iridescence is growing in popularity."
To help consumers pull together looks that speak to them but also create complementary designs, the company's design team created multiple "shop by look" pairings of various products for each of the themes.
Novalis, a global leader in LVT, came to Surfaces to showcase its NovaFloor residential brand and to spotlight the successful opening of its $30 million SPC factory in Dalton, Georgia, which started producing LVT last year. The plan for this facility is to continue adding capacity to minimize the supply chain issues linked to selling products imported from China.
New for 2022 is the Dansbee collection of SPC with a 12 mil wearlayer and attached pad with lighter and cleaner wood looks. The other focus at the show was on NovaFloor's refreshed premium Maybree collection of thicker (6mm) floating floor planks and tiles that come in both wood and tile visuals. The 18 SKU collection update, which comes with an attached foam underlayment for both added comfort and to serve as a sound barrier, was originally introduced at the beginning of Covid, and the firm is eager to get that out to the market. NovaFloor also upgraded its merchandising unit and changed its logo.
Mohawk's Unilin Technologies division, which is best known for its click systems, focuses on the development of new technologies. For laminates and engineered wood, the firm showcased Unicoat, a coating technology that inhibits the absorption of water and ensures that water won't penetrate the seams (for over 100 hours, as shown through a test demonstration of submerged laminates with and without Unicoat displayed during the three-day show). The technology, previously shown on Mohawk products, is now available for licensing.
Another innovation came in the form of SquareClic, an insert that looks like an elongated diamond for use on square tiles-a trending format-for locking system products like SPC and laminate. The insert slots into the space where the four corners meet, taking the pressure off the joints and ensuring their alignment.
Unilin also displayed its Pressed Bevel technology that uses precision milling to press the décor layer into the grooves at the edges for added realism. The first products using this technology are currently being rolled out.
On display on the show floor was a digitally printed laminate product that looked like natural stone with leaves and flowers pressed into it, with no repeats. The technology offers complete design freedom for short or long runs, including using logos and other custom designs.
And Unilin also exhibited XPC, an extremely stable polymer composite core made of unsaturated polyester resin. It's more dimensionally stable than PVC. The product is made through pressure and temperature, as opposed to extrusion.
Forbo came to the show to exhibit its range of Marmoleum brand of linoleum products as well as its Flotex flooring, a hybrid construction with a flocked nylon face atop a vinyl base. In the U.S. market, the Swiss firm, the world's largest linoleum flooring manufacturer, traditionally sells direct to specifiers for its Marmoleum and Flotex floorcoverings, along with some specialty vinyl products. However, at the beginning of this year, the firm announced a distribution partnership with EJ Welch, which will distribute its Sphera homogeneous sheet and its Sarlon acoustic heterogeneous sheet and LVT, as well as entrance products, through its network of 26 states in the South, Midwest and Rockies.
Marmoleum comes in three constructions: modular with a locking system, gluedown modular (which is mostly commercial) and rolled goods. This year, the firm has introduced new colorways across all its linoleum formats, but the big news is that its click product, Marmoleum Click Cinch Loc, is now waterproof, supported by a certification from the North American Laminate Flooring Association, using a polymer to protect its wood composite core.
Its Flotex products mostly go to the commercial market, although the designs introduced in the last year, like its Connery plaid designs, Cleo animal prints and richly colored Reclaimed Wood designs, are a great fit in residential applications in terms of both performance and design.
TMT America debuted its Küberit brand of profiles at the Surfaces expo this year after a soft launch last year. These German-made transitions offer the specifier and installation craftsman a decorative trim element for any flooring project where one flooring type transitions into another.
Decorative profiles have been very successful in Europe, and they give both residential and commercial flooring installations a more finished look while also providing a functional transition. The creative booth was fittingly set up to look like a jewelry store with the profiles displayed behind glass panels.
Schönox's primary news in Las Vegas was the launch of its Hands Ön training platform. Live demonstrations in the booth presented show attendees with Schönox's cementitious, synthetic and hybrid series technologies. Attendees were invited to try the technologies themselves at the demonstration table or watch others live on the overhead display screen. Schönox's product focus continues to be on products designed to overcome tight project timeframes, limited skilled labor hours and challenging subfloor conditions.
The new Schönox Hands Ön training platform increases the opportunities, content and quantity of training in the field, both virtually and at the Schönox Support Center. The company's website overviews training sessions, assists with scheduling and makes registration easy. "Schönox innovation and training equips flooring professionals with the tools to do more subfloor tasks with less subfloor products and labor, providing solutions to the many real-world issues our customers see," commented Doug Young, executive vice president, Schönox HPS North America. "We were so happy to be at Surfaces and are even more excited by the positive impacts we are already seeing with Schönox Hands Ön training."
Going from the floor to the wall, Taylor introduced Elevate, a roller-applied wall adhesive for dryback LVT, a first for this flooring adhesive manufacturer. Also new for Taylor is Gravity, a roller-applied, anti-skid substrate floor coating for floating floor installation.
There is also a new colorful look for the Taylor products. All the product labels are now color coded, with products for resilient featuring a green label, products for wood with an orange label, carpet products with a yellow label, moisture-controlling products with a blue label and specialty products with a teal label. In addition, all labels are now tri-lingual: English, French and Spanish. Taylor manufacturers its products from its facilities in Texas and Georgia.
Inhaus came out with a new line of wood-look laminates called Lamdura in three tiers: Visions at the entry level, a 7mm product, then Inspirations and Landmark, which are both 8mm with in-register embossing. All the products are water resistant and feature antimicrobial treatments, four-sided bevels and attached pads. Colors include classic pale, dry looks and some warmer colorways, including some warmer, ruddier colors.
The firm also showcased the latest designs in its Sono Eclipse line of PVC-free waterproof hybrid rigid flooring, which has been out for a couple of years and uses a mineral core bound with polypropylene with visuals printed on the core. It comes in 26 styles, including six stone and tile looks. The firm uses digital lacquer embossing that goes through a nitrogen chamber process to diffuse the light for a matte finish.
Elandura, an entry level Sono line with less texture and an AC-4 rating (rather than AC-5) comes in 11 wood looks and two stone looks.
Among Republic Floor's 80 new SKUs unveiled at Surfaces, the company's hyper-realistic tile-like SPC-the result of a patented new mirror finish-stood out among the many wood looks on display across the show floor and at Republic's own booth.
One and a half years in development, according to CEO Rotem Eylor, the new technology has expanded Republic's flagship line, Pure SPC Max, adding dramatic porcelain looks replicating polished marble.
"The shinier it is, the more scratches you get [normally]," Eylor said in regard to the new technique's development phase. "It's the same rule of thumb with slip resistance. We had to overcome that."
With six looks, the new Solar Granite collection features Pure SPC Max's hallmark antibacterial Bio-Guard acoustic underlayment, lending it to bathroom installations, and the integrated Pure Grout click edging eases the installation process. With its denser core, Pure SPC Max is suitable for both residential and commercial applications.
The Solar Granite products are 7mm thick and 12"x24".
Most of Republic's booth, however, was dedicated to wood looks, including five engineered lines in partnership with Muller Graff. Featuring more than a dozen looks, including herringbone and chevron patterns, the line is made from European oak but offers more graining than the standard white oak looks that have become standard. In keeping with the trend toward cleaner looks, the colors remain fairly neutral, with a bit of warmth thrown in.
"We're doing a lot of combinations-chevron and long boards in the same color," Eylor said.
This applies to the expansion of Republic's Designer Pro Max SPC line, as well. The 6mm, 20 mil products represent the company's value line, which "is selling very well in Europe," Eylor said.
All of Republic's lines are unified, he added, meaning they are sold everywhere Republic distributes.
Canada-based hardwood producer Mercier had a small presence at Surfaces but no products. However, the vertically integrated company did offer a display showcasing new releases in its Naked and Atmosphere collections this season, most notably the introduction of white ash to both.
"Everybody wants that clearer and cleaner look, and ash really gives you that European white oak aesthetic with a lot less rustic tone [than red oak]," said Wade Bondrowski, director of U.S. sales, explaining that the makeup of North America's forests has pushed domestic producers to experiment.
Also, among the new introductions-available in both solid and engineered formats-is Red Oak Bliss, which utilizes a new stain to help mute the red undertones and make it appear more like white oak.
"Naked was so good, we used that stain and are evolving it further," Bondrowski said, referencing the company's so-named collection of natural-hued products, achieved through a matte brushed gloss.
Happy Feet International, the ten-year-old, Ringgold, Georgia-based importer owned by Casey Johnson, came to the show with 28 SKUs (all in stock) across four new collections. From its Black Label collection, the firm unveiled its only WPC, Pinnacle, an 11.5mm product (9.5mm with a 2mm pad) targeting the higher-end builder market as well as retail, in 12 wood looks and multiple colors from pale looks, including a range of greys and naturals, to warm, trendy visuals.
Also new is Mustang, an entry-level SPC sourced from Cambodia that is 4.5mm thick, including a 1mm backing. And a step up from that is the 5mm Dynamite, made in Vietnam, with a 20 mil wearlayer featuring some dynamic styles. And at the higher end is Perseverance, a 9"x60" SPC that is 6.5mm thick and features painted bevels.
According to the firm, which offers a total of around 150 SKUs, 98% of its orders ship within 24 hours.
South Korea's Nox, which also has manufacturing in the U.S., focuses in the U.S. and Europe on OEM production for distributors and manufacturers-one of its core partners is Roppe Holdings-while in Korea and other emerging Asian markets, it sells under its own name. The firm has two facilities in Ohio, one for flex LVT and the other for SPC. More than half of what it sells in the U.S. market is made in South Korea, including its Loom+ woven vinyl. In addition to its facilities in the U.S. and South Korea, the firm has just opened a factory in Vietnam for flex LVT, with room for expansion. And it's investing in its flex LVT in the U.S.
New designs include two that are PVC-free. One is a polyolefin sheet product and the other, LUT, is a luxury urethane tile. LUT, which is patented in South Korea and patent-pending in the U.S. and Europe, took four years to develop. The firm reports that demand for PVC-free products is stronger in Europe than in the U.S.
The firm has also come out with SetaGrip, an enhanced peel-and-stick installation system-the firm already offers looselay, click and gluedown installation systems.
However, the most intriguing intros in the space, and in fact one of the most impressive new products at the show, was a line called Pop introduced under the Loom+ program. The collection includes floor tiles in carpet tile visuals, in a range of colorways, enabling the creation of customized installation patterns. The line also includes Loom+ placemats and fabricated rug designs.
At Surfaces, Wellmade debuted what it has coined the Ultimate Solution. Based on requests from the multifamily sector, the new rigid core LVT product features an attached pad for sound absorption, a driving need in multifamily applications, said Dick Quinlan, senior vice president of sales and marketing. Wellmade utilizes click systems from I4F and Unilin on its vinyl products.
Featuring the company's patented HDPC (high-density polymer composite) core, a hallmark of all Wellmade products, the Ultimate Solution is being piloted in a vinyl plank format, but the new installation features will eventually stretch across Wellmade's portfolio of vinyl plank and tile, natural hardwood and strand bamboo products. The attached pad's integrated Crack-n-Peel adhesive could make it attractive to DIYers, as well.
The company has applied for patents on the new system, said Quinlan, who sees opportunities when combined with Wellmade's new magnesium oxide cores. The company just finished building a plant in China to produce its own MgO cores, which are PVC-free, fireproof and lighter weight than the industry's existing options, he said.
"The marketplace is looking for a way to offer gluedown products less expensively," Quinlan said. "One of the areas we see great applications in is tile SPC."
At Karndean's booth, marketing director Jenne Ross and celebrity designer Mina Starsiak Hawk gave a presentation on emerging trends that was founded on blending styles in order to achieve a highly personal curation-the overarching trend, according to the two.
A similar fusion was on display within the company's space.
"We're creating products that allow for some customization," said communications manager Kat Caringola.
Among the 40+ new SKUs across three of Karndean's product lines, the new chevron pattern in Pale Limed Oak, part of the entry-level 12 mil Knight Tile line, attracted passersby to the booth, Caringola said. The feature floor installation showcased it in a broken chevron as well, with the collection's existing 6"x36" planks lining each row of the 9"x48" patterned pieces.
Introduced in 2020 to meet market demand for an entry-level rigid core line (Karndean exclusively offers LVT), Knight Tile's portfolio will be available with a locking system, in addition to the existing gluedown format, in early summer.
Commercially focused visuals took up most of the booth. To be released in Q3 under the Opus line, they included large-aggregate terrazzos, linen looks and various takes on concrete. A bold, multiproduct installation combined the forthcoming Stratus oxidized concrete, Black Iron linen and San Marco mixed-media looks in both 18"x36" and 6"x36" to create a custom pattern.
"We worked really closely with our commercial team on, 'Where is commercial design going?'" Caringola said, adding, "We specifically selected these new commercial visuals so they could work together."
Home Legend expanded its ScratchBoss SPC line with the addition of two new stone looks and six new wood looks, which were on display at Surfaces but debuted late last year. The new products mirror the line's existing specs, save for the addition of light embossing, while the new visuals bring more character to the lineup, especially on the wood-look side. Predominantly cool with a grey cast, many feature fairly strong graining.
The line is available through the company's two brands: Eagle Creek Floors, which services retailers, and Power Dekor, which caters to distributors, though it is called Relentless in the distributor segment.
The rest of Home Legend's booth was dedicated to yet-to-be-named upcoming lines: a PVC-free rigid core vinyl with a Välinge drop-lock and a polyethylene core, and a printed solid bamboo with tongue and groove. The latter is expected to debut in Q3; there is no date yet for the former. However, both are currently being shopped around to big box stores, which could nix them from the lineup available to independent retailers, said marketing director Roy Acosta.
The company has already had success with bamboo products, having launched a bamboo-topped SPC in 2019 that is carried by Home Depot. The new line speaks to wood's resurgence but has the benefit of being lighter-which Acosta expects to be the main selling point with the PVC-free line-and will mimic seven exotics, including tigerwood and purpleheart. The bamboo will be sourced from the company's bamboo forest in China and will carry high ratings on recognized industry performance standards, said Acosta.
Armstrong Flooring was back at Surfaces for the first time in three years with its new Armstrong brand look and an open display organized to quickly convey its resilient products and communicate its new go-to-market strategy for providing distributor and retailer partners separate pathways to market. Surfaces was a great venue for showcasing Armstong's new products and how they are specifically tailored to each channel.
New this year are two product lines that are set to launch in a couple of months. Vantage Premier, available to distribution through the firm's Signature line of products, is a SPC featuring ten on-trend designs. Essentials One, an opening price-point SPC, will also launch in May through the Armstrong Flooring brand. In addition, new designs for Home Images Pro, a sheet vinyl product for the builder market, were showcased as part of Armstrong Flooring Pro.
Xpress Global Systems provides expedited less-than-truckload (LTL) freight transportation primarily for companies in the floorcovering industry. XGS has been rapidly expanding through acquisitions and opening up new territories. Recently, the company launched a new customer portal on its website. The user-friendly portal helps customers quickly and easily file claims, get rate quotes, look up and pay invoices, check shipments and more. It has a transit calculator and expansive report center. The portal is already up and running for new users and XGS is in the process of converting existing customers over. No training is required to operate it, according to the firm. At the show, people who stopped by the booth had fun experiencing what driving a big rig is like in the Virtual Truck Driver simulator.
Amorim Cork, the number one supplier of natural cork wine stoppers in the world, was founded in 1870 by the Amorim family in Portugal. The company groups its business into four sectors: wine stoppers, floor and wall coverings, insulation, and composites. In the flooring sector, the firm specializes in underlayments, which was its main focus at Surfaces. The company has been looking at all different types of flooring that it can go under and what types of materials can be blended with cork to get different performance attributes. Amorim also was displaying its line of sports flooring.
Provenza's booth was testament to the trend of character beginning to creep back into wood. "We're getting a lot of requests for that uniform look-lighter, softer-but we're starting to see a fair amount of business in darker, traditional colors … and we still sell a lot of character looks," said Larry Purcell, director of sales for the Midwest and Northeast.
The company, which specializes in higher-end engineered wood, added seven new colors to its Tresor line of lightly wirebrushed European oak, including new releases with heavier wirebrushing and a white gloss. The multispecies Volterra line gained 12 new colors, a mix of light to medium shades and character levels in keeping with the line's existing options as well as the market's increasingly diverse preferences.
Provenza also debuted a new five-color line, Grand Pompeii, featuring more rustic character looks with heavy wirebrushing and a polyurethane finish in 9.45" wide planks up to 7' in length (random). "We always have people request wider, longer," Purcell said.
The expansion of the company's semicustom Dutch Masters line will also feed into the "bigger is better" trend through the ability to pair any color with pattern (chevron, herringbone) and boards up to 9' in length.
"We're seeing a lot of growth on the higher end," Purcell said, adding that the company is "investing heavily" to be able to make the new Dutch Masters products in California.
In partnership with European manufacturer Timbertop EU, Urbanfloor was showcasing the Timbertop Lifestyle collection of European oak. This engineered wood collection features 9-1/2" wide planks with a 6 mil wearlayer. The collection's reactive stain technology interacts with the wood's tannins to replicate the oxidation and maturing process of natural aging. The Timbertop collection also has a coordinating European oak herringbone and chevron series. Timbertop is the top-of-the-line series. Also new at Urbanfloor was Chene, a more entry-level collection of engineered European oak with a wirebrushed texture, available in a variety of wood shades.
Beginning with just one line in 2019, SAR Floors has been working to ramp up its portfolio of mainly residential LVT products, which grew at Surfaces with the addition of four new colors in Riptide II, a collection of extra-long (9"x72") boards.
The company, an offshoot of commercial flooring contractor FloorMax USA, is now turning its attention to the commercial sector, as well. "You've got to crawl before you run," said SAR director Skip Mason.
SAR introduced an oxidized concrete and three polished concrete looks under the Soma (T) dryback LVT line, building on its single existing oxidized look in commercial LVT. "Polished concrete in the commercial retail world is becoming very popular," Mason said.
SAR also used Surfaces to vet a new SPC line of tile and stone looks. To be called Elements, it will go into production in mid-March, Mason said, and will feature 12 colors, the largest array in any of SAR's lines. The click products will feature I4F Grout technology.
More commercial-focused products could follow-SAR also had several carpet tile-look LVT demos on display.
"We're probably going to run with it. We're getting great feedback," Mason said.
A new exhibitor at the show this year was South Korea's KCC Glass, seeking out distribution partnerships. The 60-year-old construction materials firm expanded beyond products like paint and glass about 20 years ago to include flooring. At Surfaces, KCC Glass unveiled its resilient offering, which includes heterogeneous sheet goods for both the residential and commercial market, along with looselay flex LVT for the commercial market in 3mm and 5mm thicknesses, with 35 styles in each. Also on display was a woven LVT. All told, the firm offers about 200 resilient products, with some floorcoverings designed specifically for the transportation sector. Prominently featured on the floor was a square LVT tile patterned with angled bands of wood and stone visuals, with the occasional glittering metallic band, offering a range of installation designs.
The focus for Johnson Hardwood at Surfaces 2022 was its Laminate High Performance Flooring. The firm had several new collections featuring a wide variety of wood-look visuals. The Olde Tavern Series offers a rustic visual that has the appearance of reclaimed wood. The collection has an AC4 rating, making it suitable for residential or light commercial use. The Bella Vista series is a cleaner, more modern European oak visual featuring a 12mm watershield high-performance core and has an AC5 rating. Bella Vista comes in 12 colors and has a 20-year light to medium commercial warranty and a lifetime residential warranty. Also new is the Royal Palace SPC rigid core series available in both a herringbone pattern and an eased bevel plank.
Traditionally known for carpet, Gulistan has entered the laminate market with its Atlantis line, which debuted at Surfaces. "Everybody is selling more and more of it," vice president of hard surfaces Rick Pederson said of the category, adding that the company is working on an engineered hardwood line as well. "We're trying to separate ourselves from Marquis, so we're trying to do some different things."
The storied carpet producer was acquired by Marquis Industries in 2017, following Gulistan's declaration of bankruptcy in 2013 and subsequent purchase by Lonesome Oak.
Wholesaling around $2.50 per square foot, the 12 mil laminate line is embossed and features a painted bevel and comes in 11 colors in 6"x48" and 7-1/4"x48".
In addition to building up its SPC offerings through four new colors in both its Arcadian and Pyrtania lines, Gulistan unveiled several new carpet lines. Historically known for producing plush, higher-end broadloom, the company's new introductions primarily feed the value end of the spectrum.
Tributary II "has a nice wool tone to it, but it's PET," explained company vice president Sean Souther, and Edinburgh offers "that really high-end look but at a good price point ($14 per square yard wholesale)." Andromeda serves as a budget counterpart to Edinburgh, at just under $10 per square yard wholesale.
WE Cork was showing new designs and colors for its popular Serenity Collection. This collection is a cork substrate flooring with a high definition, three-pass, digital print technology that emulates the look of wood while still providing the acoustical and environmental attributes of cork. It has an AC5 rating and comes with a ten-year commercial wear warranty and a 25-year residential warranty.
In line with Americans' desire to spend more time outdoors, and the resultant investments in exterior living spaces, Landmark Ceramics' porcelain Veneer World line expanded with the introduction of the Urban Ledgestone Explore collection last year. Examples of the entire seven-collection line were prominently displayed at Surfaces.
General sales manager Giulio Marri noted another trend that the line caters to: "What we're seeing, especially with designers, is a trend toward total-look oriented designs, being consistent inside and outside. We're seeing that in a lot of commercial applications, and we're starting to see it residentially."
The line is all natural stone looks in 6"x24" and can be used on floors and walls indoors and out. In many cases, there are corresponding pavers within Landmark's overall portfolio. The newest collection mimics quartzite.
Marri said the bluestone looks, which make up the Pro Ledgestone Bluestone and Quarry Ledgestone Bluestone collections, have been popular, "especially with the limited natural supply."
The StonePeak space was selling franchise opportunities for people to own a Casalinea porcelain showroom. Buyers have the choice of three levels of buy-in; 800, 1,200 or 2,000 square feet. Investment includes all materials, installation and marketing. Casalinea provides onsite training and access to print and digital marketing resources. The firm has one flagship store currently open in Houston, Texas.
Samling Global USA sells its wood products mostly through private label distributor partnerships, although its Lifecore product has gained more brand prominence in distribution channels. For instance, distributors like JJ Haines market the products under the Lifecore Hardwood Collection name. This year, the firm has added five lighter colors to its line, including a light maple, following the six light colors added last year. Two colors have been added to its large-leaf acacia product, including a style with a whitewash expression and a more orangey hue.
The main focus in the Torlys space was on its new XP Floor collections. Torlys Everest XP is a composite engineered wood collection available in a range of hardwood species. It features long, wide boards with an HDF core. Also launching this month is Torlys' Cork XP, as well as CorkWood XP, a collection with digitally imprinted wood looks on a cork surface, giving consumers the thermal and acoustical benefits of eco-friendly cork with a realistic wood look.
At only four years old, flooring distributor Lion's Floor had an impressive space at the show to display its many collections of SPC and laminate flooring. The firm has an expanding presence in the U.S., with plans to open a new Texas warehouse in April. Lion's' research has shown that different colors and styles are more popular in different regions of the country, so the firm has been focusing on creating curated collections for different regions. Lion's Floors intimated that it plans to introduce some hardwoods into the mix by the middle of next year.
MP Global had a couple of new product introductions on display in its Surfaces booth. FloorLyft is a subfloor assist product designed to raise the flooring profile to close the gap between floors and base trim. In addition to "lifting" the floor, FloorLyft provides additional insulation and noise absorption, making it a good fit for multifamily applications. The product is a dense panel made of recycled fiberboard that is compatible with all vinyl planks. Also new under the QuietWalk brand is AquaLayer underlayment, designed specifically for use with wood and laminate flooring. AquaLayer allows flooring to work with the subfloor to prevent hydrostatic pressure buildup and warping to the flooring by allowing a slow rate dissipation.
At Surfaces, Mapei debuted two new grout lines, Ultracolor Plus Max and Flexcolor 3D, which complement tile's growing use to create feature walls.
Ultracolor Plus Max comes in two colors: Pure White and Jet Black. "True black and true white have been pretty elusive [historically]," said Logan Reavis, Mapei manager for technical services. "They're always more charcoal or beige."
Flexcolor 3D, meanwhile, seeks to offer a translucent option. "If you lay mosaic tile and grout it, it looks completely different installed," Reavis explained. "This allows light to travel through the glass, and the glass really pops."
Flexcolor 3D comes ready to use and is available in ten colors, the majority of which have a more iridescent look due to the recycled glass bead aggregate and their shading.
Copyright 2022 Floor Focus