Stay-At-Home Valentine's Day Ideas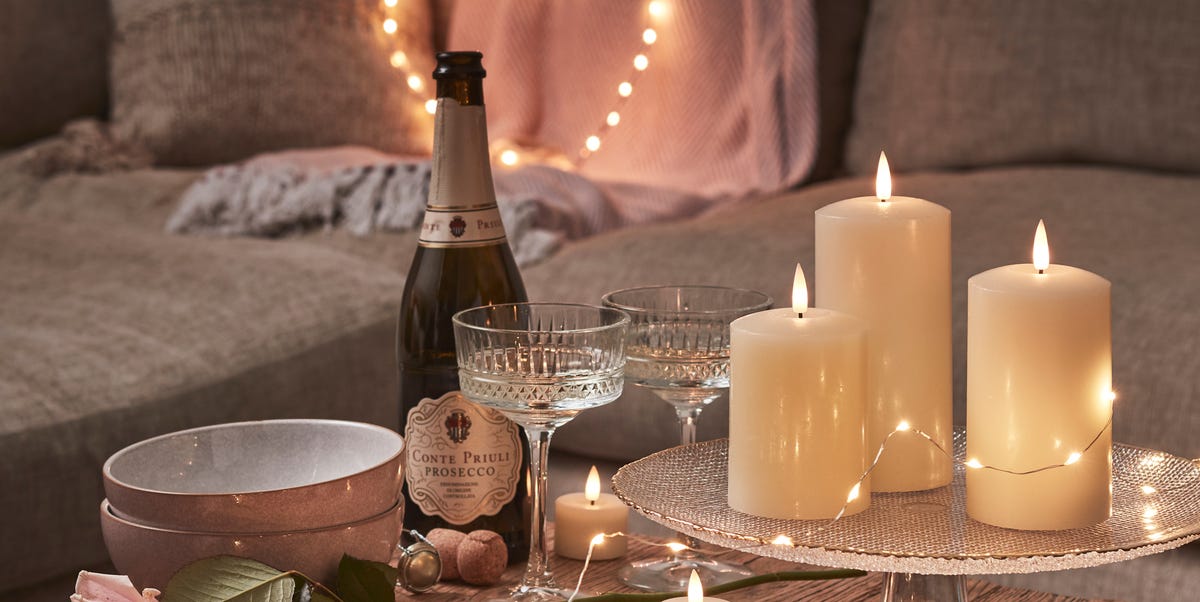 Whether you're celebrating Valentine's Day with your other half or as a family, nothing goes down better than a creative (and inexpensive) date night in the comfort of your own home.
Fancy dinners and lavish gifts may be the norm for Valentine's Day, but an at-home evening has the potential to be just as romantic. In fact, according to new research conducted by JD Williams, almost half of Brits are planning to stay home this Valentine's Day as the cost of living continues to bite.
'With everyone being more money conscious, as well as the cold temperatures outside, it's not a huge surprise that "in" seems to be the new "out". Celebrating romance at home is a great way to make your partner feel appreciated,' says Esme Stone, Head of Brand at JD Williams.
On that note, take a look at how you can create the perfect Valentine's night at home…
1. Create a cosy setting
The right atmosphere is key for a cosy night at home. Use blankets to add texture, colour and warmth, especially useful when the weather is cold outside. If you have bare floors, add a rug, even if it's just a small runner next to the side of your sofa. Don't forget about smaller accessories too, such as twinkling lights, heart-shaped garlands or a bunch of Valentine's Day flowers propped up on your coffee table. Light a candle and you're good to go.
2. Jazz up your table
If scoring that coveted restaurant reservation is tricky, then bring the romantic spirit of Valentine's Day into your home. For a special Valentine's Day tablescape, opt for white or red table linen, vases filled with freshly-cut stems (don't forget a rose or two), heart-shaped decorations and LED candles to set the mood. With a little advanced planning, you can make the evening one to remember.
'If you've made the decision to stay in this Valentine's Day, it doesn't mean you have to stick to the same routine of any other evening at home,' says Becca Thurston, a visual specialist from Sewn London. 'In fact, sharing a meal in the privacy of your own home can be more romantic than eating out at a fancy restaurant, and not to mention a lot more affordable.'
When it comes to laying your table, Becca recommends opting for calming tones. 'The environment that you're arriving at can have a big impact on the mood. When adding accessories to the table I don't like to go too overboard as you don't want your table to look too cluttered. If you want to make the greatest possible impact, layering plates are great for adding dimension to your table,' she suggests.
3. Go big on decor
Make it special at home with Valentine's Day decor. Whether you opt for a heart-shaped wreaths, a statement-making balloon arch or heart garlands to string along your fireplace (like this felt design from Lights4Fun), there are endless ways to spread some love. Top tip: Stick to classic seasonal colours of red, cream and pink for consistency in every room.
4. Don't forget gifting
Give cupid a run for his money by choosing fail-proof gifts. Valentine's Day candles are brilliant for scent lovers, while treats like chocolates, personalised biscuits or bottles of bubbly always go down well. For interior lovers, we recommend wrapping up beautiful vases, a plant pot (such as this bubble planter from H&M) or even coffee table books to brighten a side table.
'Instead of just handing over your gift wrapped pressies, why not try and make it extra special for your partner by setting up a treasure hunt game, providing clues with romantic riddles and rhymes as to where they're hidden within your room,' adds Jess.
'And if you've got a show-stopping gift left, add the cherry on top and make sure you give it the attention it deserves by really exaggerating the moment. You might consider attaching the gift to a giant confetti balloon or even placing it under a romantic balloon arch!'
If you still need another idea, houseplants are the new bouquets according to a recent survey by Dobbies Garden Centres, in which 31 per cent of Brits said they would give a houseplant as a gift. Meanwhile, 28 per cent said they preferred to receive houseplants rather than cut flowers because they last longer.
Shop our gifting essentials below:
Follow House Beautiful on TikTok and Instagram.
---